Cape Malay pickled fish recipe
Pickled fish is an Easter favorite in South Africa, especially in Cape Town. The Cape Malay pickled fish recipe is particularly famous. The meal is easy to make but is served cold. As such, you need to prepare it at least 24 hours in advance. Read down below to know how to make it at home.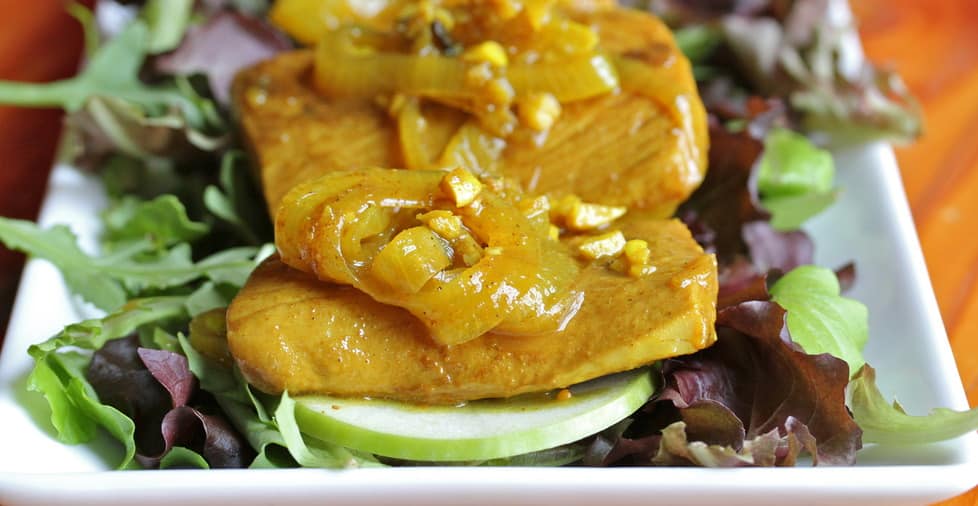 READ ALSO: 10 easy mince recipes South Africa
Pickled fish can be refrigerated for up to two weeks. The time required to cool it is probably the reason it is popular for Easter weekends.
How to make pickled fish
There are several different ways to make pickled fish. Some people use lots of curry and vinegar while some do not. Other people add sugar to make it sweet. All the different recipes are delicious, so it is a matter of preference. Here are a few pickle fish recipes to guide you on how to prepare the dish.
Sweet and spicy Cape Malay pickled fish recipe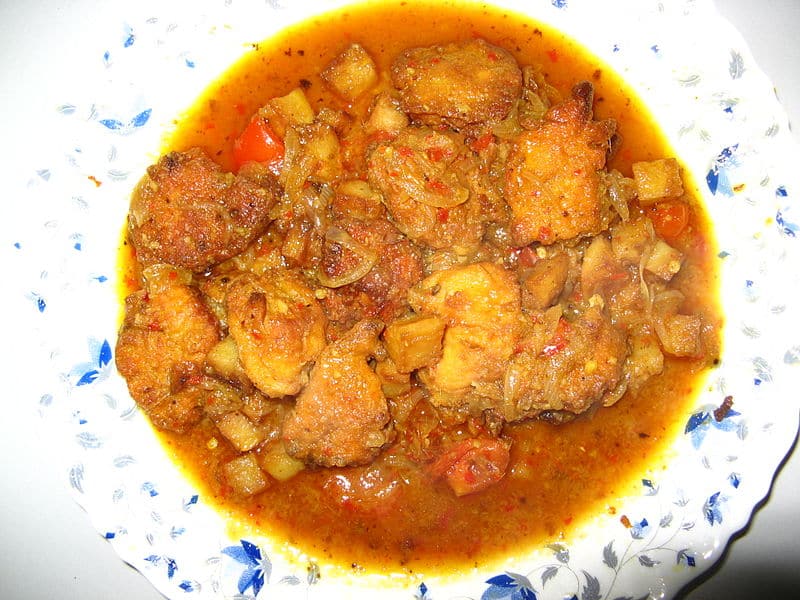 Serves 4
Ingredients
1 kg hake or any other firm fresh fish fillet, scaled
One large onion peeled and sliced
Two cloves of garlic, chopped
One red chili pepper, seeded and sliced
Eight whole black peppercorns
Two cups of red wine vinegar
Four whole allspice berries
1/2 a cup of water
Three bay leaves
1/2 a cup of brown sugar
Two tablespoons of curry powder
One teaspoon of ground turmeric
Two teaspoons of ground cumin
Two teaspoons of ground coriander
Two teaspoons of salt
Vegetable oil
Directions
Season the fish with salt, and then heat oil in a skillet. Fry the fish untill it browns on both sides. Remove the fish from the skillet and set aside.
In the same skillet, fry the onions and garlic till they soften. Add the cumin, black peppercorns, allspice berries, bay leaves, and red chilies peppers. Pour in the vinegar and water then and bring to a boil. Add the sugar and stir gently till it dissolves.
Season with the curry powder, turmeric and coriander.
Place the fish pieces in a jar. Pour in the sauce till all the pieces are covered.
Seal the jar and let it marinate in the refrigerator for at least two days before serving.
Traditional South African pickled fish recipe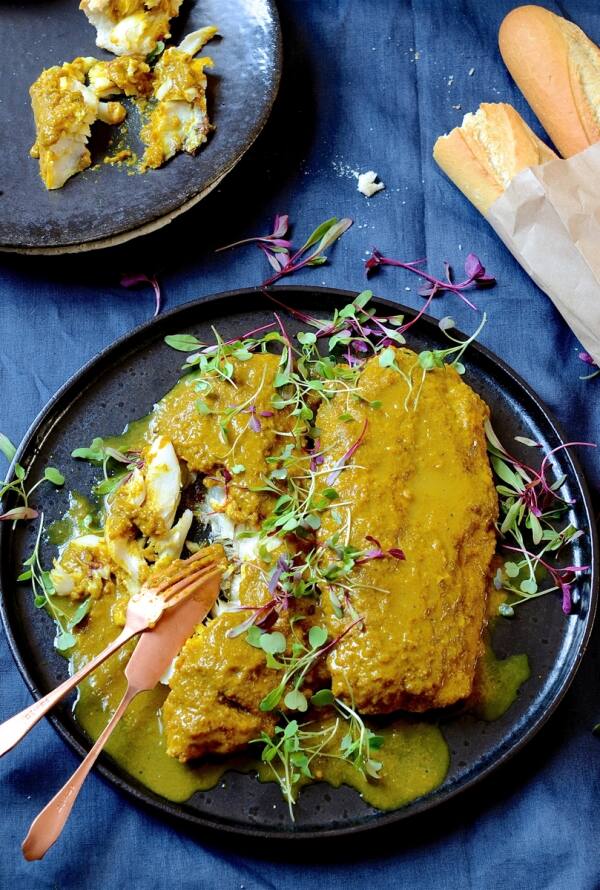 Ingredients
Serves 2
500g hake, kabeljou or any other white fish available
Two tablespoons of all-purpose wheat flour
Two teaspoons of sea salt
125ml of water
Canola oil
One teaspoon of turmeric
Two onions, finely sliced into rings
125ml of cider or white wine vinegar
200ml of yogurt mixed with one tablespoon of curry mix
Fresh coriander
Pepper
Directions
Cut the fish to your preferred serving sizes and season the pieces with salt and pepper.
Coat the fish in flour and then heat the oil over a medium heat in a pan. Fry the coated fish pieces for about 10 minutes or till the fish is cooked. Set aside and let it cool.
Mix the onions, water, vinegar, salt, and turmeric in a saucepan and bring to boil.
Place the fish fillets in a large jar. Pour the mixture in the saucepan over the fish pieces until they are completely covered.
Refrigerate the dish for 24 hours. Serve garnished with fresh coriander along with the curried yogurt.
READ ALSO: 7 healthy chicken fillet recipes
Cape coloured pickled fish recipe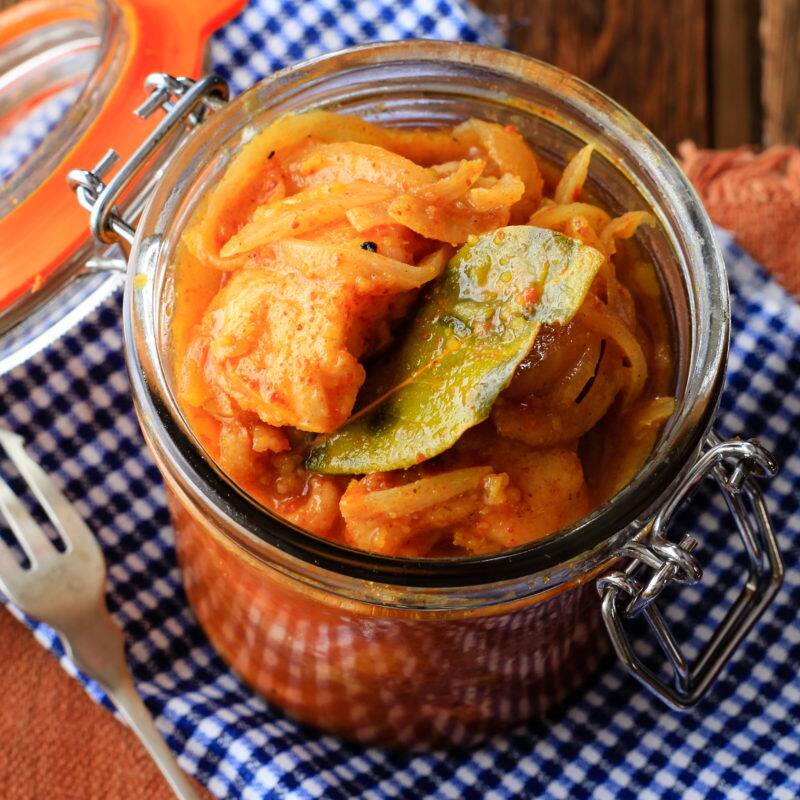 Serves 4
Ingredients
1 kg yellowtail, hake, or any other firm-fleshed fish
Two large onions, peeled and sliced into rings
125 ml golden of brown sugar
1 cup grape of vinegar
Five cloves garlic, roughly
Four Cloves
½ cup of water
Eight peppercorns
Two bay leaves
Four allspice berries
One tablespoon of curry powder
Two teaspoons of cumin, ground
Two teaspoons of coriander, ground
One teaspoon of turmeric
Coarse salt
Vegetable oil
Directions
Sprinkle the salt on both sides of the fish fillets and let it stand in a glass bowl for 25 minutes to firm them up.
Thoroughly, rinse the fish under running water. Pat using a paper towel.
Cut the fish into bite sized pieces.
Heat oil in a pan over medium heat. Fry the fish till thoroughly cooked.
Place the rest of the ingredients in a saucepan. Mix and bring to boil until the sugar dissolves. Let it simmer till the onions are cooked but crisp.
Layer the fish pieces in a deep casserole and pour the saucepan mixture over the fish until they are all covered
Refrigerate for a week to allow the spices to mature. You can also eat this dish after 24 hours of refrigeration.
Sweet pickled fish recipe South Africa
Serves 4
Ingredients
1 kg hake or any other firm, white fish fillets
Two teaspoons of turmeric
Two large onions sliced
Two teaspoons of mild curry powder
One teaspoon ginger
1/2 teaspoon ground coriander
Two bay or lemon leaves
1/2 cup wine vinegar
1/2 cup water
3 to 4 tablespoons brown sugar
Two teaspoons cornflour
Salt and black pepper to taste
Vegetable oil
Instructions
Sprinkle salt over the fish. Bake the fish for 15-20 minutes at 180 °C until it is well cooked. Cut the fish fillet into bite-sized pieces.
In a saucepan, fry the onions till they soften in some oil.
Add the turmeric powder, curry powder, and coriander and stir through.
Add water and vinegar and let it simmer. Dissolve the sugar in the mixture.
Season with salt and pepper.
Mix the cornflour with a little water to make a thick paste. Stir the paste into the sauce and let it simmer for 15 minutes. Let the sauce cool.
Layer the fish in a jar and add the sauce till all the fish pieces are covered.
Cover the jar and refrigerate for three days before eating.
What to serve with pickled fish
In most pickled fish recipes, the serving suggestions are usually hot cross buns or bread, especially during Easter. You can also serve the dish with green salad and crisp rolls. Alternatively, you can serve pickled fish with rice and even tacos. A chilled aromatic cool drink makes a good accompaniment.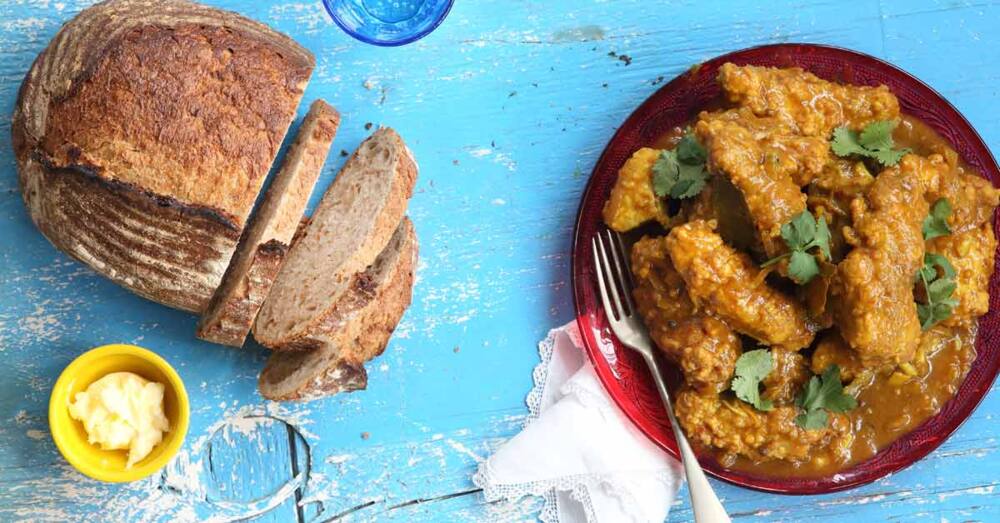 READ ALSO: 15 best halaal recipes
Although mostly eaten during Easter, Pickled fish is an excellent dish for any occasion. The dish is very nutritious and healthy. The Cape Malay pickled fish recipe is not hard to prepare and offers the perfect fusion of sweet, sour, spicy and salty. Find your favorite recipe for pickled fish today and start enjoying this vibrant dish.
READ ALSO:
Top 10 spicy chicken curry recipes for dinner
5 easy and healthy chicken wrap recipes
5 best beef mince recipes
10 best vegan soya mince recipes South Africa
Crispy Eisbein recipe South Africa
Source: Briefly News