Cassper Nyovest, otherwise called Refiloe Maoele Phoolo, is a recording artist, rapper and singer. He started his career at a very young age of 16 years old. He was raised in Mafikeng South Africa, and he is a lover of family and culture. He can express this on his music because he actually named his albums by the names of his siblings. Moreover, he brags openly about his mother, and as much as he did not progress in education, he has had breakthroughs in his music. Cassper Nyovest songs are well composed hence leaving his fans entertained.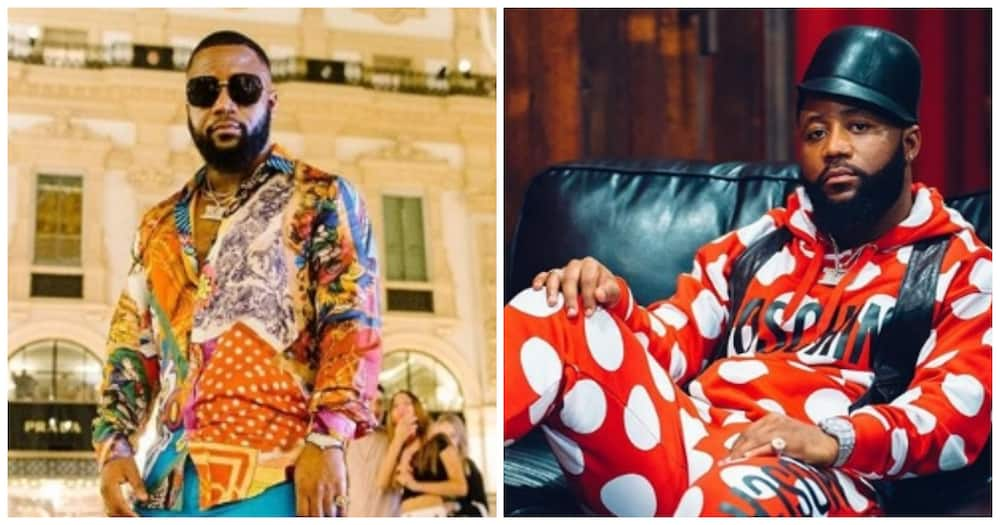 Cassper took a leap of faith and joined childhood gangsta, a group of young rappers. He got recognition and was signed into a label. He has released a hit followed by another, and as always, his music never disappointed anyone.
Cassper Nyovest latest songs
Below are some of the hit songs that he has released this year.
1. Push through the pain
This song is deep and as much as people think that rappers just rap through, Cassper did thorough work on this one. It starts with cool beats at the club and then shifts to an emotional side. It's all about how we take our day to day lives enduring all the pain and the stress. So far it has 804,000 views on YouTube, and it was released just 5 months ago under the Family Tree records.
2. Ksazobalit
This song was released 6 months ago, and it has 2million views on YouTube. It is an introduction to his new album. The song has amazing beats, and the video is of high quality.
3. Gets Getsa
With 727,000 views on YouTube, this is one of the latest singles from Cassper Nyovest. It was released to support the upcoming album that is much anticipated. The fact that it has all those views in less than two months means well for Cassper's new album. This song is a combination of amazing beats, amazing rhymes and a couple of new dance styles. It also features beautiful South African ladies who make it even more appealing.
4. Colours
Colours is a song that was originally written by Jason Derulo. During the world cup season, the song hit our airwaves hard. This is because Cassper Nyovest comes in on the second verse and talks of the unity of the countries. Colours is a representation of the different flags. This song was sung throughout the world cup season, and it was the theme song. With a great endorsement by Coca Cola, the song was sung worldwide. The song did not only show the unity of the countries but featuring an African artist showed the unity in the music industry regardless of the origin. Cassper also plans to feature Wale in his upcoming album.
5. Monate Mpolaye
With 317,000 views, this song is already a hit, although it was released three weeks ago. It is a combination of talents by DJ sumbody, Cassper Nyovest, Thebe and Vettis. It is all about a group of friends who love to go out, spend their money and have fun. Rap is all about fame, money, love and many other things combined, and this group shows just that on the video. Cassper has already created a name for himself, and no matter how people think, his fans will always have his back. Getting there was not easy for him, but finally, he is there. This is one of Cassper Nyovest latest song that he collaborated in.
Cassper Nyovest New album
Cassper plans to launch his new album at Mahbida stadium. We all know Cassper Nyovest as a man of thoughts because his songs tell a story. This time he is bringing something new and fresh that will hit the African airwaves with a storm. He owns a recording studio called Family Tree records, which makes it easier to drop new hits.
Cassper Nyovest songs are indeed amazing, and if you are a fan or not, you can still enjoy them. The latest Cassper album will take it a notch higher. Some of the amazing songs from Cassper include destiny, Abashwe, Tsholofelo and many more. Cassper does not only sing his songs; instead, he expresses his thoughts and emotions through them. His songs show more than just his personality. The other amazing thing about Cassper is his ability to do everything at the same time. He can sing, rap, and form his beats which show that he is indeed talented. The best way to keep up with his new songs is to subscribe to his channel on YouTube to learn about his shows and new songs.
READ ALSO: