When considering South Africa'key economic indicators, it's easy to draw the conclusion that the country is in dire trouble. Not only has the unemployment rate gone up by 0.3% to 27.5%, but the economy also suffered slow growth in the last few years. To add insult to injury, South Africa is also classified as being in a technical recession.
PAY ATTENTION: Click "See First" under the "Following" tab to see Briefly.co.za News on your News Feed!
To add to the already strained economy, interest rates are expected to increase to combat rising inflation. This will place severe pressure on consumers and businesses.
SA has see an influx of emigration as a result, because citizens are seeking better opportunities abroad.
Briefly.co.za explains some key factors to consider when asking why the economy is looking gloomy.
PAY ATTENTION: Save mobile data with FreeBasics: Briefly is now available on the app
The unemployment rate
In South Africa, unemployment remains high. The latest figures, for the third quarter of 2018, revealed an increase of .3% in the unemployment rate, which currently sits at 27.5%.
While government is focusing on job creation, many economist blamed the ANCs anti-business policies and labour unions for the slow growth in job creation.
The looting and irregular expenditure of state-owned entities further curbed job creation and service delivery.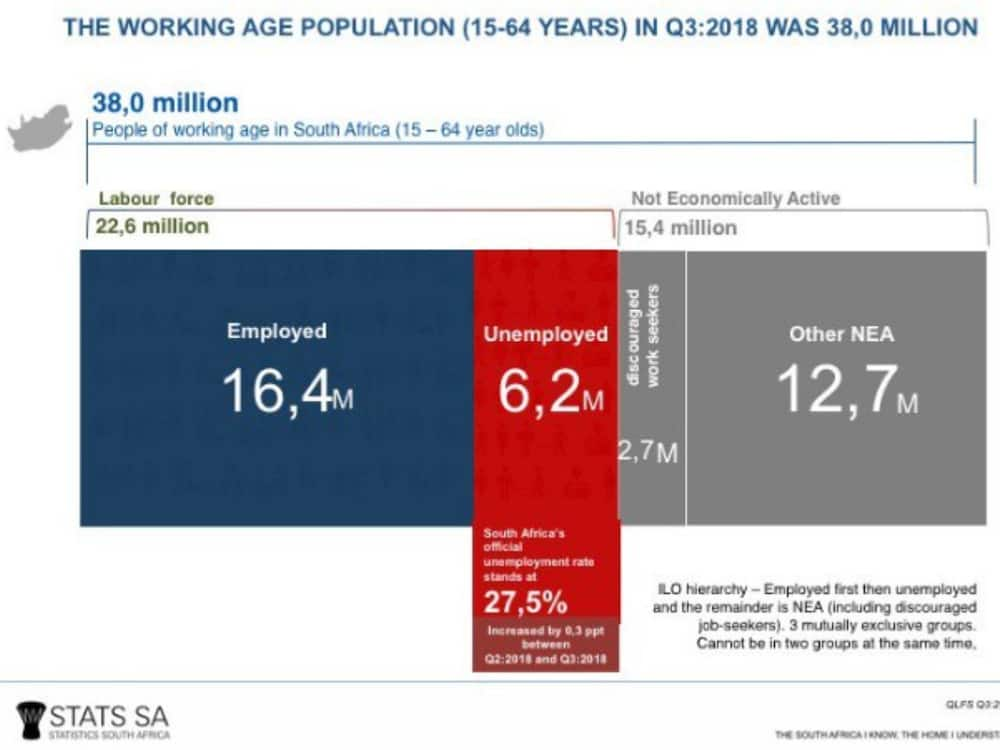 Another factor to consider is the long-term unemployment rate.
This rate is calculated by citizens who have been employed for a year or more.
In 2008, the third quarter long-term unemployment rate was 59.4%. This figure has shot up to 68.8% a decade later.
In essence, South Africans are unemployed for longer.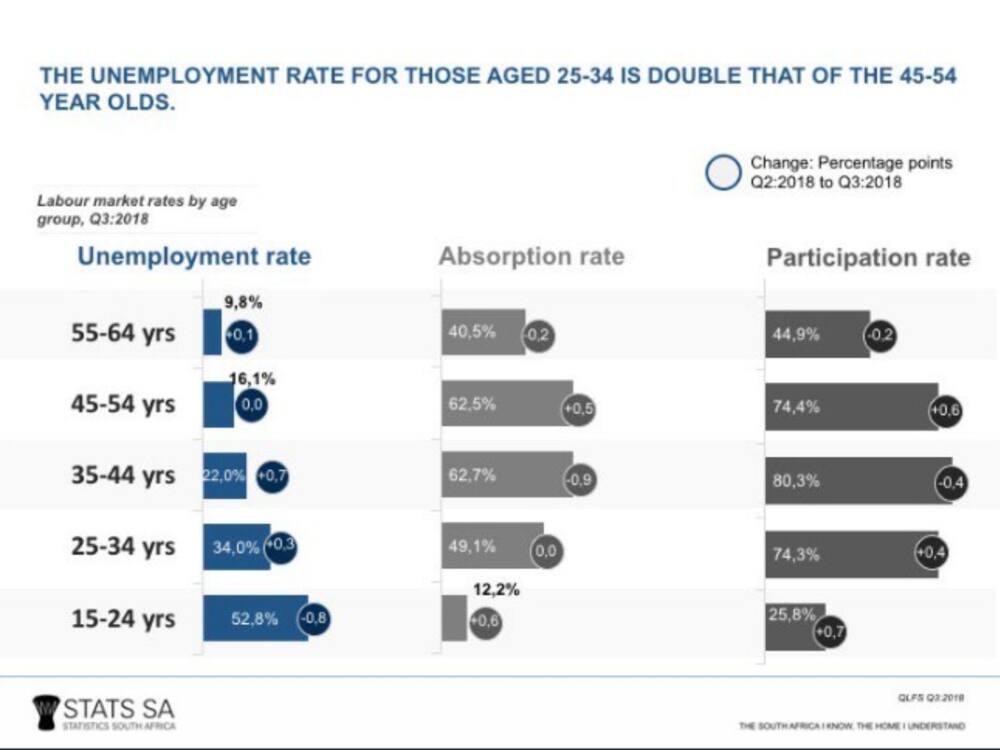 READ ALSO: Pick n Pay in hot water over the 'Maid' and 'Gardener' mugs
The ailing exchange rate
To accurately measure the country's strength in the international market, the rand to the dollar exchange rate is used. It's a god indicator of the rand's strength against other markets.
The rand-dollar exchange is a key indicator to figure out how much citizens pay for goods, especially for goods in the technology category, such as computers and smartphones.
In the last two decades, the rand went from R6 to the US dollar to just under R15 at present.
Although there were considerable peaks and fluctuations in this time-frame, since 2011, there's been a massive depreciation of the rand against its US counterpart.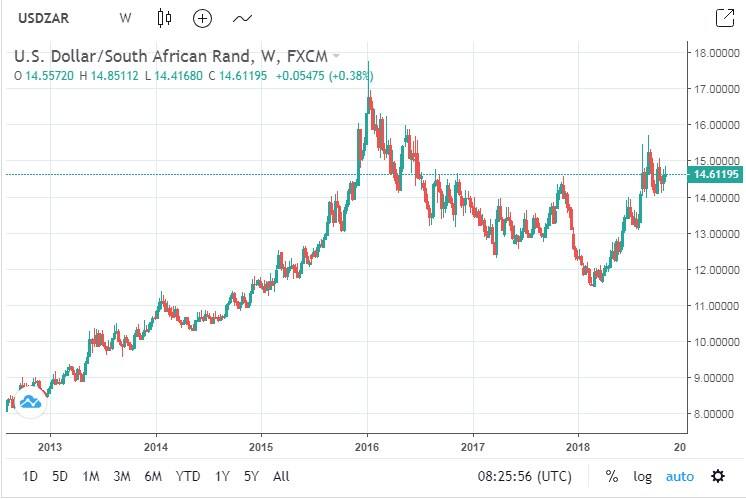 Government debt
Recently, the newly appointed Finance Minister, Tito Mboweni stated an acceptable figure for government debt is under 50% of the GDP.
However, South Africa's government debt is currently at 55.8% of GDP.
The National Planning Commission recently said if South Africa's rising debt goes unchecked, without a buffer of savings or new sources of tax income, the country may have to ask for help from the International Monetary Fund.
Debt is on the rise against the backdrop of weak economic growth. While unemployment rates continue to rise, the increased debt could reduce commitments to social spending even more.
The commission said it will not be possible for the country to continue on this path and noted South Africa has stalled again.
The commission said:
"We will need to restore the country to a growth path with higher tax-collection rates, public-sector efficiency, and improved service delivery per rand spent."
Do you have a story to share with us? Inbox us on our Facebook page and we could feature your story.
Donald Trump – The Smartest President Of The USA. Subscribe to Briefly Cartoons for more Animated Jokes!
To stay up to date with the latest news, download our news app on Google Play or iTunes today.