An iron is an important electronic appliance that helps us remove wrinkles from our clothes and other pieces of fabrics. Even though an iron is easy to maintain and keep clean, there are times that you might notice a rusty-coloured film on your iron plate. It is imperative that you learn how to clean an iron because if you decide to ignore and continue using the iron then it will stain your clothes.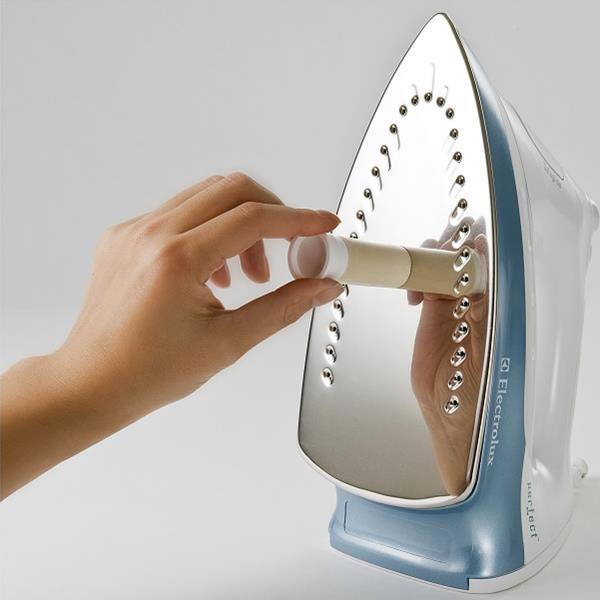 So how does this build-up come about? Pressing your iron on the wrong fabrics, absorption of body oils left on the garment, as well as using very high temperatures while ironing some fabrics like silk are some of the reasons for the rust-coloured film appearing at the bottom of your iron. There are many methods of cleaning an iron but this article will explore how to clean the bottom of an iron as well as the steam vents using easily available household products.
READ ALSO: What it takes to get your bake on: the trials and tribulations of a home baker
How to clean an iron
Before we delve into how to clean an iron, it might be necessary to know that the best way to keep your iron clean is to prevent the building up of dirt on your iron from the first place. Always ensure you use low temperatures for fabrics such as nylon and silk. Iron such fabrics first and then use high temperatures for cotton garments.
1. How to clean an iron with salt and vinegar
This procedure is done on an iron box that is cold and has been unplugged from the source of heat.
Heat a mixture of vinegar and salt in a pan until the salt dissolves. Stir occasionally but remove from the fire before the vinegar boils.
Then, dip a clean piece of cloth into the heated vinegar-salt mixture. Wear some waterproof gloves to shield your hands from the hot solution.
Cover the area you will be working on since vinegar can cause harm to surfaces with stones and marbles.
With the dampened rag, wipe the sole of the iron gently until all the burn marks come off. Also, scrub the steam vents to remove any build-up. In case a rag does not work, use a scrubber or a kitchen sponge. Just ensure it is not made of metal as that will scratch the iron plate.
2. How to clean a burnt iron using baking soda
In a bowl, mix one tablespoon of water and two tablespoons of baking powder until it forms a thick consistency.
Use a spatula and spread the paste on the bottom of the iron. Put more on areas that have a heavy build-up and ensure you apply the paste on the steam vents as well.
Use a damp rag and wipe off the cold iron. Continue rubbing until all the rusty build-ups have completely been removed.
Use a cotton swab and clean the steam vents to remove any of the baking soda deposits remaining.
To ensure that no deposits are remaining, fill the iron with water and iron any piece of cloth that you do not care about as it might end up getting stained. Use the highest temperature and iron it for a few minutes to flush out all dirt.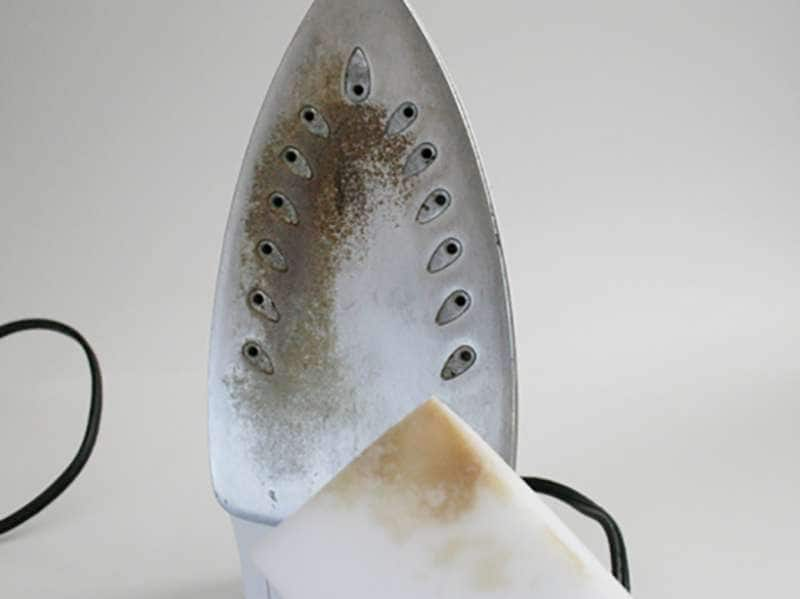 3. How to clean an iron with burned fabric and soap
Mix some mild dish soap with warm water in a container. The amount of soap to use depends on how much-burned fabric is on the iron but while mixing, the final solution should not be concentrated as when you use it to clean utensils.
Dip a cotton cloth into the mixture and then wipe the iron's plate while not forgetting to rub the steam vents as well. Wipe the iron until all dirt is removed and then place the iron on top of a towel to absorb any dripping water.
Cleaning the iron plate with dish soap is suitable for Teflon-coated sole plates that keep substances from sticking but are prone to scratches.
4. How to clean an iron plate with toothpaste
Press a small amount of toothpaste and apply it onto the bottom of the plate.
Then, using a rug, scrub the toothpaste all over the iron and focus more on the steam vents, which is notorious for holding residue build-up. In this step, you can use a soft sponge or scrubber that is not made of metal.
After all the build-up is removed, use a damp rag to clean off the remaining toothpaste to prevent staining your clothes during your next ironing.
After that, put some water in your iron to flush out any remaining dirt that could be remaining. Using the highest temperature, iron a piece of cloth and watch the iron cleaning itself. Pour out the remaining water and allow the iron to dry.
READ ALSO: Man starts his own dishwashing business and inspires thousands
It is our hope that you now know how to clean an iron as well as prevent any build-up in the first instance. Stick to the above tips and your ironing experience will never be the same again. Happy ironing!
READ ALSO:
Source: Briefly.co.za