The award-winning TV presenter, model, and rapper Boity Thulo is undoubtedly one of South Africa's hottest women. Apart from making it big in life, acquiring the infamous Boity Thulo house means that she is not new to the world of slaying and that she never disappoints anyone. She believes that showcasing one's beauty does not in any way objectify women, but celebrates the strengths they possess. She is here to be an inspiration to other women out there to take care of their bodies and feel good about themselves.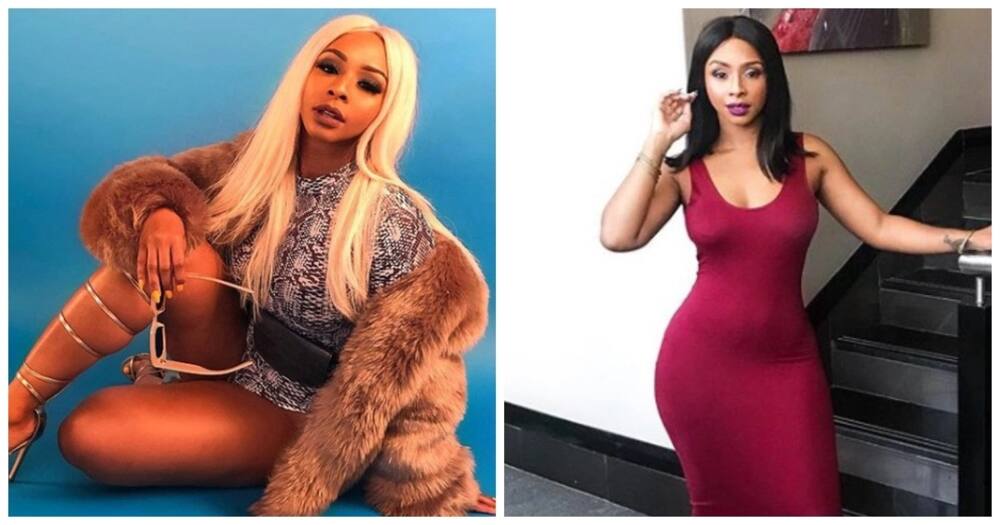 From bikinis to dresses and jeans, this South African queen can rock just about anything and still look as stunning as ever. Take a look at some of Boity's cutest pictures below.
Boitumelo Thulo most stunning pictures
1. Boity Thulo in a bikini
Boity always slays in a bikini. This is no wonder as she puts in a lot of work to get that adorable toned body and those abs that can make any bikini look like a masterpiece. This yellow bikini looks nice on her, to say the least and with that pose, it is obvious why she is still holding on to the title of 'Mzansi's sexiest woman'. More Boity bikini looks that will make your heart pound profusely can be found on Boity Instagram.
2. In a figure hugging dress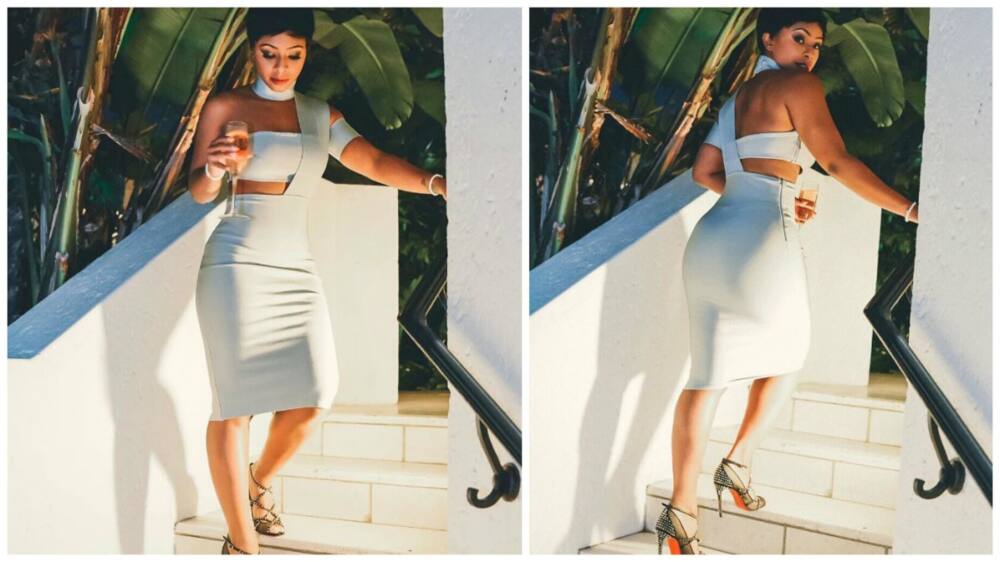 Boity is known for the sexy dresses she steps out in, and it is always something beyond our imagination. From the strategic straps that playfully show off patches of her skin, to that perfect length, not to mention the way it emphasizes her hour-glass figure. The neck detail on the dress lets her accessorize less but still look like she has it all, and that killer Louboutin heel perfects the look when she is on the stairs. Could it be that the picture was taken at Boity Thulo's house staircase?
3. Boity in this lovely gown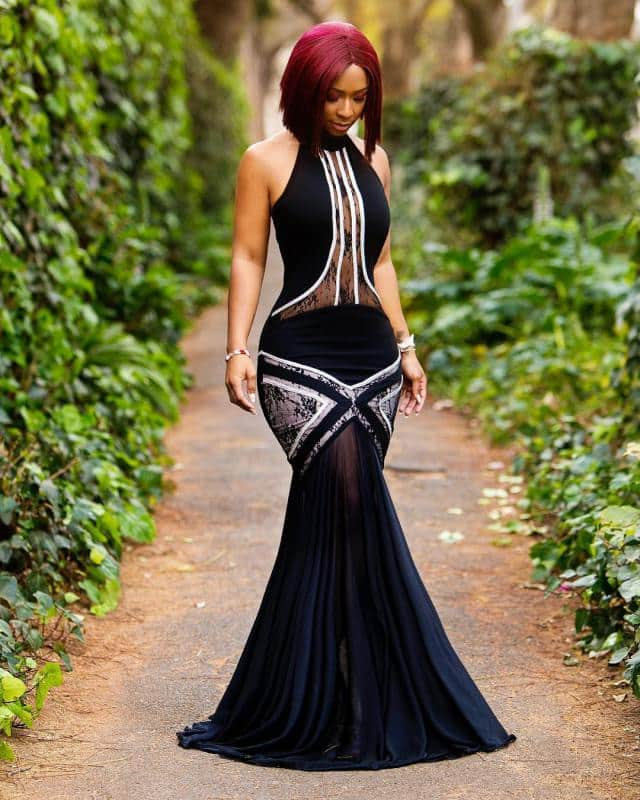 Boity would turn heads in any wedding or other big events with this classy black dress. The dress which has been tastefully laced with see-through patches and which defines every curve she boasts of, making her look like a princess surveying the palace gardens.
4. Boity in a red soft leather skirt and a matching jacket
Even when she is doing casual, she does not cease to grab all of the attention. This leather skirt and matching jacket with a top that shows off her flat belly completely flatters her figure. She is looking outstanding.
5. In a denim jumpsuit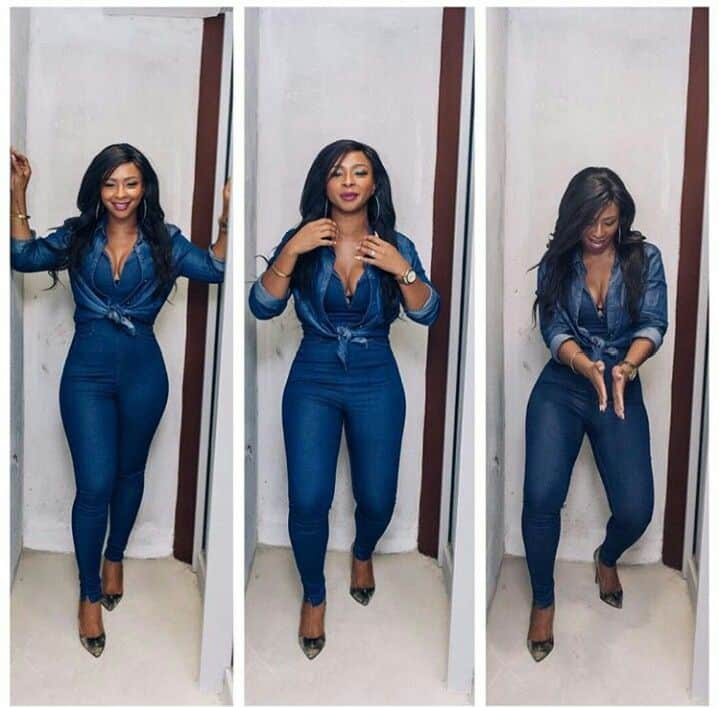 If there is one person who is giving any keen person tutorials on how to wear a jumpsuit, it should be Boity. Her love for jumpsuits is evident and in this maroon jumpsuit, she could keep you drooling at her gorgeous figure all day long.
6. At the SAFTAS
To say Boity's look was breathtaking at the SAFTAS (South African Films and Television Awards) must be an understatement. With this black high-class jumpsuit, Boity was in all ways glamorous. The half-lace top design is out of this world and the added detail on the top of the suit makes all the difference. She wore black all through and it worked perfectly for her with her face shining brightly as the sun.
7. Boity SAMA dress
This silver-like dress that Boity wore to the SAMA awards got people talking about her even many days after the event. Her growth and maturity both as a woman and in the sense of fashion were irresistible. She was the highlight of the show as she showed off her killer legs and well-toned body in this dress revealing dress that was still classy and unique.
8. In a red dress with a slit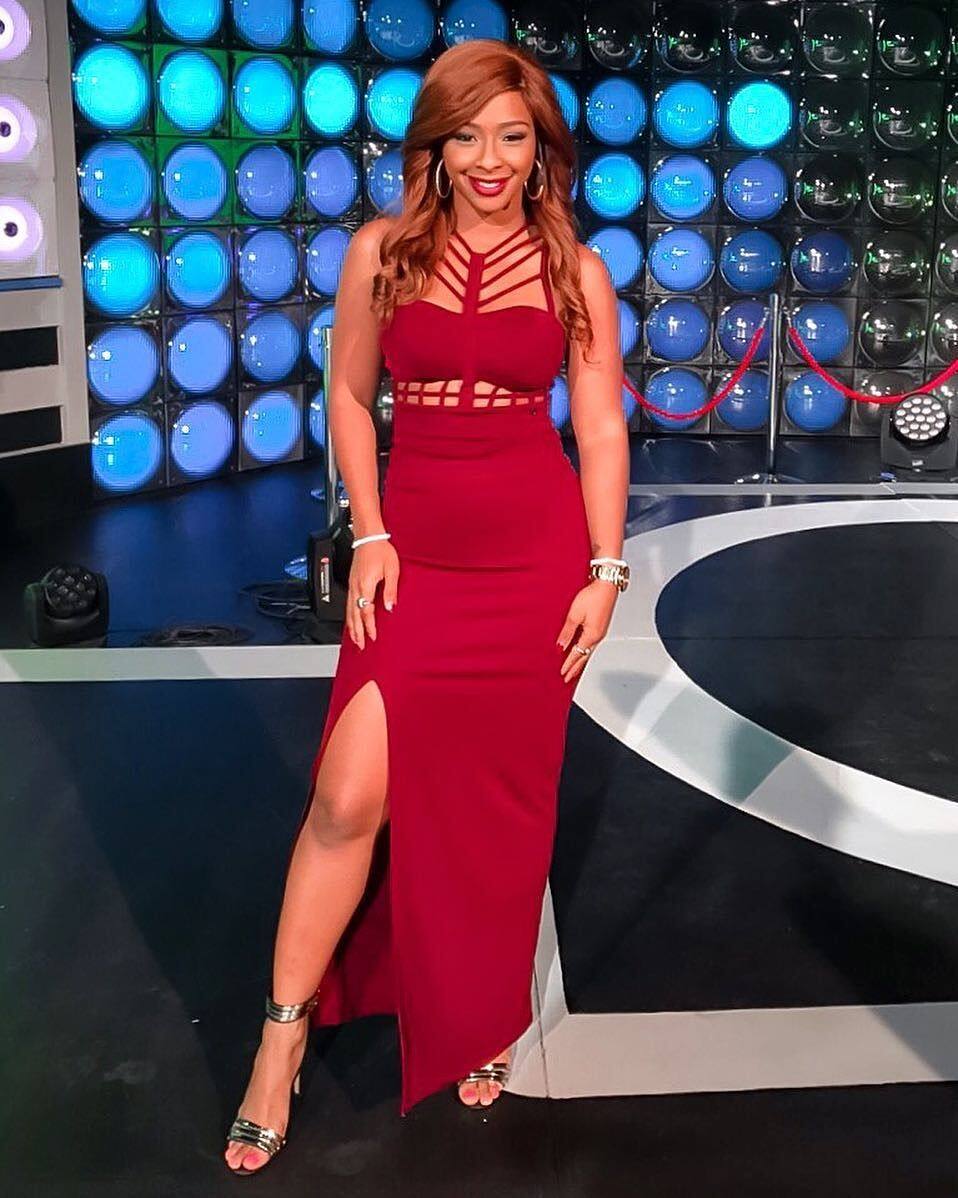 9. This dress at the BTS launch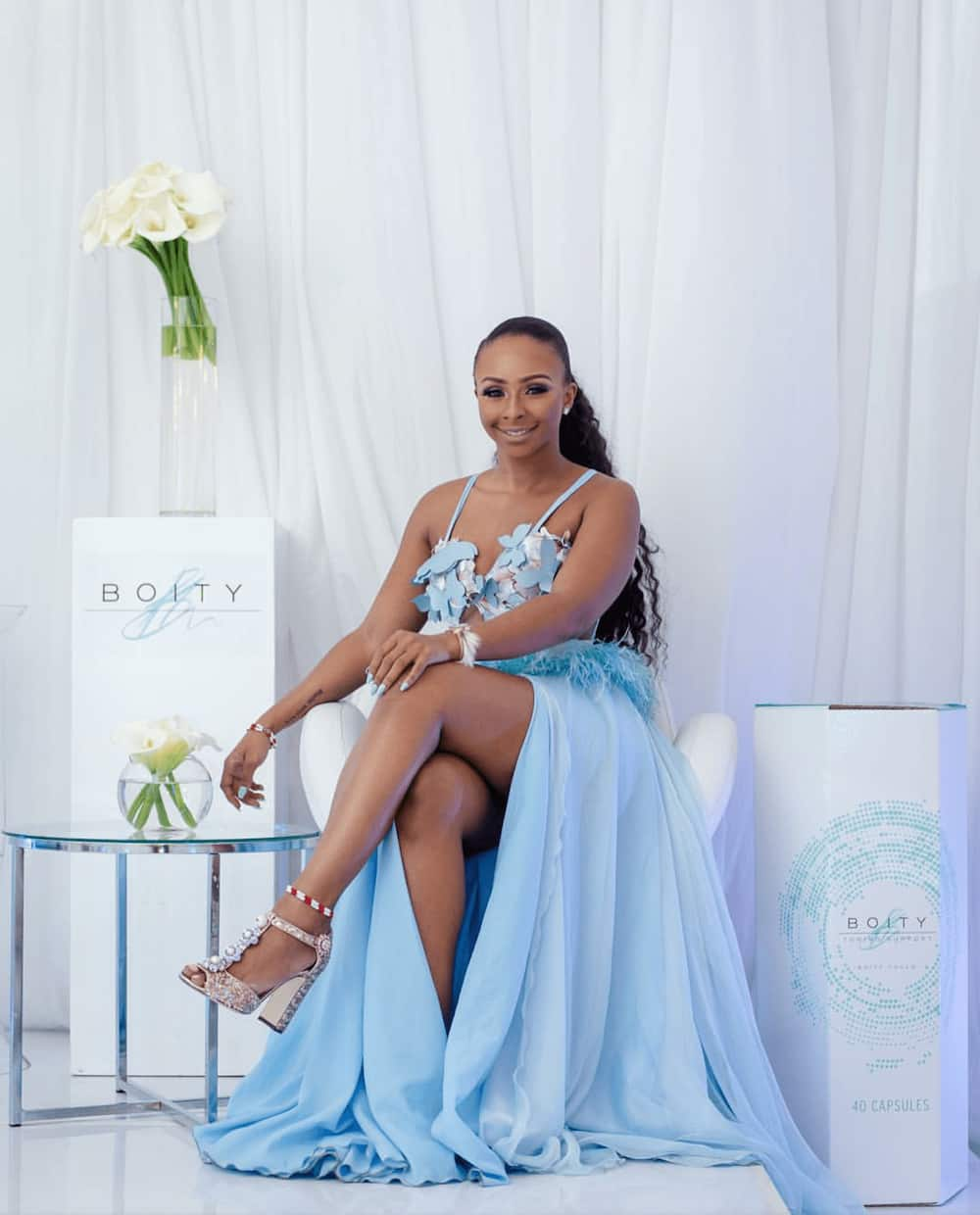 At the Boity Toning Support launch, Boity brought out another level of creativity with this barbie doll look. The look which was posted by Boity Thulo on Instagram, featuring a flowered top that is just enough to cover her upper body completely with a waist belt and a feathery look. She flaunts some serious leg thanks to the dress's long slit. The look is even more unique owing to her choice of how to hold her hair. That long ponytail is unmatchable, not to mention her choice of heels.
READ ALSO: Best Boity Thulo hairstyles
10. Skater skirt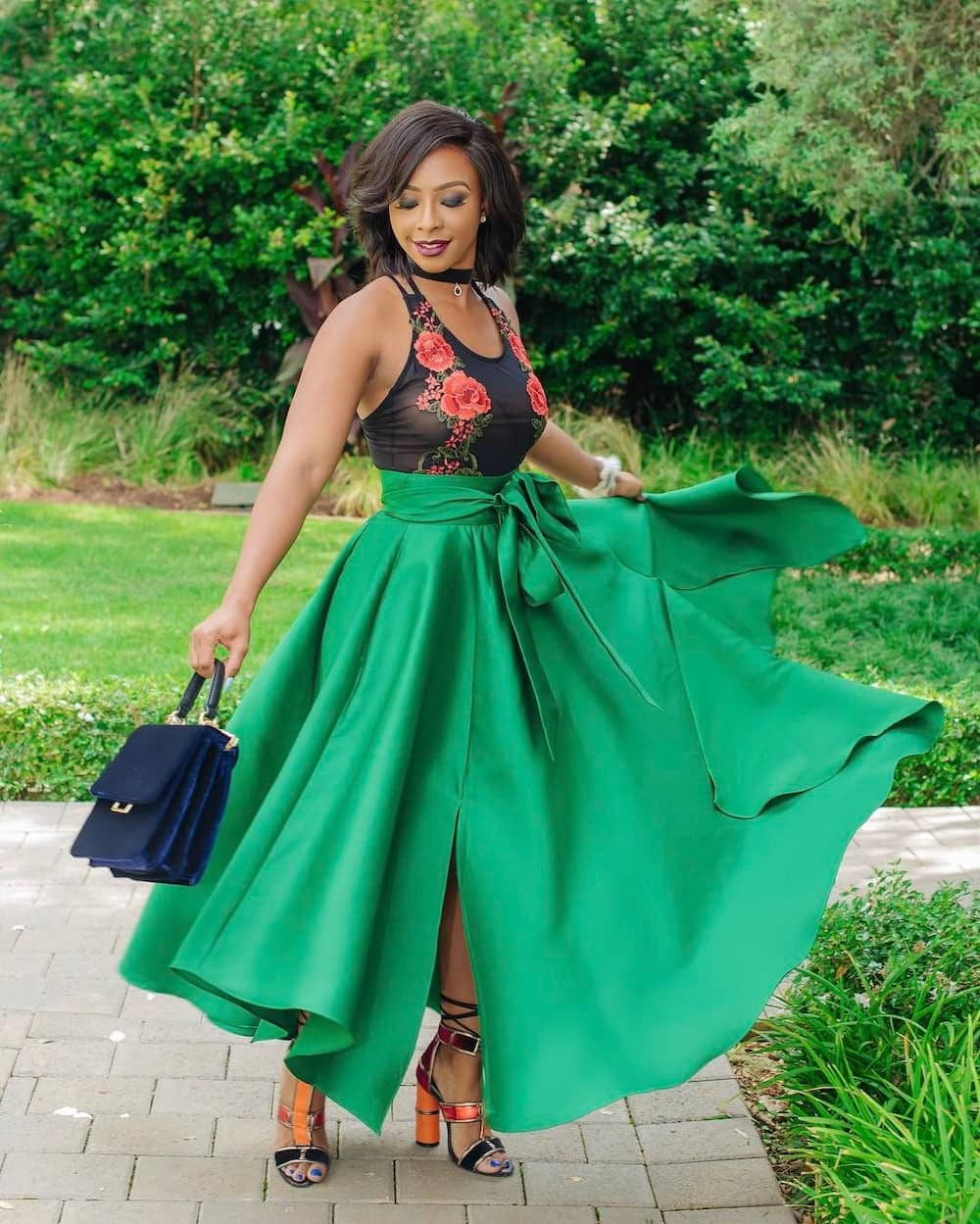 This conspicuous green skater skirt looks so good on Boity, and she would light up the darkest room. The black and flowered see-through top is a perfect go with that skirt and the decision to accessorize it with a neck choker makes you want to stare at her one more time. Her hair which is styled in a bob makes her look even more beautiful.
11. White tights with a white top
Here Boity was attending an all-white party. She wore a pair of white tights that showed her curves and a white top with a pair of heels that made her look so glamorous.
12. That little black body-con dress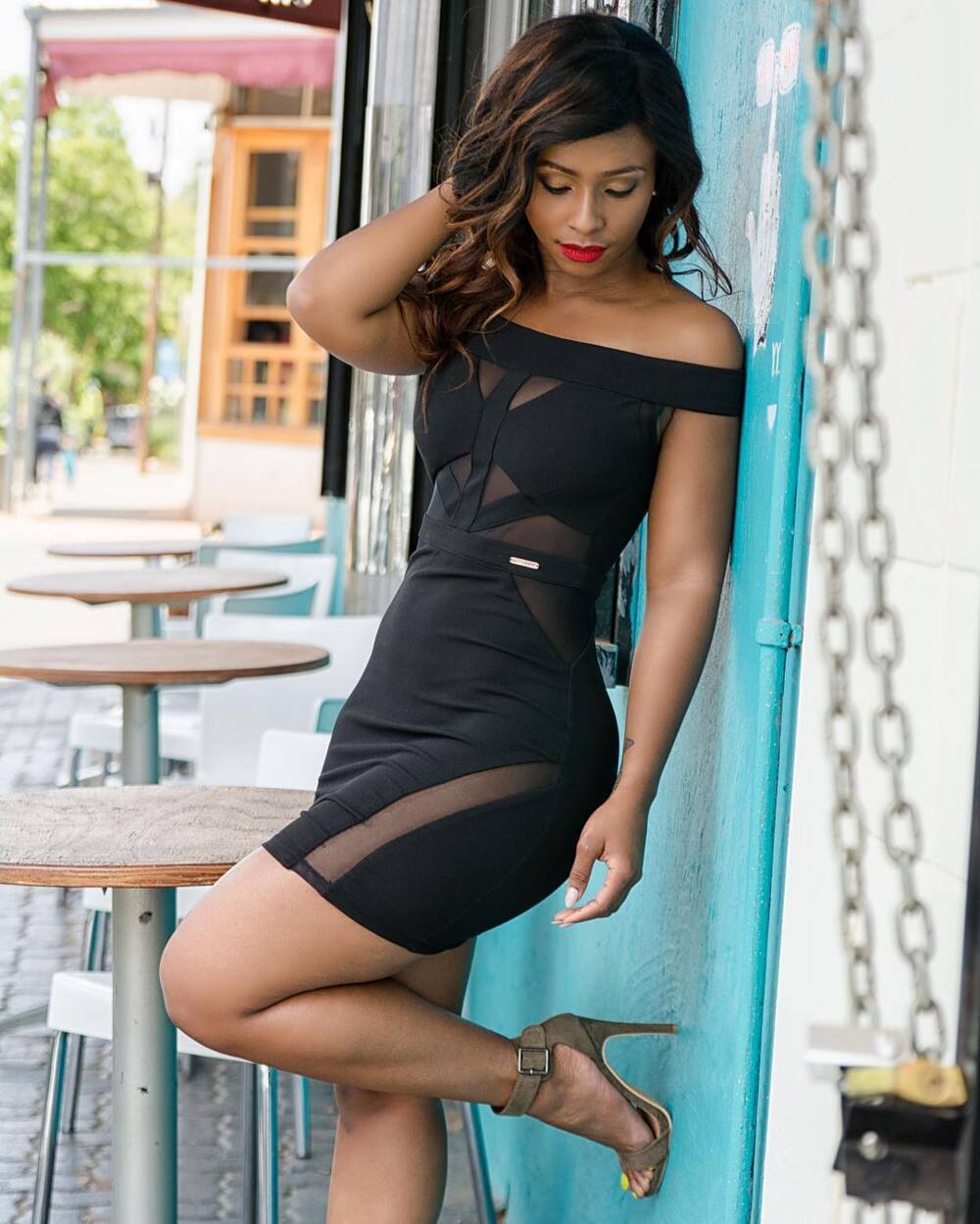 There is always a time when a girl needs that little dress perfect for the club appearance, or for going out for a drink with her girls. Boity effortlessly pulls that out too. She looks super sexy in this, and those heels are on top. Admittedly, what cannot this goddess Boity turn into a winning piece?
READ ALSO: Boity Thulo biography - age, relations, family and career
Boity Thulo has the body, sense of style, and personality that have won her a place in the covers of magazines as well as contracts such as the brand ambassador of Plum shoes, Iman Cosmetics, and Phoenix style clothing. She now owns her fashion line known as Sissy Boy Fashion range from where she derives some of her looks. Sissy Boy Fashion range retails many types of clothing including denim, dresses, tops, jumpsuits, jackets, swimwear, accessories, shoes, and bottoms. You can catch more on her latest fashion from Boity Thulo Instagram and on Boity Thulo Facebook and Twitter. The model has proved that she is here to stay and slay.
READ ALSO: