It is two years since Kwesta released his third studio album DaKAR II, but expectedly, the artist continues to be one of the most sought after rappers in South Africa. Unlike other artists who are one-hit wonders, Kwesta is a multi-award winning rapper who keeps on releasing amazing bangers that are certified platinum. His new album DaKAR III is expected to be released in 2019. In this post, we cover the 10 best Kwesta songs so far. From the list, you will get modern day hits like Vur Vai to some of his earlier hits like Boomshakalaka.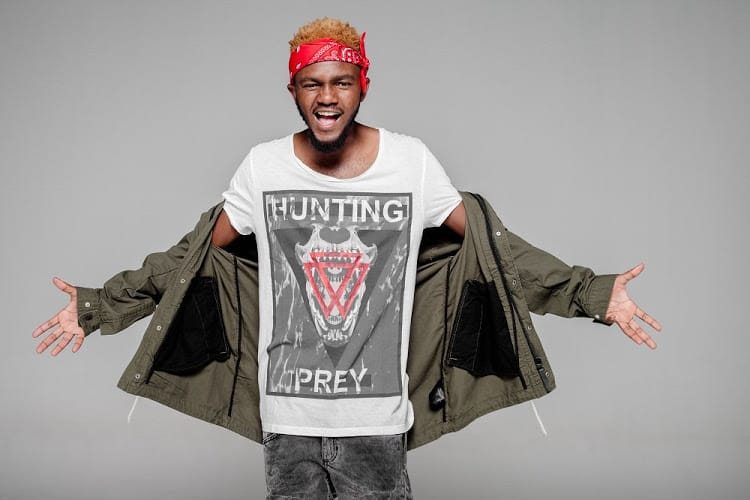 The best songs by Kwesta
Note that the tracks in this list are not in any particular order, and if you have not recently listened to some of these tracks, then it is time to update your playlist.
1. Nomayini-Kwesta
Released in 2015, Nomayini is a fantastic banger that has impressed many fans over time; proving that Kwesta does not just rap but write music that can also evoke emotions. The beats of the song have an RnB vibe, and the slow pace and smooth deep voice gives the lyrics a heartfelt rhyme.
The track also boasts of a catchy chorus that makes the song easy to sing along to regardless of whether you can speak IsiZulu or not. Nomayini is one of Kwesta songs from the album DaKAR II which was released in 2016. The album is seven times platinum and became South Africa best hip hops all-time selling album. The song was also 3 times platinum which goes to show just how good Kwesta is at coming up with amazing rhymes and punch lines. You can get this, and many more Kwesta songs download at iTunes.
2. Boomshakalaka- Kwesta ft. KiD X
In the song Boomshakalaka, Kwesta shows that he is a consistent African hip-hop rapper who is not afraid to say what is on his mind. The rapper mixes English and his native language to give the track a unique sound that is hard to forget. However, it is the video and the intro lyric "f**k you think you playin with" that gives the song a western hip-hop vibe.
In the video, Kwesta also wears a hat, a casual hooded jacket, and flashy jewelry; an attire combination that is synonymous with many famous hip-hop artists. Boomshakalaka can be considered one of the best rap collabos of its time as it features another South African rapper; KiD X. While Kwesta new songs are under the Urbantainmnet label, Boomshakalaka is from Kwesta second album DaKAR which was released in 2013 immediately after leaving Buttabing Entertainment.
3. Mayibabo-Kwesta ft. DJ Maphorisa, DJ Buckz & OkMalumKoolkat
Mayibabo is also another great tune from Kwesta's third album DaKAR II. The song features other famous South African artists'- okmalumkoolkat, Dj Buckz and DJ Maphorise. The track was so well received by fans such that it was nominated for best collaboration in 2017 SAMA and Metro FM Music Awards.
Mayibabo music video was released in 2016, and it features a superior hook and verses that make the song unforgettable to the listener. Up to now, the track which was produced by Makwa 6eats has garnered more than a million views. So, if you do not have it yet, you need to update your playlist as this is one of the ultimate party bangers with lyrics and a beat that you will not forget anytime soon.
4. Mmino- Kwesta ft. TLT
Kwesta has many great songs from DaKAR II, and one of them is Mmino featuring TLT. This is a good feel song that you can nod to while driving or use to show your dance moves in the club. Mmino which is a Twana word that means music has a catchy chorus. The lyrics are a way for Kwesta to express his achievements and love for music especially since it was not easy for him to break into the music industry. Even when some of his early songs were not such big hits, Kwesta still stayed consistent in his artistic approach; a quality that attracted fans to his songs.
By collaborating with the hip-hop duo TLT which stands for timeless talents, the three musicians have created a track that fans can relate to. Mmino video shows a celebratory scene, and the timing could not have been perfect as most of his songs for the album are receiving massive airplay on various platforms.
Through his twitter account, Kwesta explained that the Mmino video was a way of thanking his fans for the support, which enabled his Dakar album to reach double gold status.
5. Ngiyaz'fela Ngawe- Kwesta ft. Thabsie
It is rare to see Kwesta collaborating with female artists, but Thambsie, often considered as South African rap queen has done justice to this song. In the song, Kwesta reveals his emotional side. Some of the best lyrics from the first verse are;
"I love you through the distance"
"I love you coz I know in you I got a friend" help Kwesta to show a romantic side to his fans.
You do not have to wait for the month of love to listen to this massive hit. If you are a hopeless romantic or are in love, then you can relate to this song. By listening to Ngiyaz'fela Ngawe, you will also get a glimpse of the relationship the hip-hop artist has with this his daughter. He gives real talk on what it takes to raise a daughter. The song is such a hit that it was nominated for South African Music Award for Amstel Record of the Year.
6. Kokotela- Kwesta ft. Yanga and KiD X
While this is not Kwesta new release; from the time his first album Special Rekwest was released in 2010, the south african based rapper has continued to surprise both fans and haters on his lyrics prowess. From DaKAR album comes the song Kokotela which also features KiD X and Yanga. It was produced by Gobi Beats.
From the high-quality video, you can see the artists are having fun with the song which makes it hard not to like. Download Kwesta Koleketa song, buy it on iTunes, and save it to your playlist. Either way, the rapper has nailed the song thanks to his timeless melody and unique rapping style.
7. Day one- Kwesta ft. AKA & Tweezy
In most of his songs, Kwesta lays his life bare for the fans, and Day One, featuring Tweezy and AKA is no different. In the first verse, Kwesta talks about leaving Buttabing Entertainment and his struggling days. The song which was released in 2016 and produced by Tweezy resonates well with anyone who has ever struggled and made it in life.
It is the ideal song to listen to when you are in a club or at home, and you want to remember where you came from and who was there for you. Hence the phrase Day One.
What makes this tune one of the best by Kwesta is that this rapper is a good storyteller and his tracks touch on real stories that humans can relate to. And that is one of the main reasons why fans get his music and why he is here to stay. For that matter, Day One is a must-have in your playlist.
8. Vur Vai-Kwesta
This is a new 2018 release by the rapper Senzo Mfundo Vilakazi, popularly known by his stage name as Kwesta. The song borrows heavily from both hip-hop and Kwaito sounds. From the time it was released in late September, the song has become so popular that fans are calling it a summer anthem. Just like most of his songs, Vur Vai was also produced by Makwa 6eats and goes to show the unbeatable Kwesta talent.
This Kwesta new release is still getting on massive airplay on top radio stations. And it looks like the rapper has this year's summer on lockdown thanks to this hit. The song which does not feature any other artists was an excellent way for Kwesta to showcase what he does best: deliver good music that leaves everyone talking.
What makes Vur Vai stand out is that it is not a song just for the millennial, but for everyone. The kwaito infused beat will remind the listener of the good old South African songs. Fans can get this Kwesta new song download at iTunes.
9. Spirit-Kwesta ft. Wale
Spirit is one of the most refreshing South African rap songs of 2018 produced by Makwa 6aets. It is also Kwesta's 4th platinum single of 2017. It is not just the lyric prowess that is displayed in this song or the deep vocals delivered by Kwesta. The high video quality also raises the bar for the music industry in Africa. While US rapper Wale collaborated on the song, it was a way for the multi-award-winning African rapper to show fans that even his music can break down musical borders.
Kwesta spirit music video which was directed by Tebogo Malope is one of the most expensive videos as it costed a whooping R1 million and was shot in just 23 hours. The video shows religious symbolism and the various church denominations in South African culture. We even get a cameo from Jidenna. Apart from that, various standout shots paint a picture of the hood life. Through the video, Kwesta shows the rest of the world what spirit means to the South African culture.
10. Ngud'-Kwesta ft. Cassper Nyovest
With around 6 million views and counting, Ngud' is one of the biggest songs for Kwesta. The song falls under the hip-hop and Kwaito genre and was released in 2016 from the album DaKAR II. DaKAR stands for De King of African Rap, a title that Kwesta continues to prove with the kind of rap he delivers. Ngud' was such a big hit that it reached position 1 in the South Africa EMA top 10 charts. It was also certified 5 times platinum and continues to be one of Kwesta most played songs in South African radios.
While Kwesta delivery was flawless and his deep vocals helps to lure in the listener, Cassper Nyovest was also able to spit fantastic lyrics and give another dimension to the song. As a result, Ngud' went on to win various music awards including SAMRO highest airplay of the year and Best Collaboration.
Kwesta songs download
Kwesta songs download are available in different formats including mp3 for audio lovers and videos. You can watch all his videos on YouTube and download any of his tracks from online platforms such as Google Play music, Spotify and iTunes.
Kwesta, a multi-award winning rapper has come a long way since he embarked on his rap career. He is now one of the biggest rappers to come out of South Africa. And while fans are listening to some of the best Kwesta songs, they are also eagerly waiting for his next album DaKAR III. With the standard that he has set with tracks like Ngud' and Spirit, we cannot wait to hear what else Kwesta has up his sleeve.
READ ALSO: