Best Trevor Noah jokes about British
Trevor Noah was born in Soweto, South Africa on February 20, 1984. He rose to fame through stand-up comedy and is regarded as one of the best in his craft not only in the land of the rainbow but internationally as well. Trevor Noah jokes are unlike your normal dose of humour ranging from current events to politics and stereotypes such as accents and modes of dressing or walking. Noah claims to have blossomed his talent in his 20's. At the time, Trevor had already appeared on TV in a soap opera and after accepting dares from his friends to do stand-up comedy; he realized where his real talent lay. It was not long before Trevor Noah Daywalker documentary hit the screens in 2009. A few months later, Trevor was hosting the South African Music Awards, where he was outstanding with funny South African jokes. By 2010, Trevor Noah already had his own talk show called Tonight with Trevor Noah which aired on Mzansi Magic and M-Net.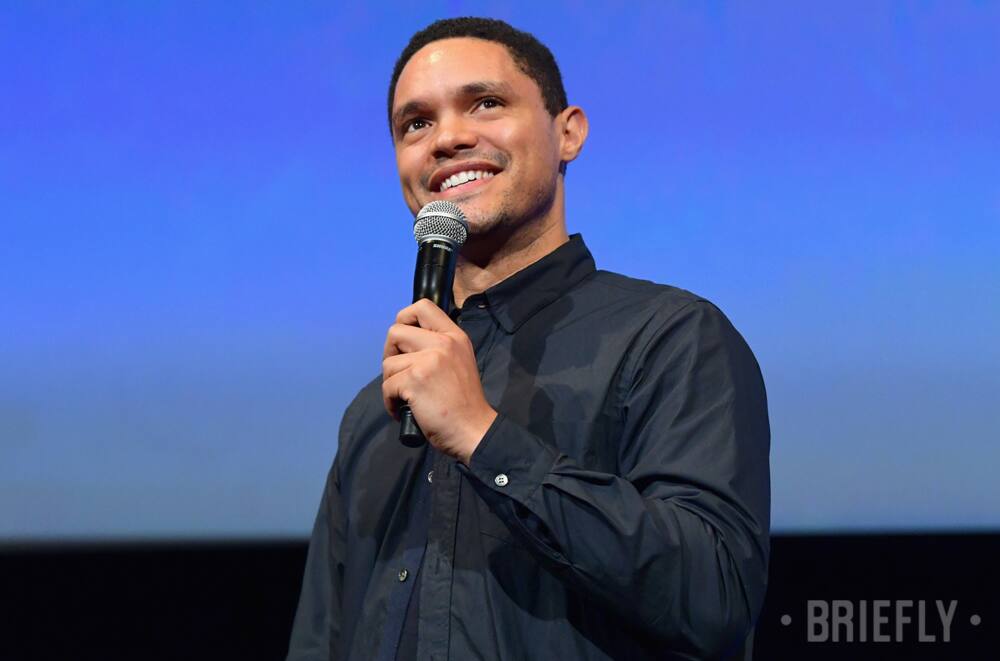 Trevor Noah Videos
Trevor's appointment as the chief anchor on The Daily Show saw the program rise in popularity, which prompted a new five-year deal for him in 2017. Over his illustrious career as both a stand-up comedian extraordinaire and The Daily Show host, Trevor has made fun of many beliefs. In his stand-up comedy dubbed Trevor Noah It's my Culture, the comedian makes jokes about almost every country he has visited in Africa as well as the west including Britain.
Trevor Noah comedy surpasses race and some of the area's most comedians would consider redlines such as talking about the president of your country as an African. In the west, say the UK and US, most comedians are afforded that freedom but most African countries are not there yet. Nonetheless, Trevor Noah's Jacob Zuma funny videos are in abundance and the South African holds no punches when it comes to his former president. The snippet above is a part of the Trevor Noah Crazy Normal stand up tour that has millions of views on YouTube at the moment.
Here is another video from the stand-up comedian where he talks about flight attendants in South Africa compared to other parts of the globe. More of Trevor's jokes on video can be found on his YouTube channel or on The Daily Show with Trevor Noah. Here are some of the comedian's best jokes about the British.
Trevor Noah's best jokes of all time
Trevor talking about flying into the United Kingdom
You have one of the most stressful border controls that has ever come into in my life. They ask you so many questions. The guy looks at me and says: "So you're a comedian, you don't look funny". So at one point, I stopped and I said: "Look, man I've given you the paperwork, I've told you why I'm here, why don't you believe me?" He said: "Well, the truth is, we can't just believe everybody that comes into the UK, we can't just believe that you're gonna do what you say you're here to do, you might do something totally different". I thought: "Fair enough, that makes sense. I just wish, as Africans, we had thought of that when the British arrived, that would have served us well."
On flying when his home country was stricken with Ebola
Flying has been particularly stressful for me in recent months. Flying into America has been the worst. You go through different lines, there's extra checks. Especially if you come from what they consider a high-risk Ebola region, which apparently is the whole continent - we're all coughing on each other in one big hut.
Trevor's joke about watching TV in the States
I've never seen more focus put on sports anywhere else in the world. You worship them, you analyze them, you watch the game before the game. You talk about what happened in the game and what could have happened in the game, what did not happen in the game. It is all statistics, you know every statistic. Then you switch over to the business channels and you are like: "Well, what's happening in the economy this year Bob?" Bob: "Well, nobody knows".
Trevor making fun of the scandal at Oprah's school in South Africa
Oprah's school has state-of-the-art everything. Well, not everything - teachers, not so much. Those kids got beatings for no reason. There was always these cases of teachers walking into class and losing their minds. "Mavis, did you do your homework? Then you're going to get a beating and because it's Oprah's school, everybody is getting one. You're getting a beating, you're getting a beating, everyone is getting a beating."
I think there should be a rule in America that says you can hate immigrants all you want, but if you do, you don't get to eat their food. That's a fair exchange for me. If you hate immigrants, no immigrant food. No Mexican food, no Caribbean food, no Dominican food, no Asian food, nothing. Only potatoes. I'm not even saying flavoured potatoes. Just plain potatoes, no spice. Because, no immigrants, no spice. Don't ever forget that. Both figuratively and literally, no spice. I know some people who would take that. I know there are some people right now who would be like, "Well, you know what Trevor? Take your immigrants, take your spice, and get the hell outta here." You say that now because you've never lived a life without spice. But don't ever forget, a life without spice was so hard, so hard that it made white people sail around the world to find it. This wasn't regular sailing. It wasn't a Disney cruise. These people lived at a time when they believed that if you went that way you would fall off the edge of the earth and die. And still, some man was eating some white lady's cooking and was like, "I can't do this shit anymore!"
Trevor Noah latest jokes mostly revolve around the current state of the world and no country, dignitary or event is exempt. His position as the host of a very popular TV program has cemented his place as one of the greatest comedians in South Africa. You can watch Daywalker, which is considered the best Trevor Noah stand up full version below.
Trevor's career takes off
After Trevor departed for the United States, he staged several stand-up comedy acts and then left for the Edinburgh Fringe Festival in 2012. He debuted 'Trevor Noah the Racist' at the festival, which is considered one of his best stand-up acts of all time.
Trevor also served as a correspondent for John Stewart's The Daily Show on Comedy Central in 2014. After Stewart announced his resignation from the show a year later, one of the best replacements the channel could find was already a correspondent. Trevor Noah's appointment came as a surprise to many seeing he was under fire for 'harsh' tweets against Jewish communities and women.
Judging by his ongoing success, we are yet to see the best Trevor Noah jokes. Just recently, the comedian released a new stand up dubbed Son of Patricia which aired on Netflix. The stand-up touches on immigration, camping, racism, and more. The video is not yet available on public websites but can be viewed on Netflix. Nonetheless, snippets of the recently aired stand-up are already on YouTube.
READ ALSO:
Best Trevor Noah jokes ever
Best Trevor Noah quotes about love and life
Trevor Noah jokes about Madiba statue: 'Don't shoot, I'm already dead'
Source: Briefly News