Refiloe Maele Phoolo, popularly known by his stage name Cassper Nyovest, is a phenomenal dancer. When he starts to move, it is almost impossible for those people observing to sit back and watch without shaking and shimmying a little bit in their seats. This is just one of the many talents that make him a great musician. Cassper has shown us his killer moves several times, in his music videos, on stage in concerts and also in just random videos that he posts online. If you want to see more on the best Cassper Nyovest dancing videos, then this is the article for you.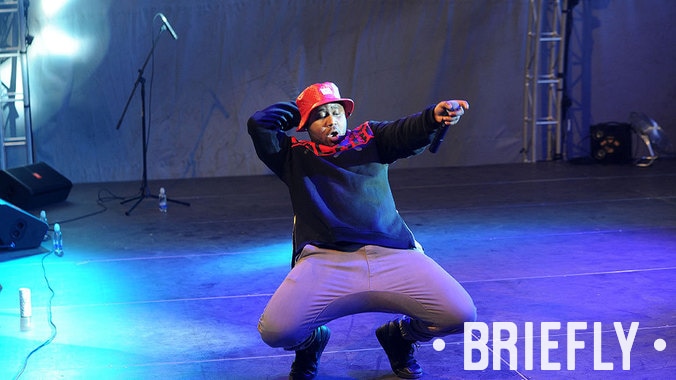 READ ALSO: Cassper Nyovest's new album is a homage to Kwaito and got mixed reviews
Cassper Nyovest dancing to Gqom
Gqom music, pronounced as Qwom, is an exclusive and unique beat which originates from South Africa. This type of music incorporates hollow drum sounds which have a dark build-up filled with mystery. The producers of this genre of music make it as a response to their daily lives and what they heard growing up. Their uncertain, unruly and unsafe surroundings inspired the birth of Gqom. The sounds are obtained from screams, gunshots, yells, hits and much more. The dance mostly used with Gqom is Bhenga.
The Bhenga dance comprises of the dancer wobbling their arms and knees, jerking their feet to the beat, jumping from side to side, and even squatting. The dance has no specific method to it, and it just requires you to make it your own and to the right music.
Cassper Nyovest has done nothing less, and he owns his dances to Gqom music as can be seen below. From how he moves he displays a great deal of flexibility and agility which is key for any dancer out there.
READ ALSO: Cassper Nyovest gloats about his new and improved easy to dress body
Cassper Nyovest VS Okmalumkoolkat dancing
The video below shows a compilation of both Cassper Nyovest and fellow artiste Okmalumkoolkat dancing to gqom music. They both have great dance moves, some even refer to Okmalumkoolkat as the Michael Jackson of South African dance. This is not a loss to Cassper Nyovest because he is a great dancer in his own right as well.
Cassper Nyovest dancing to Slyza Tsotsi
Slyza Tsotsi is a song that you have probably heard. It was released in 2015 by Major League Djz, featuring Cassper Nyovest, RikyRick, Okmalumkoolkat, and Carpo. Slyza Tsotsi is a song that revives old Kwaito with a touch of Pretoria House Music. It is edgy and modern but also ancient at the same time, and this is probably what made the song such a big hit.
READ ALSO: Cassper Nyovest gets free use of Moses Mabhida stadium for #FillUp concert
As soon as the song was released, it hit the African social media space by storm. Everyone everywhere was dancing to it under the hashtag #slyzatsotsi where they posted videos showcasing their killer Pantsula moves.
Cassper Nyovest is not one to be passed by such a cool dance wave and he released his own dancing videos to the song despite him already dancing in the original video. Cassper Nyovest Slyza Totsi moves are so smooth and well executed. He truly is a magnificent dancer.
You can see Cassper flaunting his moves to Slyza Tsotsi below.
READ ALSO: Albums, tours and lucrative endorsement deals: Nasty C's net worth
Cassper Nyovest Vosho dance
Vosho is yet another amazing but also hard to pull off South African dance move. The dance involves a lot of squatting, kicking and jumping from side to side. As you can imagine, it is not easy to pull it off. However, Cassper Nyovest is not one to shy away from trying dance moves that can be nearly impossible for others.
The vosho dance has evolved with time to give rise to the 'head vosho' which we can refer to as the 'Lazy Vosho' because it involves way less technique than the original Vosho. Instead of squatting and kicking, you are only required to extend your arms and bop your head to the rhythm, quite simple. Most expert dancers incorporate the head Vosho along with the Vosho to kill it.
Cassper Nyovest dancing Omunye
Omunye Phez Komunye is a song by Distruction Boyz ft Benny Maverick and Dladla Mshunqisi. Despite the song facing a lot of controversies, it still hit gold in the charts and everyone was living for it.
This is probably why Cassper Nyovest joined the bandwagon and showcased his Mzansi dance moves to this song while at the gym. It must be nice to dance and workout at the same time.
In the dancing video below, he peers from the sidelines and then goes ahead to do his thing. This video shows how limber Cassper is and we see that he can really move. He found a way to make working out seem like fun and not a chore.
READ ALSO: Cassper Nyovest cars 2018 - list, photos and worth
Cassper Nyovest dancing Gwara Gwara
The Gwara Gwara is a dance that originated from South Africa from their famous hitmaker Dj Bongz. This dance is not only performed in South Africa or even in Africa alone, but it is also done internationally. Huge celebrities such as Childish Gambino, Rihanna and Chris Brown incorporating the dance into their shows, concerts and also in their music videos.
The dance did originate from South Africa and it obviously did not miss Cassper Nyovest. The Gwara Gwara involves moving your hand to the beat together with your foot while the other hand and foot stay stationary. Watch Cassper Nyovest pull it off below flawlessly and also effortlessly.
Cassper Nyovest Ksazobalit dance
Ksazobalit is a song released by Cassper Nyovest that tries to express the authentic South African beauty. It is a comical and satirical song that incorporates tons of dance, both Mzansi dance moves as well as American dance styles. Watch the video below to see his awe-inspiring dance moves and maybe you can try some of them as well.
READ ALSO: Cassper Nyovest to SkinnySbu: 'Don't give up. I know how you feel. I've been there'
Other Cassper Nyovest dance videos
Below is a collection of other Cassper Nyovest dancing to all kinds of music.
In this tweet, he is dancing in such a manner to make his friends laugh by waving his arms around in a free manner but you can still see the rhythm in the way he moves and the coordination as well as consistency in how he dances.
This is a collection of videos that were taken when Cassper was in Ibiza, Spain. He is clearly having a good time putting on a show revealing his stellar dance moves.
This last tweet reveals Cassper smoothly moving to the beat on a stage. He knows how to dance and is not afraid of expressing his god given talent. The caption reads:
Remove all the big stages and the lights and what do you have? God given talent. It runs in my veins. It shines with lil effort. I don't think I've used all my talents to the fullest yet but I promise you that come #FillUpMosesMabhida , I am bringing it!!! 4 days to go. LETS GO!
Those are the most common videos of Cassper Nyovest dancing. If you were wondering whether he can dance or not, there you have your answer. Watch and conclude whether he really is a multi-talented performer. What we can all agree on is that he knows his Mzansi dance moves.
Source: Briefly.co.za