Quinoa is the best of South African delicacies that occasionally lights up family meals with love. However much the delicacy is accessible, learning how to cook quinoa is a skill everyone should get. It is a good feeling to hold control over numerous flavors of this tasty meal by trying and mastering different recipes in the process. Pronounced as "Keen-wa," every serving is enriched with proteins, fiber, magnesium, and luckily, gluten free. Those trying this meal for the first time liken it to grain, but instead, it comprises seeds which comes with a fluffy and nutty mouth-feel. Here are some of my easy cooking and amazing quinoa recipes that you can try right in your kitchen.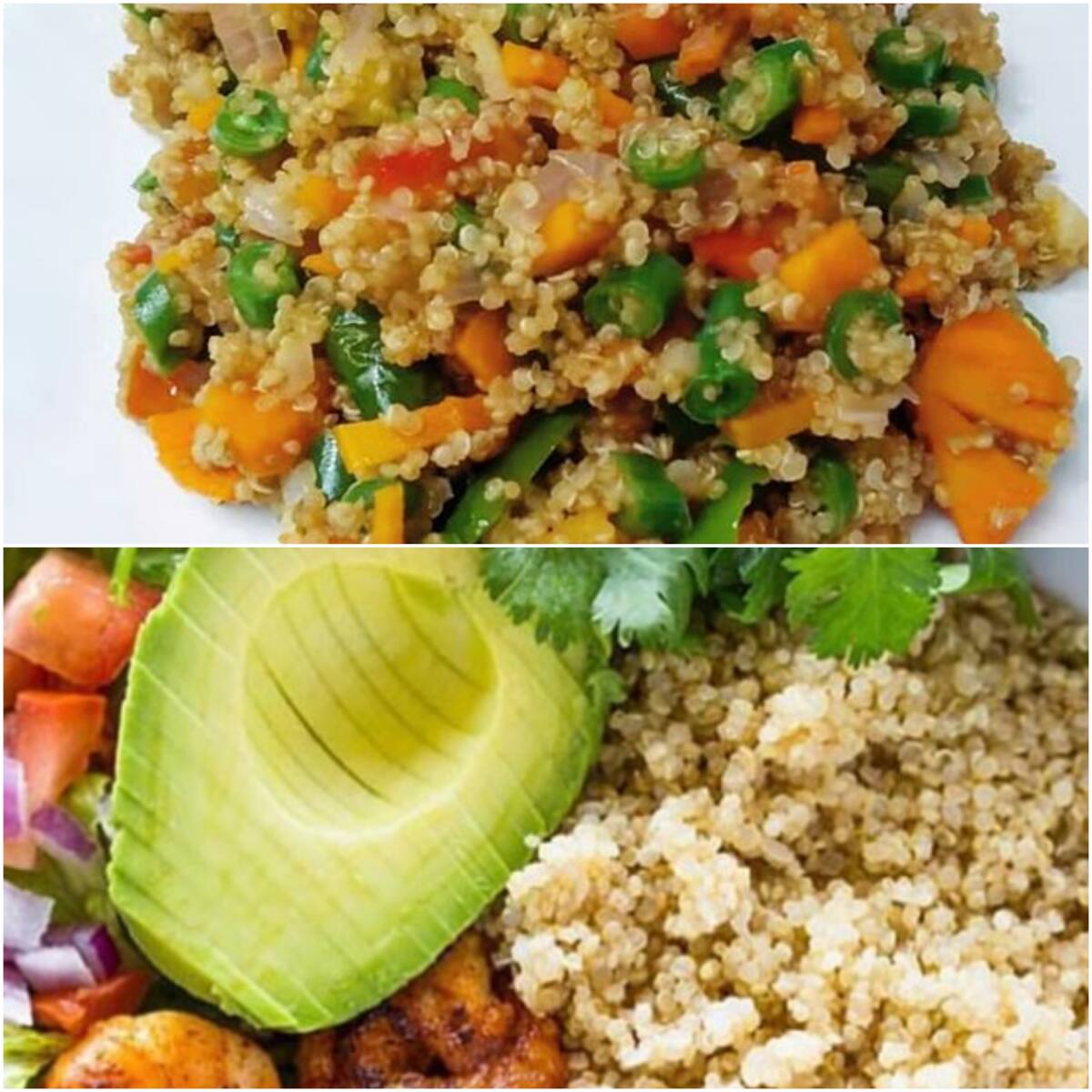 Are you stuck on how to prepare quinoa? Do not worry because not everyone finds it easy to cook it. We have you covered with different variations of mouthwatering quinoa recipes, therefore, carefully follow our list of ingredients and directions that will help you realize perfectly cooked meal with the right proportions of flavors. This guide will give you more inspiration towards your cooking experience with this food.
READ ALSO: How to make lasagna at home
What is quinoa?
If you are new to this delicious meal, quinoa is a nutritious grain-like pseudo-cereal rich in minerals, proteins, fiber, and minerals. South Africans love to prepare it mostly for its unending healthy benefits, so why not include it in your diet as well? Visit your favorite local and online grocery to purchase this cereal and join us cooking through the recipes provided below.
5 of the best quinoa recipes
Collect the readily available ingredients then follow the easy cooking directions provided on how to prepare this meal in different ways.
1. Spinach and quinoa with chickpeas, seeds, and feta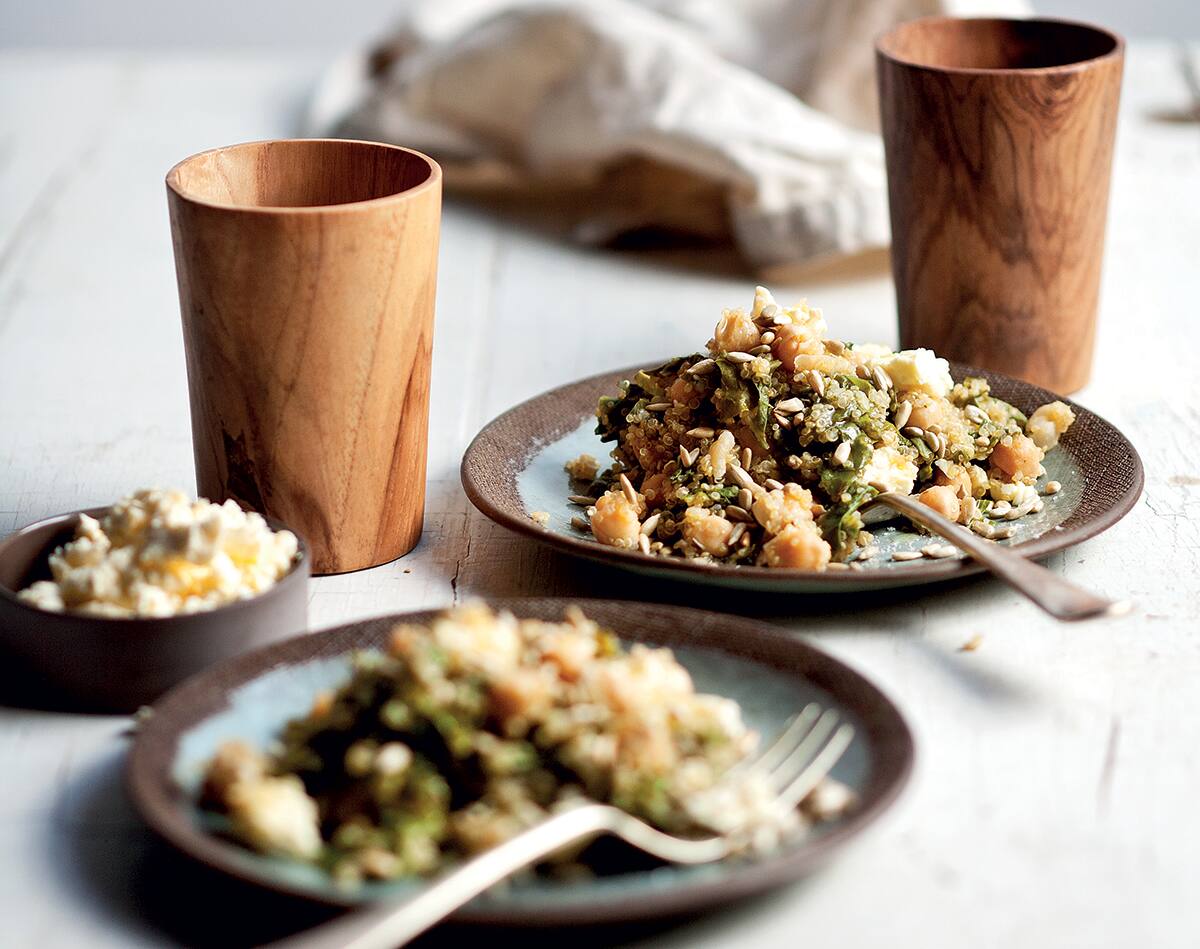 This recipe is fat conscious, easy to prepare, and comes with unbounded flavor. The ingredients and directions provided below will take about 35-40 minutes of cooking time.
Ingredients: 3-4 servings
3 cups of vegetable stock
100 g feta, crumbled
170 g of quinoa
1-2 teaspoons of olive oil, for drizzling
200 g of spinach or Swiss chard, shredded
One 400 g chickpeas can rinsed and drained
Freshly ground black pepper and Sea salt for taste
2-3 teaspoons of toasted sunflower seeds, for sprinkling
Cooking directions: 35 minutes
Continuously rinse quinoa in a sieve until the running water becomes clear, then drain.
On the saucepan, bring the stock to a boil.
Apply a ½ teaspoon of salt, the chickpeas, and quinoa.
Bring the mixture to a boil then add spinach.
Reduce the heat to very low, and cover to simmer until the cereal becomes translucent and tender for about 15 minutes. Drain, then return to the saucepan.
Add crumbled feta and cover then allow it to stand for about 10 minutes.
Fluff up the cooking using a fork then season to taste.
Sprinkle sunflower seeds on top, then drizzle with olive oil. Your meal is ready.
2. Summer tomato, beetroot, and lemony ricotta quinoa salad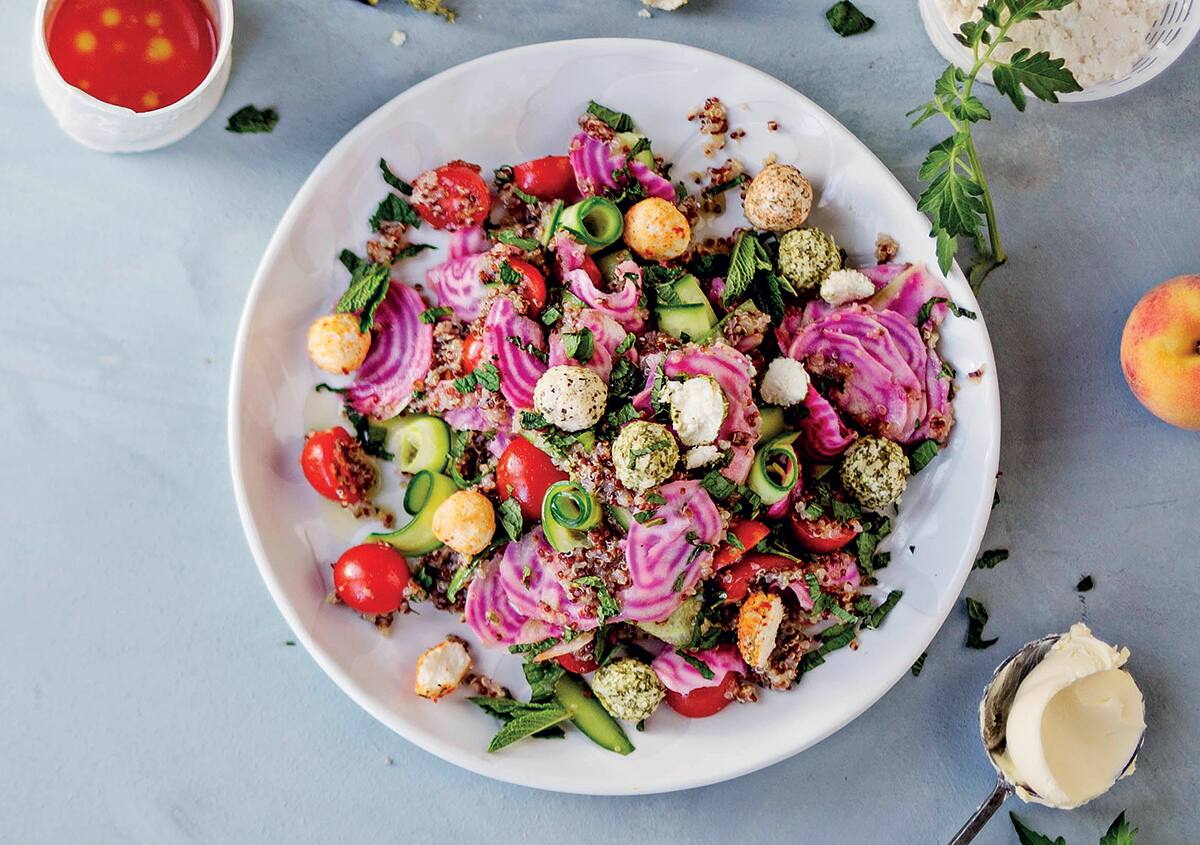 This recipe comes with a colorful dressing which is fat and healthy conscious. All the mouth end flavors soak up in the zingy dressing which is not only aromatic but also tasteful. Preparing four servings of this health conscious quinoa recipe will just take about 40 minutes.
Ingredients: 4 servings
300 g of mini cucumbers
3 teaspoons of olive oil
4 chopped anchovies
300g of halved vine tomatoes
2 teaspoons of finely chopped mint
1 juiced lemon
1 teaspoon of chopped capers
1 teaspoon of red wine vinegar
200 g of Woolworths red and white quinoa blend
2 x 120 g of Woolworths decadent cheese bites packs (low-fat cream)
1 bunch of peeled fresh candy or plain beetroot
Cooking directions: 40 minutes
Use a vegetable peeler to shave the cucumber and beetroot into small slices.
Marinate the cucumber, tomatoes, and beetroot in olive oil, anchovies, red wine vinegar, and lemon juice.
Cook quinoa using packaging information provided.
Drain and allow to cool a little, then toss the cereal in marinated vegetables, decadent cream, and mint before serving.
3. Herbed quinoa salad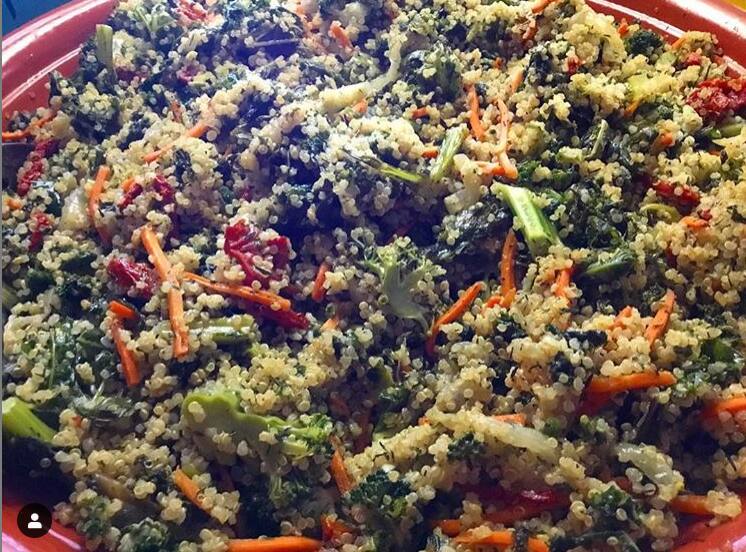 This summery recipe presents a flavored bunch of glittering fresh herbs as a top dressing on every plate. It is not only good looking but also finger licking.
Ingredients: 8 servings
170g of quinoa
2 teaspoons of olive oil
2 teaspoons of lemon juice
1 packed cup of fresh herbs
Freshly ground black pepper and Sea salt to taste
Cooking directions: 35 minutes
Rinse quinoa in clean running water.
Boil about 3 cups of water in a medium-size saucepan.
Add ½ teaspoon of salt, then the drained cereal.
Bring the mixture to a boil and then lower the flame to low.
Cover and simmer until the cereal becomes tender for about 15 minutes. At this point, separated germ will look like tiny curl.
Drain then return to the saucepan.
Replace the lid and cover the pan using a clean tea towel. Leave it for about 10 minutes then fluff using a fork.
Meanwhile, chop the herbs finely and mix with quinoa. Now moisten with olive oil and lemon juice to taste before serving at ambient temperature.
4. Sweet potato and red quinoa burgers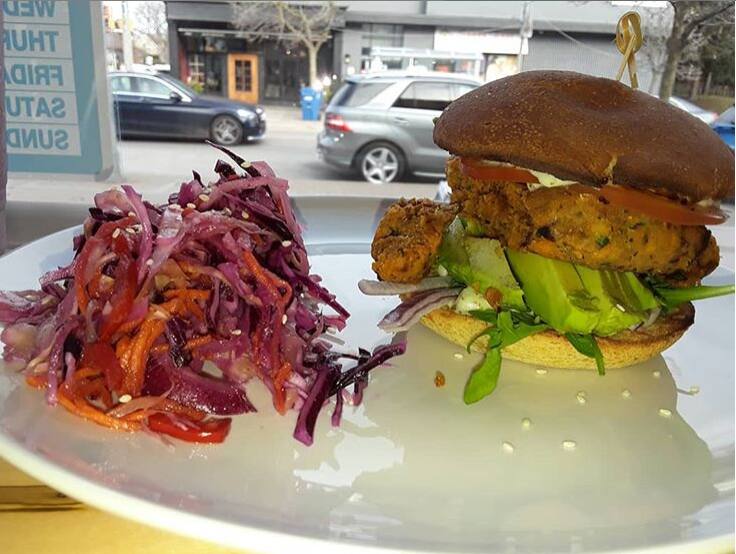 If you are an explorative cook, then this is a recipe you can always try when it is kitchen time. You will hardly go wrong with the recipe. Sweet potato and red quinoa burgers come in different flavors and types. Discussed below is a favorite party burger for most South Africans.
Ingredients: 4 servings
250 g of red quinoa
1 small onion, finely chopped
200 g diced white sweet potato
1 teaspoon of dried chilli flakes
7 teaspoons of chickpea flour
1 free-range egg
1 teaspoon of cumin seeds
1 clove of grated garlic
1 teaspoon of Cajun seasoning
2 teaspoons of extra virgin olive oil
2 teaspoons of sesame seeds
Cooking directions: 45 minutes
Cook the quinoa based on the instructions provided on its packaging, then place them in a large bowl before setting them aside.
Cook sweet potatoes until they soften and become tender.
Mix the cooked potatoes with the cooked cereal, garlic, onion, chickpea flour, Cajun seasoning, egg, chilli flakes, sesame seeds, and Cajun seasoning.
Now shape the resulting mixture to form four patties. Heat oil in the pan then fry both sides of the patties to turn golden brown or for about 3 minutes.
5. Butternut and quinoa bobotie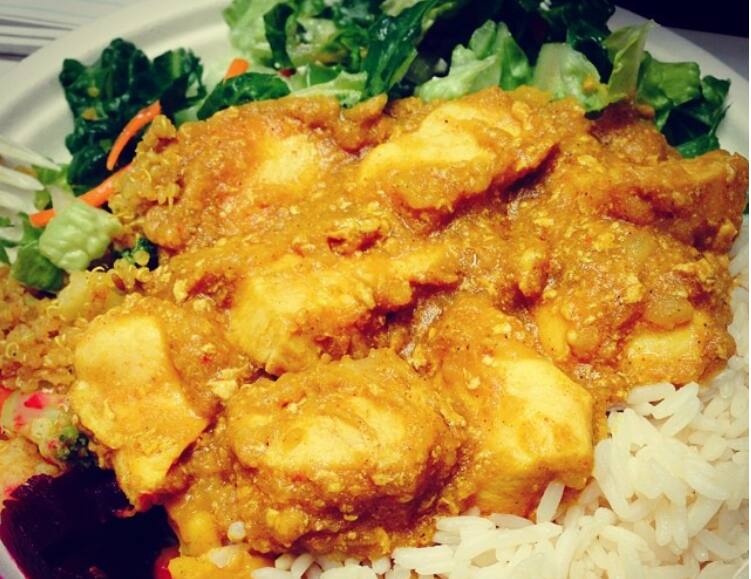 This recipe is a South African veggie delicacy that features butternut.
Ingredients: 4-6 servings
2 brown -bread slices, crusts removed
¼ cup buttermilk
30 g -butter
1 free-range egg
6 small bay leaves
1 cup of buttermilk
2 free-range eggs
2 T lemon juice
2 cups of cooked quinoa
1 large onion, finely chopped
¼ t turmeric
Butter, for greasing
1 T Woolworths Cape Malay curry powder
500 g butternut, cooked and mashed
Fruity chutney, for serving
Sea salt and freshly ground black pepper, to taste
Vinegared and chilli-spiked sliced tomatoes and red onion, for serving
Cooked brown rice, for serving (optional)
Cooking directions: 60 minutes
Heat the oven to about 180°C.
Gently apply butter and cook the onions until they soften.
Now add curry powder and stir before removing from the heat.
Beat an egg into the buttermilk, crumble the bread before adding the mash well and beaten egg mixture.
Mix gently then add lemon juice, bread mixture, and onion then season to taste.
Apply butter in a baking dish, add bay leaves, and bake for about 15 minutes. Ladle the topping baking further for another 15 minutes.
READ ALSO: 5 easy and healthy chicken wrap recipes
There you go! Learning how to cook quinoa is as easy as above. In any case, cooking this tasty meal should be more fun, so carefully follow through our ingredients and cooking directions for tasty quinoa meals. Studying how to make quinoa is not enough until you apply the skills in your kitchen.
READ ALSO
Source: Briefly.co.za