Trevor Noah is an accomplished stand-up comedian and late night TV host on Comedy Central. He is well loved in South Africa and the world over for his jokes which hint on satire and are a very real depiction of South African life. During many of his stan-ups, he makes fun of the former South Africa president, Jacob Zuma as well as the Guptas, a very powerful South African family. In this article, we highlight Trevor Noah jokes specifically targeting Jacob Zuma and the Guptas. Keep reading to see Trevor Noah's take on the matter.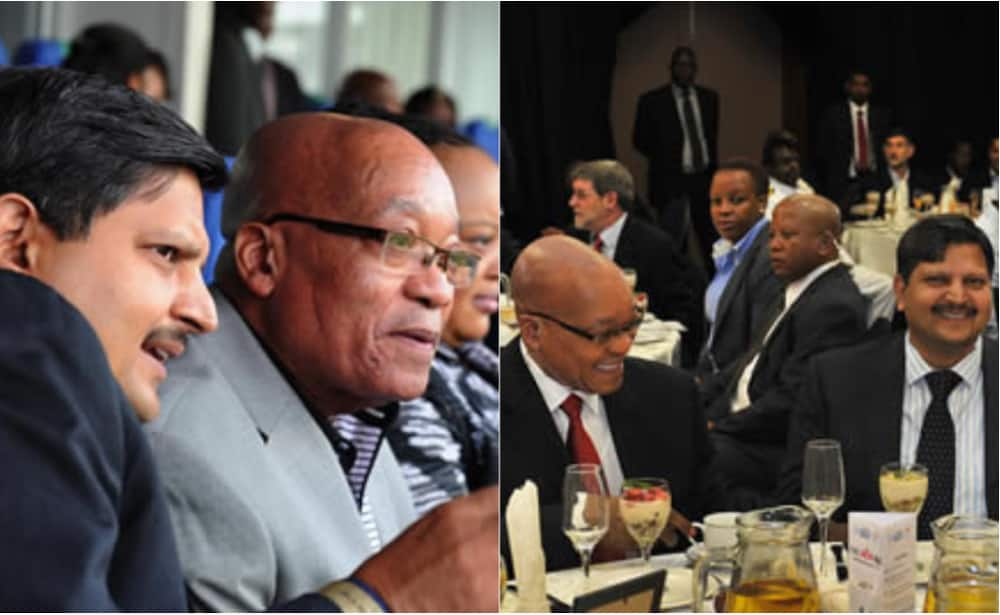 READ ALSO: Trevor Noah jokes about Madiba statue: 'Don't shoot, I'm already dead'
Trevor Noah on Zuma and Guptas in 'There's a Gupta in my stoep'.
At a conference in Johannesburg, Trevor Noah told the world why he decided to give this stand up the title 'There's a Gupta in my stoep'.
For him, the title captured the anxious mood that was in South Africa. A comedy that was released by Leon Schuster called, 'There is a Zulu on my stoep', was one of Trevor Noah's favourite comedy shows. You can see the resemblance in the name There is a Zulu on my stoep and Trevor Noah Guptas in my stoep. Trevor Noah says that the Guptas have influenced the country in so many ways such that people are still trying to understand the extent of their empire. This is why the title hit so close to home, for him, it was a way to include the past and the present in one show. Trevor said;
"Essentially I felt that's what we're experiencing right now: We're a country where we are confused and trying to put together the pieces of how intense, and how much effect these people had on the running of our nation.People are still trying to piece together the Gupta emails, people are still trying to piece together the extent of their influence on our government, but it definitely feels like there's an encroachment on what we thought was 'us' defining ourselves."
"And the best way I could think of that, was really There's a Gupta On My Stoep. It's South African, It's a hint and a nod to the past. And it's not There's a Gupta In My House, it's just on my stoep. There's also some other things that are happening that I talk about and so that's why I went with that title."
READ ALSO: Best Trevor Noah quotes about love and life
In the first joke, Trevor Noah hints at just how much influence the Guptas have had on the president Jacob Zuma. He says that things went from bad to worse for Zuma, especially while he was giving speeches, due to this.
According to Trevor Noah, Zuma would listen through an earpiece as the Guptas told him what to say. Naturally, this brings about tons of confusions for anyone because it is hard to listen and speak simultaneously.
This joke is well understood after you listen to Zuma giving a speech, the several breaks and problems with articulation are very noticeable and it becomes really hard to understand him.
That's probably why things went wrong, because I don't know if you've ever tried to listen to someone while talking to someone else, your mind jams. That's why Jacob Zuma could never deliver a speech. It's not that he couldn't read, he just couldn't listen and speak at the same time. I used to watch him and be like what's going on Jacob? YouTube is buffering? What's happening here?
READ ALSO: Best Trevor Noah jokes about British
In yet another unfortunate event, where Jacob Zuma's counting was questionable, Trevor Noah gave us another Gupta theory relating the two events. Trevor Noah said that Zuma counting numbers can be related to the Guptas speaking to him through an earpiece, again.
With his mastery in voicing accents, he did the voice of the Guptas as well as Zuma in a scenario where the Gupta's were speaking to Zuma using a chip in his ear. Trevor said this is probably what caused Zuma to stutter so much in his speech. The video showing this hilarious joke is below.
READ ALSO: Bruised vocal cords force Trevor Noah to cancel the rest of his 2018 shows
Trevor Noah on Zuma and Guptas in 'Its my culture'
In his stand-up, Its my Culture, Trevor Noah makes a short joke about Jacob Zuma who refuses to state his income sources. The former president of South Africa, when asked about the source of all his wealth was very quick to deflect the blame on the Guptas. This became yet another avenue for Trevor Noah to make us laugh at the expense of Jacob Zuma.
Never bring money up, around Jacob, ever! Because, I don't know if you've noticed, our president never admits to money. There's always money around him, but it's never his. Always. It's the Sheik's money, it's the Guptas money, it's never his. He's always there like, " No, it's not mine, it's not mine, no… it's not mine, it's not mine."
READ ALSO: Enter now: Trevor Noah wants to interview you on The Daily Show
Trevor Noah Zuma jokes on the Gupta's will have you rolling on the floor with laughter. However accurate his Jacob Zuma jokes are, they are still very funny. This hilarious comedian is rising in his career and we are yet to see the best of his works. Catch his latest show release,' The son of Patricia' on Netflix and have a good laugh.