While at the university, you might have written one of the two kinds of literature reviews. The first type at the undergraduate level involves writing it as a stand-alone assignment which is in preparation for the research process in the field. The second type is written at the postgraduate level where the literature review is written as an introduction to a longer project; usually a thesis, research report, or an article.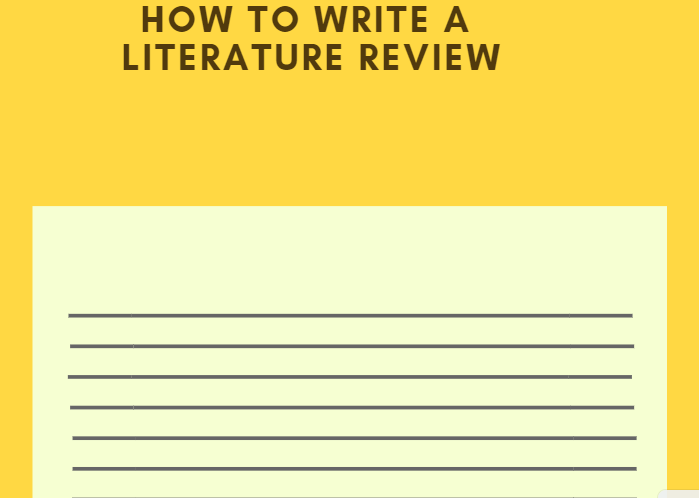 The main focus, perspective, and hypothesis of your literature review will be determined by the kind you want to write. To get the difference between the two types, try to go through published dissertations done in your subject area. This will help you understand the structure of their arguments and how each issue is addressed. Here, we will also take a look at some literature review samples.
READ ALSO: Trevor Noah book review and summary
What is a literature review?
Simply put, it critically analyses a published source, literature, or a specific topic. The literature review assesses the literature in a published work and gives a summary, comparison, evaluation and classification of that work. Depending on the area of focus, it can be a single chapter segmented into a sequence of chapters on various topics or inserted in consecutive thematic papers. The introductory part in most of these types will be a shorter review to validate the research even if there is a longer review elsewhere.
Purpose of the literature review
Before we delve into the process of writing a good literature review, let us first look at why it is necessary to write it.
It prevents duplication of work that has already been conducted by other researchers.
It summarizes all valid, meaningful, and significant works done into one report, helping readers gain easy access to high-quality articles on a given topic.
Literature reviews offer a great starting point for academic personnel who are starting to conduct research in a new area by obliging them to summarize, compare, and evaluate already existing work in that particular area.
They also offer hints as to the direction of future research as well as suggest key areas of core focus.
Reviews also help highlight key findings in research projects.
By evaluating published sources, a literature review aids in identifying contradictions, gaps and discrepancies in such works.
It delivers constructive analysis of the methodologies and approaches employed by other investigators.
Literature review outline
When learning how to write a literature review, keep in mind that its format is similar to that of a standard essay. This means that it has an introduction, body, and conclusion.
a. Introduction
This part clarifies the main focus and cultivates the significance of the subject. It also examines the kind of research that has been done on the topic and brings to light any controversies within that field or any recent research raising questions about previous assumptions. If one is writing a stand-alone assignment, then the thesis statement sums up and evaluates the state of art in the research field. In case one is doing the introduction review to a longer thesis or research project, then the statement suggests how the findings will result into the research that the writer recommends commencing.
b. Body
This part of the literature review format is divided into headings and subheadings. The section summarizes and evaluates available knowledge in the given field. Thereby, it outlines key topics, significant trends, and all findings that the researchers agree or disagree on. In case the review is introductory to tour own research project or thesis, then you have to justify your suggested research.
c. Conclusion
The last part in the literature review outline recaps all the evidence presented and illustrates its importance. If it is in preparation to your own research, then the conclusion highlights gaps and shows how prior studies have led to your research work and selected methodology. On the other end, if the review is a stand-alone assignment for a given course, then the conclusion suggests practical applications of the study and the implications and possibilities for future research.
How to write a literature review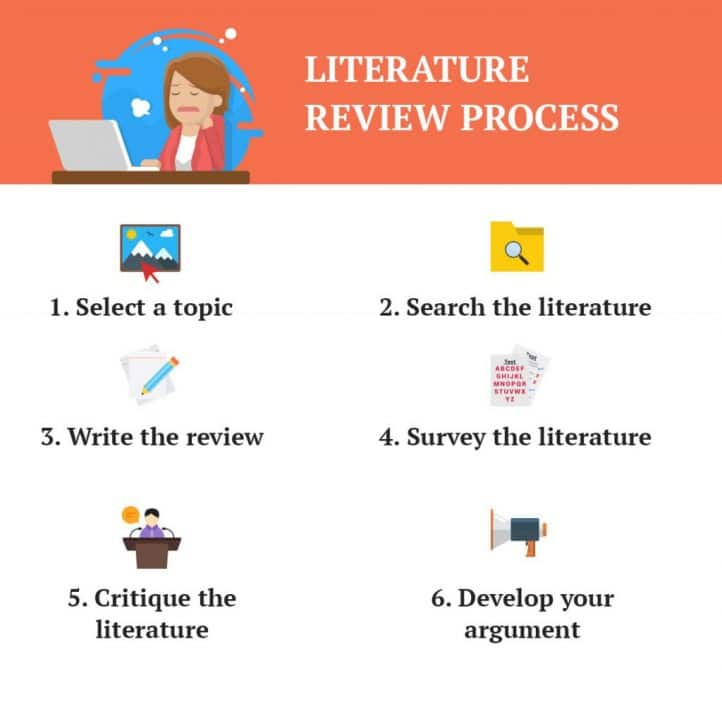 1. Create a feasible topic
The first step when writing a literature review is to come up with a topic in your area of study. Look at what interests you in the field and make sure if it is a fertile ground for research. Secondly, converse with your instructor, brainstorm, and go through lecture notes and recent published periodicals in the field.
2. Review the literature on the topic
Develop some keywords and perform search in a computer database. Try and use at least two databases that are relevant to your areas of study. An important tip is that reference lists of recent articles can offer invaluable insight for your research. Remember to also include any research that contradicts your point of view.
3. Narrow down your topic
When doing this, keep in mind your interests, interests of others and the time span of research that you will embark on. Select an area of study that is due for a review.
4. Read all the selected published works and evaluate them accordingly
When going through chosen articles, ask yourself the following areas of concern.
Assumptions made by most of the researchers
Methodologies employed in their studies
Conflicting theories, methodologies, and results
Evaluation of research findings as well as conclusions drawn
Also, examine some of the popularity theories and how they have evolved or remained the same over time.
5. Organize the selected articles
One has to classify some selected articles that dress up their thesis. To simplify your work, divide the articles into two parts. One part combines all the papers that are similar to your statement and the other has the articles posing contrasted arguments to yours. This makes it easier for your readers to see your stance and your approach. Moreover, readers can browse your reviews to any of the parts that they have interest in if they do not have time to read them.
To add, explore common or oppose conclusions and some of the most prevalent assumptions. Do you notice any patterns or trends that can sway your research into a different direction?
6. Create a working thesis
Come up with one or two sentences that summarize the conclusion reached regarding the major trends and developments in the research that has been performed on the subject.
7. Develop and organize the review based on findings from step 4, 5 and 6
Create headings and subheadings.
8. Write the body of the review
This is the main part that follows all the plans developed earlier. Ensure that each section is handled and that you have parted the sections by themes or subtopics.
9. Analyze as opposed to reporting
A powerful review does not just describe but analyzes existing work on the area of study. You have to dig deeper so that it is not just a collection of studies but an analysis of such studies. For this reason, evaluate, compare and measure all your sources. Then, write an observation that has strong evidence to substantiate how your theory works in comparison to the ones you have been analyzing.
10. Proofread the review
The last step in writing is to revise the work so as to correct all grammar and spelling errors. This also includes checking whether you have covered all the vital sections of your paper. Last but not least, ensure you have all the appropriate quotations so that your work remains original and free of any plagiarism.
Examples of a literature review
For better understanding, here you can find samples from some selected disciplines such as Business, Sociology, and Psychology among others.
The Effects of Communication Styles on Marital Satisfaction
Cyberbullying: How Physical Intimidation Influences the Way People are Bullied
READ ALSO: UNISA application 2018
We hope that you have now learnt how to write a literature review. Keep in mind that you require enough information about the specific field before you start writing. As such, first master the topic before looking at other research work.
READ ALSO:
Source: Briefly.co.za