Top 10 Leonardo DiCaprio movies
The love for Leonardo DiCaprio movies, famous as Leo, springs from his outstanding performances and promising acting career. Leo is an incredible actor and king to breathtaking scenes which mostly feature him as a romantic boyfriend, a bad boy, and a mentally ill child among others. It is no doubt that most movies have gone viral for his exclusive performance, and for this reason, his broad base of loyal fans is often entangled in a continual rant for his most recent productions. So, what are the best Leonardo DiCaprio movies?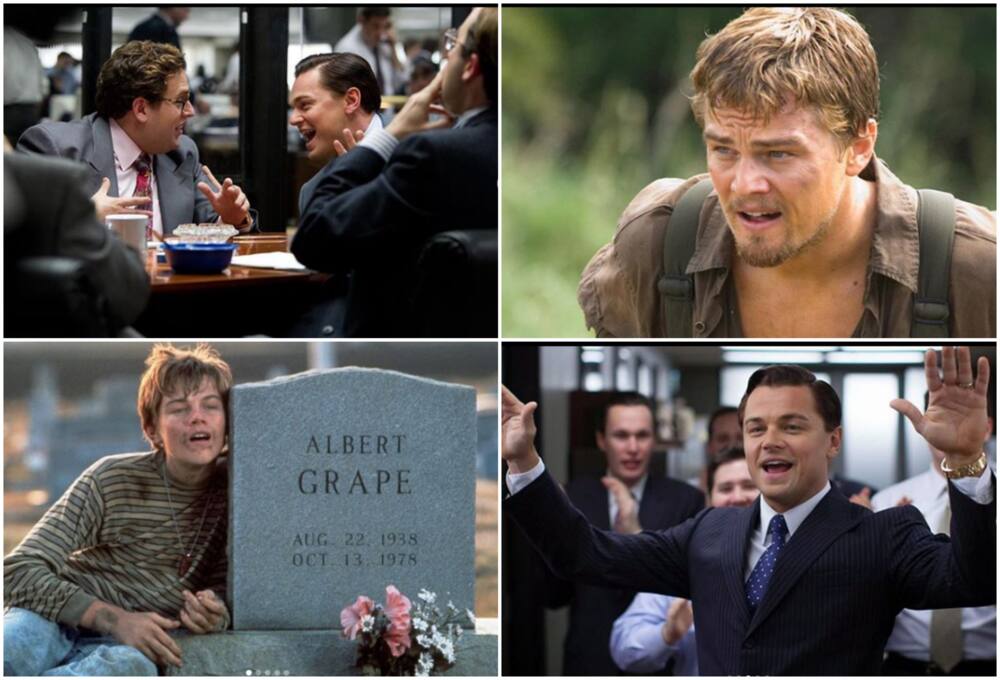 Leonardo DiCaprio is an actor and producer, as well as an environmentalist of American descent. His acting career started early in life, performing on television as a child, and later appearing in other influential shows such as "Santa Barbara" in 1990 and "The New Lassie" in 1989 among others. Do you want to find out the top ten exciting Leo movies that you may have missed? Here are his best movies and a series of his artistic movie productions.
READ ALSO: 10 best Nigerian movies 2018 ranked
Top 10 Leonardo DiCaprio movies of all time
In addition to the famous "Titanic," here are more of Leonardo DiCaprio's must-watch movies.
1. Inception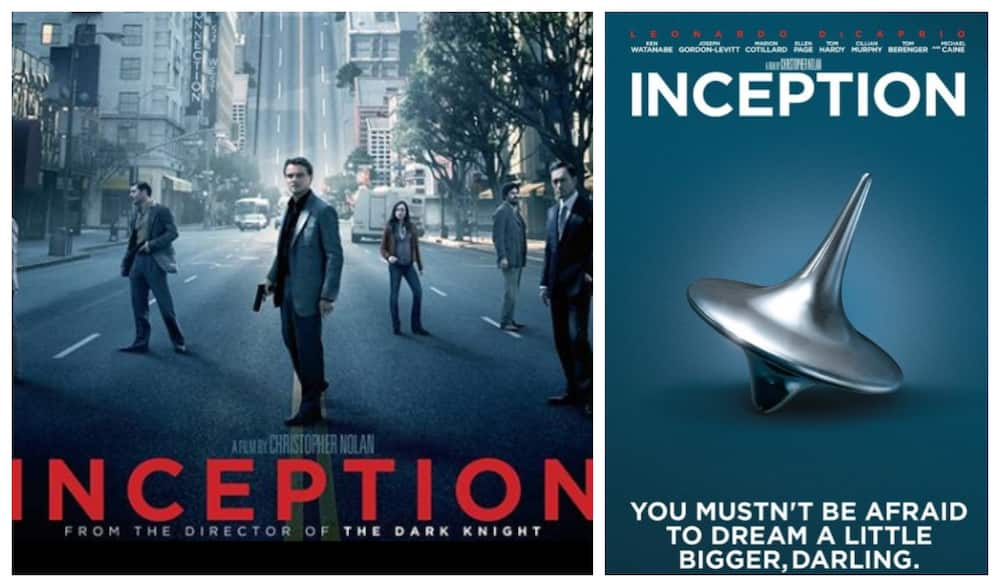 Release Date: July 16th, 2010
IMDb rating: 8.8/10
Inception is among the favorite 2010 science fiction action films that stole the media, and mainly Leo fans, with love. Both Christopher Nolan and Emma Thomas were co-producers with Christopher taking the helm as a producer. Leonardo DiCaprio stars in the film as a professional thief called Dom Cobb who has an extraordinary ability to infiltrate the subconscious to steal crucial information. His delicate art helps him steal and extract valuable secrets embedded within the subconscious mind when a person is most vulnerable especially in the dream state.
Cobb later becomes an international fugitive who is unable to reclaim everything he has lost in the process. Suddenly, only by tackling an impossible-inception, that Cobb can get back the lost abundance in his life. In the process, Cobb and his crew should now plant new ideas instead of stealing them. A dangerous enemy who seems to track every one of their moves threatens the chances of their success. It is only Cobb who could have seen the enemy coming. What will become of Cobby's risky mission? Watch this interesting movie starring Leonardo DiCaprio, Ellen Page, Joseph Gordon-Levitt, and Ken Watanabe among others to find out.
2. Titanic
Release Date: December 19th, 1997
IMDb rating: 7.8/10
Leonardo DiCaprio is an iconic player in this movie, acting the role of Jack Dawson who is a perfect fantasy boyfriend with no close matches. The story unfolds after a long period of 84 years narrated by an old woman Rose DeWitt Bukater who opens up about her ordeal in the Titanic. Rose recounts the traumatic titanic incident that claimed several lives on the 15th of April. On board was her fiancé Caledon Hockley and mother, Ruth DeWitt Bukater. She shares an intriguing story with a high level of accuracy right from the departure to the eve of the deadly incident and how she fell in love with Jack. If you have patches of insights on what conspired leading to the Titanic downfall, then this is the movie to check out next. Alongside Leonardo DiCaprio, the movie stars Billy Zane, Kate Winslet, and Kathy Bates among others.
3. The Revenant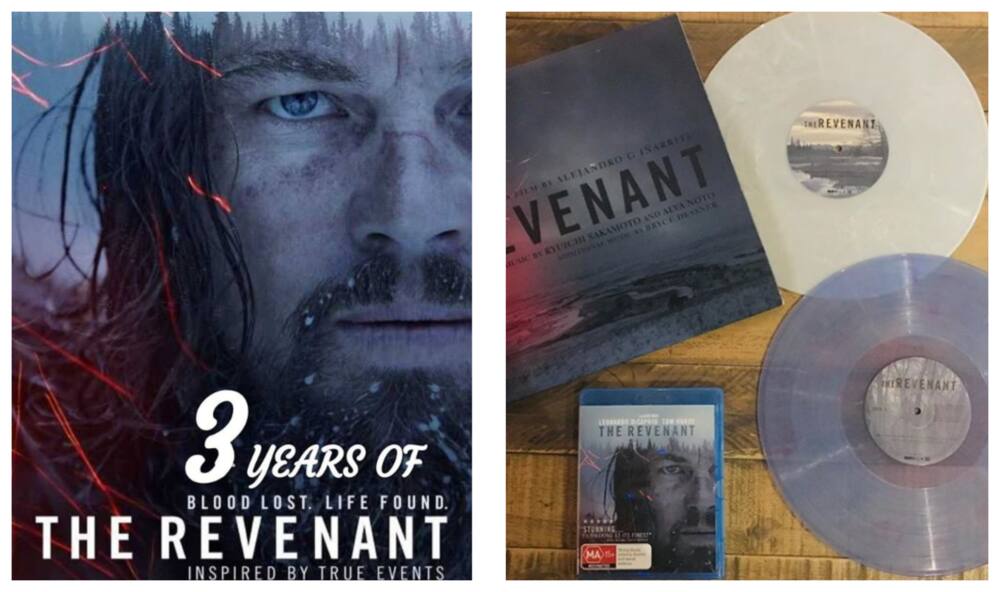 Release Date: December 16th, 2015
IMDb rating: 8/10
Frontiersman Hugh Glass, Leonardo DiCaprio, sustains gross injuries from a brutal bear attack on his mission to explore an uncharted wilderness. His hunting team deliberately abandons him to die, but Glass is not willing to give up. He, therefore, must trace his way back home utilizing all the possible survival skills that he had acquired there before. He is aware of the oncoming danger from the wild and native hunters roaming in the wilderness. The spirit of vengeance and grief motivates Glass to maneuver through the forest to safety. His quest to track down John Fitzgerald is unstoppable given that John is his former confidant who not only betrayed him but also abandoned him for death in the wilderness. This movie stars Leonardo DiCaprio, Will Poulter, Tom Hardy, and Domhnall Gleeson among others.
4. Django Unchained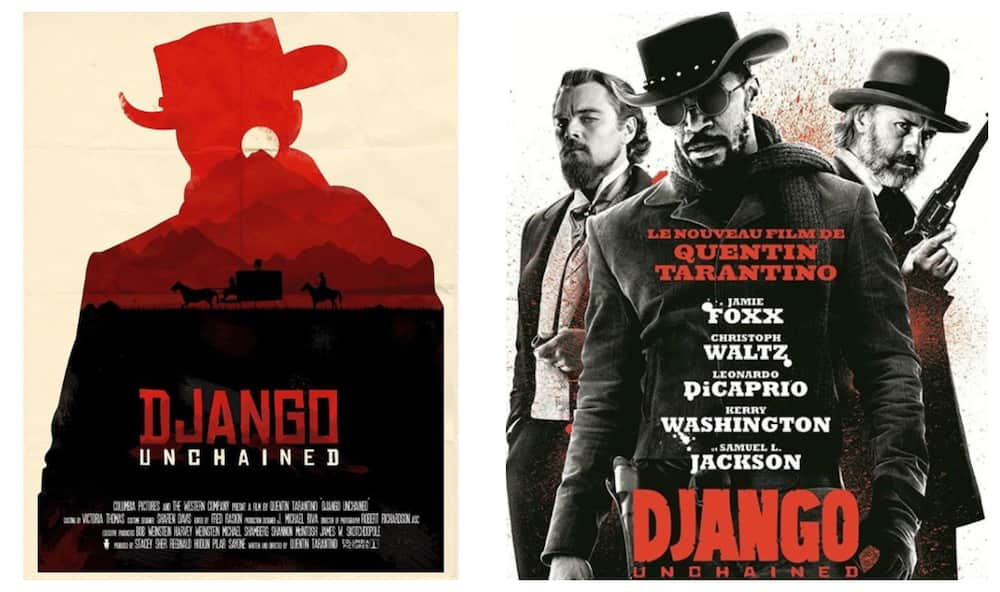 Release Date: December 25th, 2012
IMDb rating: 8.4/10
Starring is Leonardo DiCaprio acting as Calvin Candie, one of the villains. This mind-blowing Leo movie features Schultz, a bounty hunter, who seeks Django and buys him as a slave to help in finding wanted men. On tracking down these men, Django sets out on a mission to find his wife, Brunhilde, with whom he was separately sold into slavery. Schultz is kind enough to back him up should Django agree to stay with and partner with him. The collaborative search unveils that she was laboring in a Mississippi plantation. Schultz and Django understand the dangers lurking at them should they confront the plantation owners claiming they want her released. The two come up with a thoughtful plan to visit the owner's place and they find a way to sneak her out. Will the freed slave Django succeed to free his wife from the brutal Mississippi plantation owner? To find out, watch this action movie starring Jamie Foxx, Leonardo DiCaprio, Christoph Waltz, and Kerry Washington among others.
READ ALSO: Demi Leigh Nel Peters family: facts and pictures
5. Catch Me If You Can
Release Date: December 25th, 2002
IMDb rating: 8.1/10
Frank Abagnale Jr. whose real identity is Leonardo DiCaprio, stands out in his role as a high school level learner who idolizes his IRS troubled father. Frank escapes Manhattan soon after his parents separate. With him, he carries nothing but $25 in his checking account. Frank is determined to help his father regain his lost fortunes and eventually reunite his parents. The federal Bureau of Investigation tracks him down in France after which he is extradited, tried, and then jailed for various charges that include him forging an excess of $4,000,000. Frank escaped before his 19th birthday and managed to present himself as a pediatrician, a Pan Am pilot, and an attorney while in the escaping spree. Carl Hanratty in the FBI progressively follows Frank's moves. The cat and mouse rant later turns out akin to father and son. The scenes never cease to thrill viewers of this movie starring Leonardo DiCaprio, Christopher Walken, Tom Hanks, and Martin Sheen among others.
6. The Departed
Release Date: October 6th, 2006
IMDb rating: 8.5/10
A raging war between South Boston police force and Irish-American organized crime is ongoing. Leonardo DiCaprio acts as Cop Billy Costigan assuming the role of an undercover cop, purposely to infiltrate gangland chief Frank Costello-run mob syndicate. Billy quickly gains Costello's trust and the confidence of Colin Sullivan, a hardened young criminal who made his way into the police as a syndicate informer. It later becomes apparent to the crew that there is a traitor in their midst. This discovery places both Colin and Billy in hot soup for fear of exposure to the enemy. As such, they hurriedly pursue to uncover the other man's identity at least in time to remain safe. The willingness to turn on comrades and long undercover friends becomes a better suit to escape exposure. The movie stars Leonardo DiCaprio, Jack Nicholson, Matt Damon, and Mark Wahlberg among others.
7. The Wolf of Wall Street
Release Date: December 25th, 2013
IMDb rating: 8.2/10
The movie story follows a true chronological story featuring Jordan Belfort's rise to wealth. Leonardo DiCaprio stars in this excruciating movie as Jordan Belfort. Excruciating scenes are covering the stockbroker's fine living that eventually fell on crime allegations, extending to corruption and the federal government. Jordan Belfort spends 22 months behind bars for a securities scam that affected several investors in the 1990s. The far-reaching corruption allegations on Wall Street and corporate banking also involved Steve Madden, a renowned shoe designer. Starring this 3-hours drama-comedy movie are Leonardo DiCaprio, Margot Robbie, Jonah Hill, and Matthew McConaughey among others.
8. Shutter Island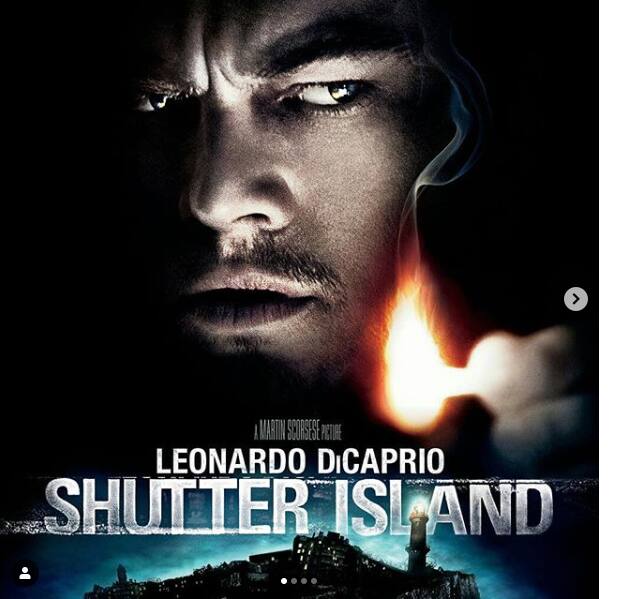 Release Date: February 19th, 2010
IMDb rating: 8.1/10
This high ranking thriller film features Leonardo DiCaprio taking the role of Teddy Daniels. The story is about a mysterious disappearance of patients from Boston's Shutter Island Ashecliffe Hospital which causes trouble in mid-1954. It is after this encounter that the US Marshal, Daniels, resumes the investigative role of tracking down the patient and the perpetrators. It is not long before he starts wondering whether his appointment was any less twisted with radical and unethical doctoral practices. His investigative skills offer him further insights considering that the hospital fails to disclose all the required records on the case. Perhaps these records would hint into the disappearance of the patient. More threatening criminals escape amid the confusion that follows a destructive hurricane that prevents communication with the mainland. As a result of this encounter, the improbable clues surrounding the case intensify making Teddy doubtful of every information collected so far. He even continues to doubt himself for memory and sanity. Starring are Leonardo DiCaprio, Mark Ruffalo, Emily Mortimer, and Ben Kingsley among others.
9. Gangs of New York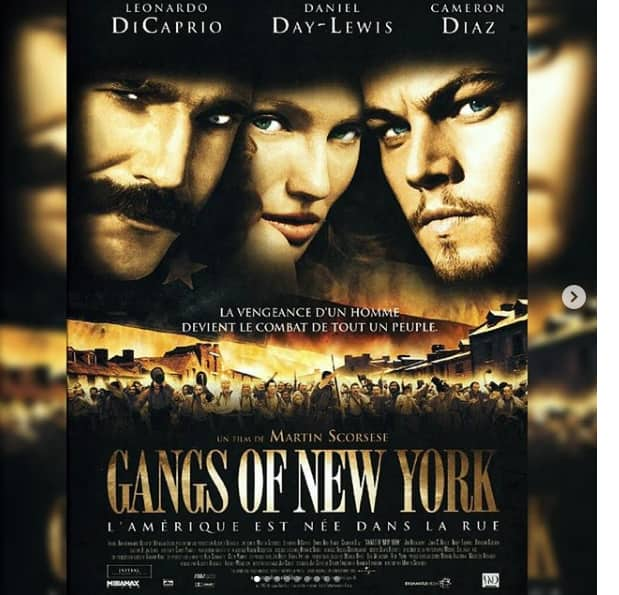 Release Date: December 20th, 2002
IMDb rating: 7.5/10
Early in the 1860s, in the lower parts of Manhattan, there is a god-forbidden district called Five Points. Bill also called "The Butcher" is the vicious nativist of the region predominantly known for prostitution, crime, murder, and theft amid the raging American Civil War. Amsterdam Vallon (Leonardo DiCaprio), an orphaned Irish-American, returns sixteen years later to revenge the death of his father, who was killed by Bill. It is hard to remember the once innocent boy who is now deeply bent in revenge as a young man. He steadily works his way up in the Five Points District hierarchy leaving concerns on whether he will ever get to taste the daring but sweet outcomes of retributions. Starring alongside Leonardo DiCaprio are Daniel Day-Lewis, Cameron Diaz, and Jim Broadbent among others.
10. The Great Gatsby
Release Date: May 10th, 2013
IMDb rating: 7.3/10
Nick stars in the movie for his strange attraction to the past and notably the lifestyle of Jay Gatsby, his immediate millionaire neighbor. Nick is a talented writer and a popular trader across Wall Street, and he had little understanding that Gatsby's richness nature was a perfect profile for tragedy, madness, and obsession. Starring this film are Leonardo DiCaprio, Joel Edgerton, Carey Mulligan, and Tobey Maguire among others.
READ ALSO: List of the best South African movies ever
Leonardo DiCaprio movies leave a lot desired for their intriguing story-lines and plots that will leave you glued to the screens. Check out his leading films provided above to cheer up your weekends and free time in style.
READ ALSO:
New South African movies 2018
Richest actors in South Africa
List of South African actors in Hollywood
List of hottest South African actresses with pictures
List of famous South African actors and actresses
Source: Briefly News