- Denis Mwale approached Frikkie van Biljon for a job in 2014
- After sharing his dream of becoming a professional boxer, Frikkie offered some advice and helped him buy equipment
- Denis is now an unbeaten boxing legend, known as Denis 'the Menace' Mwale
PAY ATTENTION: Click "See First" under the "Following" tab to see Briefly.co.za News on your News Feed!
A humble young man dreamed of becoming a professional boxer although he was working as a gardener to keep afloat. After some advice and encouragement from his employer, the dedicated Malawian worked hard and became the unbeaten legend, Denis 'the Menace' Mwale.
Denis's impressive boxing career begun one day in 2014, when approached Frikkie van Biljon for a job as a gardener. Frikke agreed and paid him R150 a day for his services, Briefly.co.za found.
After Denis missed his taxi back home to Diepsloot one fateful day, Frikkie offered him a ride home and the pair began talking, getting to know one another better. Little did either of them know, that this would be a conversation that changed Denis's life forever.
Denis shared his passion for boxing with Frikkie, although Frikkie wasn't really into watching sports. Denis proudly said that he hoped to one day become a professional boxer.
PAY ATTENTION: Save mobile data with FreeBasics: Briefly is now available on the app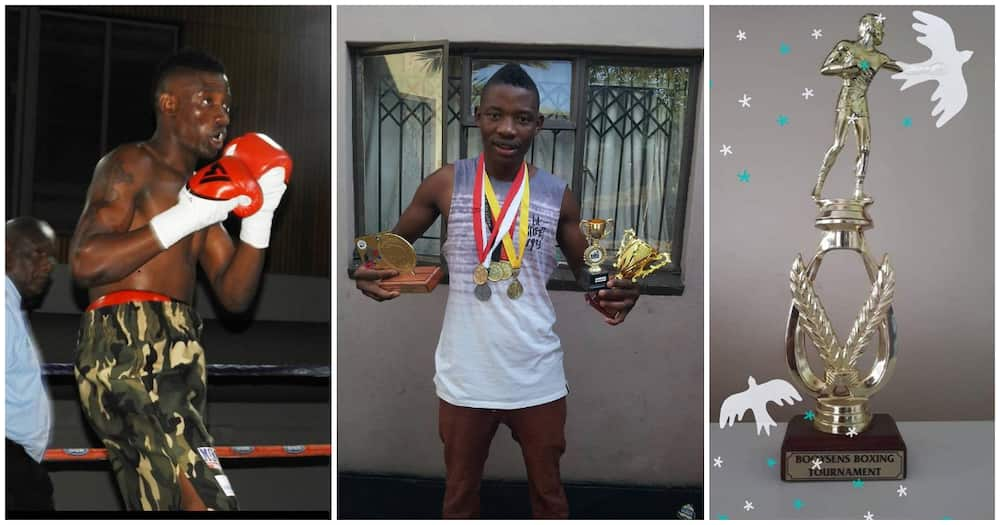 Frikke offered the ambitious Denis some advice, saying that he would have to work hard to get to the top. Frikkie advised Denis to start practicing and encouraged him to get training from a professional. Eager to see the young man succeed, Frikkie suggested that Denis could participate in Championships in the hopes of soliciting sponsorship as he works his way through the ranks.
This simple advice offered in kindness motivated Denis to pursue his passion, and within the week, Denis had joined a boxing gym, despite his low income. Denis spent more than two thirds of what he earned paying for gym membership, knowing that it one day, it would be worth it.
Proving his dedication to his dream, Denis would travel 24km on his bicycle between his Dieplsoot home and the gym.
As Denis' pastime became more serious, he struggled to afford the necessary equipment. Shortly before his first official fight, Denis approached Frikkie for assistance buying a pair of boxing gloves, a mouth guard and accessories, to which Frikkie obliged.
READ ALSO: Kind woman spots bookshop cleaner reading book and buys it for her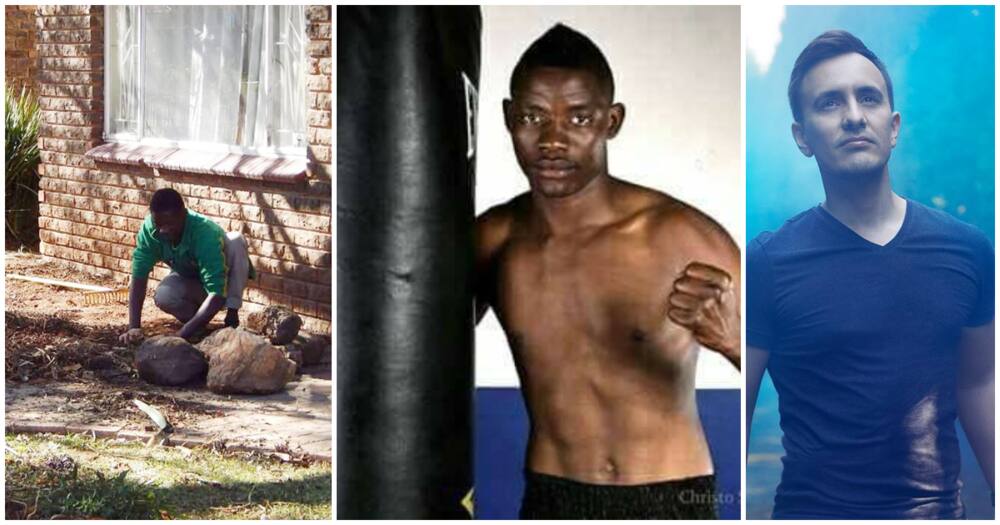 When his new gear arrived, Denis humbly thanked Frikkie and declared, "Sir, I am going to win".
Denis won his match and awarded his trophy to Frikkie, grateful for his role in his success.
Denis continued to shine, gradually improving and continuously learning. He passed an exam to become a personal trainer with an incredible 97 percent. This allowed Denis to leave his job as a gardener to pursue his passions full time while working in the gym.
Briefly.co.za found that Denis did not forget his friend, Frikkie and invited him to his first professional batch in Johannesburg in 2017. Denis won.
Denis 'the Menace' will once again enter the ring in February at the Sun Arena Times Square, making himself, Frikkie and South Africa extremely proud.
Enjoyed reading our story? Download BRIEFLY's news app on Google Play now and stay up-to-date with major South African news!