Amanda Benedicta Antony, popularly recognized by the stage name Amanda Black, is a revered songwriter and recording artist hailing from the Eastern Cape, South Africa. Amanda Black songs and emotion-soothing performances have earned her a place among the high tiers of South African music and possibly the continent at large. Read on to know more about her best songs ever.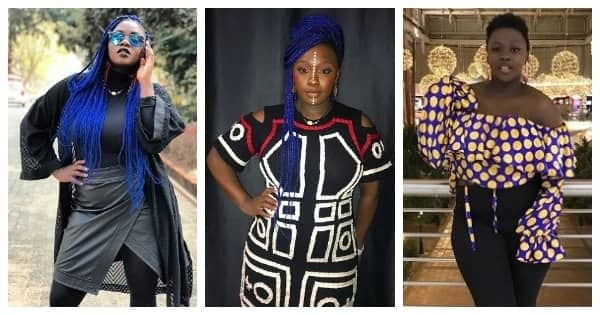 Her trademark look in videos and performances are the facial art of the Xhosa people; Xhosa umchokozo. In general, painted patterns mainly show an embrace of her culture. Below you may find some of the best Amanda Black songs 2018 and of all time.
Best Amanda Black songs
Here are some of her best songs that have put her on the limelight in the music industry in 2018 and before.
1. Amazulu
Amanda never disappoints her fans, and this inspirational song has been loved by many. The emotional video with over 3.5 million views on YouTube sheds light on contemporary issues such as early pregnancy, family and clergy support, social stigma and the struggle for achievement in an African setting. The Xhosa lyrics add a touch of closure to the audience, and the video brings the message home. Hundreds of testimonies in the comment section on YouTube from her fans is a clear indication that this song was a hit.
2. Sebenza
Amanda Black has collaborated with A Recee on this song and the duo did something that the fans loved. The flow from the artistic rap by A Reece to a sensual chorus by Amanda Black can only be termed as amazing. This is among a handful of song videos that Amanda Black has featured in throughout her career. Her depiction of the female mind in a relationship admittedly made fans love this song and add it as a favorite to their late-night playlists. It has over 107,000 views on YouTube.
3. Kulomhlaba
Featured in the Amazulu album, this 2016 tune is timeless. There is always a way out, as she sings. Kulomhlaba was yet another soul-soothing song with vocals to make you rise from the ashes like a phoenix. The ending lyrics "I found me" make you clench your fist and close your eyes as Amanda's voice makes you feel that no matter how hard the world may be, "fight to be alive" and find yourself. It also shows how important loved ones are to us. The speechless effect is statistically evident from the numbers; over 245,000 views on YouTube and only 51 comments.
READ ALSO: 5 celebs who love traditional clothing and who look really good wearing it
4. Phumelela
Clearly, the Amanda-Reece collabo-magic did not end with 'Sebenza,' they still came up with another great song that featured other great South African artists: Saudi, Sjava, LaSauce, Fifi Cooper and Emtee. The official video has over 2.2 million views on YouTube while the release video has over 202,000. Amanda Black once again took the chorus and turned the song into powerful storytelling. The video carries a deep message for 'One Love'. The focus on xenophobia, racism and homophobia among other modern contemporary issues make the video self-explanatory regardless of the language.
5. Separate
The song scooped the Metro FM Music Award after being Nominated for the Best R&B Single in 2017. She also won the Listener's Choice Award. The entire song is a blend of Amanda Black's strong vocals, a piano orchestra feel and English-Xhosa dialect. 'Separate' earned position 5 in the Entertainment Monitoring Africa (EMA) chart. The 2016 song brings out a performance-oriented side of Amanda's album and has over 3,000 views on YouTube. Many people are indeed looking to listen to Amanda Black Separate until now.
6. Sinazo
This song has a great message on how to cope with the loss of a loved one. The message goes to heart with the slow jam chorus style that makes the lyrics touch the soul. The 492,000 views plus on YouTube had an entire thread of close to 100 Rest In Peace messages from fans who are dedicating the song to their loved ones who passed on. Their comments are just as tear-jerking and emotional as the artist's vocals. One would say that this song gives you the 'feels'. Sinazo is featured in the Amazulu album and is probably a part of the reason why fans feel connected to Amanda Black's journey in music.
7. Kahle
With over 1 million views, this nostalgic 2017 song of young love has a sweet voice touch to it that paints a beautiful picture. "Undiphethe kahle", as the chorus goes, speaks of how a lover looks good when her soulmate takes care of her. The video is the 80s-90s falling-in-love throwback story of an old couple to their grandchildren. The cuddly feeling it invokes brings endless smiles throughout. Ambitiouz Visuals managed to rake in lovers among Amanda's audience. Her command of emotions in lyrics continues to leave viewers hitting the 'like' button for this single.
READ ALSO: Top 10 South African songs 2018
8. I Do
This 2017 collabo topped the EMA chart, and once again, Amanda Black made her fans proud. The official video, released on July 28th, 2017, has the highest number of YouTube views for any of the musical works credited to Amanda Black; 7.7 million views.
This video focuses on a couple's journey to marriage from the late-night texting, hangouts and dates to a couple fights. Once again, all this is a flashback (just like Kahle) to the couple on the wedding day. The groom in the video happens to be the South African Hip-hop star rapper Priddy Ugly (also signed in Ambitiouz Entertainment). Contrary to his name, Priddy Ugly looks pretty handsome, suit looking good, ready to marry his long-term girlfriend, and after exchanging vows, the scene changes to Amanda Black giving a live band performance at the wedding reception. The song fades out with mellow vocals that leave you thinking of settling down (if you are not married). The song is also available on iTunes.
READ ALSO: SA rapper Priddy Ugly leaves the label Ambitious to go independent
Amanda Black remains to be an artist to watch out for in 2019. With nominations in South African Music Awards as well as Viewers Choice: Best International Act at the 2017 edition of the BET Awards, fans anticipate great tracks to keep her name on the search bar.
Amanda Black songs have indeed become something to watch out for as they are always motivating and inspiring.
READ ALSO: