If you have ever listened to Benjamin Dube songs, you can feel the grace of God upon this amazing and highly inspiring gospel artist. Known for his unequal dimensions of worshipping, Benjamin Dube is, no doubt, one of the most talented gospel singers that this generation is blessed to have. And so, we take a look at ten of the best songs released by this South African gospel songwriter, singer, music producer and pastor from 2018 to 2019.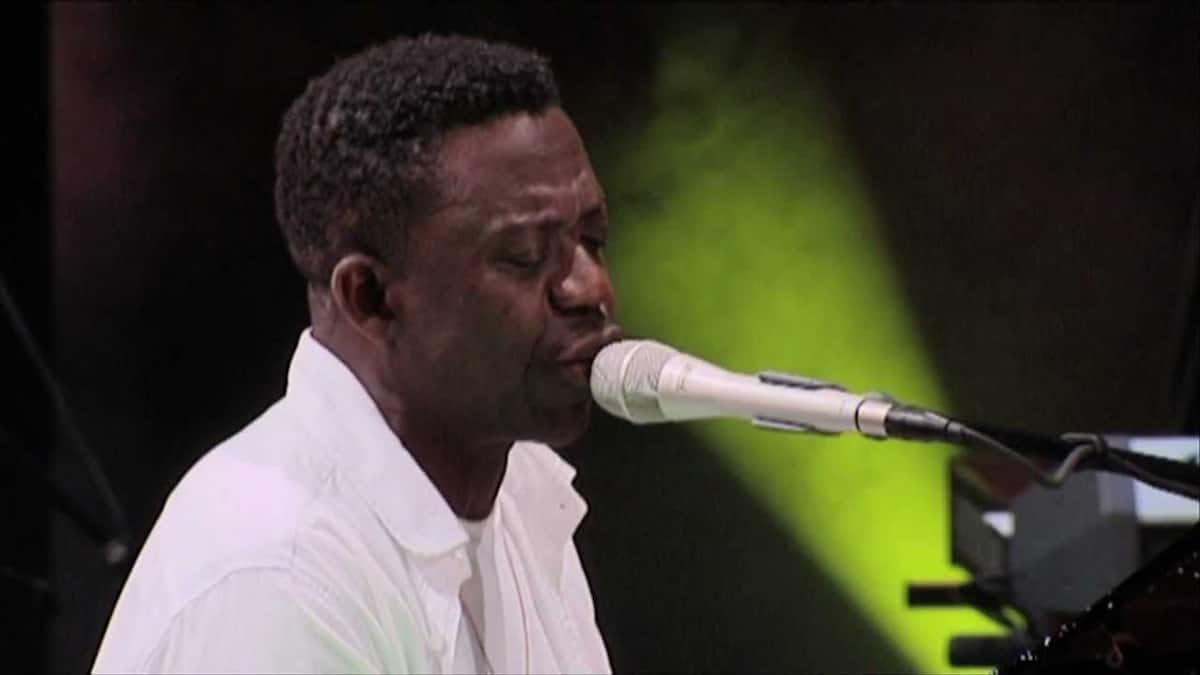 Benjamin Dube is best known around the world for what he can do without stress, which is singing. However, he did not start overnight; it is a spiritual activity which he grew up with. After he discovered his passion for singing at the age of 9, Benjamin learned and began to play the guitar, and by age 11, he had already graduated into playing the drums and bass guitar. By 1974, he was already singing as part of the Dube Family Singers in the church where his family used to go.
Benjamin Dube songs 2018 download
2018 did not just come and go without Benjamin Dube touching lives as he led people of all races into God's presence again through his singing ministry. The following are some of the best tracks that have inspired listeners within South Africa and beyond.
READ ALSO: 5 Things you might not know about the Dube Brothers
1. Benjamin Dube Lonile iBandla
One of the unique things about Benjamin Dube is that even if you are not a good worshipper, he has a way of connecting you in the realm of the spirit by merely listening to his songs or watching him as he ministers to God.
"Lonile iBandla" is from the "Spirit of Praise 7" album and it was released on the YouTube channel on September 21st, 2018. Amazingly, since its upload, it has been viewed over 14,900 times with quite some positive reviews. The track runs for a total of six minutes and fifty-five seconds (6:55).
2. Yiwo Lawa Amandla
If you need some encouragement and lifting in your spirit, then you need to listen to this track. It began with a well-coordinated rhythm. From there, this worth-listening-to gospel singer began to speak to the listeners' spirit with his inspiring lyrics. The song featured Mandla Tshabalala and House of Grace Choir, and as such, you can feel the presence of God in the house.
"Yiwo Lawa Amandla" track is from the "Victorious in His Presence" album.
3. Benjamin Dube - I choose Jesus
One thing about God is that He never remembers our wrongs the moment we ask for forgiveness. "I choose Jesus" featuring the duo of giant gospel singers Bongi Damans and Benjamin Dube encourages every listener to embrace Jesus no matter the mistakes they may have made. Also, when you feel so lonely and depressed with no one around to comfort you, "I choose Jesus" track is the right song that you can listen to at that moment.
The track is part of the songs in "Spirit of Praise 7" album. With a running time of ten minutes and thirty-eight seconds (10:38), you will be inspired to get back on your feet with a well of hope springing forth out of your innermost being. Since its upload to the YouTube channel on January 13th, 2019, by Spirit tunez, the song has attracted more than 46,547 views.
READ ALSO: List of all Tasha Cobbs songs
4. Uvumile
If you doubt whether prosperity is God's plan for you or not, then you need to listen to Benjamin Dube in "Uvumile" where he featured Xolani Mdlalose. "Uvumile" means "he has agreed" in English. The track has a nice beat that even listeners who are not from South Africa will smoothly flow along with its rhythm.
This hit-track from "Victorious in His Presence" album runs for a total of eight minutes and thirty-six seconds, and it remains one of the trending songs among Christians till date. The interesting part of it is that although the song was released in 2017, it became more popular in 2018. Since it was uploaded to the YouTube channel on November 30th, 2018, it has been viewed more than 234,700 times with lots of positive reviews. This is just a proof of its wide acceptance.
5. Walk Upon the Water
This eleven minutes and thirty-six seconds (11:36) track featured the duo of Benjamin Dube and Zinzi. Released on September 21st, 2018, in "Spirit of Praise 7" album, the song emphasises the importance of exercising faith in God. Just as Peter walked upon the water after Jesus asked him to come, the song will inspire you to take the step of faith and do the unusual. When it seems as if your faith in God is becoming weak, this is a right-in-time song that you can listen to.
"Walk Upon the Water" track gives you the hope and courage to fix your eyes on the Lord irrespective of what happens to you. It lets you know that God is the only One that you can trust in, and as He holds your hand, no wind of life can blow you off your track.
6. Victorious
In this song, Benjamin Dube and the Dube Brothers open the spiritual eyes of understanding of every listener to the victory that is in Jesus Christ. The lyrics of the song explain that Christ has conquered death for the saints and also saved them by his blood. Consequently, there is "no weapon formed against me shall kill or try destroy me" reads the lyrics. The six minutes and thirteen seconds (6:13) song has recorded more than 76,000 views.
READ ALSO: Idols SA winner Yanga breaks the mould with career in gospel music
7. Benjamin Dube - Lomusa Ongaka
"Lomusa Ongaka" is a song you will not want to listen to in a hurry. It is one of its kind among all the South African traditional songs released by Benjamin Dube. Talk about the instrumentation, the settings as well as the lyrics of the song; everything blends so well to pass the message embedded in "Lomusa Ongaka". The title of the track is interpreted in English to mean "This great mercy", and it expresses the multifaceted dimensions of God's mercy. As contained in the lyrics of the song, it is by the mercy of God that we obtain forgiveness, and for anyone who is humble enough, this mercy is will always be sufficient for them. The track has a record of more than 729,500 views
8. Zita Renyu
If you find it hard to worship God or you have a challenge with connecting with Him in the place of worship, then you need to watch this anointed man of God as he worships. His matchless way of worshipping God unleashes the transforming power that is in worship. "Zita Renyu" which means "Hallowed be Your Name" is a track that unveils what true worship is all about. It is not a song that you will listen to and you will not feel the abiding presence of God around you
The song featured Jesse Priestly, one of the highly-respected gospel singers in the music industry, and it has a running time of ten minutes of quality worship. No wonder since its upload to the YouTube channel, it has recorded almost 400,000 views.
9. Benjamin Dube - "He Keeps on Doing"
If you have ever seen God do something for you and you think that is all, then this song is a must-listen-to for you. The truth is God is never tired of doing good to us; He is never tired of showering his blessings on us, and that is precisely the message that Benjamin Dube tried to pass across to his listeners with this song.
As you listen to it, you will appreciate how wonderful God has been to you. If you find it hard giving thanks to God, you will barely have watched this video to the end before you burst into a worship session. Also, as you carefully follow the lyrics, you will get to understand the beautiful plans that God has for you and His unfailing love which motivates Him to keep doing great things for you.
10. You Are God Alone
"You Are God Alone" is one particular song out of all the songs contained in Benjamin Dube albums that you can watch especially when you want to recount the goodness of God in your life. From the song, you will come to discover that a life without sin and worry, and that is free from oppression and depression is available for anyone who has surrendered to God.
The song runs for five minutes and fifty-five seconds, and it features Mmatema. After it was uploaded to the YouTube channel on January 23rd, 2018, the song has been viewed by more than one million people.
Benjamin Dube songs are full of life and hope, and the lyrics are filled with words of encouragement. With his songs, the gospel artiste helps Christians all over the world to know their position in Christ, the genuine love that God has for them and the victory that they have in Christ over sin, the world, and the devil.
READ ALSO: List of famous South African musicians 2018
Source: Briefly.co.za