Easy butternut soup with cream recipe South Africa
Butternut soup may not be new to you, but if you have a taste of butternut soup with cream, you will, most likely, want to ask for more of it every time you get a chance. The interesting thing about this special South African soup is that it is easy to make at any time once you know the process involved in preparing it. Therefore, as you read on in this article, you will discover the recipe to make this sumptuous meal for yourself or your household.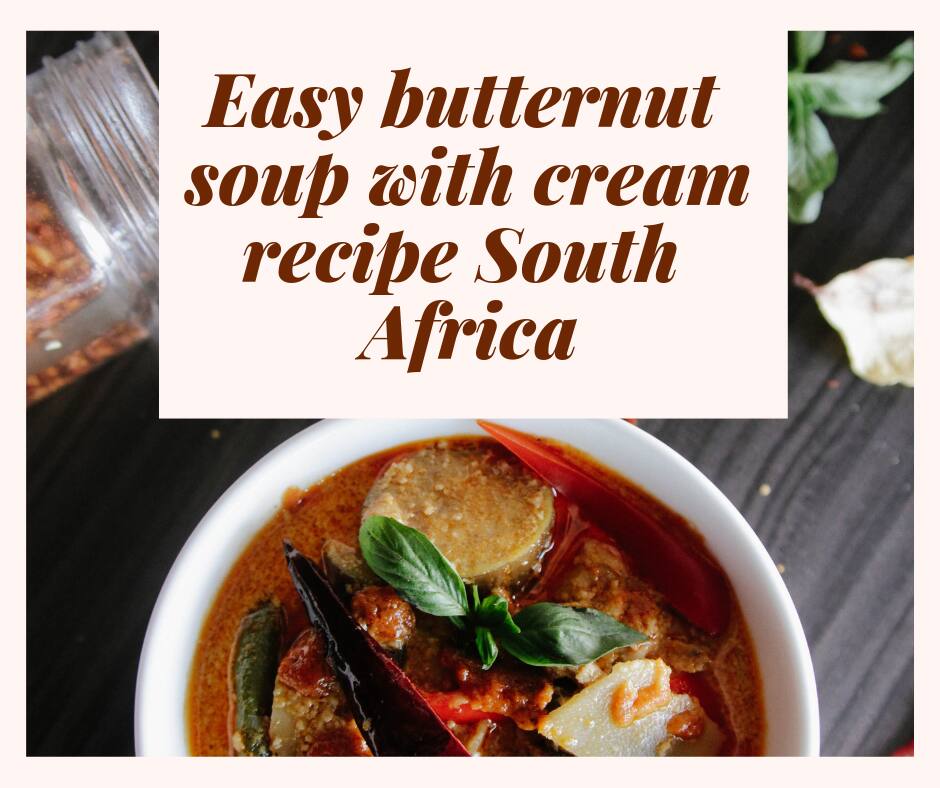 Butternut soup remains one of the healthiest dishes which you can add to your Paleo lifestyle because of the various benefits that it contains. It is an excellent source of fibre and vitamins which include A, C, E and B, as well as minerals such as calcium, magnesium, and zinc. The dietary fibre helps to improve the smooth functioning of the heart while the potassium element that you get in the soup serves to promote the health of your bones.
Butternut soup also contains other elements like protein, carbohydrates, sodium and calories. When it is now prepared with cream, you can be sure of the added health benefits added to your meal. Whether you are preparing it for yourself or more people, the process involved in its preparation is not tasking at all. You will be amazed at how easy it can be to prepare it without any professional cook's assistance.
READ ALSO: Best butternut soup recipe South Africa
Butternut soup recipe with cream
Ingredients:
1 cup chopped onion
2 celery ribs, chopped
2 tablespoons butter
2 cans (14-1/2 ounces each) reduced-sodium chicken broth
1 teaspoon sugar
1 bay leaf
1/2 teaspoon salt
1/2 teaspoon ground ginger
1/2 teaspoon ground turmeric
1/4 teaspoon ground cinnamon
1 butternut squash (2-1/2 pounds), peeled and cubed
3 medium potatoes, peeled and cubed
1.5 cups of milk
2 tablespoons sherry or additional reduced-sodium chicken broth
READ ALSO: Pickled fish recipe - how to make pickled fish?
Cooking procedure
1. In a large saucepan coated with cooking spray, cook the onion and celery with the butter until they all become tender.
2. Add your sugar, bay leaf, salt to taste, ginger, turmeric and cinnamon, and stir them all together.
3. Add the butternut squash and potatoes and then bring to a boil.
4. Reduce the heat afterwards and cover the saucepan to allow your broth to simmer for about 15-20 minutes. Better still, wait until the vegetables become tender.
5. Remove the saucepan from the heat and allow it to cool slightly and then remove the bay leaf you added before.
6. Blend the puree vegetable mixture in batches.
7. Return the saucepan to the fire and stir while you add your milk and sherry.
8. Allow all to heat through but make sure they do not boil.
Your butternut soup with cream is now ready.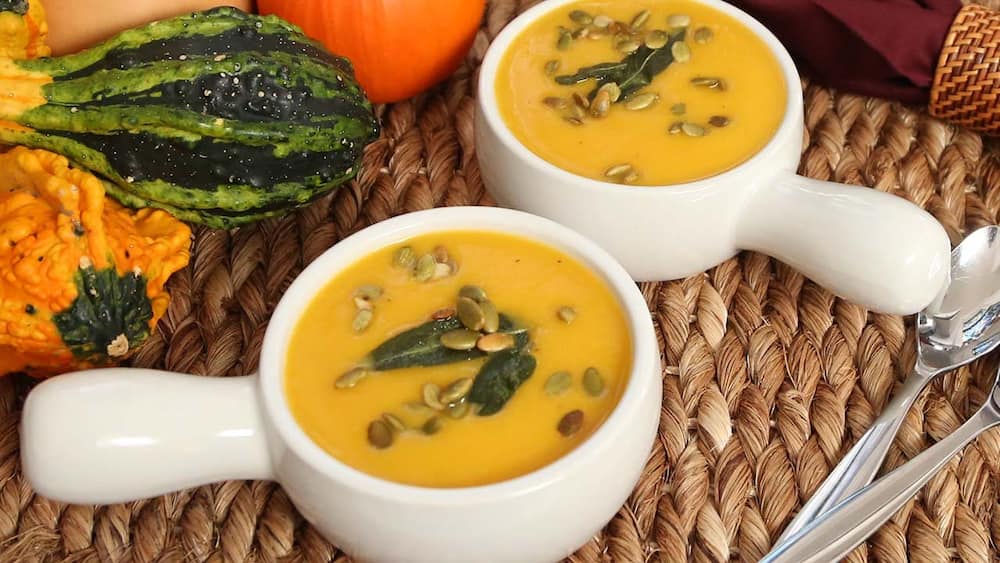 Easy creamy butternut soup recipe
The good thing about butternut soup recipe with cream South Africa is that it does not take time before you master the process. Being a meal that is common in the country, there is no marketplace that you get to that does not have its ingredients. You can also play around with several ingredients to give you the unique taste and flavour that you desire.
Ingredients
Two pounds of halved, peeled and deseeded butternut squash divided into inch pieces
One and a half cups of diced onion
Two peeled and diced carrots
Chicken broth
Half a teaspoon of salt
Two tablespoons of butter
Half a cup of heavy or light cream
Some sour cream to garnish
Cooking procedure
1. Put the butternut squash into a saucepan and add the carrots, onions, broth, and salt. Cook all of them for a few minutes over medium heat.
2. Simmer the mixture and continue cooking without covering it this time for about 40 minutes. Better still, cook until you are sure that the squash is tender.
3. Transfer the whole cooked mixture into a blender or a food processor and add butter.
4. With the help of a wooden stick or a fork, whisk the cream into the puree.
5. Once you have accomplished all of that, your butternut soup with cream is ready.
Now that your meal is ready to be eaten, you can choose to serve it in bowls together with a dollop of sour cream.
READ ALSO: Lemon meringue recipe with condensed milk
Best butternut soup recipe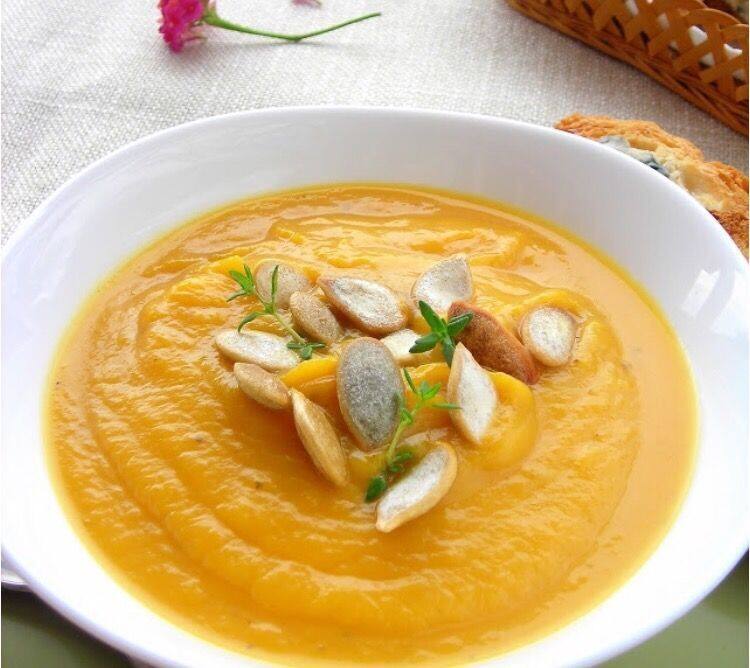 Ingredients
Olive oil (one tablespoonful)
Ground turkey (one pound)
A diced ball of onion
Diced potatoes, roasted over the fire (two)
15 ounces of kidney beans, drained and rinsed
Black beans, drained and rinsed (15 ounces)
Chopped red pepper
Three minced garlic cloves
A tablespoonful of chili powder
Paprika (two teaspoons)
Ground cumin (two teaspoons)
Dried oregano (two teaspoons)
Kosher salt and ground pepper (a pinch)
Diced butternut squash (four cups)
Cooking procedure
1. Over medium to high heat, heat the olive oil in a skillet.
2. Pour in your pound of ground turkey together with the onions and allow them to cook for about 5 minutes or until you see that the turkey becomes brownish. Also, make sure that the turkey has been crumbled, and afterwards, drain the excess fats.
3. Place the ground turkey mixture in a slow cooker and add your garlic, beans, paprika, tomatoes, oregano, peppers, cumin, and chilli powder. Once you have done that, mix the whole contents.
4. Add enough pepper into the contents and add salt to taste. After that, add a layer of your butternut squash without stirring the contents.
5. Once the saucepan is covered, allow it to cook for about 8 hours over low heat. However, if you are using high heat, then it may take about 4 hours or until it is tender. Carefully, fold and put the squash into the saucepan and stir the cilantro leaves. Your butternut soup is now good to be served.
Butternut soup without cream
Ingredients:
Peeled and deseeded butternut squash
A chopped ball of onion
Unsalted butter (two teaspoons)
Chicken stock (six cups)
Salt and ground pepper
Nutmeg
Butter
Cooking procedure
1. Cut the butternut squash into chunks of about one inch.
2. Melt the butter in a cooking pot.
3. Add the onions that you have chopped and allow them to cook for like eight minutes under medium heat. Better still, let it cook until you see that the onions are a bit transparent.
4. Pour the squash and wait until they simmer using low heat.
5. Let the mixture cook until the squash becomes tender (which is usually after about 20 minutes of cooking).
6. Remove the chunks that you have cooked with a slotted spoon and blend them until they become smooth.
7. Transfer the contents that you have blended back into the pot.
8. Mix everything together as you add salt to taste, nutmeg, and pepper. Once you are satisfied with the taste, that means your butternut soup without cream is ready.
Butternut soup with cream has a unique taste and flavour that anyone will enjoy. Whether you are eating this meal for the first time or you have tasted it before, cooking it with cream will always make you ask for more. Since the ingredients are also readily available in the market, it makes the cooking process easy. Also, with the procedures discussed above, you can prepare the meal within a very short time.
READ ALSO: Easy lemon meringue recipe South Africa
Source: Briefly News