- Cyclist Lennie Glasser's had a flat tyre which delayed his regular ride by an hour
- He cycled past a parked car when a man shouted for help because his baby was dying
- Lennie assisted the baby, performed CPR and called emergency services
PAY ATTENTION: Click "See First" under the "Following" tab to see Briefly.co.za News on your News Feed!
After a series of mishaps that caused Lennie Glasser to be late for his regular Sunday cycle, he found himself at exactly the right place and at the right time to save a baby's life.
Lennie had finally got on his bicycle and was eager to catch up with his friends when he noticed a car parked on the side of the road. As he passed the car, he heard a man screaming, "my baby is dying, my baby is dying someone please help?"
Lennie rushed to the man and found that his 18-month-old baby was cyanotic, not just peripherally on the limbs but centrally as well, Briefly.co.za found.
Cyanosis is a caused by a lack of oxygen in the red blood cells and causes the skin and mucous membranes to turn a bluish colour. While peripheral cyanosis would have meant just the arms and legs were discoloured, areas of the baby's face was discoloured as well.
Immediately reacting to the situation, Lennie felt for the baby's pulse and checked if the child was breathing. The baby was not so Lennie attempted to perform CPR.
An elderly man who had noticed that the baby was in trouble offered to assist as he knew CPR.
PAY ATTENTION: Save mobile data with FreeBasics: Briefly is now available on the app
None of the bystanders had called emergency services even though earlier, Lennie had handed his phone over to an onlooker and asked them to call Netcare911.
As the elderly man was performing CPR, Lennie called Netcare911 and explained the situation.
The baby spontaneously began breathing in about five to eight minutes.
Netcare911 arrived on the scene in no time and ensured the proper treatment for the infant until an ambulance arrived.
The lucky little baby is now in stable condition and doctors are trying to ascertain what happened.
Things happen for a reason
Lennie Glasser cycles most Sunday. This particular day, he was delayed by a flat tyre early in his ride. Although he was able to insert a new tube into the tyre, he struggled to seat the tyre. It took about 20 minutes before Lennie told his friends to carry on without him.
Agreeing to come fetch him with their car if Lennie was unable to fix his tyre, his friends continued without him.
READ ALSO: Wildlife photographer rescues elderly couple from Overstand area fires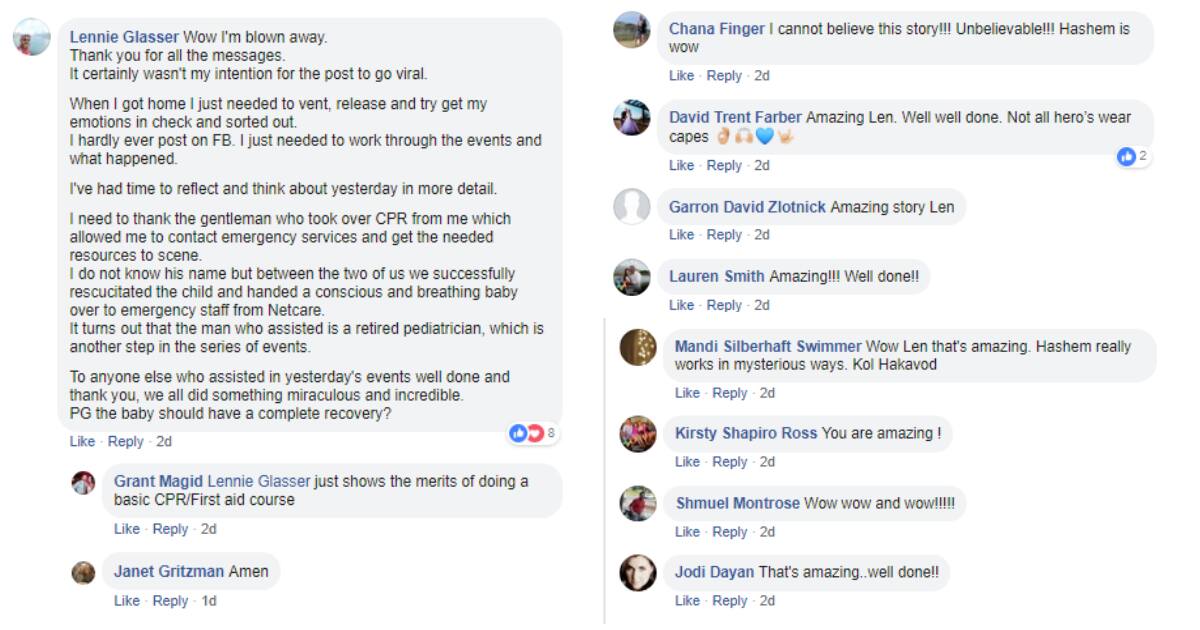 In total the whole ordeal took an hour and a little bit more writhing with the tyre, but Lennie had finally managed to fix it, and with the tyre fully pumped, Lennie was ready to go.
He called his friends and told them he was heading back to the car. Because his friend, Martin Smookler was cycling, he was unable to answer his phone, as fate would have it.
By the time Martin called him back, Lennie was in the middle of a climb and decided he'd ride to the top before stopping. This delayed his ride by a few minutes, contributing to him noticing the man and his baby when he did.
15 minutes after the call, he passed the Rhino and Lion Nature reserve in the Cradle of Human Kind, when he saw the parked car and the man in need of help.
Lennie Glasser shared his story on social media and thanked Hasem (God in Hebrew) for letting him pass by at the right time to save the baby's life.
Enjoyed reading our story? Download BRIEFLY's news app on Google Play now and stay up-to-date with major South African news!
Source: Briefly.co.za