10 best Neil Diamond songs
Both a veteran singer and a songwriter, Neil Diamond has built an unbeatable career extending to five decades with an excess of 100 million record sales globally. The artist leaves a lot desired for his irresistible talent, part of the reason why most people find him frankly amazing. In celebration of Neil Diamond beautiful works, we have prepared a list of his heart throbbing tracks that you may have never heard before, or you already know and cannot resist listening to them again and again. Read down below to discover the best ever Neil Diamond songs.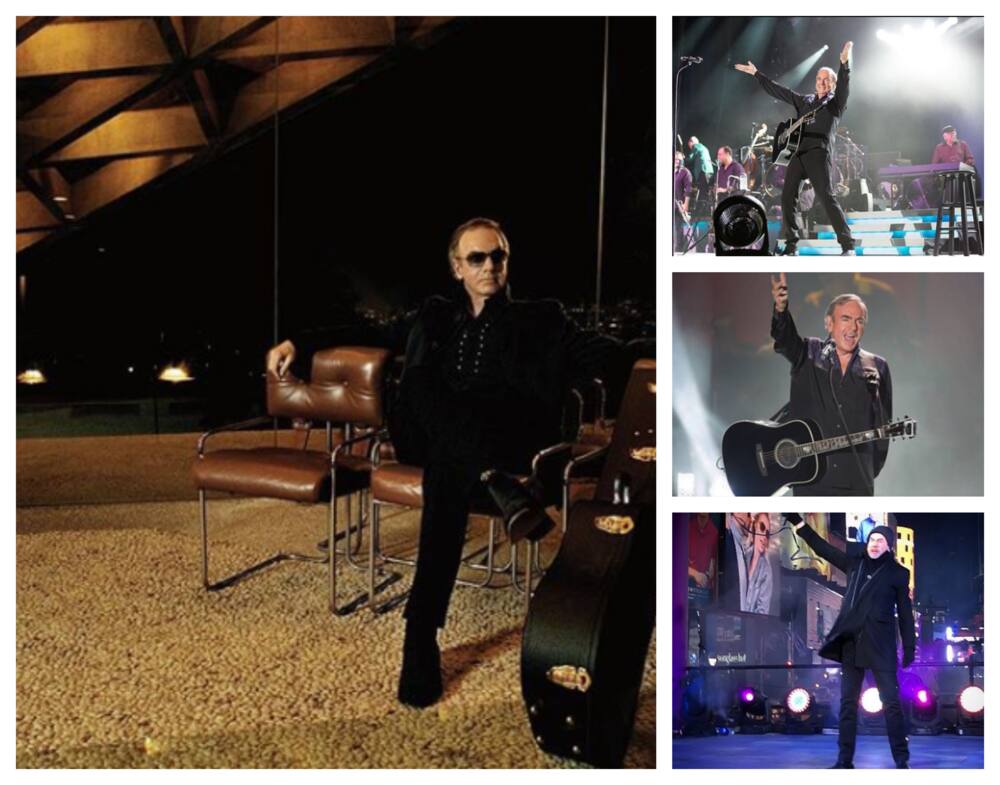 Who is Neil Diamond? The musician is from Brooklyn, New York with a Jewish descent from Polish and Russian immigrants. It is no doubt that the celebrity has several hits with only the best 10 qualifying for our list on a competitive basis. Neil Leslie Diamond is also an actor besides his songwriting and singing career. It is a combination of these talents that have earned him a status in the category of best-selling musicians. Check out some of the best tracks written, recorded, or performed by Neil, along with Neil Diamond songs YouTube clips.
READ ALSO: List of all Tasha Cobbs songs
What are Neil Diamond's greatest hits?
We have compiled a list of 10 best Neil Diamond songs that everyone should listen to.
1. Sweet Caroline
Release date: 1969
Neil creatively composed this mind-blowing piece dedicating is to his lovely wife, Marcia. Unfortunately, her name lacked sufficient syllables, the reason why he chose to use the name Caroline instead. What is "Sweet Caroline" about? The track is an expression of pure romantic love with inspirations allegedly hailing from President J.F Kennedy's daughter. The desperate expression of love dates back into the days when the young Neil wishfully caught sight of the president's beautiful daughter on a magazine, a secret he kept for years until later.
2. Love On The Rocks
Release date: 1980
Neil released this exciting piece of music that became one of his early career scores. Featuring the film "The Jazz Singer", this is one of Neil Diamond songs of life that later went viral and managed to rank #2 on the Billboard Hot 100 for three weeks in January 1981 among other top-ranking recognitions. Several artists have covered this artistic piece of music well, among them, Gladys Knight.
3. I Am... I Said
Release date: 1971
The song, I Am... I Said, is not only catchy but also melodious enough that listeners would want to replay it as they sing along to it. Neil Diamond I am I Said plays with beautiful lyrics, one of the reasons why it is still a famous track compared to others in the list of songs by Neil Diamond.
4. Hello Again
Release date: January 1981
This piece is another slow tender ballad that blends perfectly with the soaring strings. The hit track also belongs to the album "The Jazz Singer". Several prominent artists have covered the soundtrack for its flavors and musicality. Cases in point of these artists include Steve Cherelle, Celtic Thunder, and Donny Osmond.
5. Cracklin' Rosie
Release date: August 1970
The track is a rocking tune that earned Neil exceeding prominence across the United Kingdom where it reached #3 for four weeks in November spilling over to December in the UK Singles Chart. It is this music that lifted Neil's presence in the region giving him a platform to sell his ripen talent even further. It is funny that Neil wrote and performed this song fetching inspiration from a tribe in Toronto that registered higher numbers of men compared to women. He learned of this rare statistics while conducting an interview that informed him that lonely men in the tribe assembled around a fireplace for wine "cracklin". It is amazing that such a 'small' story would amount to a powerful track of all time.
READ ALSO: Top 10 songs in South Africa now 2018
6. I'm A Believer
Release date: 1966, 12th November
The song is both entertaining and inspirational, probably one of the best tracks written and performed by Neil. The Monkee's contribution to the song further propelled it into a bigger hit and an energetic pop. "I Am a Believer" eventually sold out speedily, hitting the count of 10 million physical copies globally. If you are seeking some fun and rhythm, then this is the song to go for.
7. Red Red Wine
Release date: 1967
What is Neil Diamond's most famous song? Red Red Wine emerged successfully, becoming a top hit with UB40 behind its lines. The UB40 cover spread extensively, becoming an interstate wildfire, making this one of the most famous pieces of music done by Neil. The original song, however, shares a unique flavor and soulfulness that distinctly contrasts with later releases for its beauty and love. When you get the song for its beats, sing to the rhythm all the way for its sweetness.
8. Girl, You'll Be A Woman Soon
Release date: 1967, March
The track is among the greatest and earliest works done by Neil in the first days of his career. The original song, released by Neil, registered an excellent level of success but was later overturned by its sensational cover released by Urge Overkill. After that, several artists covered Neil's work, making the song even more popular than ever before. Cliff Richard also covered this song skillfully.
9. Play Me
Release date: 1972
Play Me is an acoustic ballad that frequently played in most of his live shows and continues even today. The song excites its listeners for its rhythmic touch, backed with a rare command and use of the English language. While some people find the song lyric bizarre, we all admit that the song is categorically sweet.
10. Forever In Blue Jeans
Release date: 1979
Like most songs in Neil Diamond playlist, "Forever in Blue Jeans" is an outspoken uptempo pop classic that emerged with a resounding effect, promoting the sales of blue jeans in the early 1970s. The track received a perfect name and does not seem to fade any sooner. Statistics indicated that most women considered acquiring a pair of new jeans with blue shadings on them. The song's title never gets any more straightforward, part of the reasons why it became successful even beyond.
READ ALSO: Cassper Nyovest's new album is a homage to Kwaito and got mixed reviews
How much is Neil Diamond worth today? Having been in the music industry for decades, Neil Diamond is worth USD 175 million, and this is no surprise since his works are sold worldwide. The love of Neil Diamond songs extends to include his acting career which is as well turning prolific. The celebrity is a true expression of talent well used to entertain and inspire generations.
READ ALSO:
All DJ Black Coffee albums and songs
Best Nasty C songs 2018
List of famous South African musicians 2018
King Monada's Malwedhe made the top 10 summer hit songs list
List of Hugh Masekela albums and best songs
Source: Briefly News