Top 12 trending Migos songs of all time (with music videos)
Migos songs are some of the world's most popular hits. Hip hop trio Offset, Takeoff, and Quavo, formed the group in 2008. They released numerous great hits and also collaborated with other top US artists. The Migos trip split in 2022 over 'betrayal.' Below is a list of trending Migos songs of all time.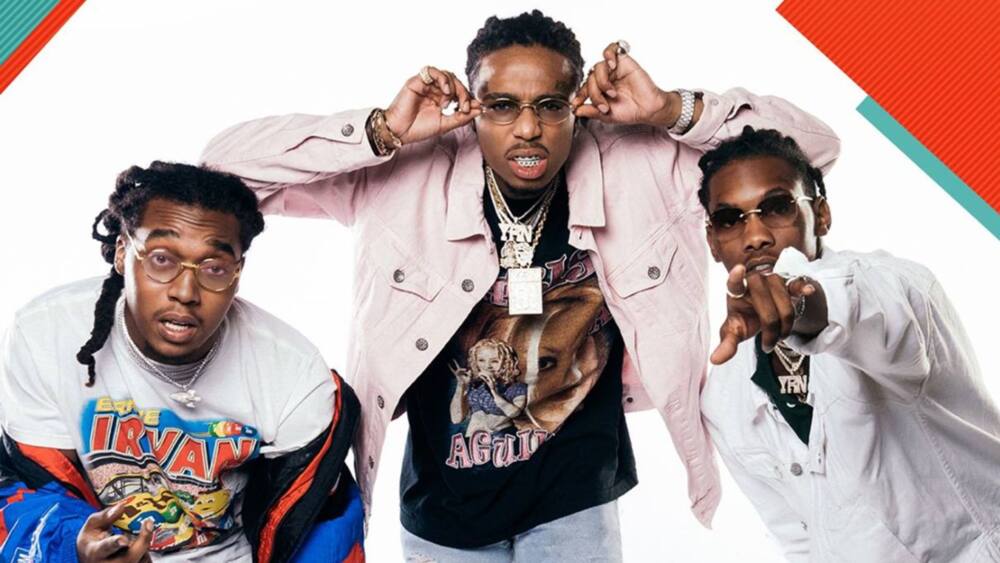 The Migos trio released hit after hit since its inception to 2021. Their fourth album, Culture III, came out in mid-2021 and was hugely successful. The three never released a song together after Offset left the group. Most Migos songs have over a million YouTube views and hundreds of thousands of downloads on music sites like Spotify.
The top 12 trending Migos songs
Hip hop is one of the most significant music categories in the world. Billions listen to rap music globally. Migos put themselves on the world's top rappers list by setting topping Billboard charts. Below is a list of the best Migos songs of all time and how many YouTube views they have in 2022:
1. Moses - Over 43 million views (as of December 2022)
The song features Chris Brown, Migos, and French Montana. With over 43 million views as of December 202. Moses is an explosion of musical talent from America's top musicians. The artists give the audience goosebumps with this excellent club banger.
2. Stir Fry - Over 89 million views (as of December 2022)
Play Stir Fry when looking for hip hop hits to dance to. The mainstream media and people worldwide loved this song when it dropped on January 29, 2018. It became a hit instantly and now has over 89 million views. Stir Fry cuts across cultures in the world.
3. Danger - Over 74 million views (as of December 2022)
The Danger hit song has over 74 million YouTube views as of this writing. It was out in December 2017, and views are still rolling five years later. Danger has cool beats from American electronic music producer Marshmello, and the song has the potential to blow out even more.
4. Migos, Kelly Price, ft. Travis Scott (Audio) - Over 59 million views (as of Dec 2022)
The audio attracted over 59 million views as of this writing. The track allows Kelly Price, Travis Scott, and the Migos to showcase their lyrical and vocal strengths without overshadowing each other. Travis Scott's power and vigor make the track stand out even more.
5. MotorSport - Over 659 million views (as of December 2022)
MotorSport has 659 million views as of December 2022. These numbers prove that great things happen when the world's best rappers support each other. Cardi B, Migos, and Nicki Minaj almost brought the world to a standstill with this song in December 2017.
6. Walk It Talk It - Over 399 million views (as of December 2022)
Walk It Talk It has 399 million views as of December 2022. This great hit gives listeners an old-school kind of vibe. If you love hip hop, this jam will capture your attention. So much love for the journey in hip hop is seen in this video. It is even more epic because they brought rapper Drake into action.
7. I Get The Bag - Over 599 million views (as of December 2022)
I Get The Bag adds to the list of Migos' best melodies. It was released in August 2017 and has been trending for over five years. The track has amassed over 599 million YouTube views. Some fans believe rapper Takeoff's verse gave the song more weight and made it a hit.
8. Bon Appétit - Over 1.2 billion views (as of December 2022)
Bon Appétit is an extremely romantic song for lovers who need private moments. Katie Perry and Migos' collaboration created an excellent jam. Having over 1.2 billion views confirms the Migos were among the best music groups worldwide.
9. Deadz - Over 81 million views (as of December 2022)
Standing at over 81 million views, Deadz is one of the hits Migos has ever worked on. Migos collaborated with Chainz and expressed their talents in the simplest way. These music lovers express themselves best when they are on the beat. Moreover, the video is epic and charming.
10. Narcos - Over 155 million views (as of December 2022)
Nacros was released on Jun 27, 2018. It has 155 million views as of December 2022. Migos had the last laugh after some rappers dissed them. The group changed American hip hop by creating unique music. Some fans consider Migos songs a new sub-hip hop music genre.
11. Straightenin - Over 95 million views (as of December 2022)
Straightenin has 95 million YouTube views as of this writing. The song showcases Migos' lyrical prowess. The message is clear, 'respect is the ultimate form of currency. It can unlock any door on this planet.' The song's best part is at the beginning, with the instruments playing a simple yet intense tune.
12. Avalanche - Over 19 million views (as of December 2022)
Avalanche is the best hit from Migos Culture III songs. Anyone who wishes to go back to the 90s should listen to these Migos songs. The 18-track album dropped in June 2021. Avalanche has 19 million views as of this writing. The group played a key role in growing hip hop music in the US and worldwide.
What are Migos' new songs?
Before TakeOff's death, Migos released a fourth studio album, Culture III, on June 11, 2021. The album has 18 songs, as listed below:
Avalanche
Having Our Way
Straightenin
Type Sh*it
Malibu
Birthday
Modern Day
Vaccine
Picasso
Roadrunner
What You See
Jane
Antisocial
Why Not
Mahomes
Handle My Business
Time For Me
Light It Up
What are Migos 2022 songs?
Takeoff's last song, Crypto, came out on March 11, 2022. It has 8 million views as of December 2022. The remaining Migos member, Quavo, has released several songs in 2022, including:
Hotel Lobby (Unc & Phew)
We Set The Trends
Messy
Chocolate
Us vs. Them
Other Migos' great songs
You can find old and new Migos songs for download on music platforms like Boomplay and Spotify. Below is a list of more Migos' best hits of all time:
Drip
Migo Pablo
BBO (Bad B*itches Only)
Made Men
White Sand
Gang Gang
Beast
Notice Me
Open it Up
Crown the Kings
Waterworld
Too Playa
Emoji a Chain
Movin' Too Fast
Higher We Go
Flooded
Too Much Jewelry
Super Stars
CC
Auto Pilot
Top-Down on Da NAWF
Work Hard
What is the Migos' biggest hit?
The American hip hop group is best known for their singles, Versace (2013) and Fight Night (2014).
What song is the Migos famous for?
Migos' first hit song was the 2013 single, Versace. It reached #99 on the US Billboard Hot 100 chart.
Who is the leader of Migos?
American rapper Takeoff (Kirshnik Khari Ball) was considered the brains behind Migos. The hip hop band consisted of Takeoff, Quavo, and Offset.
Are the Migos blood brothers?
Quavo and Offset are cousins, while the late Takeoff was Quavo's nephew. Takeoff's mother (Quavo's older sister) raised all of them.
Why did Offset leave Migos?
Offset (Kiari Kendrell Cephus) left Migos due to a 'loyalty' issue with Quavo (Quavious Keyate Marshall).
Where is Takeoff now?
Takeoff was shot and killed in Houston, Texas, on November 1, 2022.
You should watch these trending Migos songs on YouTube to understand how talented the group was. Most of their songs mixed hip hop and R&B beats.
READ ALSO: Top list of rappers in gangs 2022: Hip hop artists who are about that life
Briefly.co.za also shared a list of American rappers linked to gangs. Most hip hop stars in the USA grew up in ghettos and other harsh areas and experienced a traumatizing childhood.
Some were initiated into gangs, while others are affiliated but not initiated into criminal groups. These artists usually advocate for people's plights in ghettos through their songs.
Source: Briefly News