Ladies cherish their relationships so well, and they ensure that they keep them as dear as their hearts. As a guy, understanding how to keep your baby and making her feel preferred is vital. This is why sending short love poems for her instead of those routine SMSs, among other things, can turn her on always and leave her in awe each time she reads those beautiful lines of yours written from a genuine heart of love.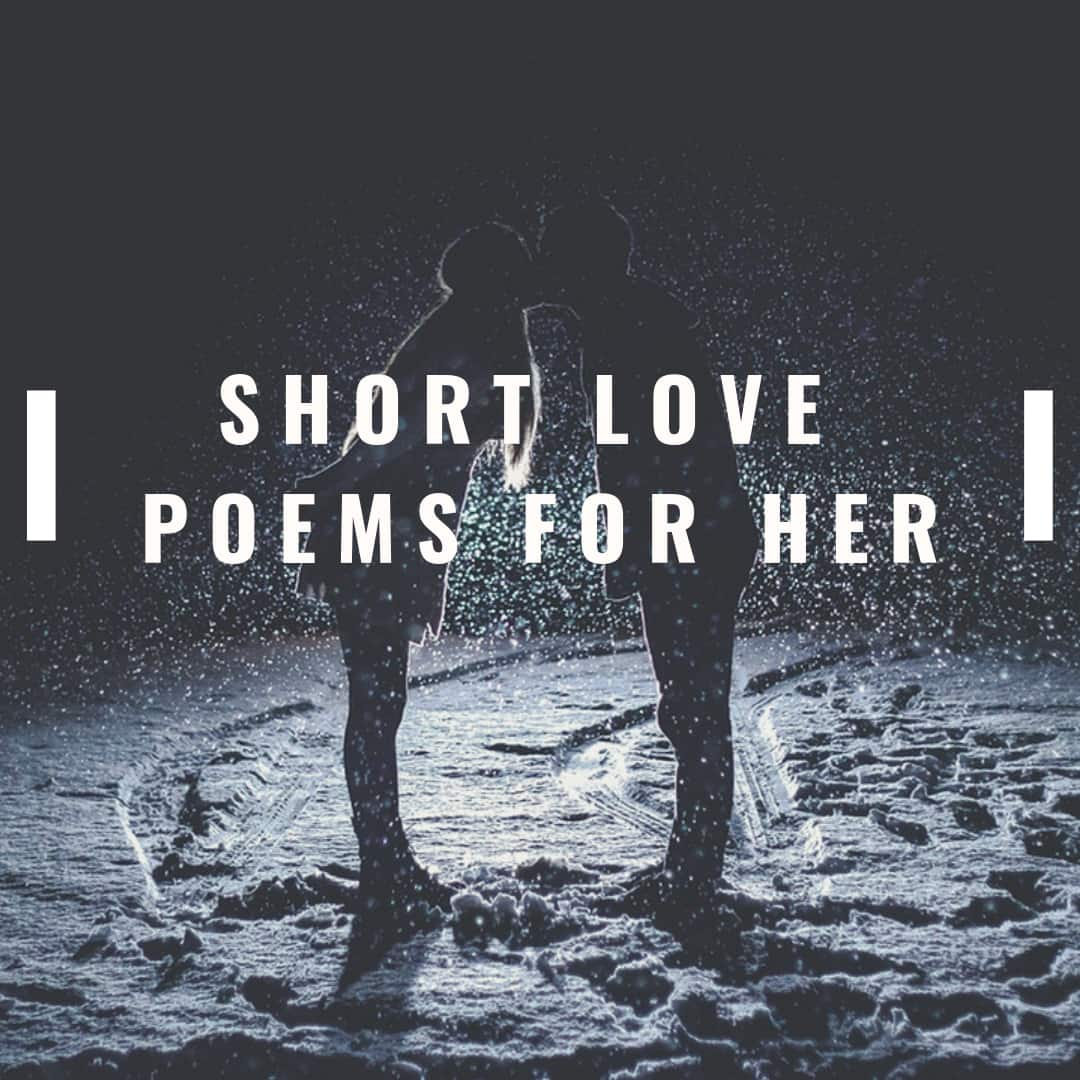 Relationships are good and can be very beneficial. While you are doing all your best possible to ensure that your baby feels special, you have to carry them out creatively to make sure that the whole processes do not bore your better half at the end. Apart from sending her text messages or calling her often, another thing that you can do is to send love poems from time to time. By this, you will be so amazed by the level of commitment that she will keep pumping into the relationship. To help you out, here is a compilation of beautiful love poems that you can choose at random and send to the most important person in your heart from time to time.
Love poems for her from the heart
One sweet thing about love is that when it is genuine, it does not take so long before it is known. Apart from telling your loved one how much you love her, one other thing that you can do is to express your thoughts in short love poems, and you will be amazed at how they will sweep her off her feet. Interestingly, even if you do not know how to compose poems, below are some beautiful ones that you can use to invoke the emotion of the one who makes your world.
READ ALSO: Best goodnight my love messages, wishes and quotes
You are the rising Sun that lightens my mornings,
And the love-force that keeps me going during the day.
You're my princess-charming that soothes my soul in the evening;
You are indeed God sent and the love angel that brightens my way.
If you don't use the one above, you could also use things that are easy to identify within her environment; something that is inevitable to everyone to emphasise how much you cannot do without her. Check out the poem below.
You are the air that passes through my mouth and nostrils;
The blood that flows through my veins,
And the voice that sings in my head.
You are the reflection of the epitome of love,
You are my queen-icon.
One special thing that you can do to your spouse to get her mind fixated on you is to tell her how important she is to you by pledging your commitment to her. And to make it unique, instead of saying it or sending it a text message, you could come up with a poem that would be chanted to her. Consider this example below:
I promise to be your extra arm whenever you need one.
You would be on my mind every second of the day.
In every step of your journey,
You would have reasons to smile for being with me, no matter the event.
You will always be in my prayers every moment of the day, for angels to be on guard.
You own my heart; be assured I would be by your side through thick and thin.
If you do not send that, there are other ways by which you could creatively express your mind so that she feels so special each time she reads through your poems. Here is another sample that you can use.
I promise to stand by in every decision you make,
And walk with you through them, even if it would cost me.
I promise to be your cheerleader no matter the situation.
My loyalty and commitment to you I promise you will never doubt.
I promise to be there to say goodbye when you would be gone for sometimes and be right there to welcome you with a hug.
I promise to love you, be with you and remain glued to you forever.
You can tickle the feelings of your babe by sending her a short poem emphasising the unusual roles that she has come to play in your life since she came in. Look at this.
I have gone through lonely nights and days.
With most of them filled with broken hearts and hurts.
But you came in as a balm to heal my every wound.
The feeling I have inside is real and l connect with you like no other.
Providence knew and made our paths cross.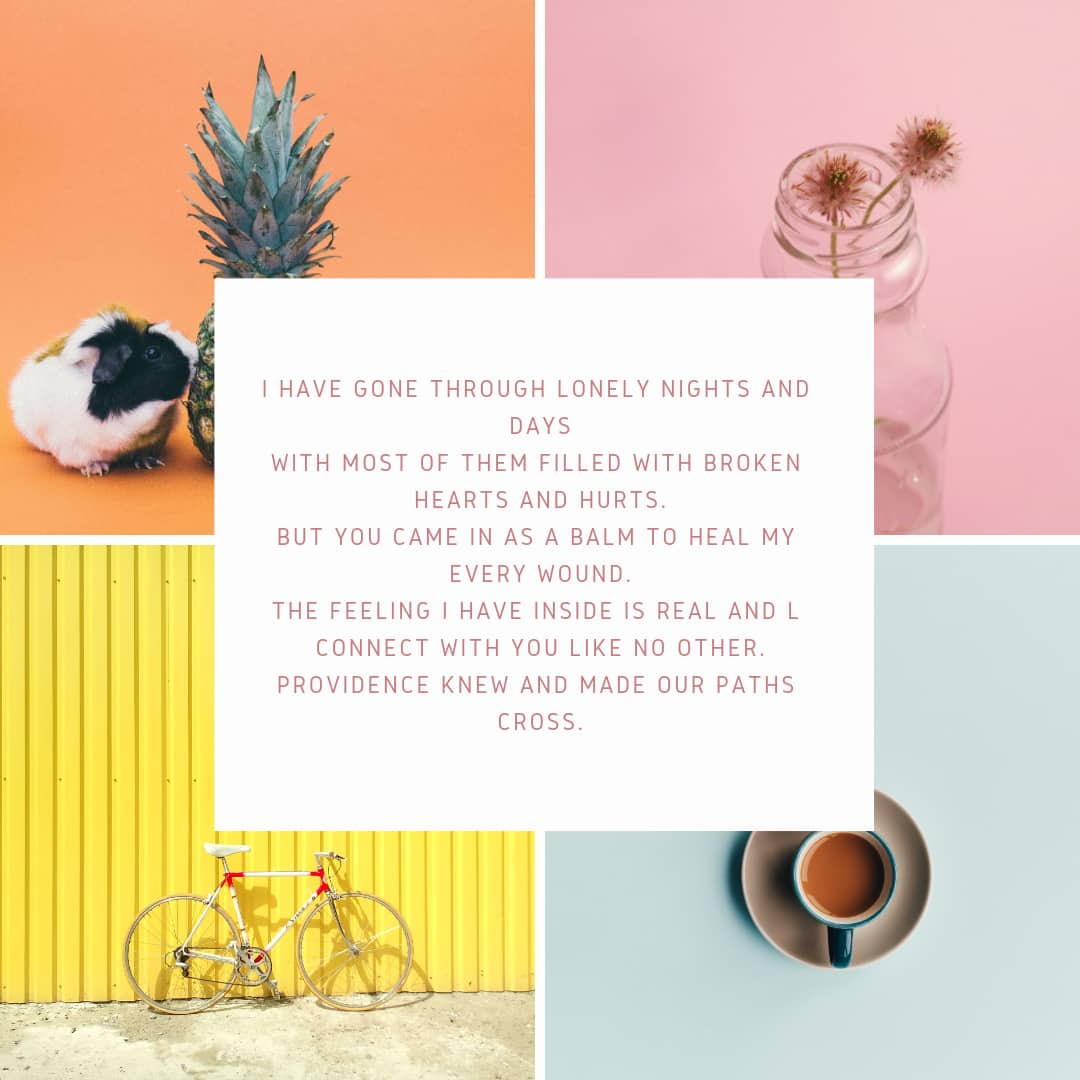 Deep love poems for her love poem
There is no lady that ever wants to be treated as an option; ladies want to be sure that they are second to none and that they are the only personalities that matter most to their preferred ones. This is why, every time, you must emphasise that fact to your babe to make her see how much importance you place on her. Thinking how to go about that? Send her poems conveying your thoughts and feelings. Here are some beautiful examples that you can follow.
On the first day we meet,
That day was like I have known all my life.
I shared the story of life effortlessly and with ease.
I loved the way you listened like you never wanted any detail to slide by.
And at that moment, I knew my heart has found what it has longed for.
Within me, I prayed that moment stayed for forever;
And before long, our friendship had blossomed.
READ ALSO: 50 best birthday wishes and quotes for 2019
By now, you should have known that a lady is mostly moved by what she hears. So, how do you write a love poem for her? How do you move her to love you more and more? Send her a poem that shows that she is worth more than any other thing to you. This is a perfect one to achieve that mission.
You are my gift from God.
As for the depth of your affection, I find it difficult to quantify.
How far you are willing to sacrifice for me sweeps me my feet off.
How you, with ease, want to give me a hand and offer your trust.
Makes me believe true love really exists.
Your love is not quick to judge for it finds no fault.
Your feeling of deep affection is amazing, open and warm.
You are such a gift from God to my world.
On the alternative, here is another poem that you can consider, and you can imagine how much she would feel when she reads this.
To the woman that owns my heart,
Of the billions of stars in the galaxy.
One stands out to illuminate my heart.
My precious, my soulmate, my heart of pure and true love.
Men give you ovation for your kindness, and angels sing of your feeling of deep affection.
Because the radiance of your presence illuminates my life.
You can concretise your love in the mind of your babe by sending this short but highly-romantic poem to her to ensure that nothing or no one else will be fit enough to take your place in her heart.
On your arm, there is nothing to worry.
On your arm, my worries fly away.
The sound of your voice completes my day.
With the life in me, I cleave to you.
I see the way you make me smile and my heart leaps for joy at your presence.
I love you and you will always remain in my heart.
Breathtaking love poems for her
You can make your beautiful one gasp for breath by the kind of poems that you send to her. Whether she is celebrating a special day in her life or you just want to reemphasize how much she matters to you, getting the right poem should be one of your utmost desires. And once you do, you could just get a hand-made card while you inscribe those lines on it. With that, you will always make her feel as though her world rises and falls on you. Here are a few examples that you can choose from.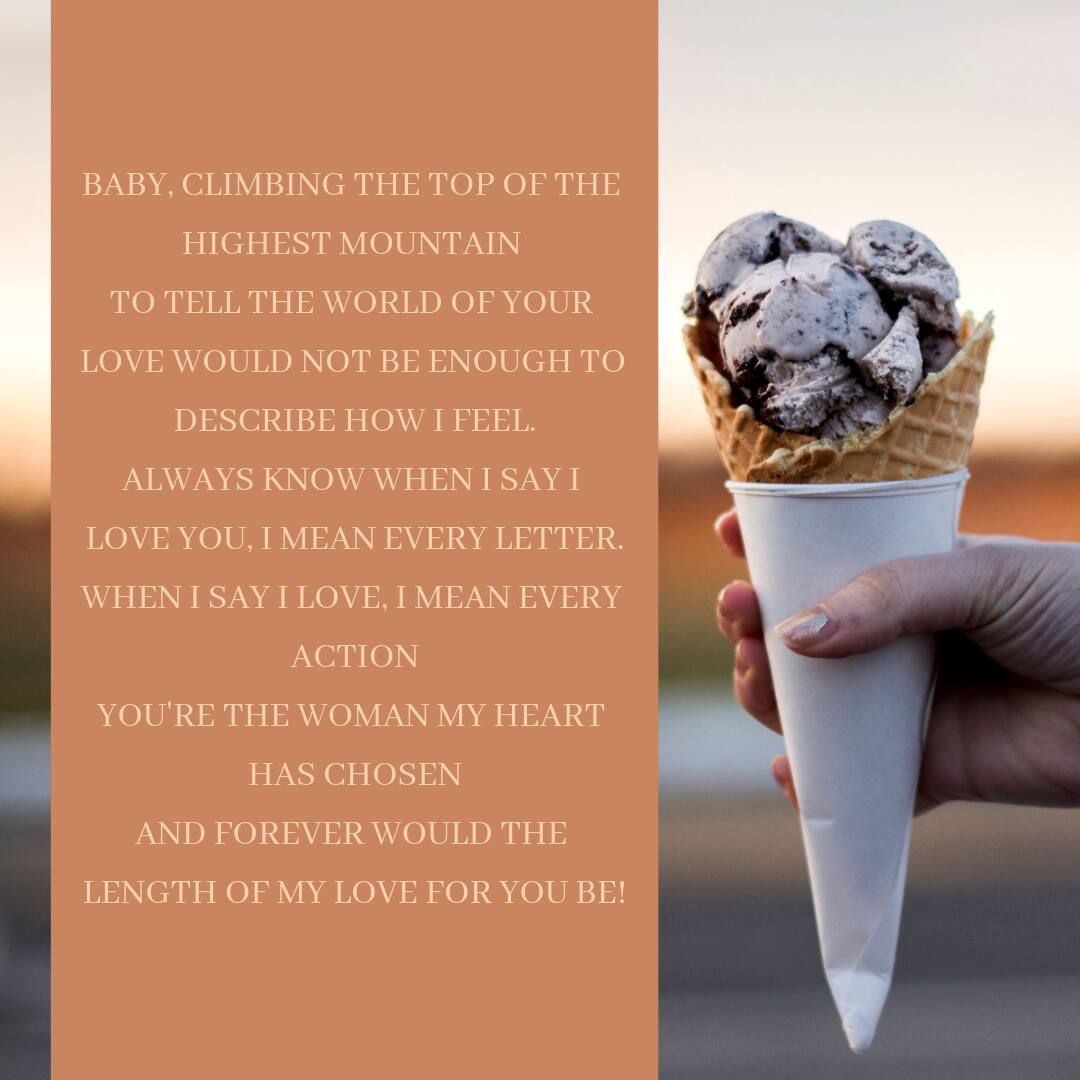 Baby, climbing the top of the highest mountain.
To tell the world of your love would not be enough to describe how I feel.
Always know when I say I love you, I mean every letter.
When I say I love, I mean every action.
You're the woman my heart has chosen
And forever would the length of my love for you be!
What makes the difference between your newly-found love and your previous relationships? That could form the theme of your poem that you will compose for your babe. Here is one that fits so well into this situation.
I was afraid my heart wouldn't be open to love again because of the pains of the past.
But, to me, a mystery it became with how you stepped in.
And became my most cherished in an instant.
You have shown me so much love that it swallowed my pains.
And put a smile on my face again.
I will cleave unto you with every of my being;
I will love you without reservation because, with you, I know my heart is forever safe.
If you still don't want to send that to her, you could make a wish or express your expectations about the future to her to make her know how much you are eager to have her around you. This is an example for you to understand better.
I want to spend the rest of my life with you;
Looking forward to when we would be pronounced man and wife.
I want to feel your powerful touch caressing me all night.
I want you to love me like I have never experienced.
To help me over my anxiety and to be my succor.
While there are many more thousand things I would ask for,
How you came into my life is still a wonder to me.
You came and it made all the difference.
READ ALSO: 7 powerful Steve Biko quotes on oppression, apartheid, education and freedom
Passionate love poems for her
Passion is a strong emotion that cannot be easily overcome. Irrespective of the obstacles or challenges faced, a passionate man will not give up easily but keep pressing until his desires are accomplished. You can stir up the passion of your beautiful angel about you with special and irresistible poems that will get her thinking about you every now and then, and desirous to have you around her every moment.
How do I express how much I am in love with you,
And how deeply I care about you?
What best words could I have used to convey my feelings?
But look into my heart, and deep down into my soul,
For there you will see the depth of my affection for you,
And how perfectly you make my world complete.
Never leave your beautiful one in dull moments at all; think of ways in which you can spice up your relationship so that she always sees you as irresistible and the man she would spend the rest of her life with. Apart from sending her gifts or taking her out on dates from time to time, send her short but lovely poems that will make her gasp for breath.
We may be two people of different races and backgrounds.
But one thing has come to join us together,
And that is the cord of love.
I promise to keep this fire of affection burning.
Through the thick and thin of it all.
My feelings for you will never shake.
Nor my commitment to be with you forever change.
Weave your words in such a way that will paint a perfect picture of who she is to you and what you have come to enjoy about her. Below is an example.
You are the water that quenches the thirst of my soul.
And the joy that dissipates the fears of my heart.
Whatever it is that you need, I'll never deny you of what I can do.
As a team, we run the race together.
Until the trophy of our love is celebrated by the world.
You can also make do with the example below.
When at first your face I sighted,
My heart leapt for joy and left me in awe.
Trying hard to explain the perfection of your beauty.
Was absolutely impossible, for like an angel your appearance was unto me.
I wish the world could understand how much I feel for you in my heart.
I will always hold you dear even with the last drop of my blood.
The basis for all these specially-composed love poems for her is to make sure that your babe feels so much loved and special to you at all times. So, now that you have an idea of the kind of beautiful poems that can invoke the emotion of your better half, hope you are able to come up with other nice ones that you can send to her. Alternatively, feel free to pick any of the ones above to share with her.
READ ALSO: 5 Inspirational quotes in honour of struggle hero Albertina Sisulu's upcoming centenary
Source: Briefly.co.za