Telkom packages and prices 2019
Telkom is fast becoming one of the leading mobile network operators in South Africa. The company's success is partly due to the affordable mobile rates they offer. Telkom packages are inclusive of all mobile operations such as data, voice call and SMS. However, the company has created different packages to meet the needs of various individuals according to their taste and preferences.

You do not have to be disconnected from with the vast variety of packages. Whether you need to surf and connect with social media friends, stream live programs, or even carry out that research work, there will always a data package for you. Here is an exhaustive break-through of the different rates you will pay from the company.
Fibre internet packages
Here are some of the packages you can enjoy if you go for this data option.
10 Mbps Fibre plan
You only need a token of R806.1 to get the Uncapped variation or R705.13 to subscribe to SoftCap. With any of these plans, you can access 10 Mbps download speed and an upload speed of 5 Mbps. You are also entitled to Uncapped Internet Data by order and a free Wi-Fi extender.
20 Mbps Fibre plan
Here, you get to download at speeds of 20 Mbps and upload at 10 Mbps for only R1,007.76 (Uncapped) and R806.1 for SoftCap.
40 Mbps Fibre plan
With this plan, you download at 40 Mbps and upload at 20 Mbps. The rates are R1,310.39 and R1,000.3 for the Uncapped and SoftCap variations respectively.
100Mbps Fibre
As you go higher, the deal gets more interesting. Here, the speeds are 100 Mbps and 50 Mbps for downloads and uploads respectively. For the variations, you'll pay R1,713.90 and R1,1613.3.
200 Mbps Fibre plan
With the largest plan, you enjoy 50 Mbps for uploads and 100Mbps for downloads. Moreover, you are entitled to Uncapped access, a free Wifi extender for online orders, and a 3GB storage email account.
READ ALSO: Telkom WiFi packages and prices 2019
Telkom Double Data packages (LTE)
For the Telkom Double Data package, you get both Double Night data and Anytime Data Surfer. Notably, it expires on the 28th of February, so grab this deal while it lasts.
Here is the monthly breakdown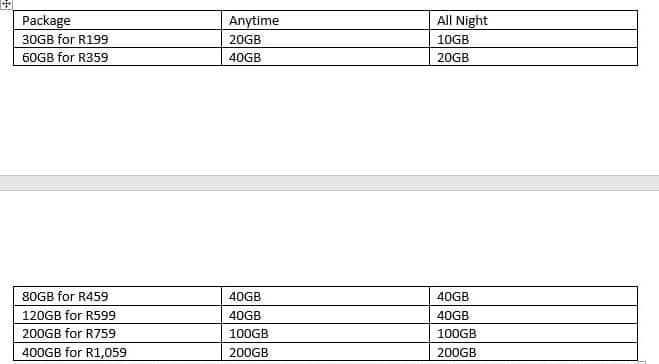 Additionally, you can get the Uncapped data at R899, which is available throughout the day and offers an extra 300 voice minutes. You may be wondering, what is uncapped data Telkom? In this package, you get unlimited internet for gaming, listening to music, livestream, and watching movies.
How much is Telkom uncapped?
The packages in this program are available for different internet speed options and include mobile data, line rental, and phone calls on-network.
You can make free calls to any number on the network's fixed line or mobile options, but the uncapped data us under a fair usage policy.
Here are the pricing comparisons for the packages with other service providers.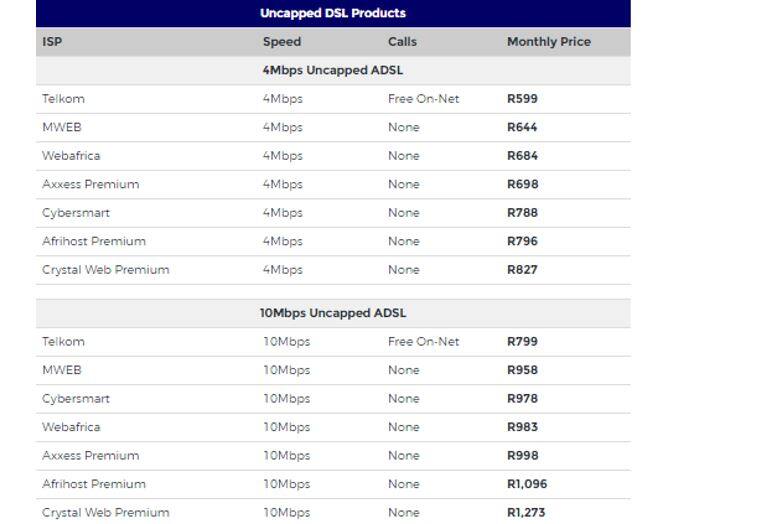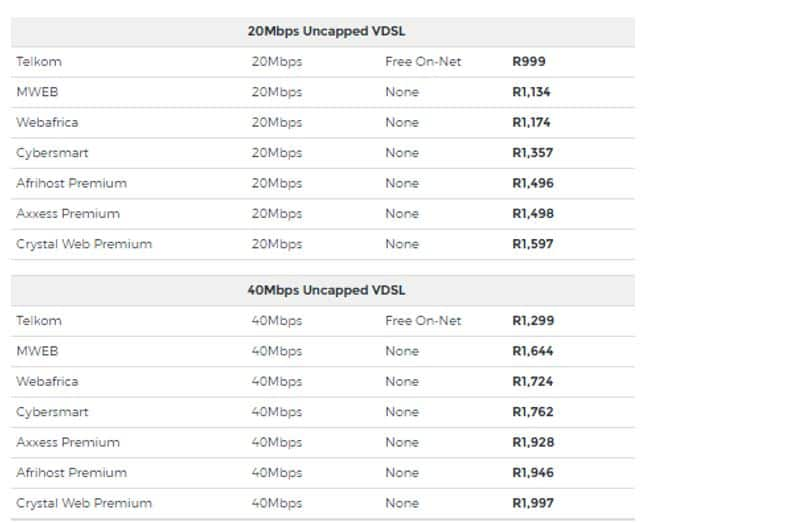 How do I get Telkom WiFi?
You can get this very easily in the following steps. First, ensure your location is within the reach of the nearest Telkom Hotspot. This should not be difficult considering they have over 5,500 of them.
Open Network Settings then turn on the WiFi
Select '1 Telkom Connect' as the wireless network
Set the EAP-SIM of your device to SIM
Telkom packages have proved that mobile operators can actually be affordable and versatile. More people in the country are switching over to Telkom and from the increase in users the company may offer even better data and voice bundles in 2019.
READ ALSO:
Telkom data prices in 2019
Telkom cancellation form and process 2019
Telkom LTE packages and prices 2019
Source: Briefly News