If you are like most data subscribers, you probably love having a wide range of bundles to choose from. Telkom understands that people have different tastes and preferences, and that is why it has availed many packages and varying prices to take care of different people's interests. Whether you are looking for fibre, DSL, or ADSL, it offers you a great selection of packages that match everyone's needs, tastes, and preferences. With the various Telkom packages, how do you know which is the best for you? Read on to learn the differences in various options, as well as the prices of each one of them, in 2019.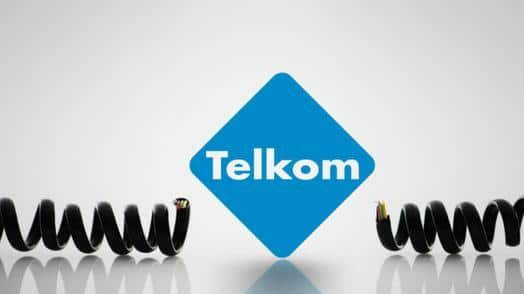 Here is an in-depth overview of several Telkom bundles and their prices in 2019 that you can choose from to suit all your needs. There is also information about Telkom WiFi bundles, Telkom ADSL specials, and Telkom data contracts.
READ ALSO: Telkom WiFi packages and prices 2019
Telkom packages and prices
Time-based Bundles
The time-based bundles give subscribers the convenience they need. With these Telkom packages, you do not have to buy data bundles that you do not need. You are guided by your need at the moment. Here are the various time-based bundles you can buy in 2019:

Do not let yourself get disconnected when you can buy data that allows you to remain connected throughout to cater for your needs – an hour, 24 hours, or a weekend bundle can be your best option.
READ ALSO: Telkom data prices 2019
How to buy a Telkom bundle?
Buying any of the Telkom packages is easy. You can do it in four simple ways. You can opt to use the *180# option after which, you select the bundle purchase option where you decide which option suits you. You can use the self-service portal option, mobile top-up for either Android or IOS or even buy your preferred bundle from selected stores. Some of the places you can consider include Stores, Shoe City, Foschini, Dunns, Shoprite, PEP, Flash, Ackermans, Edcon, Standard Bank, Nedbank, ABSA, and FNB.
2. FreeMe Telkom packages
Towards the end of 2018, Telkom introduced the FreeMe packages as a part of the summer promotion. This package makes it easy for subscribers to enjoy reduced costs on data and better pricing for YouTube data, free call minutes, SMSs, WhatsApp, and mobile data. The following is a summary of the prepaid FreeMe packages alongside their respective prices.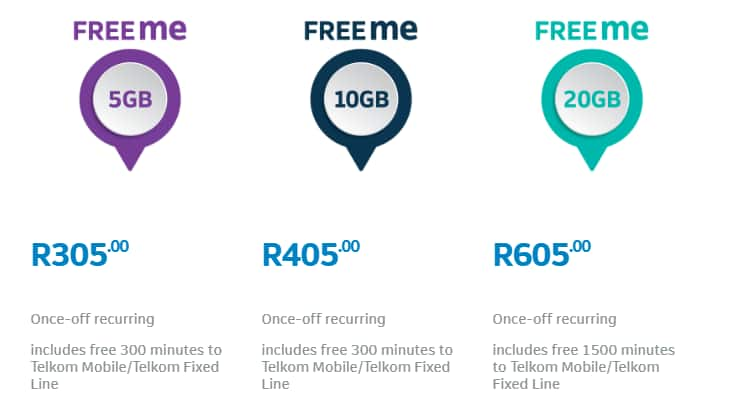 3. Once-off bundles
The thought of "your data balance is 0MB" is itself distasteful. The once-off bundles allow subscribers to enjoy a variety of bundles with a Night Surfer option. Some of the bundles you can choose, include 1GB, 2GB, 3GB, 5GB, or even the 10GB.
You do not have to worry about any contracts or signatures when you opt to use the once-off data bundles. All you need to do is choose your preferred bundle and use it within South Africa. In addition, the bundle is valid for 2 months.
The following table summarizes the prices of different once-off bundles.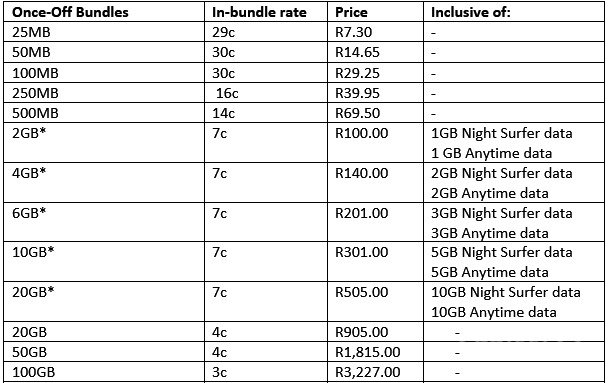 4. Monthly recurring bundles
If you are a heavy user of data, the recurring data bundles can save you. This bundle allows you to get a subscription that can last you a whole month. The choice of the preferred option ought to be informed by your rate of data consumption.
The available options include:
25MB - R7.25
50MB - R14.50
100MB - R29.00
250MB - R39.00
500MB - R69.00
1GB - R99.00
2GB - R139.00
3GB - R199.00
5GB –R 299.00
10GB –R 499.00
How do the monthly recurring Telkom packages work?
The rule of First in First Out applies. In case you have any unused data by the end of the month, it will be used first when you top up for the next month's bundle. The monthly recurring Telkom packages are available to data, postpaid voice, new and existing top-up customers. To cancel your subscription to any of these subscriptions, you will have to visit the nearest Telkom shop or follow the online cancellation process.
5. Fibre internet packages
It is now easy to access internet access with the variety of fibre bundles available in the market. Fibre is not only one of the most reliable Fibre optic internet options you can find in South Africa, but also one of the fastest. It offers internet speeds as fast as 200 Mbps. It gives subscribers the platform to enjoy video and music streaming without the worry about low download speeds or buffering.

Check out the following options.
This plan comes with 100 GB of SoftCap data. Its download and upload speeds are 10 Mbps and 5 Mbps respectively. If you subscribe to this option, you will be paying R705.13 each month with a guaranteed free night surfer.
Unlike the 10 Mbps plan, the 20 Mbps Fibre plan offers subscribers a download speed of 20 Mbps and an upload speed of up to 10 Mbps. In addition, it comes with 100 GB of softcap data and a free night surfer. You only need to commit to a monthly fee of R806.1 enjoy all these goodies.
If the 100 GB of SoftCap provided in the 10 Mbps and 20 Mbps packages are not enough, you can consider a higher value such as 200 GB of softcap data. However, you will have to spend a little higher for this option – R1,007.76, a month. Nevertheless, you get to enjoy high upload and download speeds of up to 20 Mbps and 40 Mbps respectively.
This package, besides the 100Mbps, the subscribers have access to 400 GB of softcap data, 50 Mbps of upload speed and 100Mbps of download speed. In addition, the package includes a free night surfer. It goes for R1,613.30 payable on a month-to-month basis.
6.Telkom ADSL packages
What is telkom ADSL? Perhaps you are asking, what is ADSL? It is an abbreviation for Asymmetric Digital Subscriber Line. ADSL popularity is attributable to its reliability in offering good data transmission speeds. Because it is extremely fast, ADSL allows subscribers to do much more online apart from the occasional YouTube videos, surfing the internet, or sending emails. For instance, with these Telkom packages, you can do video calls, stream series, and play games online.

What are the available ADSL packages?
The following is a summary of the ADSL packages you can consider. It captures the prices and speeds of different ADSL packages.

Apart from the monthly charges for each plan, you will incur other costs. A DSL installation cost of R792 is included although you can go with the self-installation option. In addition, you are required to pay a line installation fee of R620.
7. Telkom do plans
Do Plans come with an inclusive package, fuss-free DSL plans, and numerous friendly features to ensure that subscribers remain connected at all times? This plan includes DSL access, line rental, as well as fixed data prices. With this option, you do not have to worry about unexpected disconnections every month. They include the do Lite, do Basic, do Advanced, do Advanced Plus, do Premium, and do Elite. Let us see what each of these plans comes with.
For all the 24-month contract Telkom packages in the do Plans category, subscribers get a free router or modem. However, the month-to-month plans do not include a router or a modem. Regardless of what plan you subscribe to, Telkom Internet Acceptable Use Policy governs your usage.

Evidently, Telkom packages leave its customers spoilt for choice with its range of options. With the bundles discussed above, you will definitely find something that works for you. However, it is necessary to evaluate your needs as such evaluation will help you make a decision to subscribe to a package that suits you.
READ ALSO: Telkom contract packages South Africa 2019