10 best Davido songs ranked
When it comes to releasing hit musicals in Africa, Adedeji Adeleke is arguably one of the best in the game. The co-boss of HKN records has been doing his thing ever since he started his music career. Davido songs are some of the most popular ones based on the massive following and viewership on social media and other platforms. The funny part about the songs by Davido is that you can enjoy them even if the words mean nothing to you.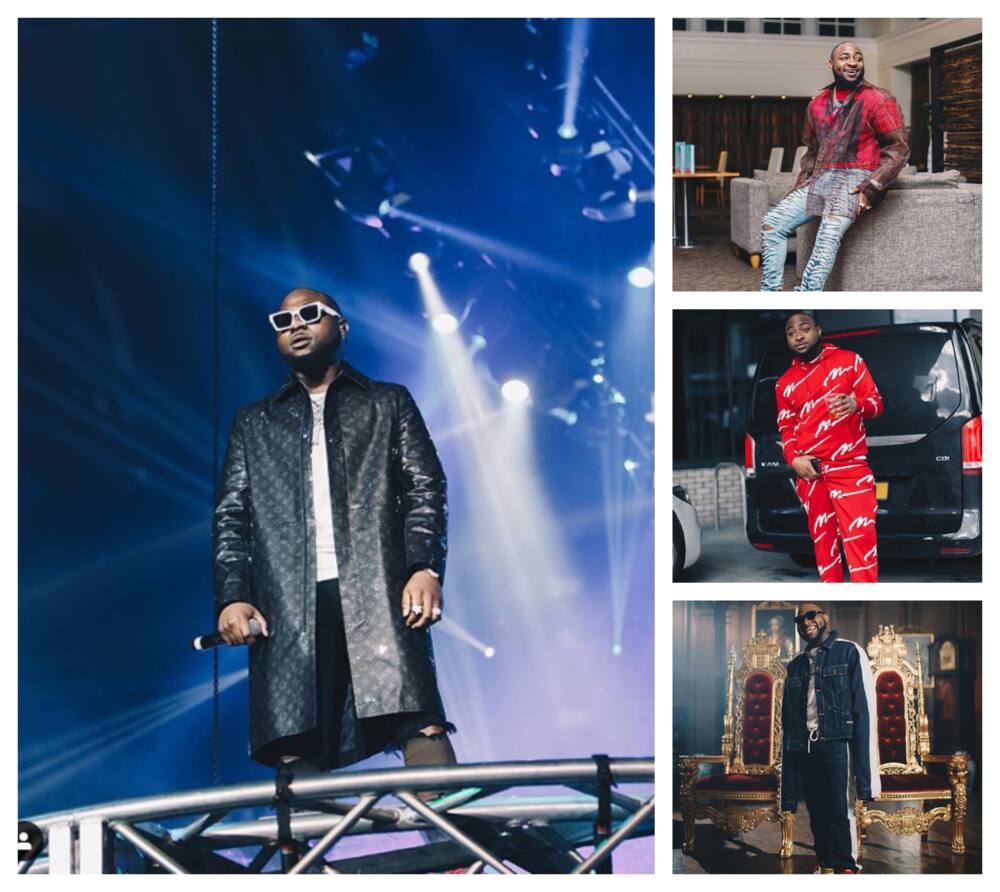 Born David Adedeji Adeleke, Davido is a 26-year-old rapper from Nigeria. With hundreds of tracks that have done well, the ranking of the best of Davido songs is going to be a tough one. However, we have come up with the most popular and most trending songs by Davido 2019.
READ ALSO: List of all Mafikizolo songs ranked
Davido songs list 2019
Below are 10 Adedeji Adeleke jams that you cannot fail to hear daily either on the radio, TV or on the streets and clubs among other places. Some of these pieces of music have earned him awards such as Kora, BET, MTV Africa Music Awards, and Channel O Music Video Awards, and The Headies.
1. Fall
Fall tops this list for being the best song by Davido after its release in 2017. Today, Davido Fall is his most popular music on YouTube, having accumulated more than 110 million views in less than 2 years, and it is among the most-watched Nigerian songs. As you may have guessed, it is a love track where the musician is trying to convince a girl to trust him.
2. If
This piece of music easily became Nigeria's anthem of 2017 after its release in the same year around Valentine's Day, as it melts the heart of many ladies. The track had Sony's backing, good flow, and good production from the fellow artist Tekno. After its release, 'If' even managed to get the attention of Omarion who released a dance video, and R Kelly went a step further and did the remix with Adedeji Adeleke. The original version has more than 76 million YouTube views.
3. FIA
Released in 2017, Davido FIA has become a major hit with 58 million YouTube views and is still getting more likes day by day. Like most of the songs by Davido, FIA is all about romance, good beats, and captivating lyrics. To Adedeji Adeleke, this jam is also personal since he lost three friends, whom he makes a reference to in FIA. Immediately after its release, it dominated the Nigerian Billboard for a long time. For the remix, the musical managed to attract the international singer Steflon Don.
4. Aye
Aye, which is one of Adedeji Adeleke's earlier works, gained popularity because of the superior beat mixed with a light guitar and his usual flow. With more than 53 million YouTube views, the video is the classic love story of a poor man and a rich girl. Adedeji plays the role of the poor person yearning for the heart of a girl in the sights of a prince.
5. Assurance
Assurance is one of Davido songs 2018 that has taken the continent by storm. Added just nine months ago, the YouTube video has amassed more than 35 million views beating some of his jams that have been on YouTube longer. Aside from appealing to the usual crowd, Davido Assurance looks like it will captivate an even wider audience that includes children. The quirky lyrics are almost comical.
6. One Ticket
This Davido new song 2018 featuring Kizz Daniel is quite impressive because it has accumulated close to 13 million YouTube views in just 3 months. Aside from the energy that these stars inject into the beautiful track, you get one of the best, danceable beats in the continent right now. You also get the feeling that the combined star power of both artists should easily put this piece of music as a contender for collabo of the year 2019.
7. Flora my Flawa
Davido Flora my Flowa was released in early 2018 after overseeing a successful 2017. This track became a hit immediately after its release when it broke the record of the 1 million YouTube views milestone within 48 hours. To date, it has slightly above 9.7 million views on YouTube. The video shows Adedeji Adeleke leaving his village sweetheart to seek wealth in the city. The ensuing story that resonates with the African setting has captivated millions, and it is a must-listen David song this year.
8. Bobo
With lyrics like "Na money fine bobo", it is not a surprise that this Davido 2018 song featuring Mayorkun is almost approaching 11 million views on YouTube. These two artists form what is arguably one of the most hardworking duo in the whole of Africa.
9. Number one Remix
Anyone from East and Central Africa will tell you about the original "Number One" by Tanzania's star Diamond. The original video has about 6.5 million YouTube views but the remix with Adedeji Adeleke has an incredible 36.1 million views. The remix, which was published on YouTube in 2014, follows the love and romance theme set forth by the original song, but the Nigerian sweetness added by the talented Adedeji makes it more lovable and trendy.
READ ALSO: Top trending Migos songs 2018-2019
10. Gobe
Gobe is one of the Davido songs from his early years in the international scene. Released in 2013 as the lead in his album "The Baddest", Gobe now has 30.3 million YouTube views. While it may not be on the same level as some Davido latest songs, this track has a captivating feel and great beats that warrant its place here.
READ ALSO: 10 Best Sjava songs 2019
Davido songs appeal not only to Nigerians but also to the international audience. The lyrics, though some in his native language, are easy to master, making them lovable. From Davido YouTube views statistics and comments, it is evident that he is truly talented and has die-hard fans.
READ ALSO:
List of all Amanda Black songs ranked
10 best Sinach songs 2018-2019
All DJ Black Coffee albums and songs
List of all Tasha Cobbs songs
10 best Benjamin Dube songs 2018-2019
Source: Briefly News