How to get police clearance South Africa?
Like any other country in the world, a Police Clearance Certificate (PCC) is a vital document to have in South Africa. PCC is a legal paper that states all criminal convictions, if any, that have been recorded against the mentioned individual. The document is solely issued by the Criminal Record and Crime Scene Management (CR & CSM) of the South African Police Service (SAPS) located in Pretoria.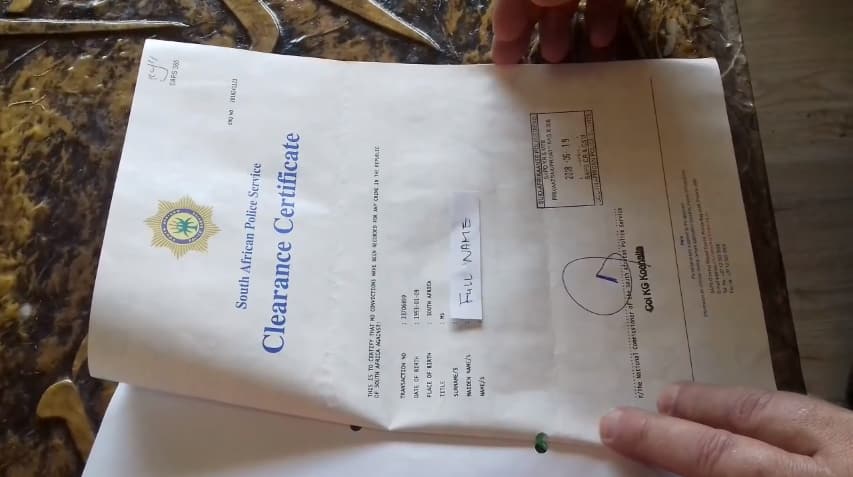 The Police Clearance Certificate in SA serves a number of purposes in clarifying your criminal status such as easing the visa application process, emigration purposes, or security declaration of any form by an individual in the country or abroad. Also, it is an essential document in employment in South Africa with regards to PAJA, i.e. the Promotion of Administrative Justice Act 3 of 2000. Generally, the PCC is a crucial document in showing that you are of sound character as opposed to being an undesirable individual in your host nation.
READ ALSO: How to calculate VAT in South Africa
How to apply for a Police Clearance Certificate in South Africa
If you wish to get your copy of this essential document in South Africa, you will require the following:
A complete fingerprint set on form 91 (a) of the South African Police Service, taken from the closest police station. This South African Police Clearance application form for fingerprints should also contain the basic information about the applicant, i.e. their full name including the surname, where they were born, the date of birth, South African mobile number, and your identity card number where necessary.
A copy of your identity card or a similar official document such as a passport. Other than the copy, you should carry your original identification document since proof of identity is mandatory.
You must accompany this application by a proof of payment to show that you have paid the amount necessary to process the PCC as will be discussed later in this article.
After you submit the above data, your nearest police post will forward your application to SAPS Criminal Record and Crime Scene Management department of the South African Police Service in Pretoria. Specifically, the application will be sent to the SAPS Criminal Record and Crime Scene Management as part of the new procedure. Previously, you would have to take the application in person to Pretoria. After the PCC is ready, it is returned to the police post you applied from, which is where you will go for its collection. When you go for the collection, remember to carry a proof of identity.
How to apply for a police clearance certificate outside South Africa
This process will also require you to have the details that you need to apply within South Africa. However, some countries can have slightly different rules for the application. For example, some countries will require you to make sure the maiden name, and in some instances, the other surnames, appear on the PCC. If any other name is required, then it is your responsibility to make sure you have the official accompanying documents to prove your identity. For example, married couples can use a copy of their marriage certificate to include in the application.
South Africans outside the country can either go to any of the nearest police posts in the country they are in or the Embassy of South African in that nation, where their details will be available. They should go with all of the documents mentioned above.
Note that currently, the process of getting PCC South Africa only accepts South African mobile phone numbers. Those who provide their cell phone numbers will receive an SMS with the number of references allocated to the certificate to confirm the reception of the request for PCC. The reference digits come in handy when you want to track the progress of the PCC status of your application on SAPS website. Once the process is complete, a follow-up SMS will be sent.

Once the PCC is ready in Pretoria, it will be sent back to the nearest police centre where the application was made, and you can pick it from there. You must present your original identification document for identity confirmation to collect the PCC.
How much does a Police Clearance cost in South Africa?
Now you understand the procedure, but how much does it cost for a Police Clearance? For each application of the police clearance in South Africa, you will spend R114.00. This payment is made through either a bank overdraft, cheque that is particularly bank-guaranteed, or electronic payment into SAPS' account to the National Commissioner of SAPS. Here are the payment details:
ABSA cheque account number 4054522787
Branch code 632005
Swift code ABSA ZAJJ.
For electronic payment, it is mandatory to indicate the applicant's initials as well as the surname as a reference. Also, to show that the money paid is for Police Clearance Certificate, abbreviations PCC must be added as a reference. For those outside South Africa, go to any bank which can conduct a telegraphic transfer, and then ask that the required fees are paid to the bank account provided above. Make sure that you get a proof of payment for any of the above PCC payment options for the PCC application process to begin.
How long does a Police Clearance take in South Africa?
Officially, the process should take about fifteen business days counting from the day your application gets to Pretoria's Criminal Record and Crime Scene Management office, to the time you are issued your PCC. However, most often the process takes 1-2 months. For a faster service (as fast as 5 days), you can use a company such as Apostil.
How long is a police clearance valid? From the time of issuance, this document is valid for 6 months, but some countries value it only for 3 months, and others 12 months - see more here.
READ ALSO: SAPS divers hailed as heroes after saving young man, 17, from drowning
As you can see, with all the documents required, it is very easy to get a Police Clearance Certificate South Africa. Gather all you need regardless of your location in the world and follow the guide above to get this essential document.
READ ALSO
How to calculate PAYE tax 2018?
How to draw a face step by step
100 interesting speech topics and ideas (updated Feb 2019)
VFS tracking in South Africa 2019
Nursing intake 2019 South Africa
Source: Briefly News