A lot of concerns have been raised by many people who really desire to know more about the life of the H One. Many people would like to know J. Cole net worth. Then, there is a concern on the coded way with which he titled his recently-released album KOD. Therefore, while this article focuses on answering the question on J. Cole's net worth, it will not fail to answer another question that is of interest to you as well. In fact, it also serves as a window to the life of the popular hip-hop star Kendrick Lamar. Just read on and discover more for yourself.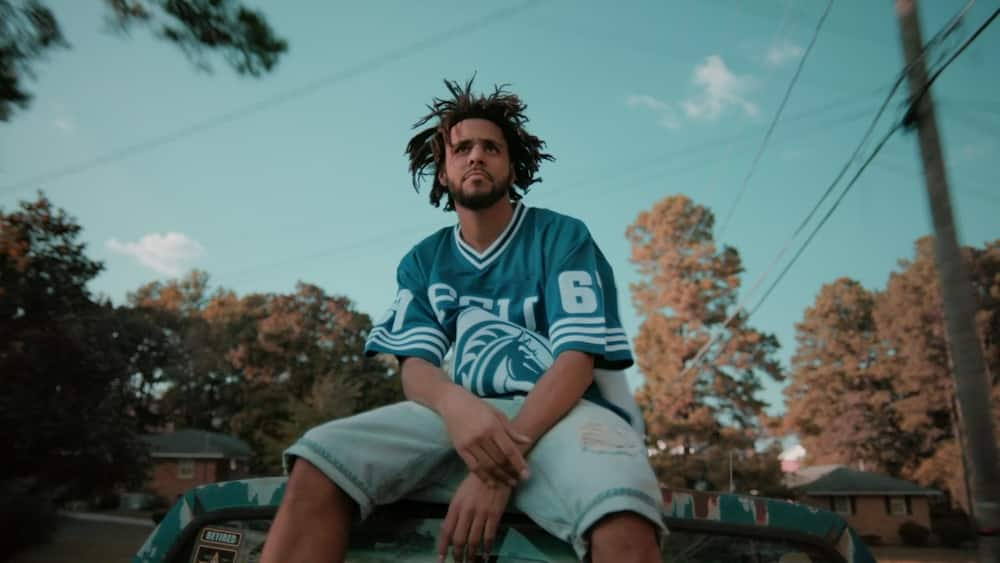 Professionally known as J. Cole, Jermaine Lamarr Cole remains one of the most successful recording artists who impact their generations with their matchless rapping talents. Born on January 28th, 1985 at one of Germany's military bases, his sudden rise to fame became possible as a rapper after he released his debut mix tape in early 2007 titled "The Come Up". With the success recorded in this album, he began to pursue a solo career with a focus on rapping, which gave birth to the release of "The Warm Up" and "Friday Night Lights". From there, the star-rapper has been moving in leaps and without bounds.
J. Cole net worth
There is no doubt that J. Cole is a successful rap artiste. With six awards registered in his name including Best Mixtape in 2011 and Best Live Performer in 2015, both from BET Hip Hop Awards, J. Cole remains, undoubtedly, one of the rappers of our time that many music fellas want to listen to.
READ ALSO: Who is Simon Cowell wife? Her name, age, son, net worth and pics
Although there is no latest information published on authority sites yet concerning J. Cole's net worth as of 2019, based on an article published by Celebrity Net Worth, J. Cole is acclaimed to be currently worth $30 Million. However, if we are to go by the rating of J. Cole net worth Forbes published on their official website as at July 16th, 2018 claiming him to be worth $35M.
While some may wonder how he manages to rank that much, J. Cole made it to the list of heavily paid rappers in Forbes article titled "The World's Highest-Paid Hip-Hop Acts 2018". Also, he is said to have landed on the Celebrity 100 list for the first time after his tour that approached seven figures per stop.
J. Cole songs
Apart from Cole's debut studio album, Cole World: The Sideline Story, which was released in 2011 and debuted at the first album on the U.S. Billboard 200, he has also released other songs that have attracted lots of positive reviews from his fans and other music lovers across the globe. In fact, the 2014 Forest Hills Drive that he released in 2014 got him his first nomination for Grammy Award as the Best Rap Album.
J. Cole new album, KOD, which he released in April 2018, went so viral that it ended up debuting again on top of the Billboard 200. KOD is short for Kids on Drugs, King Overdosed and Kill Our Demons. Also, he had released a number of albums that have been certified platinum by the Recording Industry Association of America (RIAA) and among them are Born Sinner and 4 Your Eyez Only.
An interesting thing about J. Cole's latest release KOD is that it broke the streaming records of two giant online music stores, Apple Music and Spotify, by making more than one billion streams when combined together.
READ ALSO: Vin Diesel family: members, photos and stories
What is Kendrick Lamar net worth?
Among a few hip-hop artists who have become known by the world in the entertainment industry is Kendrick Lamar. His rapping gift is said to have been influenced by that of Tupac and Dr. Dre. With several albums including Selection. 80 (2011), Good Kid, M.A.A.D City (2012), To pimp a butterfly (2015), Damn (2017), and Black Panther: The Album (2018), Kendrick Lamar is worth nothing less than $55 million based on Celebrity Net Worth's rating for 2019.
However, according to Forbes 2018 Celebrity 100 earnings, Kendrick Lamar makes the 37th position with a net worth of $58m. While this is the highest earning he has made so far in his career, he was reported to have made that much based on his solo tour from Los Angeles to London. So far, he enjoys deals with renowned brands like Nike and American Express.
From all that have been considered in the account of the world-celebrated rapper J. Cole, it is never a fallacy to conclude that there is so much in this star that is yet to be unleashed to the world. As usual, we can expect something better this year compared to everything he had accomplished in the previous years. While he continues to entertain the world and manifest his talent, one can expect an increase in J. Cole net worth because on the popular demand on him.
READ ALSO: