A social media post turned into an impromptu national survey with hilarious consequences as black people were given an opportunity to pose questions to white folks in the country.
PAY ATTENTION: Click "See First" under the "Following" tab to see Briefly.co.za News on your News Feed!
Briefly.co.za noted the popularity of a recent social media post, which definitely got Mzansi talking.
The post by the Joburger Facebook group stated: "Okay black people…ask white people one question you always wanted to know."
Incredibly, the post has already attracted nearly 2 000 comments via Facebook since being shared on Tuesday morning.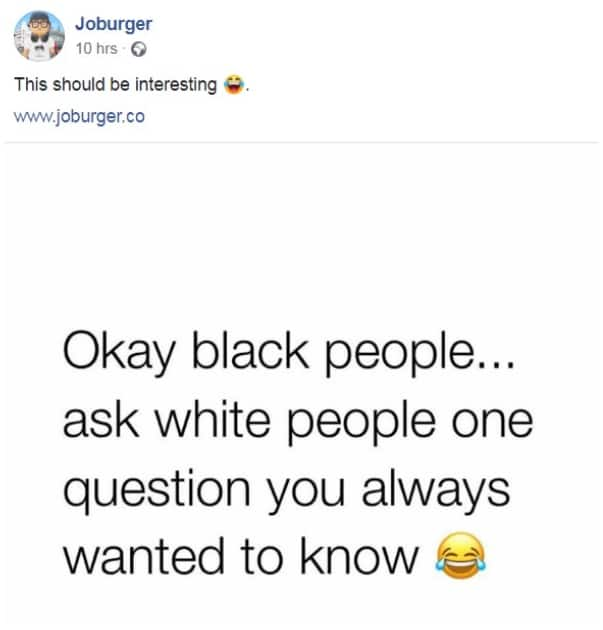 READ ALSO: Mzansi in stitches: Video shows Bushiri can't answer a simple question
1. Having to take a jacket to class cause white people set the aircon to uit blou van ons se Hemel?
In response, Ceara-Ann Mckay said, "Africa is HOT guys hau. We're wondering how you're wearing jackets while we're drowning in sweat."
2. How come if i buy a bottle of alcohol worth R400 you guys says it's expensive but you can spend 10k to go watch birds? (by Asanda Ndlovu)
Jaco du Preez saw the funny side and added: "Like I spend money to catch fish, and then put them back."
READ ALSO: Video shows how VW Polo is stolen with owner inside the house
3. Is this supposed to be a greeting of some sort?it's hella creepy,I feel like a bad person when I don't "smile" back? (by Tumelo Glen Malape)
Brandon Blades explained it nicely: "It's an awkward reaction to people we don't know well enough to say hello to or give a real smile to, because a big toothy smile to a stranger feels weird, but we still want to be friendly enough to acknowledge you. This is very common in restrooms or stores with narrow aisles... it's like saying hello without being vocal."
4. Do you guys own shares at Ford for the Ranger? Please help us get access to those bakkies julle. Asomblief maan? (by Tumelo Liondancer Marweshe)
Fifi Esterhuizen responded by saying, "As a white person I need the answer to this too."
5. WHY DO YOU LIKE SPEAKING TO THE MANAGER? (by Ayanda Yaya Mokwana)
Petro Batt said, "Guys guys, come on. I really think you are too chilled with bad service and products. It's your hard earned money. Sort out something so that the next person doesn't have to struggle with the same problem."
Of course, no Mzansi debate would be complete without speaking about the land issue.
Mzikayise Gxamtwana asked, "What's up with that semi-smile you give us when we meet in the passages?"
Jaco du Preez received the stamp of approval when he responded, "We hope that will help so we can keep the land."
PAY ATTENTION: Save mobile data with FreeBasics: Briefly is now available on the app
Enjoyed reading our story? Download BRIEFLY's news app on Google Play now and stay up-to-date with major South African news!
Source: Briefly.co.za