45 Best straight up hairstyles with braids pictures 2020
African women are known for their love of braids which come in different styles including straight up hairstyles. These styles are loved because they tend to last longer and also protect the hair. In addition to that, the versatility of the braids styles makes them great for most women.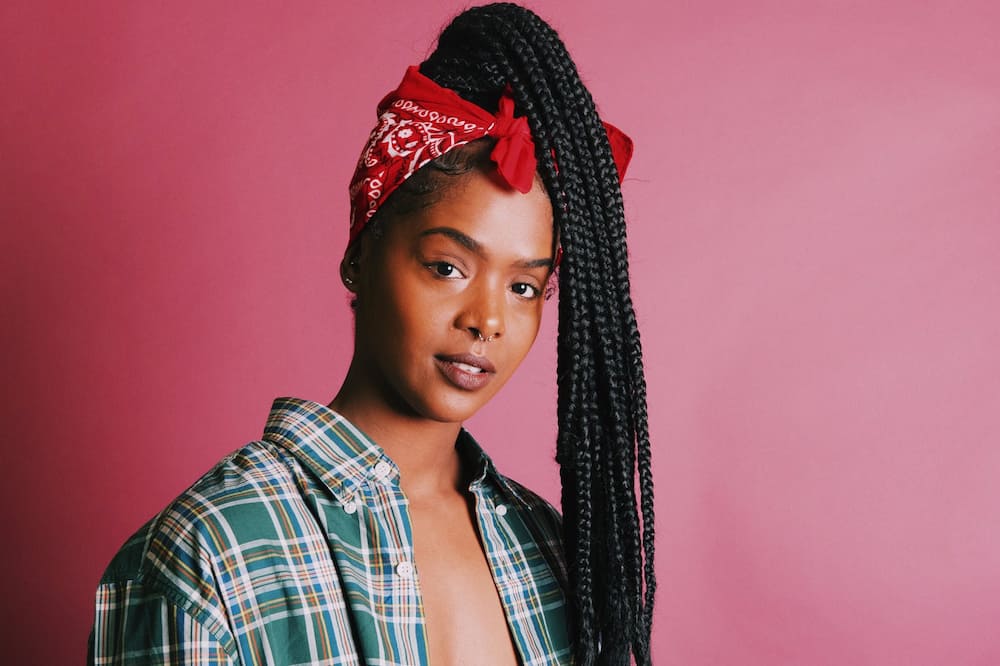 If you consider African hair braiding styles pictures, you will realize that there are numerous options for women depending on their preference. Whether you want an up-do look or a simple freestyle, your braids will make this possible. You can also opt for box or crotchet braids if you do not want to go for the traditional braid styles. The following 45 examples will give you a way forward.
Braids hairstyles 2018 pictures
With so many braid styles available and pics to show for them, you may wonder what are the most popular braids? Well, the answer to this depends on your preference. Choose those that work for you since they come in different types and colours. The important thing is for you t be comfortable in what you have. For braided hairstyles 2018 options, consider the following examples for inspiration. You can always modify it as you wish.
1. Long braids
This style is preferred by younger girls who want to keep exploring with different styles. The fact that they are free offers numerous options. You can always hold them up in an up-do look or a ponytail. Alternatively, have them free if you want a style that is long and flowing. Either way, you can be sure that you will look cute.
2. Mixed coloured braids
This is a common braid style for women that want a bit of colour in their hairdo. Usually, it is advisable to go for colours that will blend perfectly and complement your natural look. If you will be having this look for a while, make sure to pick a colour that will match most of the outfits you plan to wear within the period.
3. Grey masterpiece
There is always something charming about the colour grey. They spell classy and sophisticated especially when done in braids. Make them medium in size and choose a length that you are comfortable with, especially if you are not going to style them any other way.
4. Faux lock
This is a perfect match for a lady that wants a rugged-kinky look. The faux locks resemble dreadlocks and are considered one of the best protective styles for any African woman. Choose them in the colour and length that you prefer. You can never go wrong with this style.
5. Simple braids
A cute style for a cute lady. Keep it simple and chic.
Cornrow braid styles
Apart from the ordinary hanging braids, there is another common variation where braids are done in cornrows. These are preferred because of their cute simplicity and the fact that they are easy to make and maintain. So, how long do cornrow braids last? This will depend on how well you are able to keep them in good shape thus will vary based on the person. The following are examples of cornrow braid-styles you could consider.
1. Small and large cornrow braid updo mix
This fancy cornrow braid style works for the executive business lady. If you are going for a look that will say fancy, stylish and bossy, then this is your best shot. You can mix the colours for the small and large braids if you want some sort of colour block. Just make sure that they blend.
2. Straight back
Here, the hair is braided backwards in a cornrow such a way that the braids will eventually hang from behind. You can have then straight back, front to back, or chose to have them parted from sideways going backwards. Choose the variation that enhances your overall look.
3. Middle cornrow
This simple style is perfect for school going children, although any lady can opt for it. The cornrows are made from the side to meet in the middle. The braid ends can then be left to hang, or they can be styled into a Mohawk or ponytail depending on what you want.
4. Push back alternate cornrow braid style
This simple style is loved by busy women that have little to no time to groom. With such a simple yet classic style, they can focus on other areas since the hair will look perfect for at least 3 weeks or more if well maintained.
5. Half up-do - half back cornrow braid style
This unique hairdo is one that many ladies would fancy having. It gives the best of both worlds. You can enjoy an up-do, and a let-down look all at the same time.
Box braids
These are probably the types of style that most women are going for today. They are a bit on the higher side since they can be re-used if well maintained. One may ask how much do box braids cost at a salon? Well, this depends on your stylist and the brand you settle for. Nevertheless, they will be pricier than the ordinary fix in ones. After all, they stay longer and can be reused. They also come in different sizes which means that you can get whatever you want.
1. Medium sized box braids
You have the guarantee that these will be neat for as long as you have them. Just find a colour that matches your skin tone, and you are good to go.
2. Short box braids
This is an excellent option for the lady that does not want hair getting into her face all the time. You can also opt for them if you love the bob look. Accessorize with gold or silver hair clips for a chic look.
3. Jumbo box braids
A cute style for a beautiful lady. Choosing this style will make you look exotic. Work with your stylist to ensure that you are mixing colours that blend. The last thing you want is to look like a walking rainbow.
4. Tropical box braids
You can never go wrong with black box braids. They will always enhance your look and give you an authentic African feel.
5. Twisted box braids
You do not have to settle for fixed twist braids if you want the twisted type.
READ ALSO: Best Boity Thulo hairstyles
Twisted 2018 braids styles
Ladies that love twists can also rest easy knowing that there is a variety of option for them. You can always choose thin, medium or large size twisted braids depending on what you prefer. Check out the following black braided hairstyles for official and informal use. Twists have been preferred for special events such as weddings as brides go for them. These styles are neat and last long.
1. Twisted held-back braids
Are you among the people that ask how long do braids last? If so, you can rest easy knowing that small sized twisted braids will serve you for more than a month. In fact, if well kept and maintained, they can go up to 8 weeks. Holding them back as shown in the pic makes them last longer, in addition to protecting your natural hair. This makes a cute style for a bride since she can always accessorize with silver jewellery.
2. Havana twists
If you want something simple and easy to set at the salon, consider Havana twists. They are fancy enough for the modern woman and easy to style for a daily routine.
3. Hot water twists
If you want to wear your twisted braids down, ask your stylist to hot water them. This will ensure that they do not run and unwind as would ordinarily be the case. The hot-water regime will also make them curl giving you a wavy or bouncy look.
4. Love twist
This will give you a natural look. The short twists almost resemble your natural hair. In case you do not want to look so different then consider this style.
5. Bomb twist
If you have been captured by the twist sensation then the bomb twist will attract you. Choose a colour that you like and have your stylist fix them for you. You can either go for the crochet option or the fixed one.
6. Pre-lock twist
This will give you some sort of unfinished look. The coiled wavy ends will keep the twists in place, making sure that you maintain a neat look for longer.
7. Passion twists
This feed-in braid style will give you a rugged look if that is what you are going for. You will look fancy but have some sort of kinkiness that the hair brings in.
8. Water wave twists
This is an excellent look for a woman going for a bulky hairdo. Mixing two colours is always a good idea.
9. Samba twists
These are the huge braid twists that give your hair a voluminous feel. Choose colours that will enhance your look.
10. Dadoo lopes
You can style your twisted braids in such a manner that they appear as lopes. Re-twisting 2 or 3 twisted braids gives you a fancier look just as seen in the pic above.
Fancy black braids 2018
If you liked any of the braid hairstyles 2017 had to offer, then the following fancy variants from 2018 will also appeal to you. They are still trending even in 2019. Check and try out a few that you love. With these African braids hairstyles pictures, every woman has something to work with.
1. Bold feed-in cornrow style
Though common, this is one of those styles that makes a woman classy. The trick is to choose colours that are bold yet complementary.
2. Creative cornrow styles
Stylist are coming up with new and fancy designs every day. In case you want your hair to be held up completely, consider cornrow braid styles that allow for this. The pic above is a great example. Ask your stylist to work on ensuring that the braids are woven into something that you envision.
3. Tuck in braids
You do not have to do your braids as everyone else. It is amazing what a slight change in fixing your braids can do to your overall look. Stand out with these tucked in braids.
4. Ghanaian cornrows
This authentic African braid style will make heads turn every time you pass by. The fact that they last long and protect your hair is a plus.
5. Fancy bob
Bob style may be common but you can make yours different and unique. Ensure that the end of your braids are unfinished and that you accessorize a few of the strands as shown in the pic.
6. Purple heaven
Look fancy in this unique crochet braids. The purple colour is alluring and sophisticated, almost royal. You can opt for grey or any other variant that you fancy.
8. Half cornrow with crochet curls
Simple yet exquisite. Combining two styles in one makes you look like a goddess. Sometimes it is the simplest things we do that make all the difference.
9. Double side up-do
Have your braids fixed normally and style them as shown above. This gives a cheeky vibe that you are an easy going lady that is ready to get playful when there is need.
10. Neat braids
Sometimes you need to focus on getting a neat style that will make you look ten years younger. Braids have a way of making this happen if they are done expertly.
Braids for kids
Kids can also look great in braids. The secret is to find a childish style that will make them different from grownups. Here are a few examples you could consider for your girl.
1. Fancy Mohawk
This is a simple variation of the Mohawk for a young girl. She will look quite stylish without necessarily appearing like a grownup.
2. Kids fashion braids
Children can have practically any fancy style and still look good. Try experimenting with different styles before settling for the best.
3. Bob with twisted ends
Simple but excellent style for young girls. You could have her in this during the holidays.
4. Mid-hanging cornrow braids
Your baby girl will look fancy in this simple style. The cornrows from either side of the head meet at the middle and are left to hang as shown in the pic above.
5. Double Jumbo cornrow braids
This is one of the chicest and simplest braid styles for girls. Make sure that the hair is held together in two simple cornrows. The jumbo braids can then be crocheted on top of the cornrows. Alternatively, you can opt for the fix in.
6. Cute side cornrow braids
Let your darling baby look like the angel she is. You can add a few beads on each end of the braids.
7. Criss-crossed cornrows
Rather than doing the cornrows as every other kid would going backwards, consider having the lines crisscross once for a different look.
8. Simple and colourful
Find braids that end in her favourite colour. Let her stylist fix in medium sized braids and put the coloured end in hot water. She will be so proud of her new look that everyone will notice it.
9. Cute beaded princess
Let the cornrows come together in cat style as shown on the pick. Add some colourful beads on either sides to achieve this look. You can decide to have the style in 3 instead of 2.
10. Kids box braids
Nothing is fancier than this. Your baby will stand out in her neat braids that she will be the envy of many mothers.
All these straight up hairstyles will make you stand out. Whether you decide to go for cornrows or free unstyled braids, you can be sure that you will stand out. Always remember to pick colours that accentuate your look.
READ ALSO:
How to style braids 2018
Ola! 5 hairstyles that stood out in Nadia Nakai's hair diaries
17-year-old shows off her hair braiding skills and wows social media
Source: Briefly.co.za