30 helpful letting go quotes with images 2019
Breakups have been happening for millennia, I suspect. You would think that by now, they have managed to figure out some scientific remedies for heartbreaks. However, the sad truth is that when you get to a point where your relationship stops working as it should, you have to rely on your traditional mechanics to heal and move ahead. The difficult thing about healing from heartbreak is that you only realize how deeply you cared for someone when you let them go. Healing takes a lot of effort, and reading inspirational letting go quotes could help you with the process.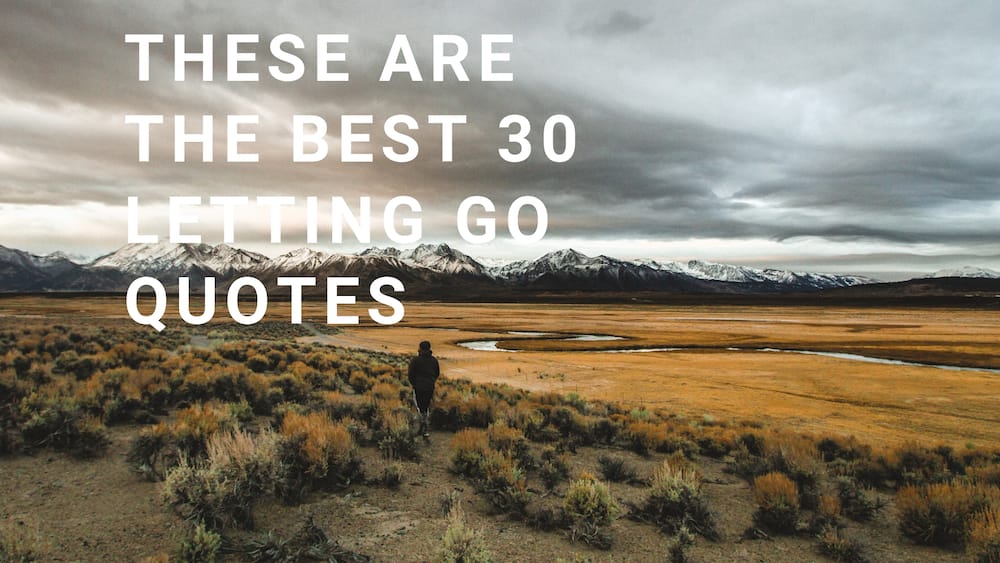 If you are in a situation that is forcing you to grow out of love, and you feel like regulating the emotions which come with trying to let someone go, you can follow the regular advice which people give; getting a hobby or you can choose to pray your way through it. Another technique which works is listening to motivational speeches about letting go and reading the best quotes about letting go.
READ ALSO: 40 cute thinking of you quotes with images
How do you truly let go
"The truth is that unless you let go unless you forgive yourself, unless you forgive the situation unless you realize the situation is over, you cannot move forward." - Steve Maraboli.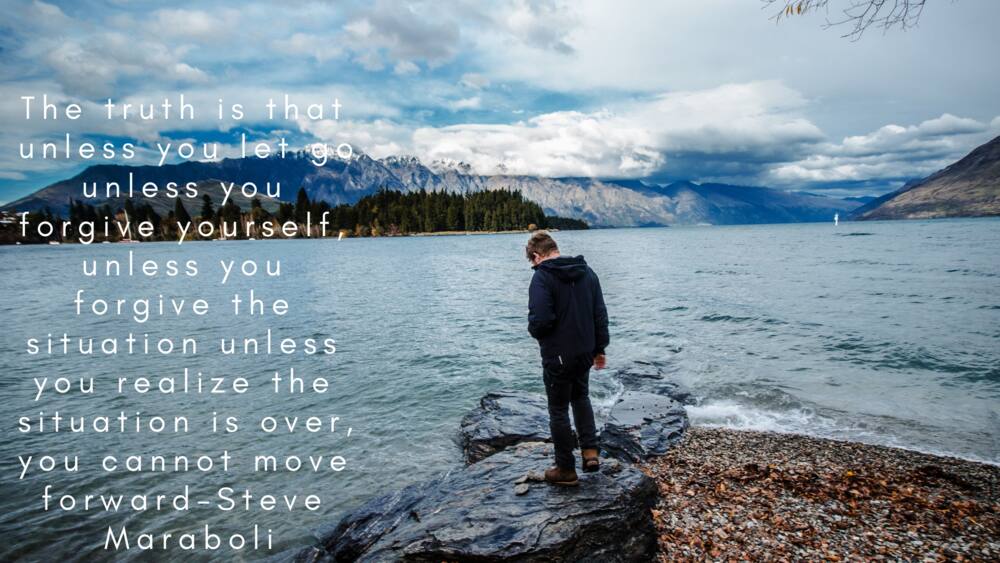 This quote by Steve Maraboli tells us that the most important part of healing is realizing that no matter how tough and painful the situation was, it is over, and unless we act negatively, it will never come back.
"If you want to fly in the sky, you need to leave the earth. If you want to move forward, you need to let go the past that drags you, down." - Amit Ray
This quote simply states that the only way to receive and experience better things is by allowing you to forget what is familiar and moving out of the comfort zone.
"We keep moving forward, moving forward and opening new doors and doing new things because we are curious and curiosity keeps leading us down new paths." - Walt Disney
This quote explains the beauty of letting go of the known and exploring the unknown because it sometimes brings us to discoveries we might have never made.
"When I let go of what I am, I become what I might be. When I let go of what I have, I receive what I need." - Tao Te Ching
This quote is a great reminder of the fact that growth only happens when a person decides that they no longer want to be who they have always been, it becomes an opportunity for them to grow and do better things.
"A bridge can still be built, while bitter waters are flowing beneath." - Antoine Liccione
This quote tells people that the pain that you have suffered shouldn't sentence you to stay in the same place. It is still possible to move ahead, and with time, the pain will dissipate and probably even end.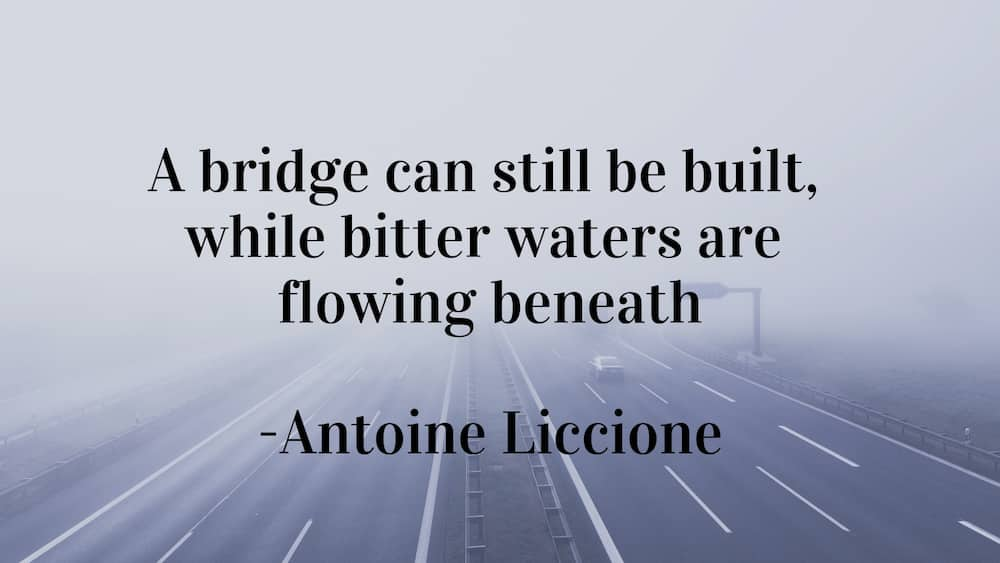 How do you let go of someone whom you love
"Holding on is believing that there is only the past; letting go is believing there is a future." -Daphne Rose Kingma
The quote implies that you shut all the doors to future possibilities when you decide to hold on to things which happened in the past and should probably be left there.
"You've got to make a conscious decision every day to shed the old-whatever 'the old' means for you." - Sarah Ban Breathnach
Like a snake sheds its old skin to grow, so should we with our lives. The only way to reach new horizons and be better is by leaving behind aspects of our current character.
"We can't be afraid of change. You may feel very secure in the pond that you are in, but if you never venture out of it, you will never know there is such a thing as the ocean, a sea. Holding onto something may be good for you now, maybe the reason you do not get something better." - C. Joybell C
The quote also talks about the new, exciting and potentially beneficial opportunities we miss when we are busy trying to hold on to what we think is familiar and good for us.
"Letting go does not mean that you do not care about someone anymore. It comes from learning that the only person you have control over is yourself." - Deborah Reber
The sad reality about life is that no matter how much we love other people, there is nothing we can do to reciprocate the feelings. The only thing we can do is to hope that they will feel the same way, but if they don't, we owe it to ourselves to move on.
"Open your arms to change, and let go of your values." - Dalai Lama
What the Dalai Lama means when he says that it is important to let go of one's values is that there are some beliefs that we hold on to, and they end up slowing down our progress towards achieving our goals.
READ ALSO: 25 best deep love quotes for him and her
"Letting go doesn't mean that you stop caring, it means that you stop trying to force others to." - Mandy Hale
Sometimes, and most of the times, when we are in love with people who do not love us back the same way, we want to try and somehow influence them to love us back the same way. This can be tedious and also very frustrating. It is advisable to understand you cannot control other people's emotions, and that is where healing starts.
"If you want to forget someone or something, never hate it or them. Everything and everyone you hate is engraved on your heart. Therefore, to forget someone or something, you must learn not to hate it." - C. Joybell C
The truth is that most of the people who keep themselves glued to the past stay there because of hatred. When you learn not to hate, you cannot focus on healing and moving ahead.
"Life moves forward. The old leaves wither, die and fall away, and the new growth extends forwards into the light." - Bryant McGill
This quote is probably the nudge that you need to understand that whether you choose to move ahead with your life or not, it does move on, and you only lose when you refuse to let go.
"Suffering is not holding you. You are holding suffering. When you become good at the art of letting sufferings go, then you'll come to realise how unnecessary it was for you to drag all those burdens around with you. You'll see that no one else other than you was responsible. The truth is that existence wants your life to become a festival." - Osho
This quote is best for situations where people think life is giving them lemons, but in reality, we created lemons, originally; in other words, people are the ones that embrace pain as opposed to letting it go.
"It's hard to be clear about who you are when you are carrying a bunch of baggage from the past. I've learned to let it go and move more quickly to the next place." - Angelina Jolie.
This quote states that the speed at which we heal and move through situations depends on how fast we release baggage from the past.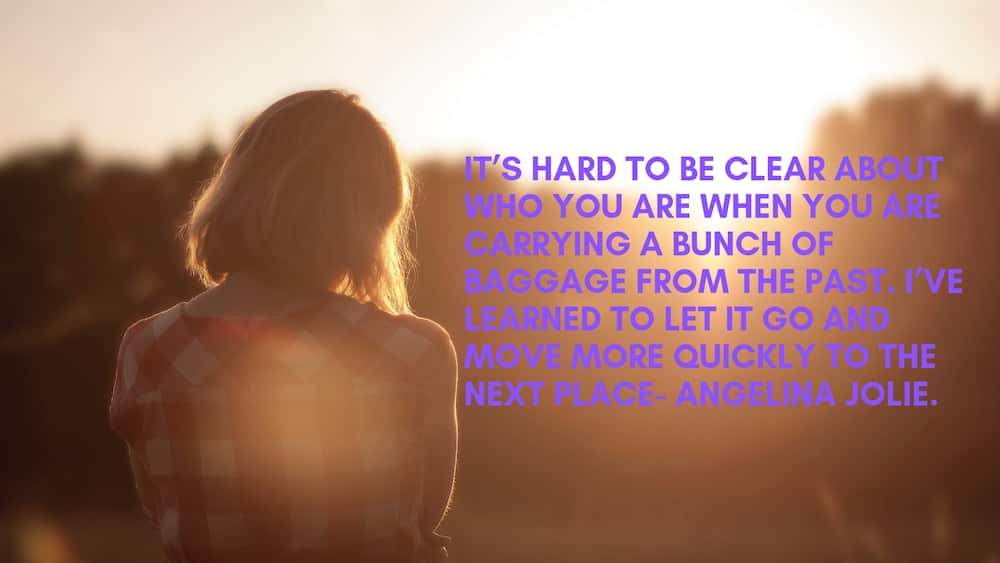 "I demolish the bridges behind me; there is no choice but to move forward." - Fridtjof Nansen
Sometimes, the only way to stop concentrating on what passed is looking ahead and cutting ties with everything that takes you back to that past.
"Pain will leave you when you let go." - Jeremy Aldana
The simplicity of this quote and the deep meaning that it comes with is just amazing. You will only stop suffering when you release what hurt you.
Quotes to help you move on from losing your loved one
Breakups are easy when there is the knowledge that staying with the other person will cause you more harm than good. What is hard to deal with is losing someone you love deeply to a disease. If you are in this situation, these let go quotes will help you move on.
"There are no happy endings. Endings are the saddest part, so grab a happy middle and a happy start." - Silverstein
Most of us spend our lives waiting for the perfect moment to be happy. The truth is that every moment with loved ones should be celebrated, and we should let go of anything painful.
"The art of living lies in the fine margin of letting go and holding on." - Havelock Ellis
This one states that when you are wise enough to let go of what you should not have in your life, you become happy.
"You can only lose what you cling to." - Buddha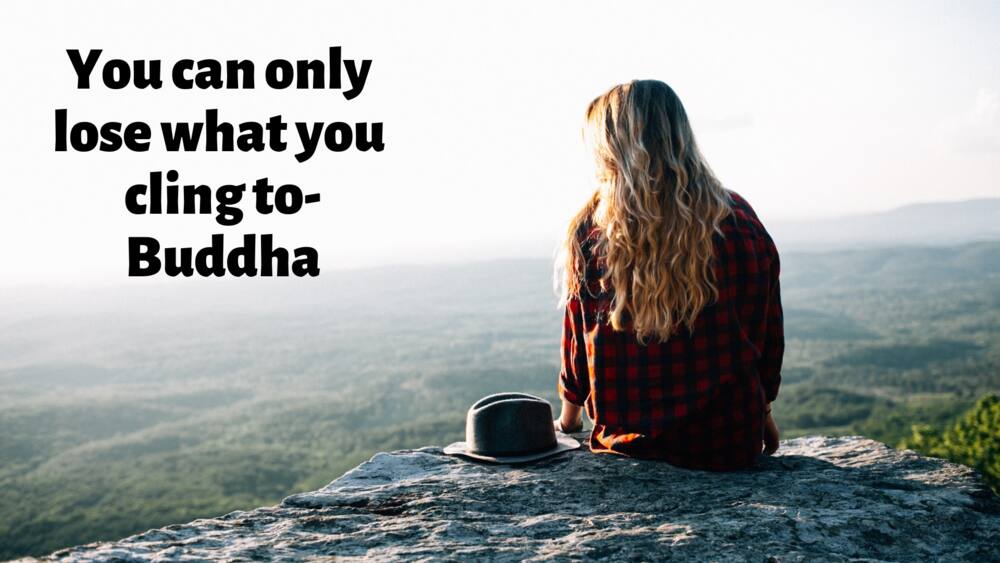 We only experience loss when we do not learn how to release things actively.
"Some of us think holding on makes us strong, the truth is sometimes, letting go does" - Herman Hesse
The most courageous thing that you can ever do is releasing what no longer serves you and wait for better things.
Great let it go quotes after divorce
Letting go of a relationship is hard enough. What is even more difficult is starting a life with someone and having to let them go when the differences are too much. When this happens, you can get comfort in these quotes.
"Every day is a new day, and you will never be able to find happiness if you do not move on." -Carrie Underwood
There is a strong connection between releasing the past and finding happiness.
"The greatest healing therapy is friendship and love." - Hubert. H. Humphrey
It is important to understand that friends will help you heal when you are suffering.
"Every new beginning comes from another beginning's end." - Seneca
The quote shows that if you want new and better things, you must let others come to an end.
"In three words, I can sum up everything about life; it goes on." - Robert Frost
Here, the choice to stay in pain or use it to move on is all yours.
When should you let go of a relationship
"If you carry joy in your heart, you can heal any moment." - Carlos Santana
Joy comes from within. It is a choice to be happy, regardless of what is happening around you.
"Blessed are the hearts that can bend, they can never be broken." - Albert Camus
You have to learn to bear the pain and move on from it.
"When you learn how to suffer, you suffer less." - Warren Zinger
This quote teaches how understanding suffering makes healing easy.
"Healing takes courage, and we all have courage, even if we have to dig a little to find it." - Tori Amos
The courage to let go is never easy to find, but when you move out of the comfort zone and get it, you will be unstoppable.
"We are healed from suffering, only by experiencing it in full." - Marcel Proust
You cannot mend if you do not let yourself feel the pain.
READ ALSO: 30 best true love quotes and sayings
Those are 30 amazing quotes to help you let the past go and move ahead. Finally, there is a quote Nelson Mandela gave when he was released from prison.
"As I walked out the door toward the gate that would lead to my freedom, I knew if I didn't leave my bitterness and hatred behind, I'd still be in prison." Sometimes, we hold ourselves prisoners in our minds because we refuse letting go. Take a deep breath, release the old and wait for the new.
Source: Briefly News