Which medical aid is the best in South Africa? For a country where several medical aid schemes are provided, only the best companies win more subscribers. There is no doubt that Discovery Health Medical Scheme is now a key player in the market, securing the highest global credit rating. Since its founding, this non-profit entity governed by the Medical Schemes Act 131 of 1998 has excelled to become a shared value insurance company with the primary goal of advancing health and protecting lives. With these Discovery medical aid options detailed comparisons, you will be able to make the best choices for your health plan.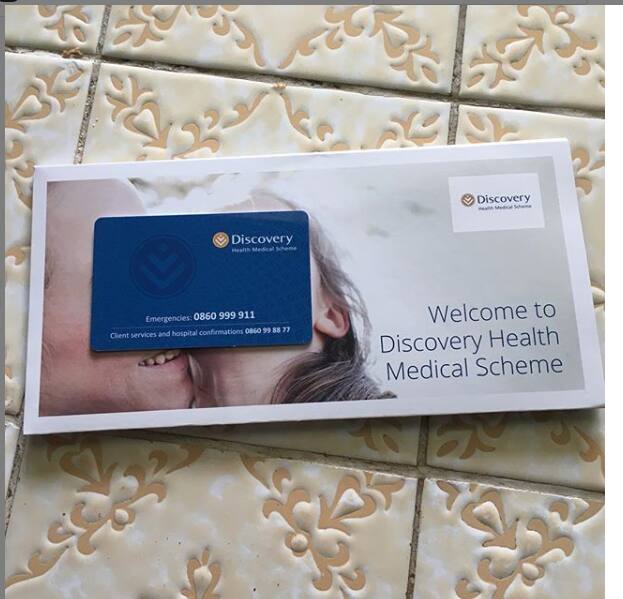 Discovery plans 2019 rates are particularly intriguing for their incentive approach which seeks to bridge the gap necessary for healthier living. With over seven Discovery medical aid plans 2019, South Africans have sufficient alternatives to make an informed choice based on impending needs and financial capabilities. The company continues to extend its innovative culture in unveiling new concepts that have broadened membership count to an excess of five million. Among the most recent developments is the saving plan scheme targeting the upcoming generation with adequate protection, not only in medical aid but also life insurance, car insurance, vitality, and gap cover among others.
READ ALSO: Top 5 medical aid schemes in South Africa
Discovery Health plans 2019
Discovery Health Medical Scheme (DHMS) stands out as the best South African open medical scheme with more than 2.8 million beneficiaries by the end of 2017. The scheme also dominates in the country with an overwhelming market share exceeding 56%. On the benchmark, there is a suitable plan for every South African at Discovery Health at affordable Discovery 2019 rates. Let us now explore and compare various medical aid options available at Discovery Health.
1. Discovery Health Executive Cover Series 2019
The payment option is accessible by all income levels and comes with unlimited private hospital covers including the ward. The plan guarantee covers for payment arrangements with specialists with up to 300% Discovery Health Rate for other specialists, and 200% of DHR for other healthcare providers and professionals. It is important to note that it is a medical cover for all conditions in chronic diseases alongside other related terms. Beneficiaries also have access to brand medicine. The plan arguably has the highest savings with no upper limit for the savings account above the threshold for routine needs. Additionally, the executive series comprehensively cater for all maternity and early childhood needs. The global treatment plan is yet another advantage that makes it possible for beneficiaries to receive treatment covers of up to 1 million dollars for emergencies when travelling outside South Africa.
Executive plan checklist and summary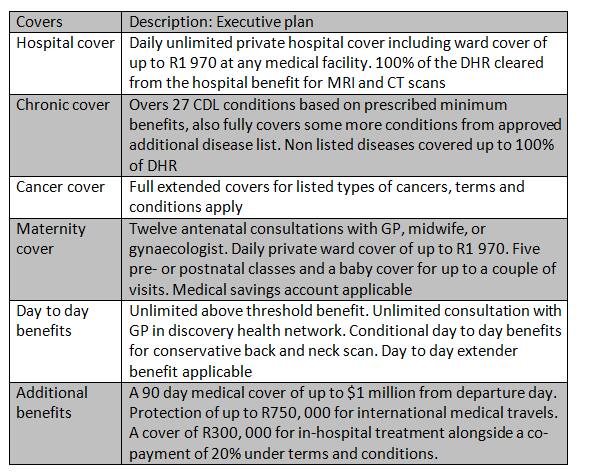 2. Discovery Health Comprehensive Cover Series 2019
Comprehensive options also come with unlimited private hospital covers which guarantee full specialist payment options not exceeding 200% of DHR on classic plans. Other health care providers get up to 100% of HDR on some medical options.
i. Classic Comprehensive plan checklist and summary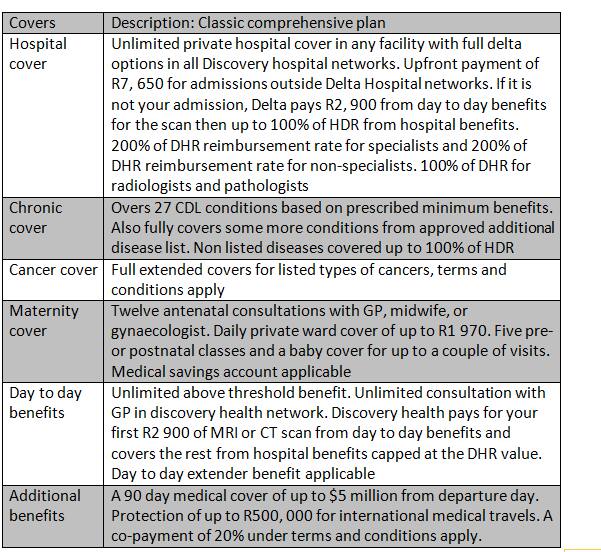 ii. Classic Comprehensive Zero MSA Plan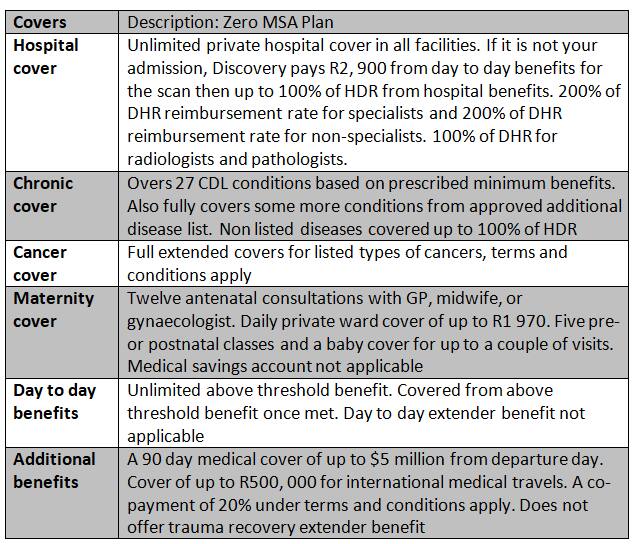 3. Discovery Health Priority Cover Series 2019
Beneficiaries stand a chance to receive unlimited cover in all private hospitals. Specialists receive up to 200% of the DHR while non-specialists stand a chance to get 100% of DHR on other sub-plans. Even better, subscribers using MedXpress receive full cover for all listed chronic conditions. Get a savings account alongside limited Above Threshold Benefit for your day to day health care needs. If you are a frequent traveler, also enjoy emergence covers while you are abroad.
i. Classic Priority Plan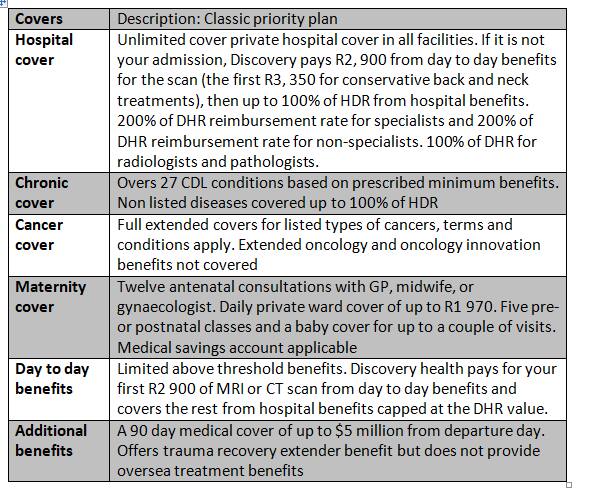 ii. Essential Priority Plan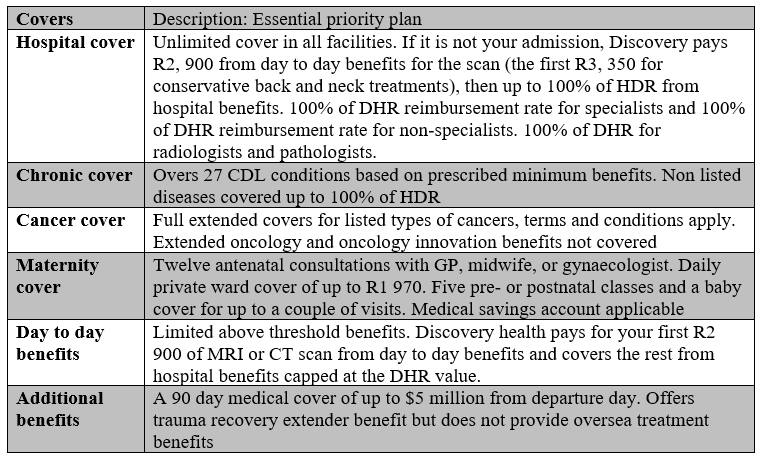 READ ALSO: KeyHealth: All 2019 medical aid plans detailed review
4. Discovery Health Saver Cover Series 2019
The plan is desirable because it offers unlimited private hospital cover with a 200% hospital guarantee for specialist payments. Some medical options under this plan reimburse non-specialists up to 100% of the DHR. The policy covers prenatal and postnatal healthcare needs for maternity as well as early childhood.
i. Discovery Classic Saver Plan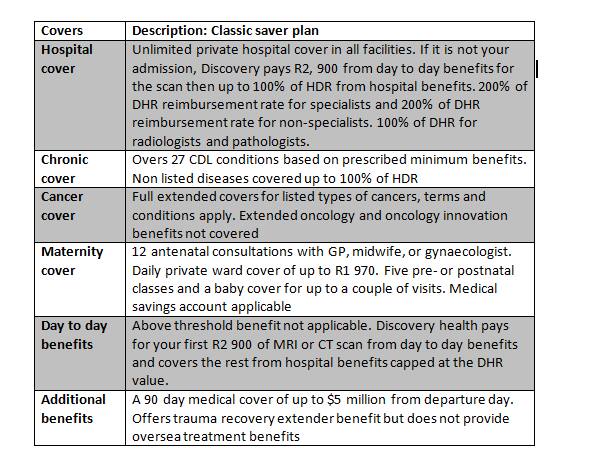 ii. Essential Saver Plan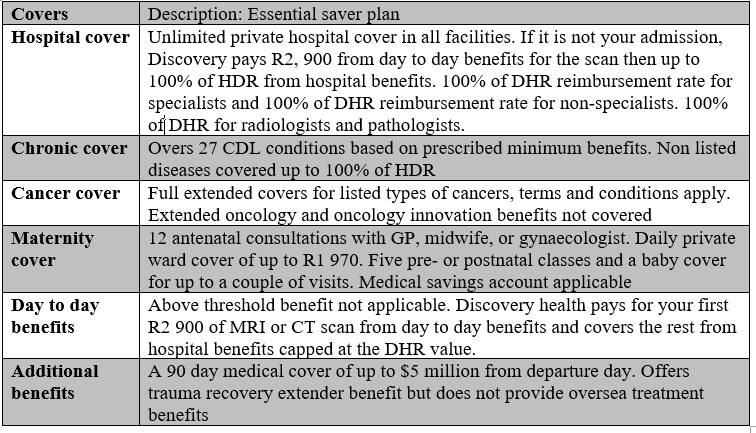 iii. Discovery Coastal Saver Plan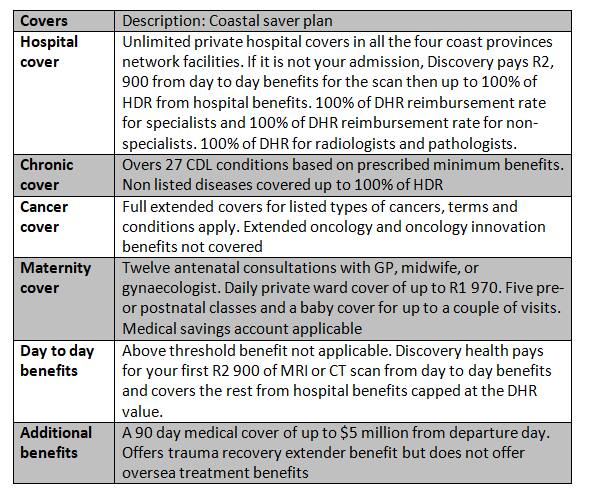 5. Discovery Health Smart Cover Series 2019
Under this health plan, beneficiaries receive unlimited private hospital cover at Smart Hospital Network with payment arrangements of 200% and 100% for specialists and non-specialists based on the option. Below is a breakdown of each cover option.
i. Classic Smart Plan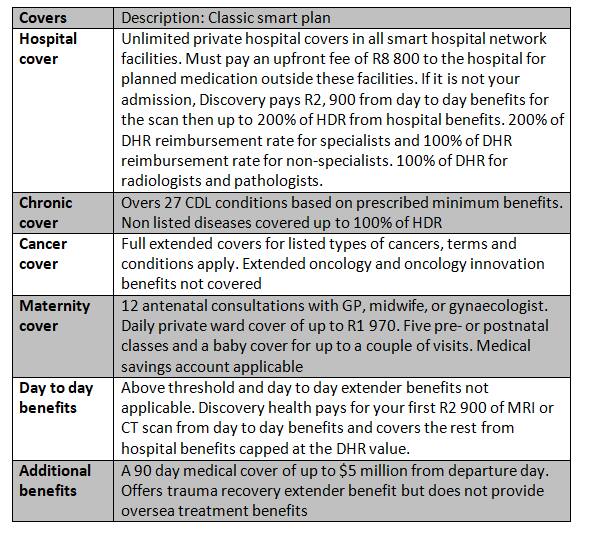 ii. Essential Smart Plan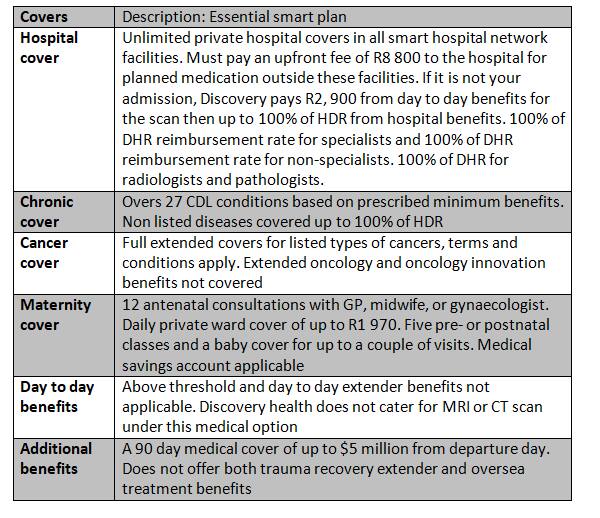 6. Discovery Health Core Series 2019
The plan guaranteed covers for private hospital treatment as well as covers for travellers' medical emergencies. Below are different options you can pick under this plan.
i. Classic Core Plan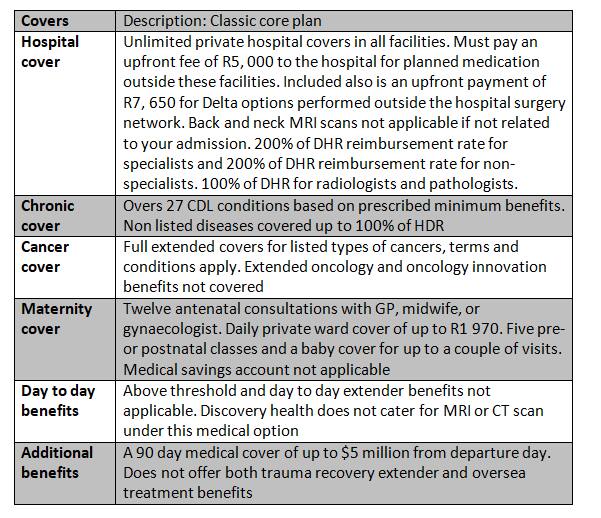 ii. Essential Core Plan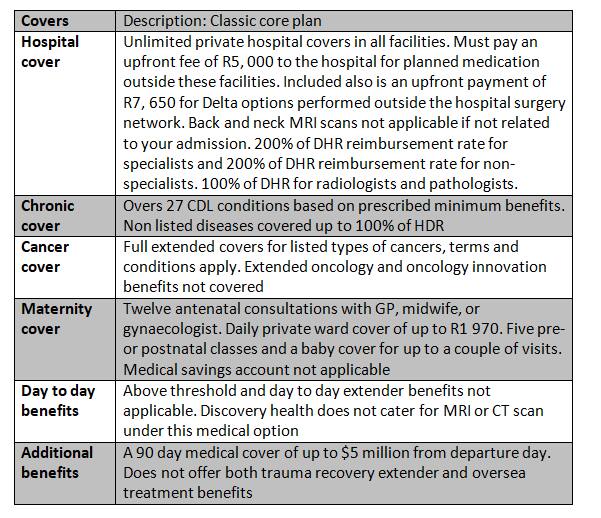 iii. Coastal Core Plan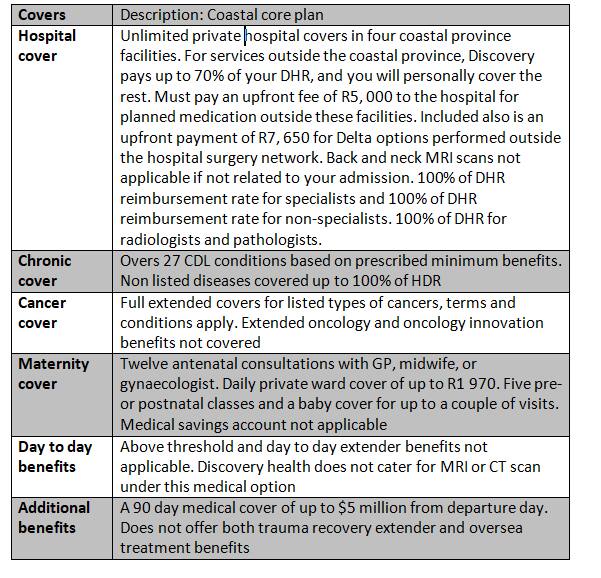 7. Discovery KeyCare Series 2019
This discovery hospital plan offers unlimited care in all KeyCare Hospital networks. Available for those who use state facility cover for natal care services in maternity and early childhood.
i. KeyCare Plus Plan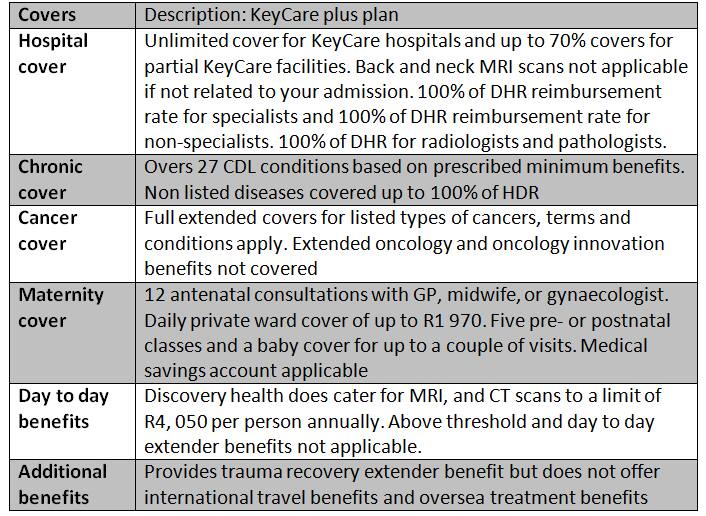 ii. KeyCare core Plan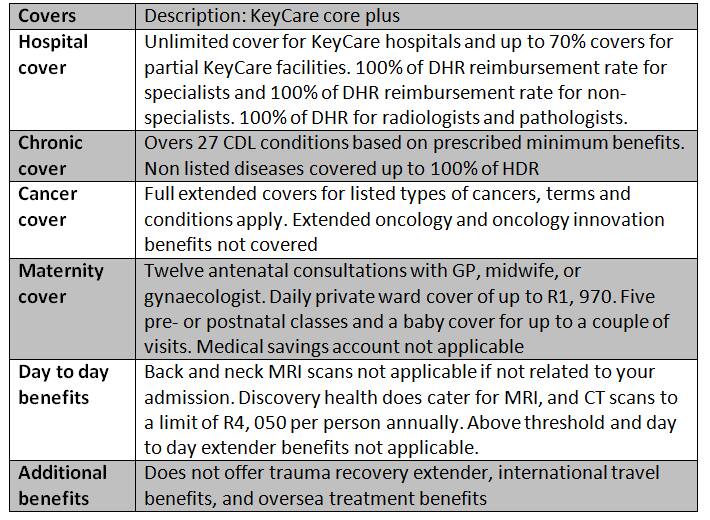 iii. KeyCare Coastal Start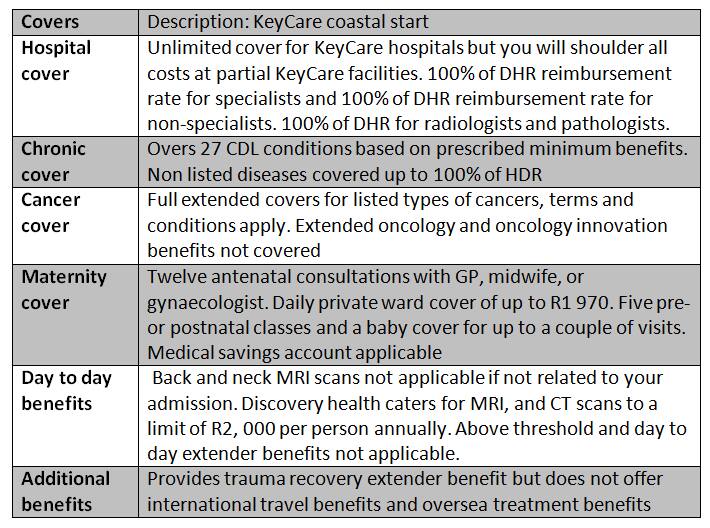 READ ALSO: Another failure! Discovery execs live the luxury life at customers' cost
There are several Discovery medical aid options available for every citizen who wants to take charge of their health through subscriber plans. For any complaints or disputes, use Discovery medical aid contact through 012 431 0500 or 0861 123 267. Ensure that you pick a suitable plan today and join millions of other South Africans with active health policies.
READ ALSO:
Source: Briefly.co.za