This past week we learned of a model who sold her virginity for R36. 2 million, saw prophet Lukau's resurrection story crumbled, South Africans were angered by footage of trucks transporting Eskom's coal, a fake SAA pilot was discovered and AKA stole Mzansi's hearts when he played DJ.
PAY ATTENTION: Click "See First" under the "Following" tab to see Briefly.co.za News on your News Feed!
Mahbuba Mammadzada, a successful model, has put up her virginity for sale to purchase a house for her mother and finance her studies overseas. Rich men including a top German club Munich football player are among those said to have been attracted by the beauty and petite body of the 23-year-old Mahbuba Mammadzada.
In a video posted sometimes in 2018, the beautiful lass explained she badly needed money so that she could make her mother proud having done everything for her. "My mum did everything for me, now it is my turn. I want her to be proud of me,".
Mammadzada has put up her virginity for sale. Mahbuba's modelling agency identified three top bidders with Japanese politician declared the eventual winner followed by London lawyer and the said Bundesliga player, Daily Mail reported on Friday, February 22.
With the money, Mahbuba Mammadzada plans to purchase a house for her mother.
In a video posted sometimes in 2018, the beautiful lass explained she badly needed money so that she could make her mother proud having done everything for her. "My mum did everything for me, now it is my turn. I want her to be proud of me."
PAY ATTENTION: Save mobile data with FreeBasics: Briefly is now available on the app
Since a video went viral which showed Pastor Alph Lukau resurrecting a dead man, the religious leader and his church have been under increased scrutiny from Mzansi.
South Africans accused the pastor of 'faking' a resurrection and they have placed increased pressure on Lukau to come clean. The Sowetan reported it has not even been three days since the miracle was filmed and already the Alleluia International Ministries church caved under the pressure.
According to the church, the man was already 'undead' when he arrived on the premises.
However, they maintained that their pastor had done God's work by completing a miracle He already started. Lukau's resurrection story crumbles, church claims man was 'undead' on arrival.
So, basically, the church said the man was dead, but on his way to church he came back to life. But, he was not entirely alive when he arrived so their pastor had to complete the miracle.
The church's revelation of the not-so-dead, dead man, came after three funeral parlours took legal action against the pastor.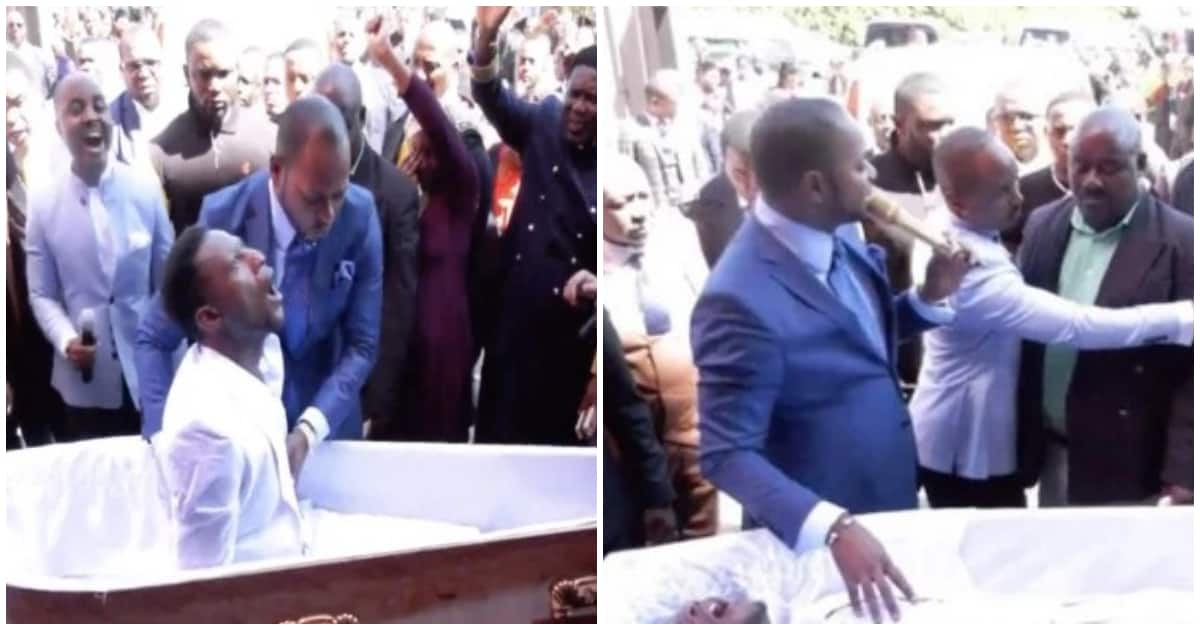 A video has caused a stir via social media as it showed an endless array of trucks transporting Eskom coal - It is believed that the loads were being transported to Medupi power station
Angry South Africans were left fuming as they deemed it clear wastage and an example of a corrupt tender deal
An endless line of trucks can be seen in a recent video shared via social media. South Africa Live shared the video on their Facebook page on Thursday and it's caused quite a stir. The video narrator is clearly stunned by the vast array of trucks down a freeway.
The long line of trucks seems to be never ending as they extend to the horizon.
South Africans reacted angrily to the footage and caption, which stated: "Eskom's new supply method for coal."
Briefly.co.za can't confirm the exact timing of the footage, but some comments indicated it took place during this week. Jabu Steven Mbatha said, "This was on Tuesday @ majuba power station."
What irked social media users the most is that this mode of coal transport would be more expensive than by rail.
READ ALSO: DJ Maphorisa is going back to school: Time to invest in education
William Chandler, a veteran SAA pilot, has reportedly been forced to step down after being caught out with his forged licence.
According to Eyewitness News, the pilot had worked for South African Airways for 20 years before an incident had caused an investigation. While not much is known about what happened, the airline will now move to recover funds paid to Chandler as a result of his fraudulent licence.
Tlali Tlali, spokesperson for the airline, responded to the situation, saying that: "SAA's robust safety procedures dictate that the crew involved in reportable incidents during our operations be grounded and subjected to thorough and comprehensive assessment and re-evaluations. This extends to health records, training profiles and revalidation of certificates that form part of personnel records. It was that comprehensive exercise that established that the ATPL of the SFO had discrepancies. We acted on our own and were never prompted by the German authorities," .
READ ALSO: This day in history: Walter Sisulu receives a 6-year prison sentence
Well, well, well, it seems like DJ Zinhle and AKA, I man, DJ Dad, are getting more and more comfortable with their (whatever you want to call it) being in the public eye.
AKA was the one throwing out hints left right and centre, but it was Zinhle who loosened up this weekend and let us all know that AKA was at her house.
We learnt that AKA has been dubbed 'DJ Dad' thanks to Zinhle's comical and cute Insta story of him.
These two are too cute, yus! Zinhle posted an Insta story of AKA playing around on her decks and captioned it with 'DJ Dad'. Read more:
Enjoyed reading our story? Download BRIEFLY's news app on Google Play now and stay up-to-date with major South African news!
Source: Briefly.co.za