- A video has gone viral which showed a female police officer being assaulted by a male colleague
- However, it has been revealed the incident was apparently an act
- According to the SAPS, the video was taken during a training session
PAY ATTENTION: Click "See First" under the "Following" tab to see Briefly.co.za News on your News Feed!
On Thursday, Twitter user PigSpotter shared a video of a male SAPS officer allegedly assaulting his female co-worker while their colleagues sat and did nothing.
"So this video just emerged... SAPS 'man' assaults a female colleague, whilst other members looked on and did nothing. This piece of trash pig needs to be arrested, charged with assault and thrown into jail. #SAPSAssault @SAPoliceService Do you condone this? Sort out your members," he captioned the video.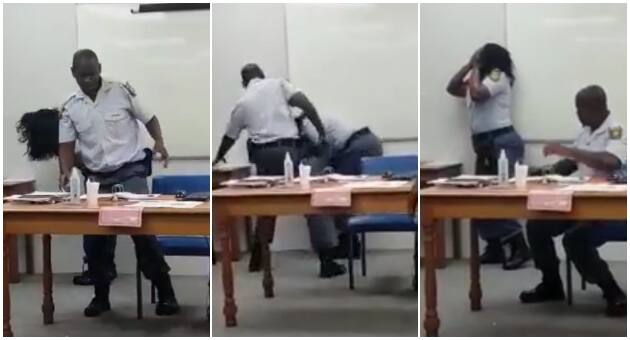 PAY ATTENTION: Do you want to know what's trending on Briefly.co.za? Join our WhatsApp group today.
However, according to the Citizen, it has been revealed that the video is in fact a fake. SAPS spokesperson, Brigadier Vishnu Naidoo, said the two officers in the video acted out a scene as part of a Domestic Violence Act (DVA) class.
The SAPS has since called on South Africans to stop sharing the video. Briefly.co.za gathered the SAPS also believes a 'malicious' cop was behind the fake news.
According to the KZN police, it is believed an officer, who attended the Durban Training Center in 2018, filmed the class with the intent to spread lies.
"We are indeed perturbed and believe that this individual was extremely malicious because of the timing of the release of the video," the statement read.
READ ALSO: Another video allegedly shows traffic officer accepting a bribe
The KZN police added they had launched an investigation and were adamant that they would catch the person responsible.
When the guilty officer is caught, he or she would be dealt with according to the SAPS' regulations, they stated.
The video has been shared on several social media pages, and while it fooled some, there were those who could immediately see it was fake.
Social media user, @Grasee71, commented: "This is display during domestic violence training.....nothing to explain bothong."
Another tweep, @TherealKGMoela, added: "This video is missleading it's an reenactment, please post original video at normal speed and you will also hear what's going on .what y'all do for retweets."
Enjoyed reading our story?Download BRIEFLY's news app on Google Play now and stay up-to-date with major South African news!
Source: Briefly.co.za