5 fudge recipes worth trying: a step-by-step guide and ingredients
Are you a lover of sweet tasting food? If so, then you will be willing to try out different fudge recipes for your next big event with friends or family. You do not have to wait for an anniversary or birthday to make it special. Gather up your close friends for the weekend and catch up over some great fudge recipes you should try.
PAY ATTENTION: Click "See First" under the "Following" tab to see Briefly News on your News Feed!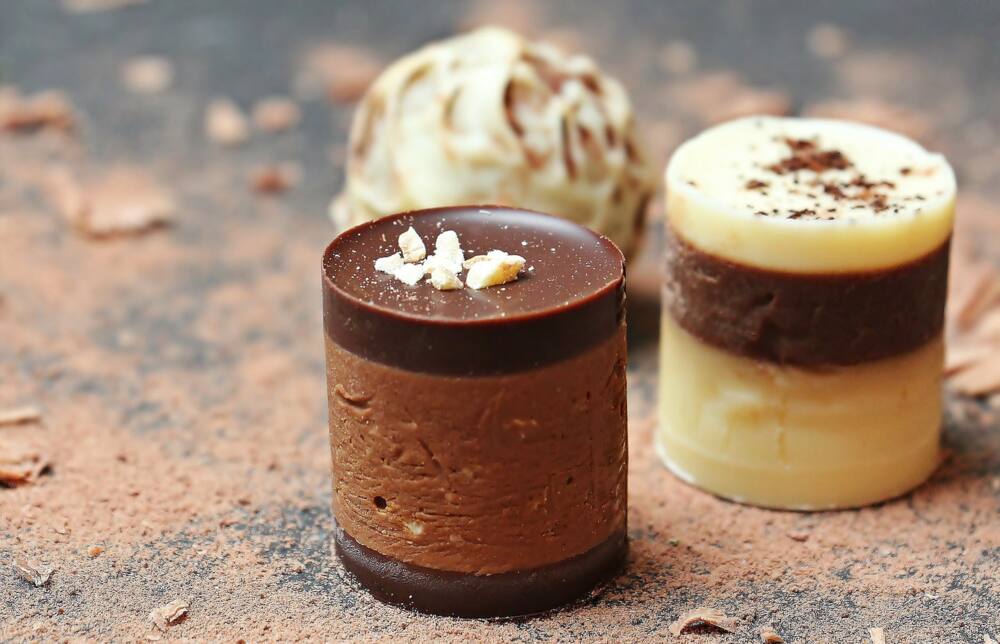 It is said that all conversations sound better with good food. Encourage your friends and family to keep conversing as they enjoy the fudge that you will be serving them. As an excited foodie, you will definitely want to try out a few recipes before you settle for a signature one. Whether you go for the traditional fudge recipe condensed milk recipe or try a bit of an experiment to spice things up, you can be sure that people will enjoy it because you will make it with love.
Fudge recipes you want to try
If food excites you like it does many, the following easy fudge recipe South Africa has witnessed so far will be a great challenge. It can even be more interesting if you have never done a fudge recipe before. The fact that you do not know what to expect will push you beyond your limits. Try out any of these recipes to impress your crowd.
1. Chocolate double-decker peanut fudge
The creamy, smooth feel in your mouth when taking this type of fudge is irresistible. The fact that it is super easy to make is also encouraging. Here is a simple guide on how to get it done in your own home.
PAY ATTENTION: Never miss breaking news – join Briefly News' Telegram channel!
Ingredients
Sweetened condensed milk
Peanut butter
chocolate chips
Method
Melt the sweetened condensed milk with chocolate chips using a microwave
To the mixture, add some peanut butter.
Spread the mixture on a foil lined 8×8 tray.
You can opt to top with desired toppings but this optional. Some common toppings include pecans, peanut butter cups, walnuts, or additional chocolate).
Put it in the fridge until it sets.
Lift it out of the tray with the foil and then cut into desired shapes, preferably squares.
Enjoy with family or friends
2. Easy Mint fudge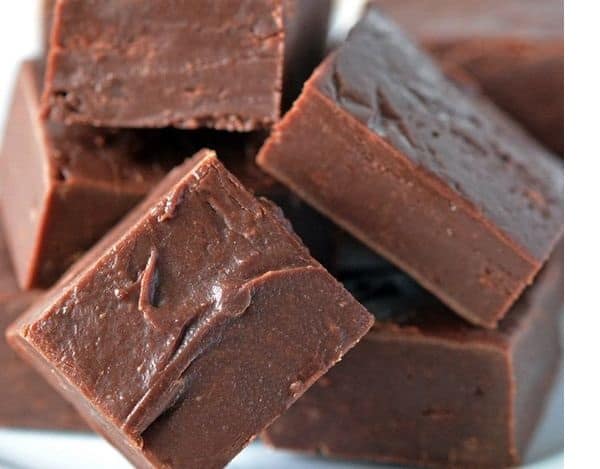 This is probably one you will love because of how easy it is to make.
Ingredients
I cup butter
I teaspoon vanilla
I cup peanut butter
Powdered sugar
Method
Microwave the butter and peanut butter for about 2 minutes
Remove the mixture and stir it
Return it in the microwave for 2 more minutes
Add the vanilla and powdered sugar and stir.
spread the mixture on a clean counter top and let it cool before cutting and serving.
READ ALSO: How to make fudge cake
3. Coconut mound fudge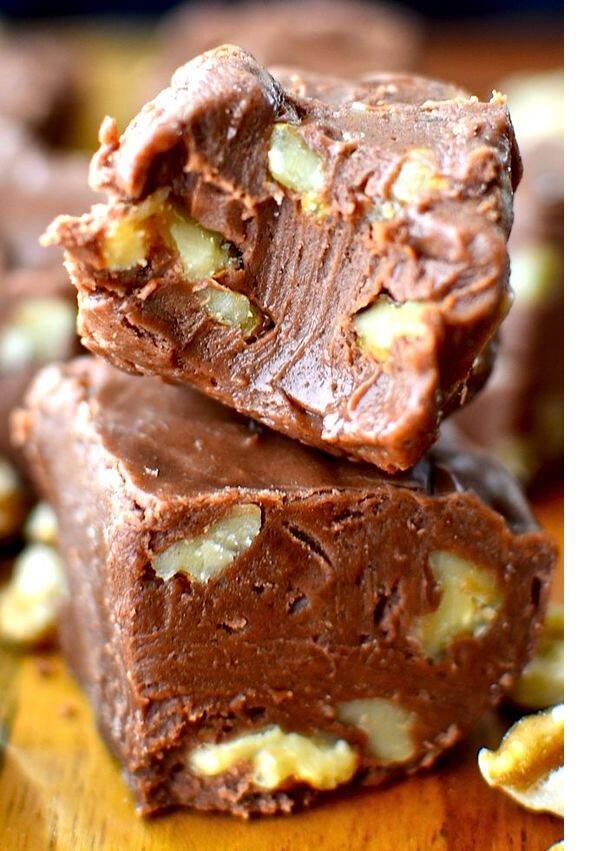 This recipe is perfect for people that consider themselves vegetarians. You can always enjoy a fudge regardless of your diet preferences. Here is how to make a mean coconut fudge that you will love.
Ingredients
1 tsp Coconut flavouring
1 cup Dark chocolate
3 cups White chocolate chips
1/2 cup Coconut oil, virgin
Nuts & Seeds
1 cup Coconut
1 tsp Butter
1 can Condensed milk, sweetened
Method
Start by lining an 8" x 8" baking dish with foil and then spray it with some cooking spray.
Mix the white chocolate chips, the coconut oil and the sweetened condensed milk in a bowl that is safe to use in the microwave.
Microwave the mixture for a minute intervals until you see that the chips are all well melted. You may have to continue stirring after every one minute.
Fold in the coconut shreds and add your coconut flavouring.
Pour this mixture into a baking dish. Make sure to spread it until it is smooth.
Melt the dark chocolate chips and the butter in a microwave safe bowl until it all melts. Keep stirring frequently.
Spread the dark chocolate on top of the coconut mixture you made earlier.
Keep the fudge in the fridge for about an hour, or until it sets up properly.
Cut into small squares sizes and enjoy.
4. Millionaire fudge
This recipe will definitely make you feel rich just by trying it out. It is simple and easy to follow. It may be old school and traditional, but it is one fudge that will make everyone want to reminisce the good old days.
Ingredients
3 (12 oz bags) semi-sweet chocolate chips
4 1/2 cups sugar
2 (7 oz.) jars marshmallow creme
1-1 1/2 cups chopped pecans (optional)
1 (12 oz.) can of evapourated milk
Methods
Prepare your countertop by laying a long row of waxed paper on it. You will use this when fudge is ready
Add your semi-sweet chocolate chips and marshmallow in a mixing bowl of an electric stand mixer. Use the paddle attachment. Whip the mix and set aside. You can use a large mixing bowl and whip manually.
Using one of your heavy and large saucepans, add sugar and milk, and bring to boil. You need to boil it for 6 minutes while stirring constantly.
Remove on heat and then pour the mixture over the semi-sweet chips and marshmallow whip. Keep beating on medium speed or until the mixture is creamy and smooth. You can choose to mix by hand as long as you attain consistency. Take caution not to overdo it. You can now add your pecans and then fold in.
This mix sets up as it cools. Use a small ice cream scoop, and scoop some fudge then lay it on the prepared waxed paper. Alternatively, you can use two tablespoons; where you scoop with one and use the other to push the fudge out. Do this until all the fudge has been scooped.
Cool it completely before storing in a container.
5. Winter white red velvet fudge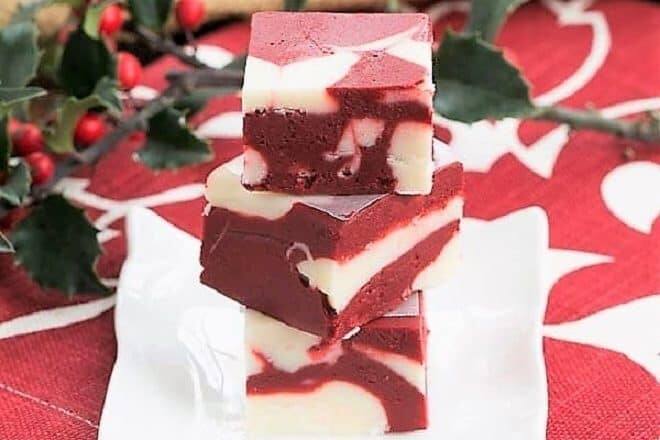 You can get as creative as you want with your fudge recipe. Consider this as your fun gift pack for your neighbours and family. It is not just suited for winter but is perfect for all seasons.
Ingredients
1 7- ounce jar Marshmallow creme
3 tbsp Food colouring, red
1 cup Semi-sweet chocolate chips
3 cups Sugar
1 tsp Vanilla
1 12- ounce bag White chocolate chips
3/4 cup Butter
2/3 cup Half & half
Method
Spray a 9-inch square baking pan or tray lightly with a bit of cooking spray.
Line it with foil paper with double thickness as it makes it easy to lift it from the pan when ready since the ends of foil extend on the sides. Spray lightly once again and wipe off all excess spray if any using a paper towel.
Put some semi-sweet chocolate chips and a bit of food colouring in a bowl that can be heated and put it aside.
Put butter in a large microwavable bowl. Make sure that you are using a large bowl as the mixture will bubble rather vigorously when you are cooking. You should cover it with a paper towel to avoid spattering. Cook it on high heat for 1½ minutes, making sure that all the butter has melted.
Add sugar and half and half then mix it well. Put in in the microwave for 3 minutes on high power. Remove it and stir, and cook another 2 minutes. Make sure that you stir properly. If butter appears to separate out of the mixture, continue stirring up until it mixes back in. Scrape the sides of the bowl and put it in the microwave. Microwave it for 3 more minutes, remove and stir again, then microwave it for 2 and a half minutes to finish.
Remove it from the microwave. To the mixture, add marshmallow creme and stir. Next, add white chocolate chips and vanilla. Keep stirring until very smooth, making sure that all ingredients are well incorporated.
Transfer ½ of the hot white chocolate mixture to the prepared bowl immediately. Using a strong handled spatula or wooden spoon, keep stirring until all the chocolate chips are completely melted and fused.
Use 2 ice cream scoops or alternatively use 2 tablespoons to work fast. Plop scoops of each mixture randomly into a prepared pan.
Once done, lift the pan and drop it from a distance of about 1-inch above the work surface. Do this severally to eliminate air bubbles. Jiggle the pan to smooth the surface then take a small knife with butter coating and run its blade back and forth through the fudge, creating a swirly effect. Use the blade, (like you're cutting something) not the flat part of the knife to do this.
You can continue experimenting with fudge and find a way of using corn syrup South Africa finest. It is all about exploring and seeing how to do things differently. Fortunately, most of these fudge recipes are easy to follow. The longest so far takes only 8 minutes of your time to make.
Source: Briefly News