10 best Winnie Mashaba songs ever with videos
Winnie Mashaba is a famous South African gospel songwriter, singer, business lady, and TV presenter with a prolific music career. The songbird first discovered her singing talent in 1998 shortly after clearing high school studies. Winnie's enthusiasm in music has seen her release several hit songs with high listenership and excellent reception among her fans. The release of debut album Exodus 20 extended her limits by broadly sharing the beauty of Winnie Mashaba songs alongside other top hit tracks. Her spirit of praise is exceptionally noticeable in every one of her famous songs discussed.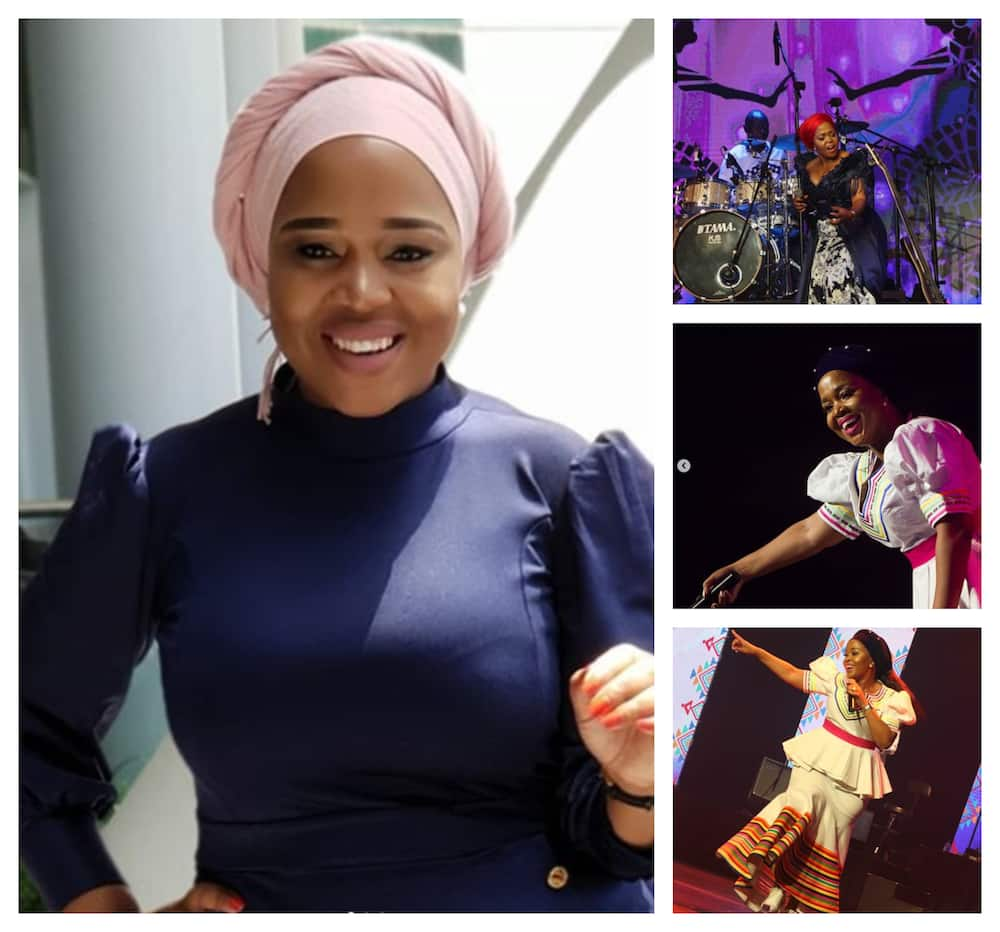 The South African songstress, Winnie Mashaba, is not only famous for her record-breaking songs that have earned her multiple awards, but also business ventures that have increased her popularity. Now, aged about 37, Winnie is a certificate holder in Adult Basic Education and Training, as well as a degree graduate in Psychology. It is incredible how Winnie has enriched her life with rare accomplishments and yet remains vocal in her music career. Winnie Mashaba albums are now among the best sellers in the country and beyond. Here are her best 10 songs of all time.
READ ALSO: 10 Best Zahara songs ever
Top 10 Winnie Mashaba songs
South African gospel songs come with a rare blend of expressive power and a calming spirit as manifested in Winnie Mashaba hits. Listening to her songs will undoubtedly relieve you from struggles with a compelling experience of hope. Learn and listen to the best Winnie Mashaba songs of all time.
1. Go Tseba Jehova
This is one of Winnie Mashaba old songs, having been released in 2010 under the album Go Tseba Jehova, and later became a massive breakthrough for Winnie and her career. The melodious song has ever since garnered a viewership of 1.9 million on YouTube besides other favorite video streaming sites. The song emphasizes knowing Jehovah as a good step in life. Those who believe in God lead a comfortable life. The song reaffirms that God dwells among His people.
2. O Mohau
O Mohau mainly recognizes God's unending grace for humanity even at our worst. The savior found her at the crossroads of life battling with unique challenges, most of which she was raised with innocently. Winnie does not comprehend what her life would have become without God's forgiveness. Cutting off her bondages, giving her life, and changing her souls are some of the exciting changes that followed Winnie's encounter with the savior. Her sincere expression of a now saved person has enabled Winnie to accumulate over 167k views since the release of the song in 2011 under the album Modimo O Na Le Nna.
3. Eloi
Winnie Mashaba Eloi has over 921k views, emerging as one of her most trending gospel hit songs of all time on YouTube. The song has welcomed a high reception for its musical lyrics that blend well with the song tunes. Winnie released this famous song in 2008 under the album Thola Ngwanesu. Eloi brings into context the agony that Christ suffered for our sins in Calvary. It was for His perseverance and death that we all earned salvation even as He cried loudly asking God why He had abandoned Him at the time of great agony. The song reiterates Biblical narrations at the time when Jesus died for our sins. Winnie successfully manages to share the compelling message of the cross to her broad base of loyal fans.
4. Ke Lethabo
It is no surprise that Ke Lethabo is a groundbreaking gospel hit with no national limits. Released in 2008 under the album Thola Ngwanesu, the song later gained widespread fame to become a top featured hit in the South African gospel industry. The song now has over 225k Youtube views, and the number continues to rise steadily. Ke Lethabo is a soul touching track which profoundly expresses Winnie's happiness in Christ.
5. Dula Lenna
Winnie pleas to God that He may stay with her and prevent any further tribulations and failures. She further admits to having no other helper apart from God who turns her darkness to light in the realms of her troubled life. The emphasis of the song expresses Winnie's desperation for comfort and support from the Lord. The artist released the song in 2014 under the album Very Best of (Live) which has now beaten an overwhelming viewership of 497k on YouTube.
6. Soul to Soul
The song is a sweet bonus track released by Winnie under the album Lehlotlo Laka. Soul to Soul is among her bestselling tracks that sufficiently brings out her life struggles. Winnie sings in search of a perfect friend that she can maintain, engage in conversations with, and indeed hold. She reflects on a kind of friend that can pick her up while they pass by. On a broader scale, Winnie laments that everyone needs such a friend as Jesus who shines like a star, can search hearts, and attends to different sufferings. Her desire for a soul to soul bond with Christ is particularly intriguing given that she purely depends on God for strength.
7. Dumelang
Winnie perpetuates her belief in God throughout the song which has earned her several fans who cannot resist its sweet tunes. In the song, the artist creatively shines a hope for those who love the house of the Lord. It is interesting what abundance shall become of them in due time. Mashaba released this top title track in 2009 under the album Joang Kapa Joang.
8. Tsiu Tsaka
Winnie Mashaba Tsiu Tsaka song recounts the irreversible passing of time that carries away opportunities as well. However, her distant view of River Jordan shines a ray of hope on her path. Winnie admits to a restless life in our land filled with strife and sorrow. The song has garnered an extended viewership of 1.1m views on YouTube so far.
9. Nthapelele
This passionate song was composed, creatively produced, and dedicated with love to Winnie Mashaba and Spirit of Praise 6 fans. Interesting to note is that it is one of Winnie Mashaba songs 2017, with the video published in late 2017, which has now accumulated over 745k Youtube views. The two artist labels collaboratively plead for the king [God] to intercede on their behalf even unto their recovery from sickness. It is their earnest desire to regain their health through God's mercy. The song also encourages worshippers to intercede for others regularly as they pray.
10. Tsatsi Le Bohloko
The song is among the most favorite tracks with over 281k views on YouTube since publication in 2014. Viewer feedback on YouTube mainly emphasizes on the fact that the song explores different themes in life to bring both good and bad memories alike in the context with a brilliant ending. For most of its parts, Winnie Mashaba Tsatsi Le Bohloko song is a breakthrough in describing sufferings and God's able hand.
READ ALSO: 10 best Sinach songs 2018-2019
Winnie Mashaba songs are limitless in their sweet flavors and gospel messages. Listening to her songs is both entertaining and relaxing with profound meaning notes. The above best Winnie Mashaba gospel hits will definitely renew your spiritual experience, so make a point to listen to them. Enjoy!
READ ALSO:
List of all Tasha Cobbs songs
Top 10 King Monada songs ever
List of all Mafikizolo songs ranked
All DJ Black Coffee albums and songs
10 best Kurt Darren songs ever
Source: Briefly News