- An anonymous man claims he has infected his girlfriend with HIV
- He said that she does not know he has HIV in the first place and she blames her ex-boyfriend for infecting her
- To make the story even more bizarre, prior to infecting her, the man found out that his bae is also his cousin
PAY ATTENTION: Click "See First" under the "Following" tab to see Briefly.co.za News on your News Feed!
On Wednesday, Move! magazine shared quite an unbelievable story. A reader allegedly asked the magazine's advice on his relationship trouble - and boy, does he have a boatload of issues!
According to the man, who withheld his identity (with good reason), he fell in love with the perfect woman.
However, because he only knew his mom's side of the family, he discovered his bae was also his paternal aunt's daughter - which means he was allegedly dating his cousin on his father's side of the family.
"Knowing what family means to her, there was no way our relationship was going to continue after that," he said.
So, he kept these secrets to himself. However, their relation to each was not the first secret the man kept from his bae/cousin, the first being his HIV status.
PAY ATTENTION: Do you want to know what's trending on Briefly.co.za? Join our WhatsApp group today.
He also reportedly did not tell her he was HIV positive out of fear that she would dump him.
"When I started dating her I didn't have the guts to tell her about my status because I thought that if she knew, she was going to leave me," he wrote.
READ ALSO: Baby mama drama: Prophet Bushiri stays mum on alleged hidden child
He added that they recently found out she was pregnant and HIV-positive, but she has no idea he was the one who infected her.
"Now she is blaming her ex-boyfriend, saying that he's the one that infected her," he claimed.
The man said the secret is "tormenting" him and he can't even sleep at night. So, he asked the magazine how he can tell her he is the one who infected her and that they are related.
Briefly.co.za gathered the Facebook post sparked quite a reaction and social media users held nothing back in their comments.
Lulucha Kunene commented: "Loved? Firstly u lie to her whenever it suits you, secondly, u infect her with a deadly virus... Dnt knw the meaning of love from where you standing bt from where I'm standing that is not love dnt knw wat is it but definetly not love."
Lebogang Bee Wa Motswana added: "You slept with her knowing very well that you were gonna infect her, so you asking us that question bathong u already knew the consequences of what u were doing mxm."
Vic Mantshinga wrote: "Brooo you never loved her...you were too obsessed with her...the moment you knew you were related you were supposed to tell her...uyisishimane nje esidla ekhaya....I hope she forgives you cos really you killed her silently...:
PAY ATTENTION: Beyoncé, Taylor Swift, and Other Celebrities Who Have Crashed Normal People's Weddings
Find Move! magazine's original post below: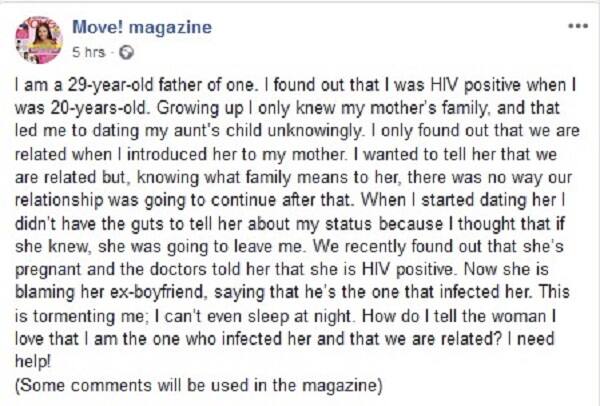 Enjoyed reading our story? Download BRIEFLY's news app on Google Play now and stay up-to-date with major South African news!
Source: Briefly.co.za