Viewers of Rhythm City can confirm that it is one of the best local telenovelas. The plot is not only entertaining but also educative; although, it is provoking and suspense inciting. All episodes are easy to relate with and engaging. If you are yet to watch this soap opera, you are definitely missing out on one of the best local productions. Through these Rhythm City Teasers April 2019, everyone gets a sneak peek of the episodes that are scheduled to air during the month.

Nothing surpasses the thrill that comes with an authentic musical and dramatic local production that incorporates the most talented actors and actresses. The Rhythm City cast that includes Nkosi Cengani and Slindile Nodangala plays around the themes of love, unfaithfulness, homosexuality, blackmail, and substance addiction. All the themes are the challenges that the contemporary generation faces, so the youth are particularly targeted as the primary audience. To find out what will happen in April, view these Rhythm City teasers.
READ ALSO: Binnelanders teasers April 2019
Monday, 1st of April, 2019
Tragedy hits when the 68s torch Sabelo's hovel. Unfortunately, a human being is inside the burning house. The bad blood between Mzi and Shadrack worsens while Mampho finally gets an interesting housemate.
Tuesday, 2nd of April, 2019
Mzi drives Shadrack away as Dumi confesses that he contributed to the demise of Dineo. Mampho is confused by the new house occupant. How will the two relate?
Wednesday, 3rd of April, 2019
Mzi intensifies his efforts towards eliminating Shadrack, but David shows up unexpectedly. The rivalry between Dumi and Mapula increases, much to Dumi's despair. Jafta is doubtful of Siya and has to find out what she is up to.
Thursday, 4th of April, 2019
Mapula views Dineo's remains and is distressed. In a quest to uncover Bongi's killing, Mzi confronts David.
Friday, 5th of April, 2019
The members of the community are present for Dineo's wake. During this vigil, an unexpected person shows up. David succeeds in unearthing Bongi's killer.
Monday, 8th of April, 2019
The police arrest Mzi while Dumi presents himself at the police station. Siya finds out that the entire community thinks she is homosexual.
Tuesday, 9th of April, 2019
Mzi is caught in the act and Shadrack has astonishing news to tell everyone. Mapula is reluctant to visit Dumi who is incarcerated. Siya opens up to Mampho.
Wednesday, 10th of April, 2019
A shady deal is made between David and Lerato. Dumi gets a surprise visitor while Siya and Mampho have unsettling news.
Thursday, 11th of April, 2019
Shadrack goes out of town. Mampho and Siya execute their plan. Mapula gets suspicious of Keabetswe.
Friday, 12th of April, 2019
Suffo and David have new employees who will shock the duo. Siya attempts to get close to Jafta. Keabetswe has an exciting confirmation.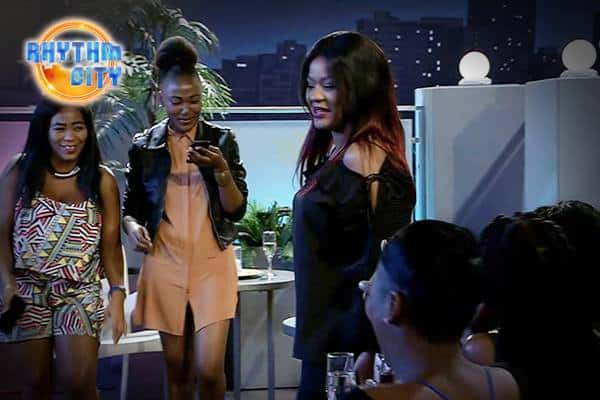 Monday, 15th of April, 2019
Suffo keeps Madikgetla while Keabetswe becomes ferocious. Mampho doubts Siya.
Tuesday, 16th of April, 2019
The relationship between Mapula and Keabetswe hits a rock. Suffo encounters a gorgeous lady and Siya comes back home with an equally fine-looking woman.
Wednesday, 17th of April, 2019
Puleng experiences a humiliating moment. Keabetswe and Lefa plan on how to handle the pregnancy. Mampho is unwelcoming of Siya's friend.
Thursday, 18th of April, 2019
Keabetswe plans to get an abortion. Puleng withdraws from the club while Siya ignores Mampho.
Friday 19th of April, 2019
Puleng unearths a secret about Suffo's business. Gail gets a marriage proposal.
Monday, 22nd of April, 2019
Suffo distances himself from Puleng. David is dejected after Gail declines his proposal, and Mapula seeks reconciliation with Keabetswe.
Tuesday, 23rd of April, 2019
Ziyanda has a business proposal for Suffo. Lefa pleads with Mapula to remain silent while Siya disregards Mampho's suggestions for mending their relationship.
Wednesday, 24th of April, 2019
Mapula attempts to stop Keabetswe's abortion. Puleng suspects Ziyanda while Mampho's strategy fails.
Thursday, 25th of April, 2019
Suffo attempts to mend the distant relationship between Ziyanda and Puleng. Meanwhile, Mampho's and Siya's relationship worsens.
Friday, 26th of April, 2019
Puleng gets angry at Ziyanda. Keabetswe has a tough choice to make. Siya and Mampho have an interesting relationship.
Monday, 29th of April, 2019
Will Suffo act under Puleng's mercy? Sabelo is unsettled by Mapula's abnormal mannerisms. A confrontation ensues between Siya and Jafta.
Tuesday, 30th of April, 2019
It is good news from Suffo who gets promoted. Jafta surprises Bee while Blossom and Mapula continue to stop Keabetswe from procuring an abortion.
From these Rhythm City Teasers April 2019, it is apparent that this will be an exciting month. The soap airs on e.tv every Monday through Friday at 19:00. The ongoing drama will keep millions of viewers on their toes as they await each subsequent episode. Make sure that you do not miss any episode!
READ ALSO:
Skeem Saam Teasers April 2019