UK visa South Africa: application guide 2019
What do I need to apply for a UK visa from South Africa? Most South Africans long to explore the United Kingdom for varied reasons that stretch between adventurous castles to cultural diversity and academic purposes. Even better, you will have plentiful to discover while threading on powerful states such as England, London, Scotland, and Wales. For successful completion of your UK visa South Africa application process, you must have particular documents and follow the laid down procedure.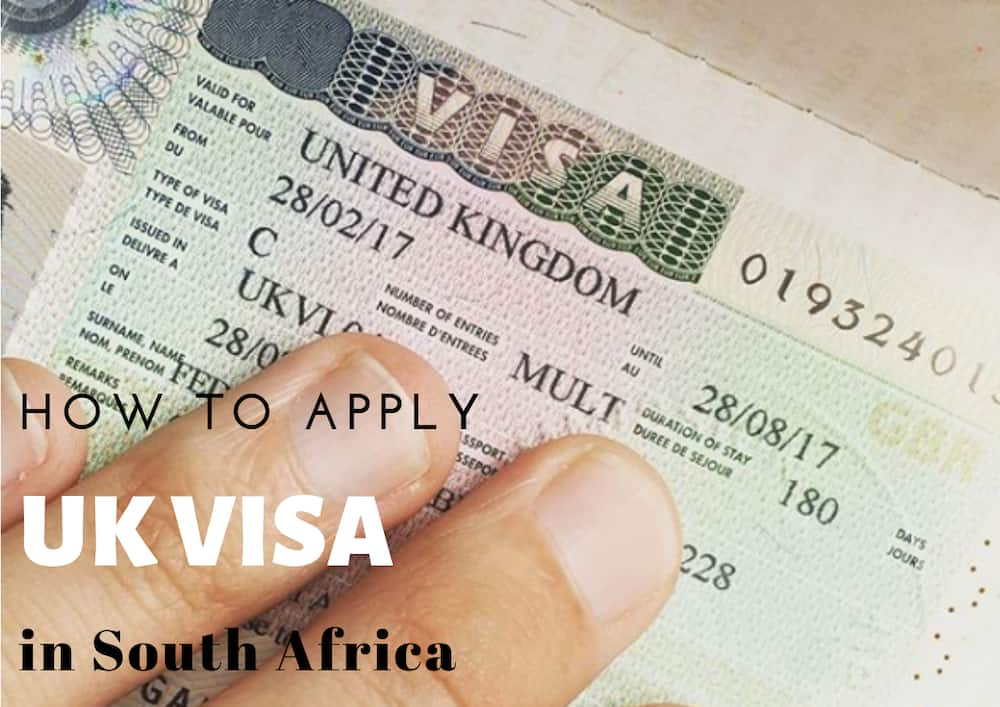 UK visa application is now more straightforward and accessible than ever before. South African applicants with passports must first acquire this travelling authorization before going to the United Kingdom. The following thread provides sufficient details on all the mandatory requirements and processes when hunting for this travelling permit. Most importantly, this process is exclusively customized for UK visa application South Africa.
How to apply for UK Visa in South Africa
Start your application at www.visa4uk.fco.gov.uk/home/welcome and www.gov.uk/. While on these UK visa South Africa application pages, provide all the necessary details before proceeding to local application offices for the completion of the process. It is always advisable to complete your application ahead of time to avoid rush hour preparations.
READ ALSO: Passport application at banks: 10 crucial tips 2019
Types of UK visa South Africa
Before kick-starting your application, it is necessary to establish why you want to travel to the UK. Once you are clear on the reason of travel, prepare all your UK visa application South Africa supporting documents.
1. Standard visitor
Citizens who intend to travel to the UK as tourists or business people should apply for the standard Visitor traveling authorization. Applicants under this category can flexibly extend their stay for another six months before the expiry of the first duration. Such is the case with applicants who visit the UK for private medical treatments on condition that the medical treatment bills are cleared fully.

2. Marriage Visitor
Applicants intending to travel to the United Kingdom for marriage or registration of civil partnerships and return after that must apply for Marriage Visitor traveling permit.
3. Permitted Paid Engagement
This is also available for applicants with invitations to the UK for a particular paid task or as an expert in a particular line of work. The earliest you can apply for this type of UK South Africa travel authorization document is 3 months prior to your travel.
4. Parent of a Tier 4 Child
For South Africans with children attending fee-paying independent day schools in the United Kingdom, parents are advised to apply for Parent of a Tier 4 Child traveling authorization and renew it annually alongside adherence to all requirements until the child attains an age of 12.
5. Transit
South Africans travelling to other destinations through the United Kingdom must apply for the Transit Visa which may include Visitor in Transit or Direct Airside Transit. It is advisable to apply for DATV if you do not intend to leave the airport and will not undergo border control when shifting flights. Visitor in Transit is crucial if changing flights will require that you change planes and you will be leaving the UK within 48 hours.
6. Short Term Study
South Africans eyeing for UK short courses should apply for Short Term Study travel permit.
7. General student (Tier 4)
Applicants who are less than 16 years old with licensed 4 Tier sponsorship should apply for Tier 4 (General) Student traveling authorization to the United Kingdom.
8. Work traveling authorization
Working is another common cause of interest that often attracts most South Africans with the intention of travelling to the UK. It is appropriate to apply for the most suitable work traveling authorization based on different kinds of professional work experience.
UK Visa South Africa validity
Standard Visitor: 6 months
Permitted Paid Engagement: 1 month
Marriage Visitor: 6 months
Short-Term Study: 6 months
Parent of a Tier 4 Child: 6-12 Months
Visa in Transit: 48 hours
Direct Airside Transit: 24 hour
Tier 4 (Child) Student: 6 years, 4 months for under 16 and 3 years, 4 months for 16 and 17
Tier 4 (General) Student: 6 months for course dependent and longer for course dependent
How much does a visa to the UK cost?
The cost of applying UK Visa South Africa varies considerably, primarily depending on the type. Provided below is a breakdown of various UK visa South Africa prices.
1. Standard Visitor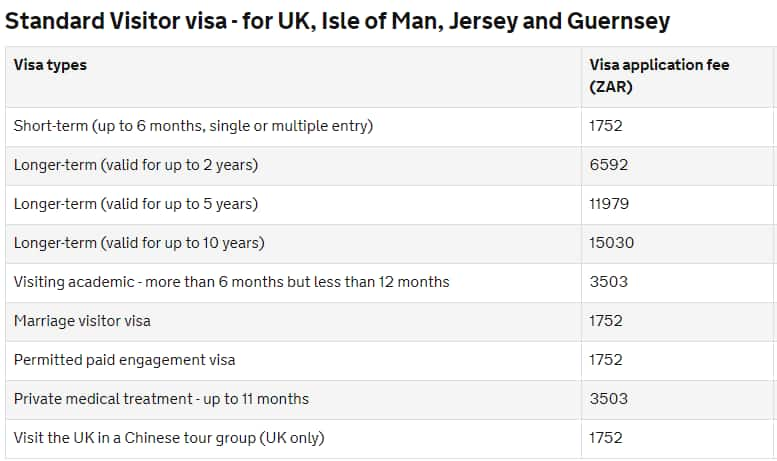 2. Short-term study and visa in transit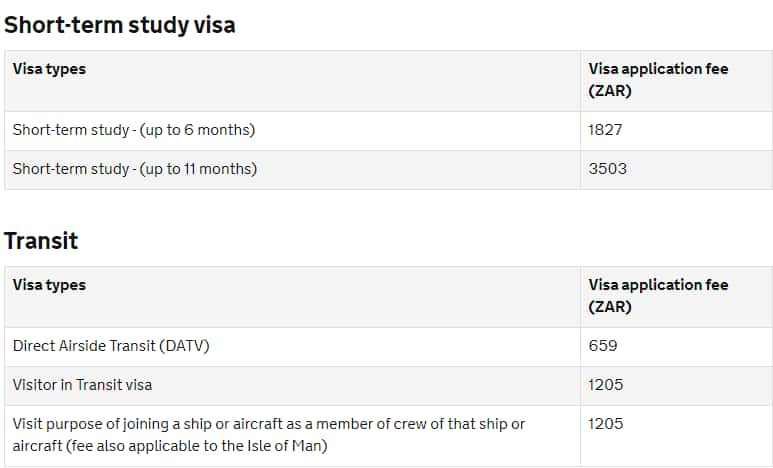 3. Parent of children at school visas and child visitors visas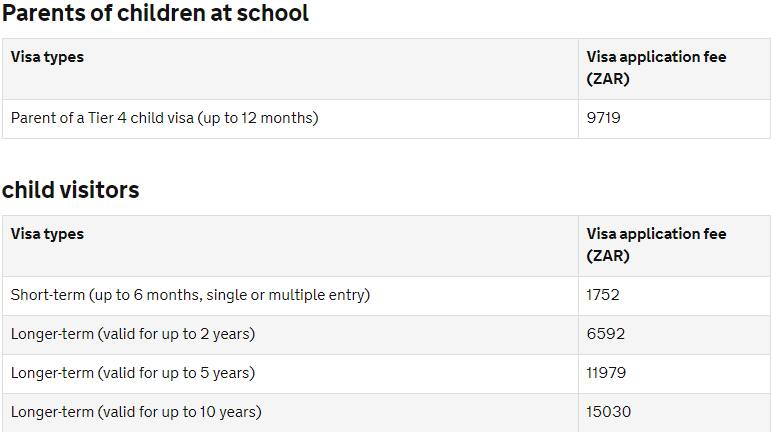 UK Visa South Africa costs mentioned above are dynamic and may no longer apply soon. Always check with the mentioned online application platforms for an updated list of Visa application prices.
UK visa South Africa application process and guide 2019
The earliest duration within which you can successfully secure the official traveling authorization to the United Kingdom is three months. Those seeking Marriage, Visitor, Standard, or Permitted Paid Engagement traveling authorization documents should closely follow the procedure outlined below. Those seeking other types of the traveling permit must first register with www.visa4uk.fco.gov.uk/home/welcome before applying for their Visa to the UK.
Visit the UK visa application portal at www.gov.uk/apply-uk-visa
Check the type of a visa you intend to apply.
Fill the application form provided.
Check that you have a passport document that is valid.
Now fill the form of declaration.
Confirm all the information provided including the supporting papers that you intend to supply.
Confirm your visa duration.
Follow the system prompts to clear your application payments to complete the process.
Print the form then deliver it to UK Visa application offices.
Secure an appointment to complete your application process with all your original application documents.
UK visa application South Africa centres
Applicants can now flexibly complete their applications under the following UK Visa centres between 08:30 and 15:30 on weekdays.
Cape Town - 2 De Smit Street, Green Point
Durban - 430 Peter Mokaba Ridge, 3rd Floor, the Atrium
Port Elizabeth - Ground Floor, Fairview Office Park, 66 Ring Road, Greenacres
Johannesburg - 2nd - 3rd Floor, 24 Central Building, 8 Gwen Lane and Fredman Drive
Pretoria - 1st Floor, Menlyn Corner, 87 Frikkie De Beer Street, Menlyn
Note that those in Lesotho and intend to get the traveling permit to the United Kingdom should apply from South Africa.
READ ALSO: Top 10 tips for emigrating from South Africa 2019
If you carefully follow our guide on UK visa South Africa applications, you will successfully obtain the permit to travel to the United Kingdom. All the best and enjoy your stay in the UK!
READ ALSO:
10 Tips on passport renewal in South Africa 2019
How to get your tax number in 2019
How to get police clearance South Africa?
How to track a number in South Africa
Facts on unemployment in South Africa
Source: Briefly.co.za