Does Romeo finally get what he has been searching for? How will the unravelling truths be handled? These are some of the questions that the viewers of Scandal have been asking themselves. This exciting South African soap opera has continued to keep millions of viewers glued to the television. If you have not been keeping up with the hottest soapie, it is time to do so. These Scandal Teasers for April 2019 are the best way to get a sneak-peek into the electrifying episodes that will be airing in the coming month of April.

NF Holdings is the setting where all the action happens. Similar to any other newspaper company, the cast showcases the latest news, thrill, and gossip. Heads are turned, the truth is unearthed, and shoulders are rubbed in the plot. The experienced cast members who include Quinton Nyathi, Neo Mokhethi, and Romeo Medupe among others use their skill and wit to make each episode the best. These Scandal teasers will give all viewers a hint of what is lined up for April 2019.
READ ALSO: Rhythm City Teasers April 2019
Monday, 1st of April, 2019 (Episode 3269)
A grand alliance is formed between Xolile and Chumani in a quest to unravel the truth. The efforts of Maletsatsi who has been playing mediator escalate and evolve to bigger things.
Tuesday, 2nd of April, 2019 (Episode 3270)
When a mysterious box shows up, it reveals a secret. Two people engage in an intense argument that intensifies and causes the involvement of a third party.
Wednesday, 3rd of April, 2019 (Episode 3271)
Some truths pinch hard! This happens between a mother and her daughter who are unable to handle some truths. Mlu distances himself from both family and friends. Gloria attempts to blackmail Ndu, but will this work in her favour?
Thursday, 4th of April, 2019 (Episode 3272)
An identity that was kept hidden for a long while is finally out. A chilling situation faces Zinzile who has to make a hard decision. The Chillax partners come up with a strategy.
Friday, 5th of April, 2019 (Episode 3273)
A pained spouse faces the man behind the murder of her beloved husband. Zinzile is leaving, and Gloria discovers this unexpected move. The Chillax partners are a threat to Neo.
Monday, 8th of April, 2019 (Episode 3274)
Her children have already heard enough, but Boniswa must give them even more surprising news! Ndu is astounded at the sight of a woman in his bed!
Tuesday, 9th of April, 2019 (Episode 3275)
The children of Langa struggle accepting some unsettling news. There is a new guest in Gloria's house who stirs up mixed emotions and responses. Walter is in for a shaky start.
Wednesday, 10th of April, 2019 (Episode 3276)
A retrospective look at the past lives of four members reveals their struggles. A youthful entrepreneur offers to support Lindiwe actualise her goals. Sadly, the business mogul is on a mission. Stokkies conquers a temptation, and this gets him access to crucial information.
Thursday, 11th of April, 2019 (Episode 3277)
Boniswa narrates how desire made her backstab a colleague. Gloria's instincts tell her that a specific person was behind the end of the Ngema marriage. Stokkies is very happy at the imagination that he will make big money.
Friday, 12th of April, 2019 (Episode 3278)
Tough decisions have to be made by Chumani and Xolile. Mthunzi gets ready for the moment of reckoning. A husband who has been suspicious of his wife decides to take action.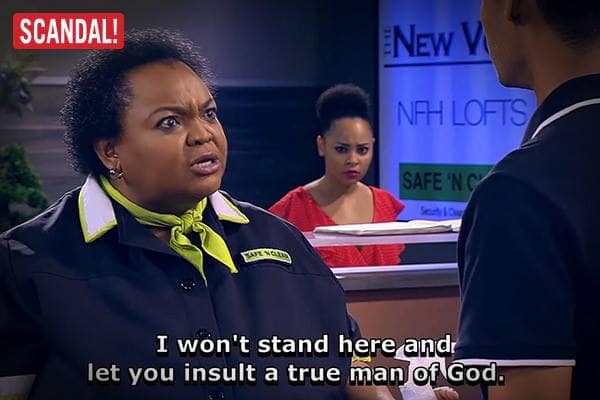 Monday, 15th of April, 2019 (Episode 3279)
An intense squabble is witnessed between Mthunzi and the Langa family. A married couple also engages in a massive argument and the wife gets support from her friend.
Tuesday, 16th of April, 2019 (Episode 3280)
A broken family has some deep secrets that ought to be repressed and forgotten. Omphile comes to Zinzile with unsettling news.
Wednesday, 17th of April, 2019 (Episode 3281)
There is a killer on the loose, and nobody is interested in punishing them. Romeo decides to act. A vulnerable member of the family is on the verge of sinking, so the parents have to save them. Stokkies is in deep contemplation.
Thursday, 18th of April, 2019 (Episode 3282)
What initially started as a merciful encounter escalates to an argument where guns are pulled out. This woman ignores all the warnings and goes ahead with her plans.
Friday, 19th of April, 2019 (Episode 3283)
A brave heart is determined to fight the enemy regardless of the impending implications. This will hurt those that are closest to him. A daughter is prepared by both her parents to unearth the truth.
Monday, 22nd of April, 2019 (Episode 3284)
Hlengiwe is determined to find more information about this particular story. While Zinzile's main agenda was to conceal the truth, this plan fails.
Tuesday, 23rd of April, 2019 (Episode 3285)
The truth is almost out! For this reason, Boniswa must seek assistance from an unexpected person.
Wednesday, 24th of April, 2019 (Episode 3286)
Boniswa gets desperate and is forced to disclose her secret to someone who is not a part of the family. Omphile is yet to accept some news.
Thursday, 25th of April, 2019 (Episode 3287)
Boniswa is shocked to find out that she was frolicked. Mlungisi gets a lecture that makes him think that his world is crumbling. Stokkies makes a promise to Walter.
Friday, 26th of April, 2019 (Episode 3288)
Romeo must strategise on how to achieve revenge. Pride is pushing more people away from Mlungisi. Stokkies is determined to attain his objective.
Monday, 29th of April, 2019 (Episode 3289)
Romeo is lucky to find what he has been searching for, but more is in store. Zinzi is at her wits end!
Tuesday, 30th of April, 2019 (Episode 3290)
Romeo is recruiting a new game player. A troubled marriage faces even more hardships. Walter considers a dangerous move.
These Scandal teasers are what you need to stir up anticipation for the episodes that are lined up. The soapie airs every weekday on e.tv at 1930 hours. In Botswana, it airs on e.tv Ghana. Make sure not to miss any episode in April as more drama and buzz awaits every viewer.
READ ALSO: