The tastiest beef stew recipes here!
Sunday dinners and chilly nights have never been this interesting before. Trust me, beef stew recipes usher them in a special way. I am talking about a stew that contains carrots, potatoes, peas among many other natural ingredients. Like other cozy dishes, this delicacy allows you the comfort you are looking for in a meal. Depending on your preference, you can prepare the dish either thin or thick. To say the least, these recipes are all you need during cold weathers. Just have a look at the list below to find the one that suits your needs.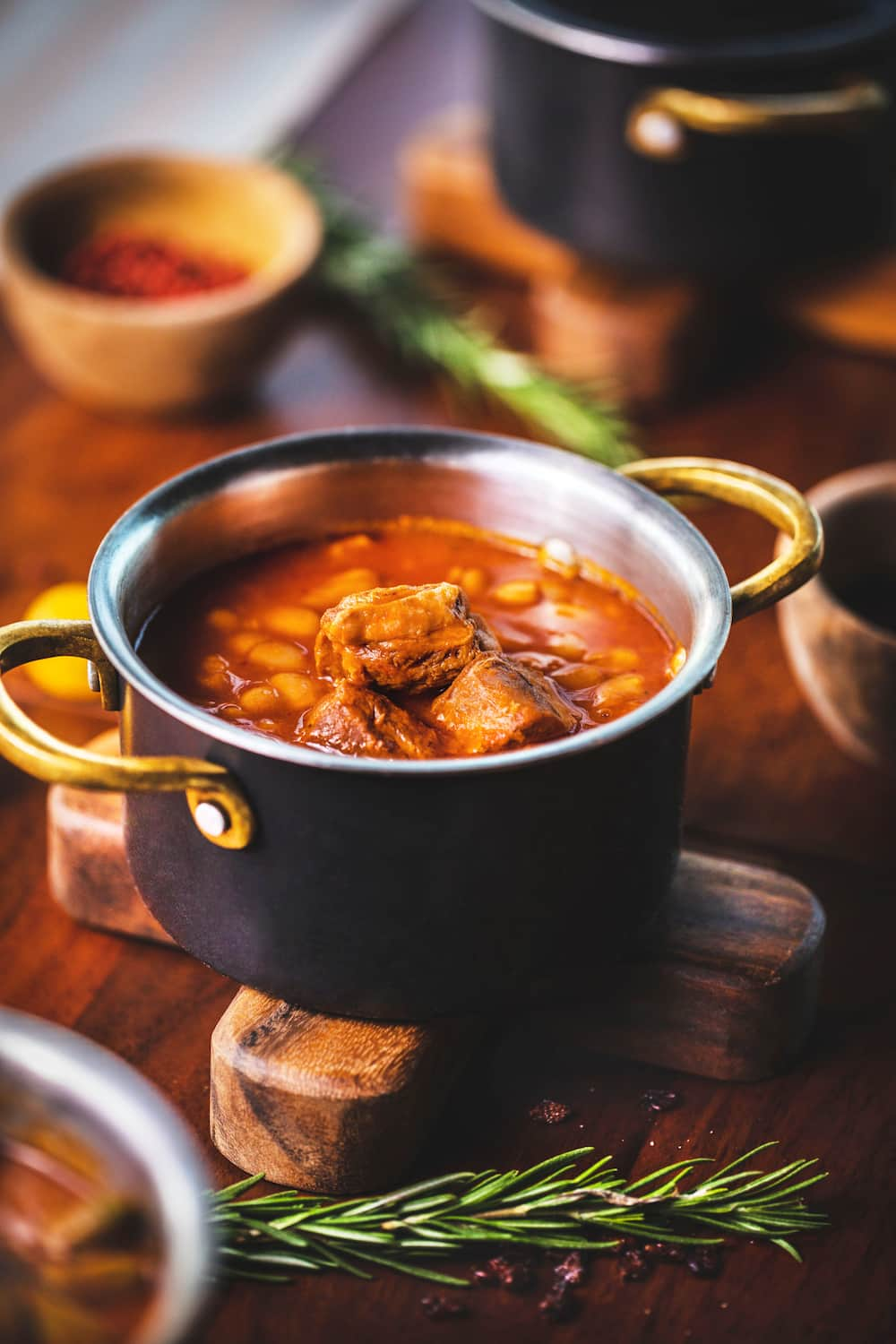 READ ALSO: How to cook chicken livers: 5 tastiest recipes
At times, I fail to understand why most of us have to wait in long queues at restaurants. Is it because we are too busy or wealthy that we cannot make the meals on our own? Or, it is because we never enrolled in hospitality classes? Well, I am not judging you, but I just wanted to prove to you how ignorant we have become in life. Ignorance has blinded us to the extent that we no longer appreciate the things that matter in our lives.
However, I am not saying that you should stop ordering your food from Woodstock or La Colombe. My point is that we should at least make these meals by ourselves. Besides, it feels good knowing your favourite meal came from your kitchen. It is for this reason that I have compiled some of the tastiest beef stew recipes for you. Alongside the recipes are some of the considerations you ought to observe while preparing the dishes.
How do you make beef stew tender?
As you all know, beef stew is a staple dish. Therefore, you need to prepare the stew like a pro. Being a pro starts by you making the stew tender. How? You need to use the right cut of beef (chucks) and ensure you do not add vegetables too early when cooking. Also, serve the stew with your favourite other like noodles or bread.
Is homemade stew healthy?
As I mentioned earlier, homemade meals are the best. As much as you may want to disagree with me, junks are not good for our health. For that reason, making the stews at home not only saves you time and money but also gives you a healthy option— lacking in junk foods.
Let us dive straight into each of the beef stew recipes now. Read on!
1. Slow cooker beef stew
To me, slow cooker beef stew is the simplest to cook. Important here is to allow the stew to cook long enough for perfect results. As the name of the recipe suggests, the recipe can take to a maximum of 8 hours before it is ready. Here are the essentials for making the stew for 8 people.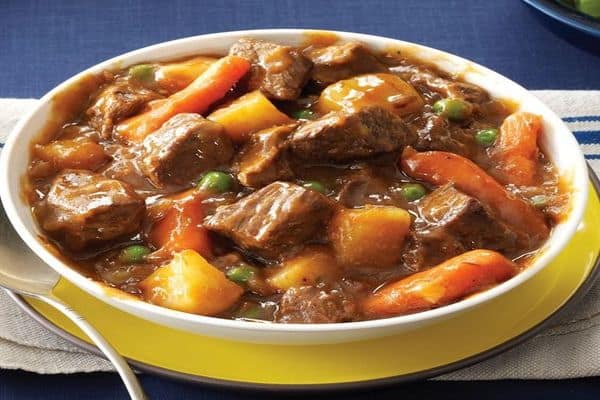 READ ALSO: How to cook baby marrow: 3 tastiest recipes ever
Ingredients
1.5 kg of roasted chuck
40 g cup of all-purpose flour
1 ½ tablespoon salt (divide it)
Pepper
1 tablespoon of olive oil
1 red onion (chopped)
1 diced carrot
1 diced celery stalk
3 minced cloves garlic
Tomatoes (28 oz can)
470 ml of red wine
1 fresh parsley (finely chopped)
1 bay leave
A piece of fresh sage
Method
To a small cooking pot, mix the flour with all the salt and pepper. Then rub the meat with the flour until it is fully smeared.
Heat oil in a large saucepan.
Heat the meat until all sides turn into golden brown.
Remove the meat to a slow cooker. To the cooker, add your onions, carrots, garlic, celery, tomatoes, wine, bay leaf, and the left behind salt.
Allow cooking for 8 hours.
Remove from heat and dispose of the floating bay leaf. After that, stir stew to ensure parsley blends well.
Finally, add more parsley on top and serve the stew with your favourite meal.
2. Classic Beef Stew
It is not confession time, but classic beef stew is among the very few dishes that have ever made me want more and more of a meal. I discovered the dish late last year when a friend of mine invited me to her daughter's birthday. I had to go to the kitchen by myself to collect the ingredients from the chef. A week later, I made the meal and it has since become my favourite. Let us assume we are preparing the stew for six people. What will you need in terms of ingredients?
Ingredients
900 g of Kroger beef chuck
½ teaspoon of kosher salt
300 g of yellow onions
Black pepper
230 g of diced carrots
2 minced garlic
2 tablespoon of canola oil
2 full tablespoons of tomato paste
480 ml of beef stock
420 g of diced tomatoes
Dried tablespoon of dried rosemary and thyme
Bay leaf
240 ml of red wine
Cooked egg noodles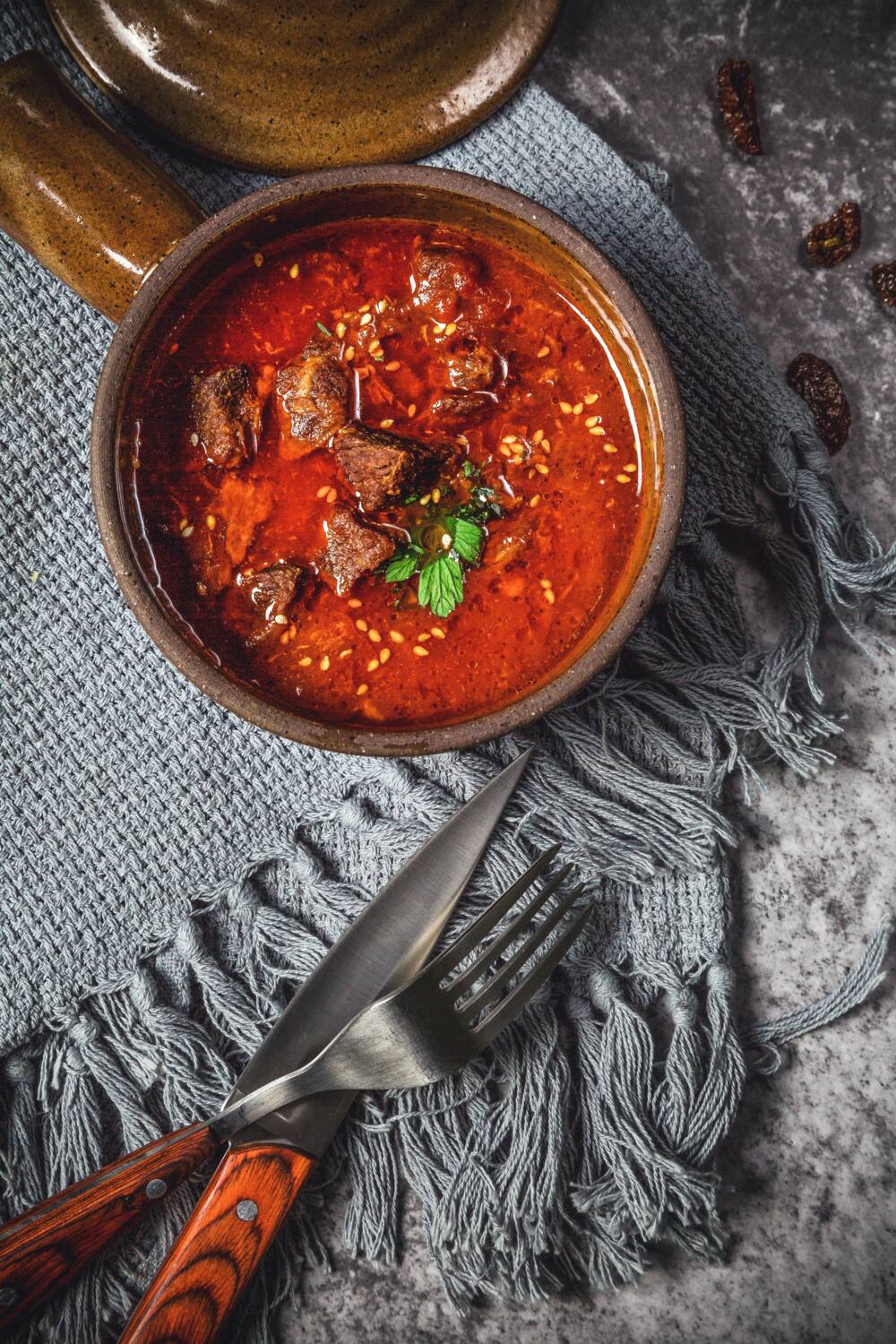 READ ALSO: Tastiest Frikkadel recipe ever here
Cooking directions
Begin by cutting the beef into small cubes. The process should be followed by seasoning the cubes with pepper and salt.
Heat the canola oil in a large cooking pot over low to medium heat. Sear the seasoned salt until all the sides turn into golden brown.
To a separate cooking pan, add onions, garlic, carrots, celery and cook them for five minutes.
Further, add tomato paste to the center if the cooking pot and allow cooking for 2 minutes. Mix properly with the vegetables and cook for 5 minutes — until the contents of the cooking pot produce a sweet aroma.
Add the wine to deglaze the cooking pan and remove by scraping any bits of meat using a wooden cooking spoon.
Pour in beef stock and tomatoes while stirring to mix properly. Continue by adding rosemary, thyme, pepper, and salt then bay leaf.
Allow the contents of the pot to boil. Reduce heat and allow simmering to ensure the meat is tender. Precisely, the contents are supposed to simmer for approximately 3 hours.
Remove from heat and serve with prepared egg noodles
3. Sweet potato and carrots beef stew
I believe this one is very familiar to many of us. If not once, at least, you have tasted a stew made of potatoes. However, different people have different ideas about preparing this delicacy. After a comprehensive comparison from various cooking gurus, I found this recipe simpler and tastier.
Ingredients
3 pounds of boneless beef chuck
4 large pieces of diagonally peeled and cut carrots
2 cups of water
2 teaspoons of salt
Pepper (freshly grounded)
1 bay leaf
Chopped parsley
2 medium cut onions (yellow)
½ dried thyme
Sugar
1 pound of small white boiled half-cut potatoes
7 peeled and crushed cloves
3 tablespoons of clove oil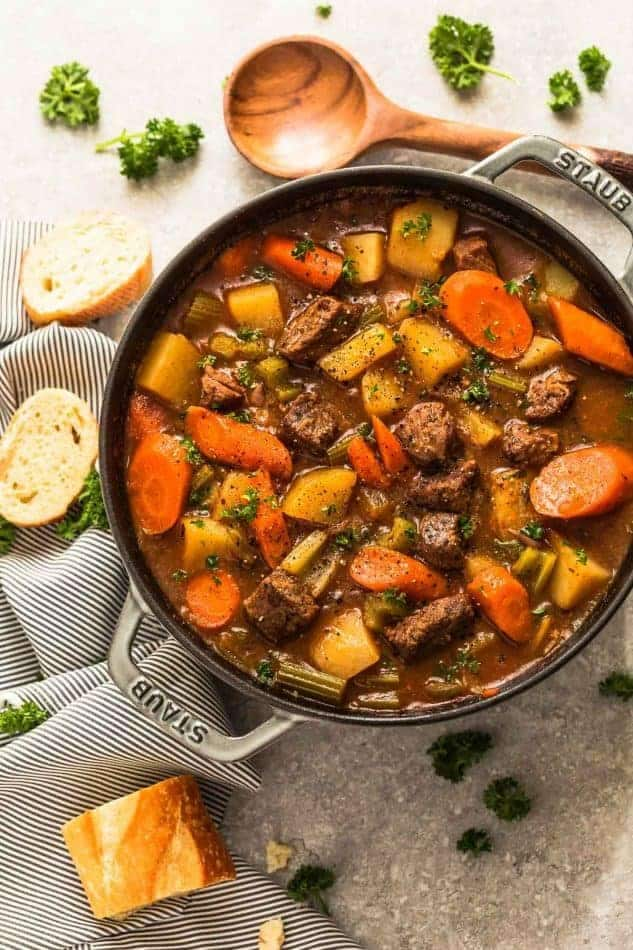 Directions
Heat olive oil in a large Dutch oven or cooking pan.
In a separate oven, put the beef to dry and add salt and pepper to season.
Back to the cooking pan; ensure the olive oil is shimmering before you add the seasoned meat. The meat should be put in 3 batches and allowed to heat for 5 minutes. When you notice the meat is turning brown, add another tablespoon of oil to each of the batches. Then transfer the meat to a neat bowl aside.
To the cooking pan, add onions and onions then stir and allow the content to cook for 5 minutes. Afterward, pour in the tomato paste and cook for another 1 minute.
Pour in the set aside beef and sprinkle with flour then stir and cover to cook for 1-2 minutes.
Add wine, bay leaf, thyme, and sugar and stir before bringing it to boil. Again, cover the pot and allow cooking for 2 hours.
Thereafter, remove from heat and add the carrots and potatoes.
Allow cooking to continue for another 1 hour— until the vegetables are fully cooked and the meat is tender as well.
Remove from heat and serve while warm.
Lastly, you can store the remaining stew in a refrigerator for further consumption. Yours will be heating and serving with your other favourite meal.
It is my hope that one or all of the above beef stew recipes will solve your problem. You only need to get the ingredients ready and that is it. Trust me, these recipes are capable of making you and your loved ones lick your fingers like you have never done before. Anyway, enjoy the taste!
READ ALSO: 5 best expresso recipes ever
Source: Briefly News