South Africa's actress and presenter Khanyi Mbau is no stranger to the entertainment industry. Love her or hate her, you have got to admit that the 33-year old has a body that most women would kill for, and she certainly knows how to dress it too. She is vocal about her love for skin lightening procedures that have seen this celebrity go several shades lighter. Despite this, she continues to slay in any outfit that she wears. Here are her ten hottest photos ever.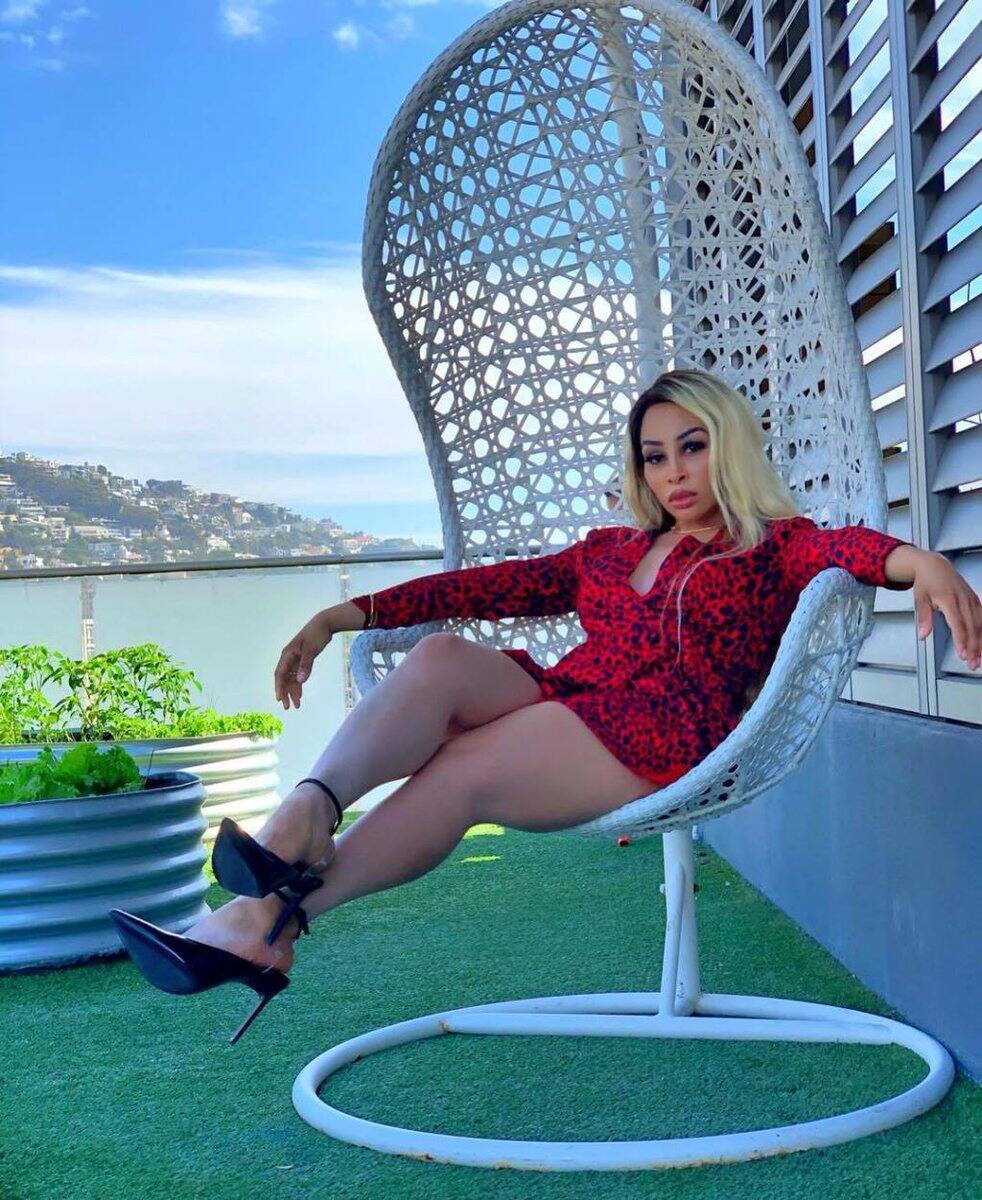 Khanyisile Mbau ( Khanyi) is a South African artist and television host. She was raised in Soweto, but through her talent and hard work, she managed to rise to fame through the Muvhango, the SABC 2 soap opera. Born on October 15th, 1985, she has also hosted entertainment shows like:
The Scoop
The Big Secret on BET Africa
She plays Tshidi on Abomama ( Mzansi Magic)
Here, Khanyi manages to look innocent but sexy indeed. She flaunts her impressive cleavage in a white lacy bra and red trousers. However, that is not the only thing people will see. Her flat and toned stomach is also on display.
Snakeskin print boots
Khanyi set tongues wagging in this hot photo of her wearing nothing but a pair of black and white snakeskin print boots. She is posed in such an angle that the picture is decent enough but still sultry. If her bold pose does not suffice, then her toned body would undoubtedly set the standard for women across South Africa.
Khanyi in a maroon bikini
In this shadowy photo, Khanyi gets another opportunity to treat her fans to a picture of her toned body. She does not seem to have an ounce of extra fat on her. The tribal adornment she is wearing gives her the look of a tribal princess.
Stepping out decked in black
Black is edgy, and it looks sexy on her. Khanyi is known for her sense of style, and she does not disappoint. Her fishnet stockings, short dress, and stiletto heels is a combination that must have kept necks turning. The image also captures her stepping out of a red car with a matching red lipstick. This is dynamite !
In a multi-color dress
She is not camera-shy and gives us her sultry, pouty look. Even though she has an exciting sense of style, she loves to keep her hair simple, and this can be seen here. She has her hair up in a simple bun and is wearing a short but cute multicolored dress. She is also clutching her heels in one hand.
In thigh-high boots
Not many people have the guts to rock thigh-high boots, but Khanyi manages to pull this look off effortlessly. Because the boots are a statement on their own, she keeps the rest of her look simple in a white dress shirt and grey beanie hat.
In a little black dress
One can never go wrong with a little black dress because of the numerous ways that you can dress it up or down. Here, Khanyi chose to dress it up with yet another pair of over-the-knee boots. This time, she dons black boots, a sleeked ponytail, and a statement necklace.
In an auto racing suit
She may be all covered up in this picture, but the men can agree that there is something undeniably hot about Khanyi in a racing suit. In this photo, she is holding her helmet and shyly averting her gaze away from the camera. You may want to google for more details on Khanyi Mbau cars to see her personal car preferences.
In a white bikini
Posing sexily for the camera, Khanyi is in a strapless white bikini. She is in a pair of blue sunglasses that seem to match the chair she is sitting on. Her skin is glowing and looks very healthy.
In a multi-color maxi
Even though her curves are not visible here, Khanyi still manages to look sexy and elegant by wearing a multi-colored strapless maxi skirt and matching earrings. She manages to match her makeup too with colorful eye shadow and lipstick.
Having gone through such a lavish pic profile, one is tempted to wonder. So, what is Khanyi Mbau net worth? Well, it is $10 million.
This beauty queen has quite some ardent fans. And like any other public figure, she also has those who love to hate her. It does not matter which side of the fence you are on as it is clear that Mbau Khanyi will continue to set tongues wagging with her hot and chic photos. Let us know your favourite photo in the comments.
READ ALSO:
Source: Briefly.co.za