How do I register to vote in South Africa? The Electoral Commission of South Africa expects everyone to register for the upcoming national polls to be held on May 8th, 2019. Voter registration is a one-time exercise yet essential for South Africans to claim their voting rights provided under the constitution. Both local and international South African citizens should register to vote within the prescribed period, failure to which one cannot participate in an election process.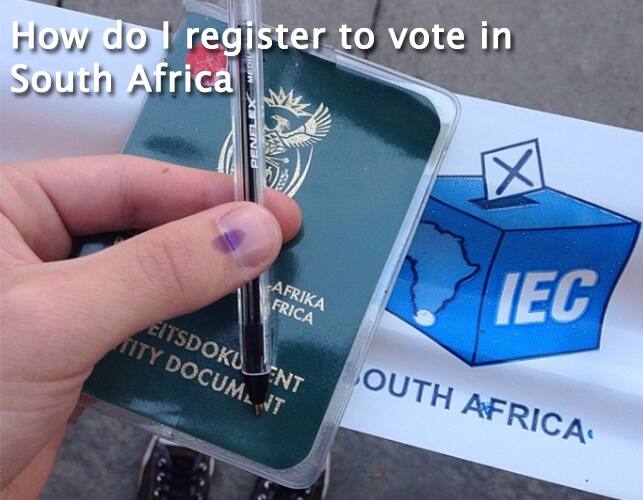 Do I have to register to vote every year? Prospective voters should note that one can only register once and will only be required to re-register following an update in their home address or changes in their district boundaries. Noteworthy is that the Electoral Commission South Africa takes responsibility in maintaining the voting rights for accurately registered citizens who comply with the minimum requirements established by the commission. Here is how you can register as a South African voter for the 2019 elections.
READ ALSO: 100 interesting speech topics and ideas (updated Feb 2019)
Do you have to register to vote?
Registration is a requirement to participate in any South African election. What is needed to register to vote? Some of the elements necessary for the registration process include:
South African citizenship
A minimum age of 16 years but will only cost a balloon starting age 18 upon acquisition of a national identification card among other necessary certification documents.
A smartcard ID, a green, bar-coded ID book, or a functioning Temporary Identity Certificate (TIC).
How do you register to vote?
The registration process in South Africa is straightforward and simpler now than ever before. Questions regarding when and where to register should no longer trouble you. Just make an appointment with your voting district's local IEC office during working hours. It is always important to reach them on the phone for reservation before showing up at their offices. Here are the contact details for the national offices:
Phone number: 012 622 5700
Email address: info@elections.org.za
Contact Centre phone number: 0800 11 8000
You can select your specific province to get their contact details.
Note that voter registration only happens at the local offices and not the national or provincial offices.
What documents do I need to apply for registration?
To be a registered voter, registrants must avail their green bar-coded book, valid Temporary Identity Certificate, or a valid Temporary Identity Certificate. It is also important to note that only an original copy of your identification card is accepted. All copies of the same are not acceptable.
Is it possible to register to vote online? Voting registration online is not allowed since the law requires that South Africans must avail themselves for registration in person, one of the reasons why it is not possible to register over the email or the portal.
Register to vote South Africa
Firstly, you will visit your local IEC office with the documents prescribed above.
Accurately complete a registration form provided.
Once done with the form, the next step is the scanning of your identity document book followed by pasting of a barcoded sticker on your valid temporary identity certificate issued to you or the green ID book. It is crucial to understand that receiving a barcoded sticker and submitting a complete form do not imply a complete registration but an application for the same.
Processing of applications takes up to 7 working days before completion.
How do I know if I am successfully registered?
Verification of your registration details is critical in the registration process. For details verification, you can go back to your local IEC office or send a short message containing your ID to 32810 which should cost R1 for every message delivered. Alternatively, you can access your mobile store, download IEC mobile application, and provide your identification number. You can flexibly confirm your registration status online or through a phone application.
As mentioned above, it is recommended to re-register when your home address has changed. In this case, it is important to confirm with IEC for advice on whether you need to re-register. Also, a change of your district boundary may necessitate a re-registration to help IEC improve the voters' access to voting stations to minimize lengthy queues during the Election Day.
How to register to vote South Africa abroad
Can I vote abroad? South Africans living abroad can exclusively participate in national elections by registering to vote overseas following The Electoral Amendment Act 2013. Remote voters must have a South African passport, ID, and a temporary passport. It is also crucial to submit a VEC10 within the required period, mostly 15 days ahead of the voting date. Check the tweet below which gives the deadline of voting abroad.
Upon registration, it is essential to confirm and validate your registration status on the IEC's website. Those who registered in South Africa but now live abroad are already enrolled. Otherwise, you will receive a message prompting you to re-register and accommodate changes following a shift in district boundaries. Note that it is only those living outside the country that receive such messages.
READ ALSO: Do South Africans feel close to political parties ahead of elections?
It may be too late to register to vote 2019 since the last voter registration weekend South Africa 2019 was on the 26th and 27th of January. First timers were allowed to register and those already registered confirmed their details, therefore, both the locals and those living in the diaspora should now be registered to vote in South African Elections 2019. If you followed the above steps and are a registered voter, do not miss the chance of voting for the leader of your choice during this year's national elections.
READ ALSO: