On Wednesday, Gauteng Premier David Makhura explained a photo of himself with Pastor Alph Lukau. According to the premier, the photo was old and he attended the church on invitation.
PAY ATTENTION: Click "See First" under the "Following" tab to see Briefly.co.za News on your News Feed!
Yesterday, Briefly.co.za reported on Makhura's response to the photo of Lukau praying for him. The Guateng Premier's statement followed the photo resurfacing online, causing quite the controversy.
Makhura explained the photo was old and that he attended the church as part of its sixth anniversary celebrations.
READ ALSO: Wedding at a hospital: Couple gets married in MediClinic ward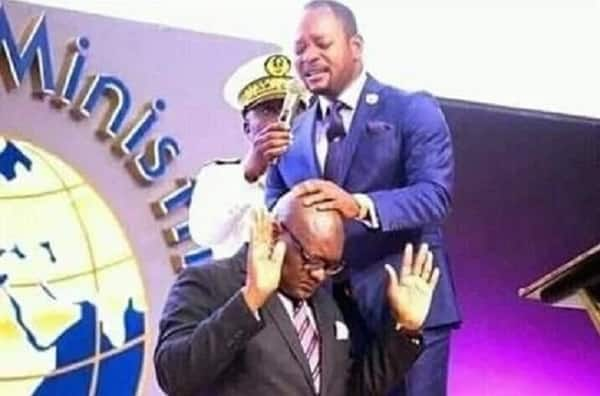 PAY ATTENTION: Do you want to know what's trending on Briefly.co.za? Join our WhatsApp group today.
Our readers were left divided on Makhura defending himself, with some assuring the premier that he has nothing to feel guilty about while others accused him of colluding with the so-called 'fake' prophet.
We decided to take a look at 10 of our readers' reactions to the news.
READ ALSO: Times Celebs Flaunted Their Mindblowing Wealth on Instagram
1. It's hard to spot a fake prophet
Randzu Chauke commented: "I think people must stop blaming themselves for being fooled by false prophets. False prophets are not easy to identify. If it wasn't for Elliot's bad acting we all would still be thinking Alph is for real."
2. His sins are not yours
Nqo KA Nkomo wrote: "Politicians....nothing wrong when a person prays for you ..his sins are not yours."
3. Smelling a rat
Nkosinathi Wiseman Nkhambule said: "Nonsense. So if you're invited why are u supposed to be prayed for. Nxa maan."
4. Nothing wrong here
Thafe Edward T added: "He is human too yes he does not deny so what. And I don't see anything wrong .who knew about these Spaghetti fake priest by then?"
5. We see you Makhura
Elethu Gogo commented: "Resurrection before the elections... We see you Makhura"
6. Creating a safe place for false pastors
Sifiso V Zulu wrote: "That's why they can't get rid of these fake pastors, they also attend those churches!"
7. Shame on you Makhura
Thato Cafulette Ntobela added: "Sies! Mr Premier you now have joined the ranks of Zuma who was captured by this church and I'm sure he will also deny getting attracted by this fake pastor's so called miracles or maybe he wanted his corruption cases to vanish too but I don't blame you ANC lost Tshwane under your nose while a premier so maybe you also went to seek some miracle advices but let me tell you now that this pic will always be in our mind that you kneel down to a fake and you have tarnished the organization name."
8. You were deceived Makhura
Maokeng Mankge said: "Doesn't matter whether old or new you were deceived by a fake prophet."
9. Lukau and ANC in same WhatsApp group
Zacharia Mokgothu commented: "Alpha Lukau is a witchdoctor. Probably he was consulting for ANC to win elections by crook and by hook."
10. Did Makhura give money as an offering?
Sbhamu Nkomonde ENkandla EThaleni asked: "How much did Makhura donate as an offering on that day? Lakau must pay back the money"
Enjoyed reading our story? Download BRIEFLY's news app on Google Play now and stay up-to-date with major South African news!