Are you searching for NCR debt help? Settle your worries one at a time as we unveil a thorough debt help system review for 2019. Established under the National Credit Act 34 of 2005, the National Credit Regulator remains a stem-governing entity that is responsible for the enforcement of the National Credit Act in the country. South Africans with unresolved debt issues should not shy from consulting NCR manual 2019. Provided is an in-depth NCR debt review to help you with your financial difficulties.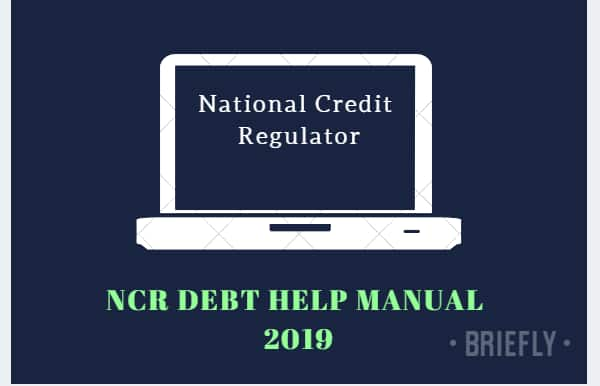 Who is the National Credit Regulator? National Credit Regulator, famous as NCR, is a body in the South African credit industry that is charged with the responsibility of policy development, executing education research, registration of industrial participants, and complaint investigations among others. There are several credit providers in the country registered under NCR. These professional lenders execute their mandate within NCR frameworks that is established in the National Credit Act (NCA).
READ ALSO: What is debt review and how does it work?
NCR debt help

NCA requires the National Credit Regulator to maintain and develop highly accessible credit market while seeking to address the needs of low-income persons i.e. those hailing from remote and low-density communities among historically disadvantaged individuals. In essence, NCR purposes to maintain a fair and high-quality lending industry in South Africa through the enforcement of the NCA. Other roles of NCR include:
Research
Advise government on relevant legislation and policy
Education
NCR complaints investigation
Policy development, and
Registration of industrial participants
NCR heads all professional elements relating to debts in close adherence to established standards in the industry. It is for this reason that the National Credit Regulator has published all registered credit service providers on their online portal.
Publication of South African recognized NCR debt counselors is crucial in validating whether an institution or individual is registered before accepting their services. Recent changes in lender related laws require all providers to seek certification from NCR. However, this does not imply that all businesses and individuals lending money must register themselves as lending providers. Registration is exclusively open for those lenders that satisfy minimum NCR requirements.
Unfair market practices prohibited by NCR
NCR upholds non-discriminatory and fair access to the market place for all citizens. The body prohibits unfair lending and marketing practices which undermine proper credit practices through the following ways:
Upholds black economic ownership and empowerment particularly in the credit industry
Limits unfair lending practices within the economy
Promotes credit granting responsibility to manage reckless grants
Reorganizes debt in cases of over-indebtedness
Regulates information relating to credit
Registrations of credit providers, sustaining the national lending culture, governing debt counselling services, and registration of credit bureau
NCR online registration requirements for businesses
Businesses running in South Africa can register with NCR as credit providers on the following criteria.
NCA is opposed to the registration of lending providers whose transactions relate to the incidental credit agreement. Businesses should, therefore, conduct preliminary checks to verify that they satisfy Section 40(1) (a) of the National Credit Act. To be registered, the following documents should be presented:
Completely filled and signed application form.
Companies and Intellectual Property Commission (CIPC) registration document or other official legal registration document.
Certified copies of ID/Passports of all members/directors/shareholders/trustees/partners/sole proprietors.
Resolution if applicant is a juristic person
A Police Clearance Certificate, less than 6 months old, for all members, trustees, partners, directors, shareholders, or sole proprietors issued by the South African Police Services (SAPS) or other service providers listed.
Proof of payment of the registration fees which include a Nnon-refundable application fee of R550, branch fee of R250 per location or premises at or from which the applicant conducts registered activities, and the initial registration fee for each sub-category of registrant.
If a company, you require copy of the share certificate(s). In the event that the shareholder is a natural person, the following documents should be prepared:
Certified copy of the identity document
Police clearance certificate not older than half a year
Part 7 i.e. disqualification of natural person form
Registration of NCR debt counsellors
NCA provides for the registration of compliant debt counselors having satisfied NCR training requirements. A debt counselor holds the duty of evaluating financial circumstances on behalf of consumers before serving the courts with recommendations about debt restructuring. They also reserve the mandate of suspending any form of reckless credit agreement, and to be registered, one must meet the specific requirements.
Online debt help
How can I get out of debt review? How do I get NCR certificate? For further information concerning debt help, proceed NCR website and login to access the Debt Help System. Here are further NCR contact details.
NCRdebthelp contacts
Address: Number 127, 15thRoad, Randjespark Midrand
CEO: Ms. Nomsa Motshegare
Phone 1: 0860 627 627 (call centre)
Phone 2: +27 (11) 554 2700 (switchboard)
E-mail: complaints@ncr.org.za
Fax: +27(11)805 4905
Box no: P.O. Box 209, Halfway House 1685
Website: www.ncr.org.za
READ ALSO: 5 best debt collectors agencies in South Africa 2019
NCR debt help manual 2019 is crucial in South Africa for both credit providers and debt collectors. Start your inquiries today to initiate a solution for any of your debt issue.
READ ALSO: