The past twenty-four hours have been somber and gray for most celebrities and fans of Nipsey Hussle. This is after reports of his murder emerged on the news. An unknown shooter murdered him on Sunday, 31st March 2019, at around 3.25 pm.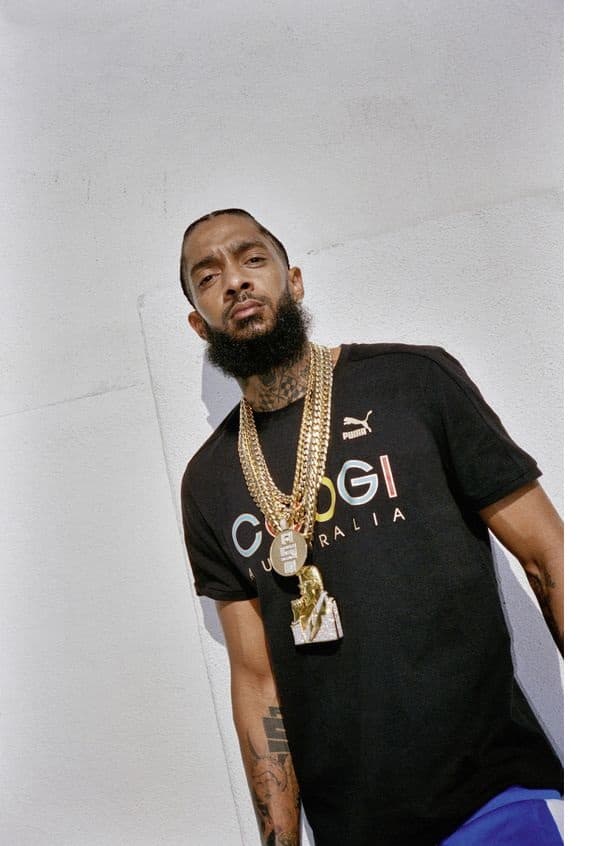 On Sunday, 31st March 2019, all media stations in Los Angeles featured a murder that no one expected. The heroic and celebrated Nipsey Hussle succumbed to gunshots after he and two of his friends were shot at in front of a clothes store than Nipsey owned. This murder has left everyone in awe, as the deceased was an activist who firmly condemned gang violence in his hometown.
Nipsey Hussle death
The past few hours have been full if tension after reports hit the social media concerning Nipsey Hussle's death. Nipsey Hussle's death comes a few days after the recently held Grammy Awards, where he was nominated for the best rapper award. According to the reports, the Los Angeles rapper met his untimely death after he was shot while at his clothing store.
The events of Nipsey Hussle's death occurred a few hours prior to a significant and life-changing move that the celebrated artist had chosen to make. According to the reports, Nipsey was supposed to have had a meeting with the Los Angeles chief of police and the Los Angeles Board of Police Commissioners. The agenda of the meeting had nothing to do with his career. Neither was he going to meet a fellow musician. He intended to discuss matters relating to gang violence.
READ ALSO: US rapper, Nipsey Hussle, murdered in front of own clothing store
The President of the City's police commission, Steve Soboroff, released a report that had essential details concerning the matter. In the report, he mentioned that before Nipsey Hussle's death, they had arranged for a meeting. The agenda of the meeting was to discuss gang violence. "Hussle wanted to talk about ways he could help stop gang violence and help us help kids," he stated. He also went ahead to mention that the deceased had openly admitted to having had a history with Rollin 60s, one of the most dangerous 'Crip Gangs' of all times.
"There was a shooting, which occurred on Sunday at about 3.25 pm, outside Marathon Clothing, Nipsey's store. There were two other casualties. The police responded immediately after receiving a shooting call. On arrival at the crime scene, they found out that three people had been shot. The conditions of the casualties were not that encouraging although the police hope for the best."
According to a report that Lt. Chris Ramirez gave during the news conference, one of the three people that were shot down had succumbed to the gunshot injuries. He, however, did not reveal the identity of the deceased during the conference. It was later on revealed that the deceased was Nipsey. He then went on to state that the authorities had already started a homicide investigation into the incident. He also added by saying that the investigation would be 'lengthy.'
Nipsey Hussle's biography
Nipsey Hussle's biography is digitally available, according to some of the interviews that he did, among them VladTV interview that he did in 2014. He was born on August 15th, 1985. His official name is Ermias Asghedom.He grew up in Crenshaw. During the interview, Nipsey described his childhood days as scary. As a young boy, he would ride his bike through the hood and get shot at. He witnessed his homies and allies, who were his age, gunned down. In his own words, he admitted to growing up in gang culture.
In another interview that he did with Los Angeles Times in 2018, he stated, "We dealt with death, with murder. It was like living in a war zone, where people die on these blocks, and everybody is a little bit immune to it. I guess they call it post-traumatic stress when you have people that have been at war for such a long time. I think L.A. suffers from that because it's not normal yet we embrace it like it is after a while."
Hussle left home at the age of fourteen. He went to the streets. He was barely sixteen when he dropped out of school. This was after it was alleged that Hussle had stolen computers. In the streets, Hussle had to fend for himself. That is how he ended up becoming a part of the most feared gang, the 'Rollin 60s'.
Nipsey Hussle's race?
Most people have been curious about Nipsey Hussle's race. The thirty- three year old icon is African American.
Is Snoop Dogg and Nipsey Hussle related?
Even though he was part of a not so good company, Hussle kept his eyes on music. He loved listening to Snoop Dogg's music. He would freestyle to his songs. That is where he drew inspiration from. Even though the two artists are not related, Snoop Dogg wholeheartedly supported Hussle's music.
Nipsey grew from freestyling to Snoop Dogg's music to dropping his mixtapes. His marketing strategy drew so much attention to him; he would release his songs on free digital downloads. On the other hand, he would release minimal physical copies of his tracks.
This attracted the attention of Jay Z, a hip-hop mogul, who bought one hundred copies of the records that Nipsey had done in 2013. Each of these copies went for one hundred US dollars.
Nipsey Hussle wife
Lauren London is Nipsey Hussle's wife. The two started dating in 2013.
Lauren is an actor and a model.
Lauren and Nipsey have a son together. Their son's name is Kross Asghedom. She also had another kid from a previous relationship with Lil Wayne. The name of the kid is Cameron Carter.
Nipsey also has another kid from a previous relationship. Nipsey Hussle kids were his inspiration.
Nipsey Hussle 2018
Nipsey Hussle acknowledged the fact that he grew up in a not so safe environment. He, therefore, took it as a personal initiative to improve the lives of the residents of South Los Angeles. His point of focus were young people. He actively involved himself in community projects like rebuilding a basketball court for an elementary school. One of the Nipsey Hussle 2018 breaks was when he established the Vector90 in his hometown. Vector90 was meant to be a bridge between Silicon Valley and the inner city. He also participated in the Destination Crenshaw event.
Nipsey Hussle's album
Before he met his fatal death, Nipsey had released his first album. The title of the album is Victory Lap. It was his only studio album. This was a debut album as it earned him a nomination in the Grammys 2019 Awards, on the Best Rap Album category. This album was a combination of his work and other artists such as Kendrick Lamar, Puff Daddy, Marsha Ambrosius, The Dream, TeeFlii, J Black, Buddy, YG and Stacy Barthe. The album had fourteen songs in total. These are some of the Nipsey Hussle's song in the debut album;
1. Nipsey Hussle - Victory Lap Feat. Stacy Barthe
This one of the songs that Nipsey worked on in December 2018. His fans received the hit well. It garnered close to two million views on YouTube.
2. Nipsey Hussle - Grinding All My Life / Stucc In The Grind
Grinding all my life is another rap song that Hussle sang. The song earned him more than three million views on YouTube.
3. Blue Laces 2 - Nipsey Hussle
Blue Laces 2 was another one of Nipsey Hussle's songs. He released this song in February 2018. So far, the song has close to six million views on YouTube.
4. Rap Niggas
Rap Niggas is also Nipsey Hussle's work. In this song, he affirms that he is not like other rap artists. He also mentions the increasing murders in society. Rap niggas has accumulated more than eighteen million views on YouTube.
5. Nipsey Hussle feat. YG Last Time That I Checc'd
Last Time That I Checc'd is another work that Nipsey and YG did justice to. In this rap song, they rap about how hard they have had to work to get to where they are. This hit has more than nineteen million views on YouTube.
Social media reactions to Nipsey Hussle's death
Ever since the reports on Nipsey Hussle's death were made public, celebrities and fans have openly come out to commiserate with his family.
Among the stars are; Snoop Dogg, Rihanna, Drake, and Lebron James, to mention a few. They all penned down touching messages.
They all praised Nipsey for his commitment towards his career. They also condemned the murder.
It is quite a pity that Nipsey Hussle had to lose his life through the bullet and yet he stood firmly against it. What is more saddening is the fact that he had better plans for his hometown, concerning gang violence. His contribution to hip-hop music and the society that he selflessly served will greatly miss him.
READ ALSO: