- Vusi Masinga and Sebenzisa Ndlazi are both wheelchair-bound volunteers in an outreach program aiding wheelchair users
- The program is headed up by Maryke Bezuidenhout, who is the physiotherapist, manager and clinical supervisor at Manguzi Hospital
- The area is extremely challenging to navigate by use of wheelchair so the organisation has initiated a crowdfunding project to acquire a quad-bike in efforts to assist those in need
PAY ATTENTION: Click "See First" under the "Following" tab to see Briefly.co.za News on your News Feed!
Vusi Masinga (43) and Sebenzisa Ndlazi (53) are the driving force behind an inspirational peer-to-peer outreach program based in Manguzi, KwaZulu-Natal.
Both men are wheelchair bound, but that hasn't stopped them from volunteering to assist other wheelchair users in need.
In fact, they play a pivotal role in the success of the program as other wheelchair users find it much easier to relate with the 2 men.
READ ALSO: Mzansi remembers Mama Winnie on the 1 year anniversary of her death
The program is headed up by physiotherapist, manager and clinical supervisor at Manguzi Hospital, Maryke Bezuidenhout.
The 39-year-old's objective is to utilise the experience of community members living with spinal cord injuries and to use it as a powerful tool to assist others with similar disabilities.
READ ALSO: South Africans react to cop busting thugs with 60 stolen TV sets
Masinga and Ndlazi serve as prime examples of what can be achieved despite the natural challenges that exist.
Masinga was tragically disabled following an accident involving a taxi.
To add salt to the wound, his wife was unable to cope with the added demands and deserted him.
He had to overcome injuries, rehabilitation and major depression on the road to rebuilding himself.
Today, Masinga is raising his two sons, provides peer support and generates an income by repairing wheelchairs and growing gum trees.
PAY ATTENTION: 15 Memorable Photos From The Amazing Baby Shower Of Meghan Markle
Ndlazi lost the ability to work after a mine blast years ago.
Ironically, his wife became paraplegic nearly eight years later.
Bezuidenhout says, "Sebenzisa is very independent when it comes to fulfilling his role as a father and a husband. He herds his own cattle herd in a wheelchair, has put up the fence for a kraal himself, is supervising the building of an extension on his house, keeps a large flock of chickens and a herd of goats for additional income. All this he does in a very hospitable environment in a homestead that is a considerable distance from any support or basic amenities."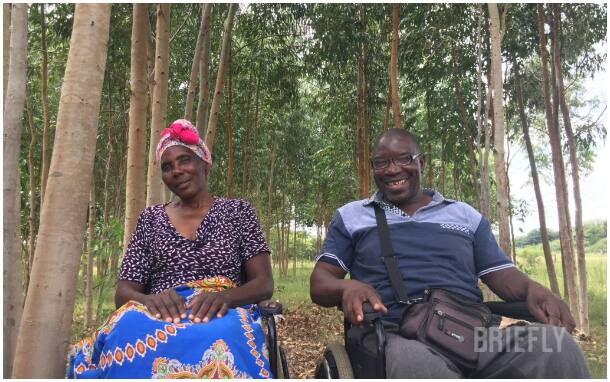 Bezuidenhout feels the personal touch is the key to the initiative and emphasises the visits of the volunteers to those in need.
Another challenge is that the area is the 8th most socio-economically deprived district in South Africa and is largely inaccessible via wheelchair.
Masinga and Ndlazi proposed a solution to Bezuidenhout that the program purchase a quadbike to enable them to navigate through the rough terrain.
Using the popular crowdfunding platform, BackaBuddy, the "Mobilize Manguzi" project was born.
The two men have already saved up R10 000 each towards the initiative and hope to raise the required total of R70 000.
Since going live on 14 March 2019, the project has raised R12 488.64.
In the event of over-funding, the program will use the funds to acquire quad-bikes to assist the other volunteers, such as Margaret Masinga, Moses Mthembu, Petros Thwala, Sipho Ntuli and Zilungile Zulu.
Bezuidenhout added, "I hope the public will continue supporting our outstanding volunteers through our BackaBuddy campaign!"
You can help Mobilize Manguzi by making a donation on BackaBuddy: https://www.backabuddy.co.za/mobilize-manguzi or visit the BackaBuddy.co.za homepage to make a donation.
PAY ATTENTION: Do you want to know what's trending on Briefly.co.za? Join our WhatsApp group today.
Enjoyed reading our story? Download BRIEFLY's news app on Google Play now and stay up-to-date with major South African news!