On the 27th of January, 2015, a bizarre story hit the airwaves. A wealthy family was gruesomely attacked at their home on their De Zalze Golf Estate in Stellenbosch, South Africa, and three family members were dead while two had sustained serious injuries. The family was the Van Bredas; Martin, 54, his wife Teresa, 55, and their 22-year-old son, Rudi, were found dead. Marli, their 16-year-old daughter, was severely injured while their 20-year-old son Henri van Breda had sustained minor injuries.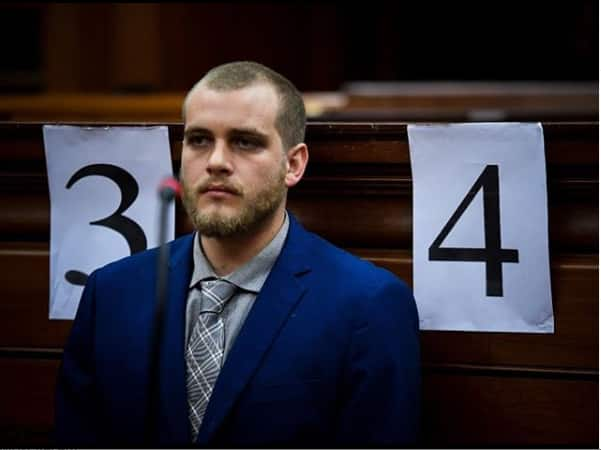 The Van Bredas had relocated to South Africa from Australia the previous year primarily due to Martin's business interests. Now, the only survivors of the attack, Henri and Marli, had to carry on the legacy and seek justice for the crime committed against the family.
READ ALSO: Horrifying reasons why Christopher Panayiotou killed his wife Jayde Panayiotou
The Van Bredas murder case
Henri van Breda, aged 20 years, contacted the paramedics. Naturally, since he suffered the least injuries, Henri had to give a testimony to the authorities. He told the police the attacker was well built and black and was wearing gloves a balaclava.
"My... my family and me were attacked... by a guy with an axe," – part of Henri van Breda's phone call to emergency services. Here is Henri van Breda's recorded phone call to emergency services
Moreover, the 20-year-old claimed that he had wrestled the intruder in a court statement adding that the intruder then stubbed him. After 18 months of investigation, the police had only one suspect, Henri van Breda. Shocking, right? On the 13th of June 2016, Henri handed himself to the police on the advice of his lawyer before he could be arrested.
Henri van Breda trial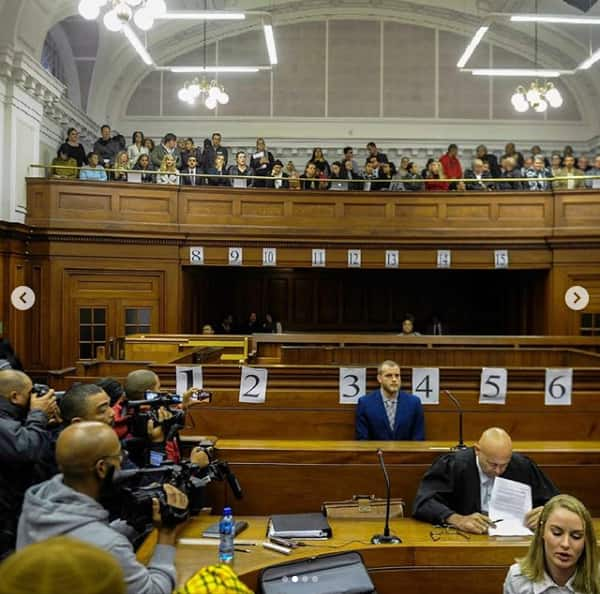 Henri van Breda appeared in the Stellenbosch Magistrates' Court facing three murder charges, one attempted murder charge, and a defeating the ends of justice charge. Henri's bail was R100,000. In September 2016, Henri van Breda and Danielle Janse Van Rensburg, his girlfriend, got arrested for possession of cannabis in Cape Town, and they got out on a bail and the case postponed.
On April 4th, 2017, the Henri van Breda murder trial officially began. He maintained his innocence throughout the trial. The court established no conclusive motive with speculation relating to Henri's purported drug problem and financial gain. Allegedly, the surviving Van Breda son was a drug addict, and his parents had threatened to cut off his allowance if he did not change his habits. Furthermore, there was no evidence of psychopathy or anti-social behavior.
Investigations also established that there were no signs of forced entry and Henri could not explain why. The trial's security experts said that no one could have broken into the Van Breda's home, not even Houdini. The De Zalze Golf Estate was a "medium-security" gated community. The estate is one of the safest places to live in South Africa; it features a security system with motion detectors, 24-hour guard patrol, an alarm-system, access-controlled gates, and an electric fence. Despite the high crime rates in South Africa, the chances of an intruder, in this case, were close to none.
Also, there was an inconsistency; the court found it unsettling that Henri van Breda took too long before contacting emergency services. Court papers also revealed that Henri called his girlfriend at 4:42 am a couple of times, but they went unanswered. He then browsed the internet for local emergency numbers, and then called for help approximately three hours later, which led to the speculation that Henri wanted his family to bleed to death. The court also claimed that most of Henri's injuries had been self-inflicted. Henri's testimony was sketchy; the court wondered why a robber would ignore valuable items and instead embark on a killing spree.
Henri van Breda verdict
On the 21st of May, 2018, Judge Siraj Desai found Henri van Breda guilty on all charges. Henri was taken into custody immediately.
Henri van Breda sentence
Henri van Breda murder sentence proceedings began on the 5th of June 2018. On the 7th of June, 2018, Henri was sentenced to three life terms, 12 months for obstruction of justice and 15 years imprisonment for attempted murder by Judge Siraj Desai. So, how long is a life sentence?
Life sentence in South Africa last for the rest of the offender's life. However, the offender may get parole after serving the minimum sentence depending on the severity of the crime and whether the sentence allows for parole. The minimum sentence for murder is 25 years. In this case, 25 x 3 is 75 years plus 15 years its 90 years plus one year you get 91 years. If not given a parole, Henri van Breda may die in prison.
Henri van Breda sister
Henri van Breda sister Marli survived the attack but unfortunately had retrograde amnesia. Marli refused to give a victim impact statement citing privacy concerns. Marli van Breda survival was dubbed a miracle by many.
Henri van Breda girlfriend
Danielle Janse van Rensburg, Henri's girlfriend, appeared on 60 Minutes Australia where she defended Henri. She claimed Henri was innocent and that there was no clear evidence of his guilt. Further, Mrs Janse van Rensburg claimed that he was a loving and caring person.
Danielle stood by Henri throughout his trial silently. Also, she expressed confidence in Henri van Breda appeal hearing in the interview. But in November 2018, the Supreme Court of Appeal in Bloemfontein dismissed Henri van Breda's leave for appeal application.
READ ALSO: Who is Walter Meyer wife? Her name, age and story
Henri van Breda's case is one of the weirdest murder cases to hit the South African justice system. It is hard to tell if Henri did it conclusively. We can only pray Marli recovers her memory and clears the doubts we may all be having because this Henri van Breda sister testimony will give us clear details of exactly what happened. As for now, let us hope justice prevailed.
READ ALSO: