Social media was caught by surprise when the main page and headlines of yesterday's issue of the H-Metro newspaper had news on Elliot Moyo's death. The picture the media station reporting the story used on that front page made the report more unbelievable. It was the picture of Elliot Moyo during the resurrection saga, about two months ago.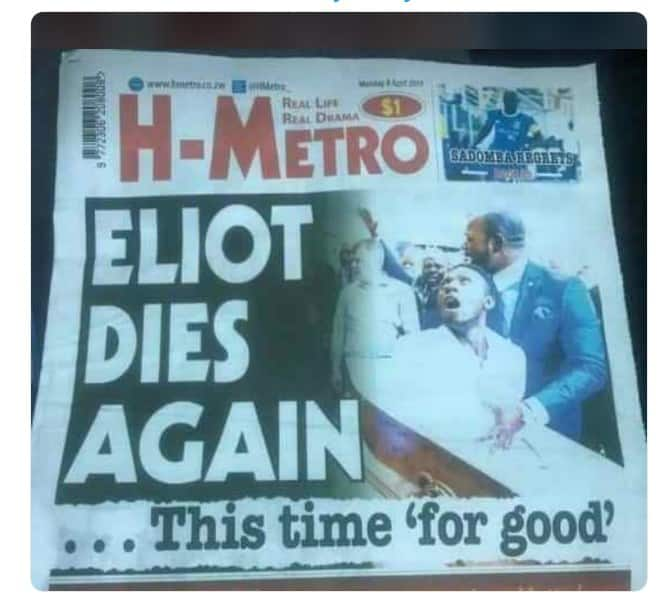 Most people find it difficult to believe that Elliot Moyo is dead. That is because Elliot Moyo took part in what was later termed as a 'staged miracle.' The whole miracle incident left everyone talking of him, and pastor Alph Lukau. Social media referred to him as 'Lazarus.' The claims about his 'second death' are difficult to approve, in as much as they have been made public.
Why is Elliot Moyo famous?
Elliot Brighton Moyo's name surfaced in nearly all media stations and social media platforms in February. This after a video of the controversial South African preacher resurrecting a 'dead' man went viral. The identity of the man alleged to have been raised from the dead is Elliot Brighton Moyo. In the video, Pastor Alph Lukau, of Alleluia Ministries International Church was recorded speaking life into a man who was in a coffin.
READ ALSO: Someone call Lukau: 'Resurrected' Elliot reportedly dies - again!
In the video that went viral, a woman came up to Pastor Lukau in the middle of what looked like a church service. She informed him of a family that had been bereaved and was taking the corpse of their loved one to Zimbabwe for burial. Pastor Lukau asked that the hearse be stopped and the coffin removed. Elliot Moyo was in the coffin, dressed in white.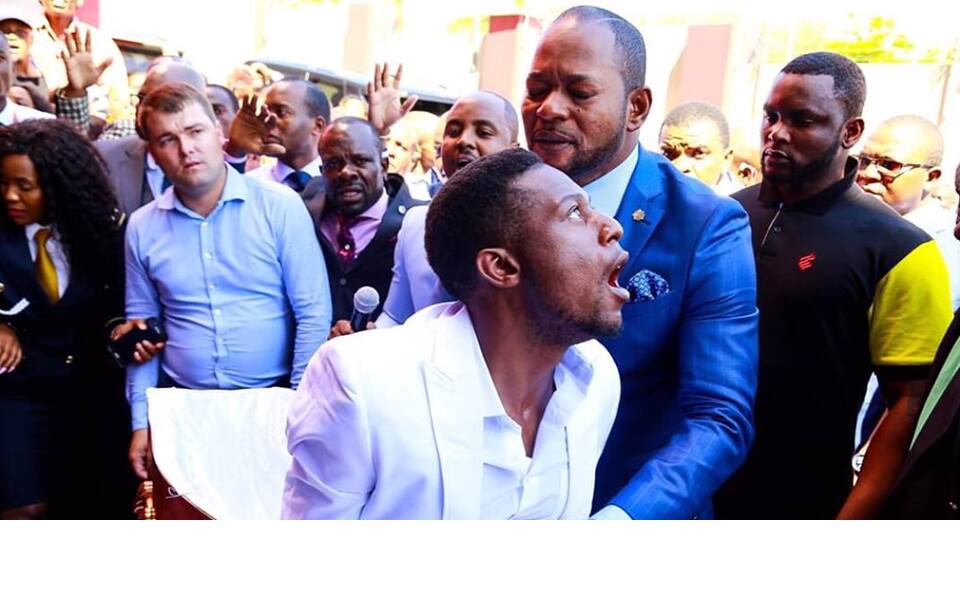 Pastor Lukau asked his family to step forward and identify themselves. The brother and landlady of the deceased came forward. The landlady explained that the 'deceased' had gotten ill, and when he was taken to the hospital, but could not be served. She stated that the doctors were reluctant because he did not have papers. She went further to explain how Elliot had succumbed to the illness and that his body had been taken to the morgue. Pastor Alph Lukau called out on Elliot's name, and Elliot got up. The whole church was mesmerized at Elliot Moyo's resurrection.
The whole 'Elliot Moyo resurrection' story was not received so well on social media. Most people trolled Pastor Alph Lukau for allegedly performing miracles. Things got more heated up when the management of Black Phoenix Funeral Parlor distanced themselves from the claims that they had attended to Elliots's dead body. Funeral service companies, among them, the Black Phoenix Funeral Parlour, threatened to take legal action against Pastor Alph Lukau for manipulation and ruining their reputation. In pastor Lukau's defense, the church said that the man who had allegedly been resurrected, was brought to church alive and that Pastor Lukau completed a miracle that God had already started. This is the incident that made Elliot Moyo famous.
Elliot Moyo's death
The past day has been full of mixed reactions on social media. This is after news on Elliot Moyo's death came up. News of his death was headlined on yesterday's issue of H-Metro magazine. Apart from H-Metro, other Zimbabwean news stations also made the same claims. According to an interview that H-Metro did, one of Elliot's relatives came clear to state that Elliot Moyo had died after his stomach had swelled continuously for three days. The relative said that Elliot had died and was buried on Saturday.
Social media reacts to Elliot Moyo's death
Here is one more post.
Even though the news of Elliot Moyo's death became public on a publication by H-Metro, the posts on social media are evidence that not everyone believes it.
These are some of the posts on the same.
The saga that occurred where pastor Alph Lukau allegedly resurrected Elliot Moyo has made most people on social media lose faith in both the pastor and in Elliot Moyo. In as much as news of his death has been published on yesterday's issue of H-Metro magazine, it is difficult to confirm those claims.
READ ALSO: