Obstacles may come our way, but they are a way to prove our strength, not beat us down. That's the lesson we can take from Andile Mkandla, the high-school drop-out that graduated from Stellenbosch University.
PAY ATTENTION: Click "See First" under the "Following" tab to see Briefly.co.za News on your News Feed!
25-year-old Andile Mkandla's smile is bright and infectious - one look at his happy face and it's clear this young man knows the taste of success.
Andile is a high-school drop-out who, against the odds, became the BSc Earth Science graduate with a brilliant future ahead of him.
It wasn't easy - there were many times Andile could have given up - but the young man clung to his dreams and persevered.
Today, he serves as a shining example to all youngsters - giving up reaps no rewards.
PAY ATTENTION: Do you want to know what's trending on Briefly.co.za? Join our WhatsApp group today.
Andile dropped out of school in Grade 10; he had to help his mother and 4 siblings with their financial situation.
He started working as a gardener, at The Strand community scrap yard and at construction companies.
One fateful day, Andile was working in a garden, when his boss called him over to talk over lunch.
I picked a flower from his garden and started talking to him about pollination as well as everything I had learnt in school about flowers and plants.
His boss told him that it's never too late to return to school, and a fire was lighted inside Andile.
He started saving money for a school uniform and fees.
READ ALSO: Mzansi gives massive respect to woman buying her first-ever car
Andile's road to personal achievement started when he returned to school to become a top achiever and won R700 for his hard work at Rusthof Secondary School. With this, he paid his Grade 12 fees.
The young man had to keep working at the scrapyard to help his mom provide for the family.
His teachers played a big role in the young man he turned out to be.
The situation at home was bad and our shack was too small for all of us, but my teacher was kind enough to take me in for the duration of my Grade 12 examination and we became family.
READ ALSO: The Amazing Cast Of Game Of Thrones In Then And Now (PHOTOS)
At the university, Andile experienced many wonderful things. He worked in research, did motivational talks and even became a mentor.
In 2017, Andile was part of an excursion to Antarctica.
His first year was his toughest, and he decided to help out other first-year students by mentoring them and collecting books from former students to hand over to those who can't afford it.
Andile has gone from a sad statistic to an inspiration for the youth of South Africa.
He will now pursue his MSc in Earth Science and continue to instil awe in those around him with his 'never-die' attitude.
You can read more about this young man at Stellenbosch's site.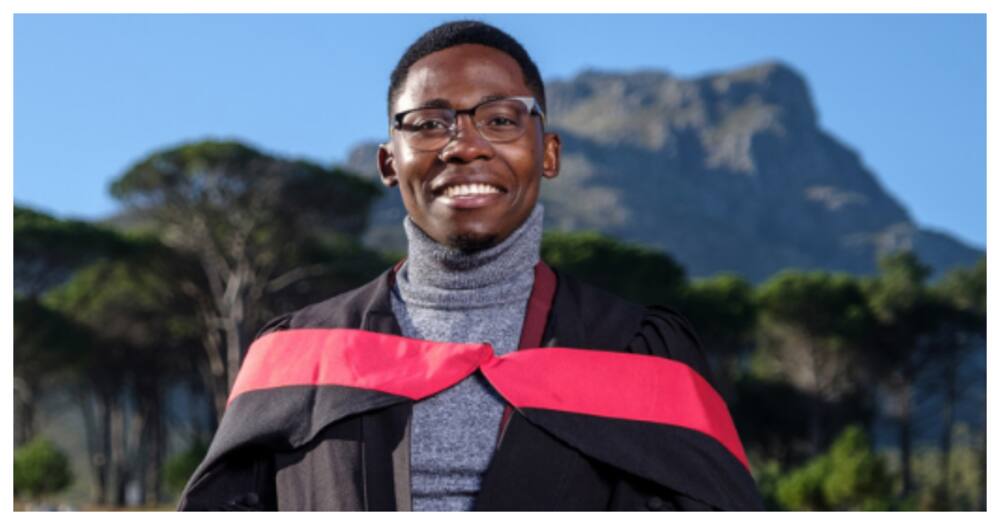 Enjoyed reading our story? Download BRIEFLY's news app on Google Play now and stay up-to-date with major South African news!