How does an NPO and an NPC differ? Non-Profit Organizations (NPOs) and Non-Profit Companies (NPCs) are two distinct entities in South Africa. While the two share some similarities, their differences remain imminent. What is the difference between NPC and NPO? Noteworthy is that NPOs and NPC are two legal entities which are different in their registration and compliance requirements, and here is a detailed discussion.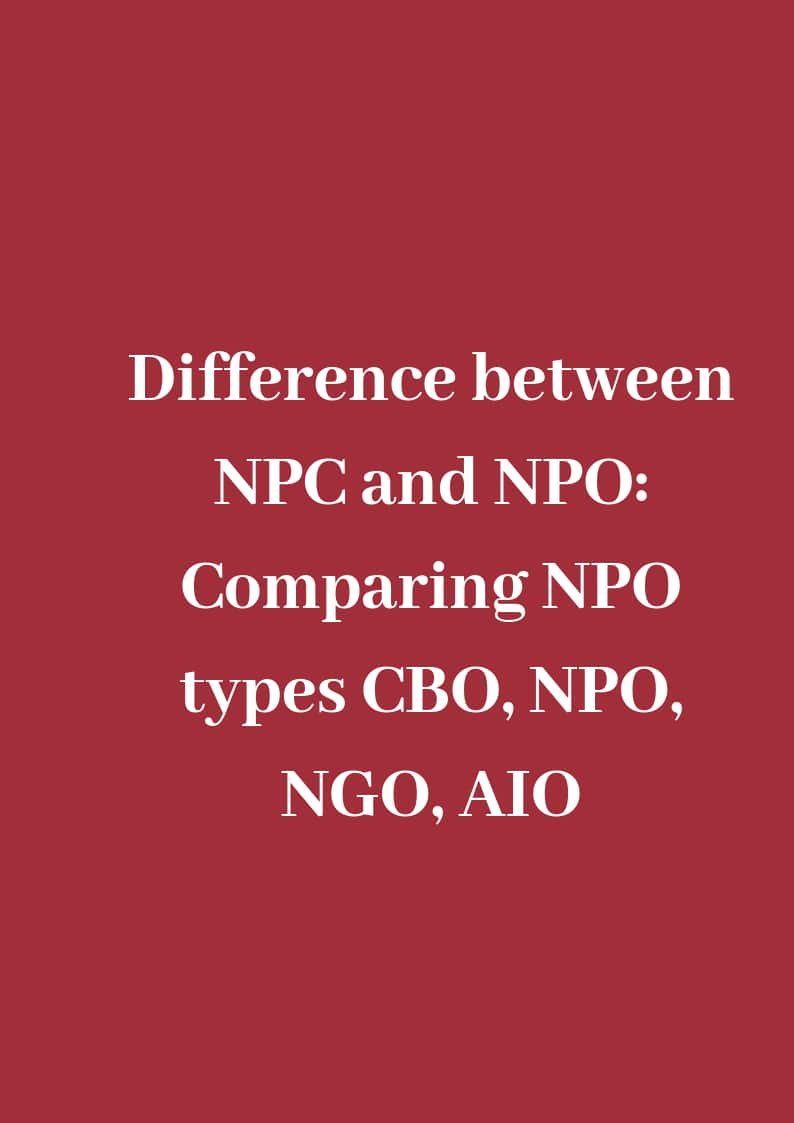 A closer look at NPC and NPO confirms that the two prevalent charity vehicles hold uniquely similar characteristics with their counterparts including Public Benefit Organization (PBO) and Trusts. When assessing the differences between NPO and PBO, you will discover that the two are highly interlinked with NPC regardless of underlying differences within their scopes of operations. NPO, NPC, Trusts, and PBO registration occur under different departments and bodies of the government, rendering them independent in their functions. For instance, Trusts registers with Master of the High Court, NPC registers with Companies and Intellectual Property Commission, while NPO registers with the Department of Social Development. Let us now discuss the difference between NPC and NPO as well as variations among common NPO types.
READ ALSO: List of all private investors for small business in South Africa 2019
NPC Vs NPO South Africa
What is a NPC in South Africa? What is NPO South Africa? These two are fundamentals in understanding the South African charity landscape. Here are primary characteristics to help in drawing a line between them.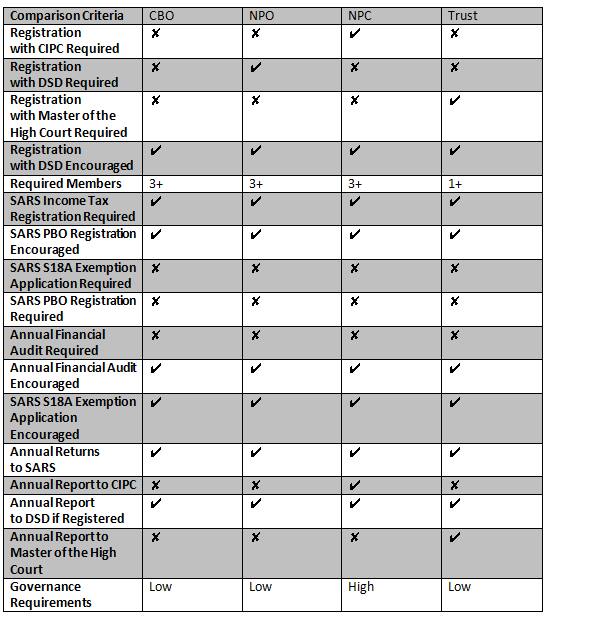 Non Profit Organisations in South Africa
How do I register an NPO? Most Non-Profit Organizations (NPOs) in the country fall under the category of Voluntary Association South Africa. Non-profit company without members must have at least three directors. Provided is a comparison of different types of NPO among them CBO, NPO, NGO, and AIO.
1. Community-Based Organizations (CBOs)
CBO operates on fundamental Asset Based Community Development South Africa (ABCD) principles, mainly those of Community Driven Development. The community establishes its objectives without interference from external experts unless when exclusively needed. CBO's often follow simple structures, but some of them adopt legal structures with registration as a non-profit company, voluntary association, or even trust when compelled by external agencies. For-profit legal structures are openly available where a CBO wants to follow a specific social Enterprise. Faith-based CBOs are alternatively called Faith Based Organizations (FBO).
2. Non-Profit Organizations (NPOS or NPCs)
The difference between NPO and CBO lies in solution development. Unlike in CBO, NPO does not necessarily derive its solutions to problems from immediate community members. The governing structure responsively set the aims of the organization in consideration of a perceived public problem. The development of these objectives does not necessarily require intensive consultations with the community. Different types of NPO have unique compliance requirements.
3. Non-Governmental Organizations (NGOs)
What is the difference between NGO and NPO? The main difference between NPO and NGO in South Africa lies in their objectives. In most cases, NGOs align their aims on international platforms as opposed to local or regional setups. While these objectives may overlap at times, it is in rare instances that NGOs focus their operations in specific communities at a smaller scale. NGOs are also structurally different and more traditional compared to NPOs. Their programmes and projects stretch across vast geographical divides. Some NGOs provide funds to NPOs to enable them to implement appropriate plans. NGO operates on a larger capacity, making their operations highly accessible to CBOs, IAOs, and CBOs among others. South Africans often use the terms NGO and NPO interchangeably on the assumption that they are all non-governmental.
4. International Aid Organizations (IAOs)
IAOs are unique for their scope of operation which stretches to the global level. Some of these Organizations are government controlled, and they exclusively run on interstate objectives. Examples of common governmental IAOs include GIZ, SIDA, and USAID. Private examples, on the other hand, include the Michael & Susan Dell Foundation, Aga Khan Development Network. Greenpeace, and Rockefeller Foundation.
While some IAOs have particular goals, others run on a broad spectrum of objectives. Huge budgetary is another critical difference that favors their collaboration with NGOs as opposed to NPOs and CBOs. Most IAOs do not liaise with small scale Organizations for their lack of capacity to efficiently implement mega projects and other high-value programmes.
Foundations are a critical part of the charity system in the world, making them beneficial in different aspects of human life. In most cases, wealthy people establish foundations with specific objectives and their funding. The South African government permits the registration of foundations with minimal legal entity, thereby opening room for opening multiple objects as long as involved parties are actively collecting and distributing funds.
How to register a foundation in South Africa
Before initiating a foundation registration process, it is essential to comprehend the roles and functions of a foundation. As such, it is critical to clarify the reasons why you want to set up a foundation. Identify your interests and provide guidelines on funding to make your foundation operational in the chosen niche.
READ ALSO: 5 best small business funding resources in South Africa 2019
The difference between NPC and NPO remains insignificant. In general, Non-profit Organizations and companies are crucial in providing essential services at the community level. IAOs are private or government institutions that fund NGOs. These non-governmental organizations in turn fund NPOs and other types of nonprofit entities to accomplish particular objectives. The two mainly target vulnerable communities and impending societal needs that require urgent remedies.
READ ALSO: