Scoop Makhathini bae cheating scandal has been the talk on Twitter and is among the most trending stories. This scandal happens after what Scoop claims as a hack in his Twitter account ruins his image. His Twitter account was filled with posts that came with bitter messages of his girlfriend cheating on him.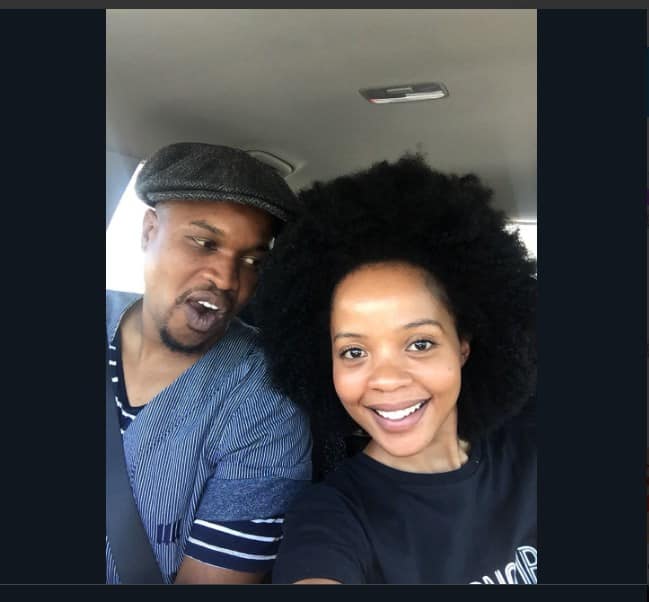 Social media has had something to talk about for the past few hours. This is after Scoop Makhathini's account was filled with bitter messages of his 'wife-to-be' cheating on him. In the messages, Scoop's girlfriend appeared to have gone out clubbing with her guy best friend. Scoop posted a picture of the two, and the caption insinuated that she had cheated on him.
Scoop Makhathini scandal
Siyabonga Ngwekazi, popularly known as Scoop Makhathini is not a new name in South Africa. He is a radio presenter and an active member of social media. He, however, is the type that chooses to keep his matters at arm's length. His relationship was a mystery for quite a while until he referred to Scoop Makhathini's girlfriend as 'wife to be'. The name of Scoop Makhathini girlfriend's name is Akhona Carpede.
Referring to his girlfriend as 'wife-to-be' confirmed everyone's speculations. Social media was up to ask whether the two were already engaged when Scoop posted that update. To reveal his girlfriend's identity, he tagged her on that post. This post was not an ordinary one since he is not the type of guy that posts his stuff on social media.
READ ALSO: Mpho Sibeko feels there's nothing Hollywood does that Mzansi can't
Love has gone sour
Tuesday night was no ordinary night, especially for those who are active on Twitter. It looks like Scoop Makhathini had an emotional meltdown that went bad on him. He posted about his girlfriend cheating on him with her male best friend. His bitter captions could explain the anger and pain that he was going through. The flow of events after that seem to be more interesting.
The events that follow what seemed to be a dramatic night are what is making this issue juicier. First, it started by Scoop Makhathini posting about his 'wife-to-be' cheating on him. Most of the people on twitter made fun out of it. He later came up a few hours ago, claiming that someone had hacked his account. The reaction from his recent post about his account being hacked is even funnier. However, some people have stood by him to affirm that indeed, his account was hacked. Among these people is Casper Nyovest.
Trouble in paradise
If you are unsure about the flow of events that happened in the Scoop Makhathini saga, then do not feel left out, this is how the series of events went down. It started by a post of his girlfriend in his twitter account. Most people expected that it was one of the posts where he would express his love for the woman that he intended to marry. To their uttermost surprise, it was not. The caption in that picture insinuated that something was up.
The caption of the picture read, "You have hurt me so much," as if that was not enough, he added another picture of his girlfriend, and this time around, the caption read, "Why Akhona? Why? When I gave you nothing but love!!!" In the third picture, the caption read, "You have turned out to be the worst human I've ever met!!! I loathe you! and to think I almost paid lobola *spits* @missacalaca you are trash,"
The caption on the third photo got Twitter users more curious about their relationship. From the posts, we could deduce that Scoop Makhathini's girlfriend had gone out to a club with a male friend, who is her best friend.
Social media slams him
His posts did not make his situation better. Some of the twitter users sympathised with him. Others, on the other hand, trolled him for airing his issues in public. Some even went to the point of taking sides with his girlfriend.
A hacked Twitter account
The backlash went on for quite some time. He later caused another mixed reaction when he went to announce that his account had been hacked and that he was not responsible for what went down yesterday. His post read, "Hi guys thanks for the concern. Someone is using my account details and hacked into my account. It's my birthday today, and this is unnecessary and not true,"
Casper Nyovest came up to defend him. He shared a picture of the post that Scoop had posted earlier about his account being hacked and made affirmations of the same. His caption read, "Y'all know celebrities have been getting hacked lately. Unfortunately, Scoop's account has been hacked. The hacker is just causing shit. Posting lies and deleting his tweets. PLEASE RT," Casper Nyovest also happens to be a victim of a hacked social media account.
That post about Scoop Makhathini's Twitter account being hacked has not made the matter any easier. It has stirred more slams from social media. One of the Twitter users posted how unsatisfied she was by about Scoop's explanation. She said that she could not understand the coincidence of Scoop's girlfriend being seen in a club and Scoop's account being hacked.
Acalaca responds
A few hours ago, Scoop Makhathini's girlfriend Acalaca responded to the matter after the trolls had gotten out of hand. In a Twitter post, she stated, ""Be still Madlomo. No clap back or retort to your detractors is worth it. Be content to play the game that is being a strong, independent black women. Those that love me, I love you. Those that loathe me, I love you too,"
Whether the claims of his account being hacked are real or whether Scoop Makhathini wanted a floor to vent out his emotions, he is the only person who can judge. Maybe Akhona's comments on this issue will make us have a stand on what to believe.
READ ALSO: