Former South African head of state, FW de Klerk, threw shade at Msholozi in an interview and his remarks sparked quite the reaction from our readers.
PAY ATTENTION: Click "See First" under the "Following" tab to see Briefly.co.za News on your News Feed!
On Wednesday, Briefly.co.za reported FW de Klerk opened up about the state of the country in a sit-down interview recently and the last apartheid president apparently has no love for uBaba.
De Klerk added Msholozi damaged the country with "bad appointments made in the nine lost years, inter alia, of cadres, instead of people with the right experience, with the right training into management posts".
Our readers were not very impressed with his comments and they roasted him, claiming Zuma might have damaged the country, but De Klerk damaged lives.
PAY ATTENTION: Do you want to know what's trending on Briefly.co.za? Join our WhatsApp group today.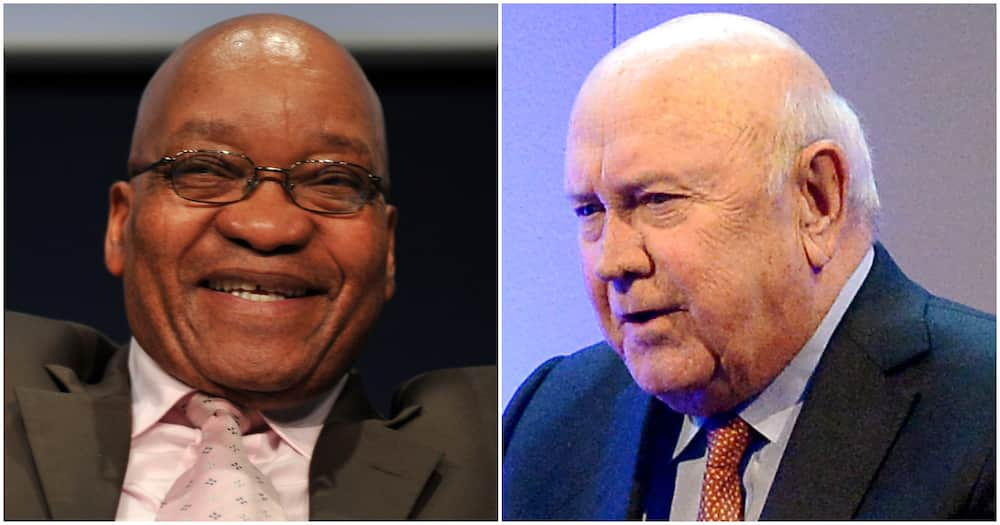 READ ALSO: SA reacts to Cyril pledging money to families affected by KZN floods
We took a look at some of the comments our article gathered on Facebook.
Ava Vinnie Natalie wrote: "I have no time for this guy. HE damaged south africa along with his cronies. If Apartheid never happened we wouldn't be faced with half the issues that SA is dealing with. Hypocrite of the worst sort!"
Blessing Azi commented: "Zuma damaged the country and De Klerk damaged lives. This is what happens when grace and forgiveness is given, people easily forget their sins and point fingers at others sins instead of hiding head in shame. Is he still feared by SA?"
Tembani Mlombo added: "Many people died in KZN and Gauteng mostly black people under his regime, now he is telling us about Zuma who is a cheap crook as compared to him. Zuma was stealing... money not killing people. He must tell us about early 90s when people were killed by the so called "third party"
Balekane Losaba said: "and what about him. I'm no Zuma's fan but he is far better than this thing."
Blessing Maraire commented: "You don't need training to be a leader, it's a calling uncle."
Bonga Godfrey Noyo added: "You must not throw stone when you live in a glass house"
Enjoyed reading our story? Download BRIEFLY's news app on Google Play now and stay up-to-date with major South African news!